There's a slight ramp up to the front door of the sunny downtown café. Wooden chairs around four- and six-top tables are sturdy but not too heavy. The toilet paper dispenser in the bathroom is below the grab bars, which makes it easier to use. 
Autumn Neugent appreciates all that. Yet rather than ask, for what feels like the hundredth time, for assistance opening the doors (no push buttons) or to move chairs out of the way for her wheelchair to pass, she'd rather go the long way around.
"It's tiring," Neugent said. "It's everywhere I go. If I told everybody every issue I had, all I would do is complain. That takes a toll on you. You feel like you're just being negative all the time."
Neugent is a Madison native, a board member at a local nonprofit and, as of last November, Ms. Wheelchair Wisconsin 2019. Diagnosed with multiple sclerosis when she was 29, Neugent went from having a limp to using a wheelchair in the space of five years. Over the last decade, she's discovered that restaurants and bars are not nearly as accessible as most people think.
"I have to do recon before I go somewhere," Neugent said. "It's 2019, and we are still having to call places to make sure our basic needs are met. 'Am I able to get in the door?' 'Am I able to use the bathroom?'"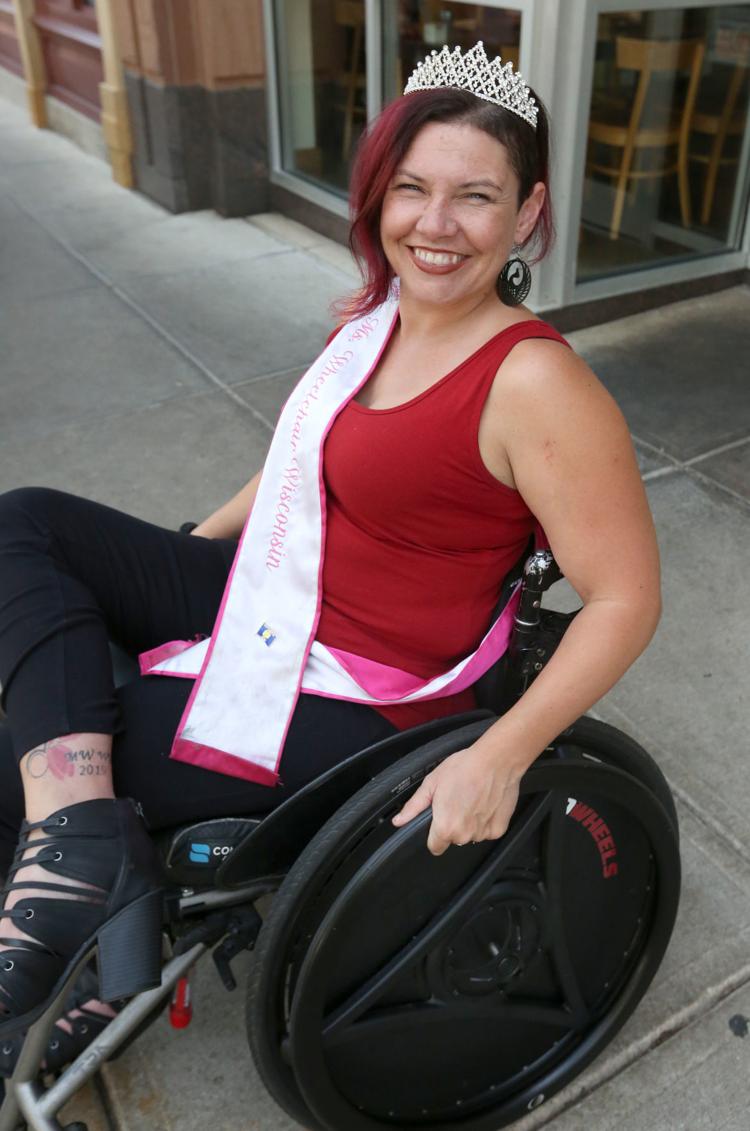 The Americans with Disabilities Act (ADA) turns 30 next year. Lately, "dining while disabled" has been in the news as Madisonians debate single-use plastic, weighing environmental concerns of plastic straws against added social stigma for those who need them. 
But there's a larger context to this conversation, one many people don't think about. A single short step on a threshold is invisible to most people, staff included. Employees may be trained to know the soup of the day and which menu items are gluten-free, but not where the closest accessible parking is.
"Employees are generally learning ADA-type stuff from me or other customers who are in need of it," Neugent said. "Not their managers or employers. I have to keep mental notes on if some place is accessible or not." 
Local disability advocates are working for greater visibility, increased accessibility and allyship. Restaurants need better signs, for bathrooms and entrances. And everyone needs more education. 
"You ask, 'Is this space accessible?' and they might not know exactly what you mean," said Bella Sobah, a third-year law student at the University of Wisconsin-Madison and chair of the city's Disability Rights Commission. 
"Accessible," Sobah noted, means different things to different people. Those who identify as plus-size or fat may scan Instagram to scope out the style of seating and space between tables. Neugent's wheelchair can handle a couple of steps, but even a small step will keep a person with a scooter outside the door.
Sobah uses a 400-pound wheelchair and has been a strong voice as the city considers a single-use plastic straw ordinance. Her commission voted against the proposal, as currently written, last Thursday night. They may consider it again in a few months. 
"A lot of people might not realize how important certain things are to people with disabilities," Sobah said. "Straws is a big one. Another one is automatic buttons on doors, and how that affects where people go. 
"It's a very good example of how society overlooks things that affect people with disabilities on a daily basis."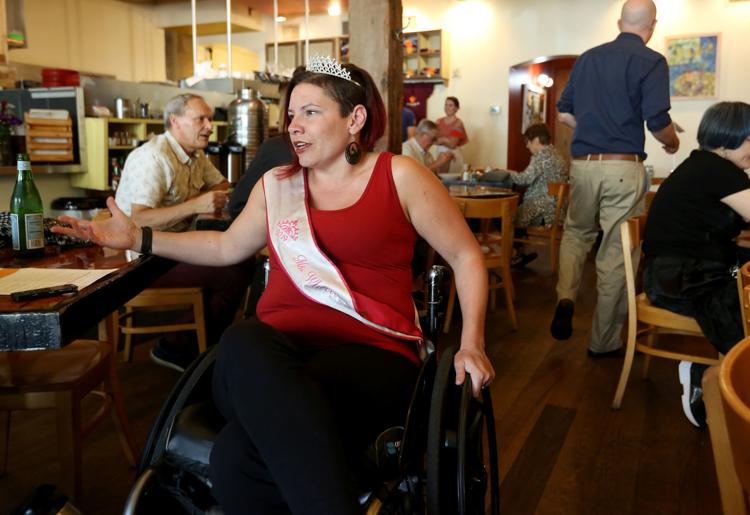 Earlier this summer, the City of Madison's Disability Rights Commission and Downtown Madison Inc. (DMI) announced the results of a fall 2018 survey about access. They also announced the Access Madison campaign, a collaboration among government staff, downtown businesses and the disability community. 
More than 90 respondents to the survey detailed challenges with bus shelters, inadequate accessible parking, lack of seating in public parks, and few accessible restrooms at festivals and community events. Too few restaurants downtown have door-opening buttons (which are not required by the ADA) and many have crowded dining rooms.
Jason Glozier is a disability rights and services program specialist in the city's Department of Civil Rights. Last year, he and a colleague who uses a wheelchair wanted to grab lunch at a new dumpling place on State Street. 
When they arrived, they found a step up to the door and no option for outdoor dining. All of the entrances were inaccessible.
"We started talking about the number of physically inaccessible businesses up and down State Street," Glozier said. "One day after lunch, we were like, 'Let's walk through and identify all the locations you can't get into in a wheelchair.' We came up with 32 businesses on State Street alone."
Glozier is a "glorified ADA coordinator" for the city, he said. His position has no authority over private business, which is where DMI comes in.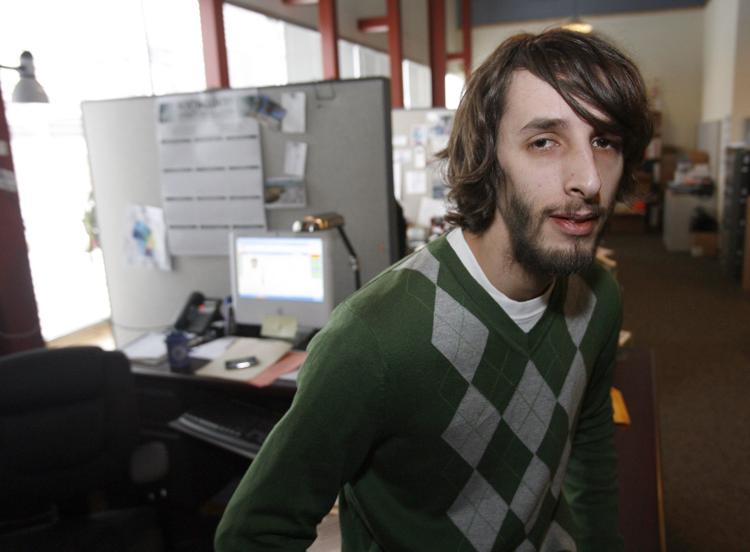 "Businesses don't always know they're doing something wrong," said Jason Ilstrup, president of DMI. "They want to do right. If you see a violation, talk to the business, the management, the ownership."
Jason Beloungy is the executive director of the local nonprofit Access to Independence. He offers a pipeline to the disability community. (These three Jasons working on disability rights affectionately call themselves "J-cubed.")
"Folks with disabilities spend an inordinate amount of time having to research to avoid frustration and embarrassment," Beloungy said, and "getting to a place and thinking that it's accessible, and finding that it's not."
At the city, Glozier tries to dispel the notion of buildings being "grandfathered in" to compliance. People might think a 40-year-old supper club doesn't have to be accessible because the building was built before 1990, when the ADA became law. But that's not quite true.
Once a building crosses a 30% square foot threshold for physical renovation — replacing the bar, say, or redoing the floor in the dining room — that triggers ADA upgrades. The owner or tenant, depending on lease terms, must make the building accessible.
"If it's in an old building, it can be technically infeasible to make it accessible," said architect Jacob Morrison, a partner in Morrison Tills Studio (MoTiS). Morrison has designed many local restaurants and bars.
Morrison worked on one east side bar in a building that was built in 1916, with frontage right up to the sidewalk. The only way they could have made that entrance accessible, Morrison said, would be with a 40-foot ramp or a lift, both of which would have entered the right-of-way. They'd have had to rip out the front 10 feet of the building.
With older buildings like that, Morrison said, it comes down to "How do we make it more accessible without making it abandoned?" he said. "You never want to make somebody feel unwelcome to a space, particularly a restaurant which is all about hospitality. But building stuff is expensive. The last year and a half, people are trying to get everything they can with the budget they have. Sometimes even with an unlimited budget you can't do it."
On a million-dollar project, everything must be made accessible. But small businesses are not required to spend more than 20% of their construction budget on removing barriers, like building ramps or enlarging the bathrooms. If it costs more than that, they can appeal to the city for a waiver.  
When Access Madison debuted last summer, advocates gathered at the Great Dane Pub and Brewing Company downtown. The original Great Dane opened in 1994, adding a pool hall two years later in fall 1996. The whole place is accessible, with small lifts and ramps between the levels of what was once the Fess Hotel building. 
Rob LoBreglio, a Great Dane co-owner, said his team was "led to believe we didn't have much choice" by city inspectors. When the completion of one lift was delayed, they used a crane to drop an accessible porta john onto the patio above the biergarten for the first couple weeks they were open.
Accessibility "was right at the forefront of cost considerations," LoBreglio said. "You start talking about elevators and lifts and immediately there's a domino effect of logistics and layout issues you have to pay attention to." 
The lifts have been expensive to maintain. If LoBreglio was doing it again, he said, he'd look for other options. At the Great Dane in Fitchburg, built in 2002, someone in a wheelchair has access to the main bar, main dining room and a private dining area, but not the upstairs pool hall. That would have required a full elevator and been "a deal killer."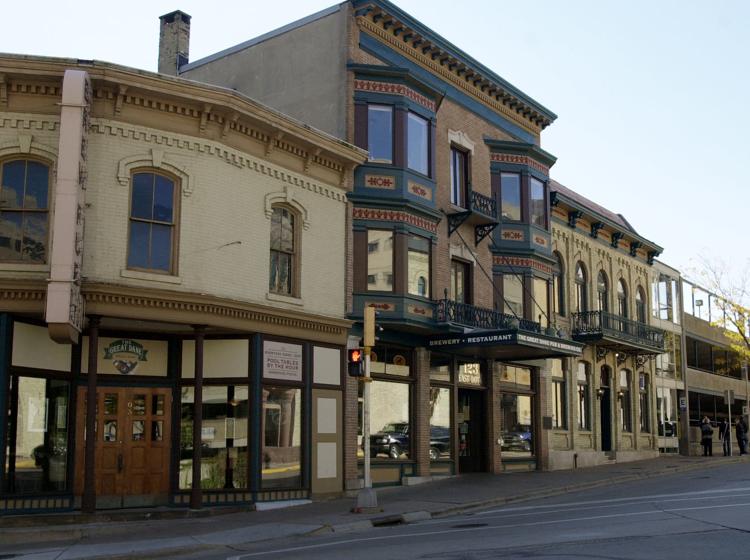 "I can't say I've seen too many people in wheelchairs take advantage of downtown pool tables or dart boards, but all things being equal, we're happy to have it," LoBreglio said. "It's a definite cost consideration. I see smaller businesses struggling with those costs." 
Beloungy frames the tension between inclusivity and the cost of removing barriers in terms of business savvy.
"When you think of accessibility as a burden, it's going to be a burden," Beloungy said. "Think of it as an opportunity to build your business. Everything has a cost. 'What's the value of more customers coming to my restaurant because I'm more accessible?' instead of, 'That's an extra cost.'"
Building owners, architects and contractors are charged with ADA compliance. There's no official inspection. If something isn't compliant, it falls to individuals to file a complaint.
Glozier called this litigation-based route to change "cumbersome, adversarial and long." His staff works on translating an ADA complaint into what the city can enforce and what will likely produce the best result.
"Accessibility takes forethought, and in some instances cost, if you're redesigning the space," Glozier said. "We're seeing more accessible and inclusive spaces being developed. We're seeing those aspects of accessibility features being standardized. When they're standardized from the beginning of a project, it's not necessarily more expensive."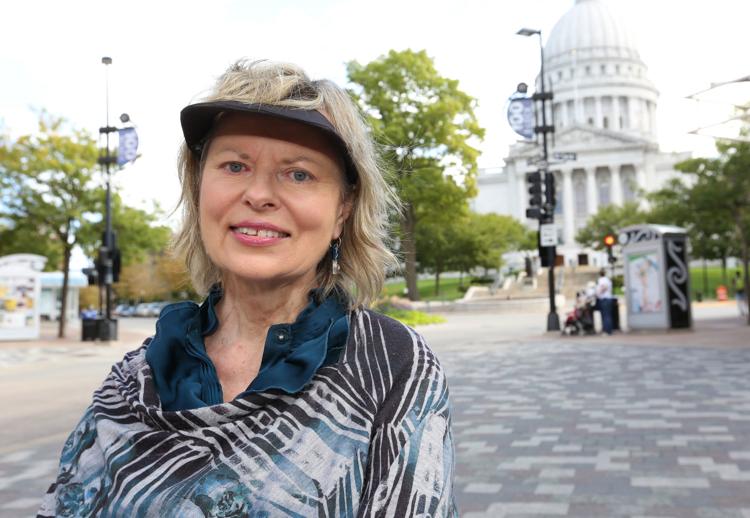 Advocates often won't call out individual restaurants for being inaccessible. Sometimes that's because no one is technically breaking the law. More often it's a question of quantity — dozens of restaurants don't have ramps. Why single out one?
On a recent morning, Jane Nemke Earl rolled her scooter down State Street, inspecting façades as she went. She paused at an upstairs restaurant accessible only by stairs ("Holy cow, that isn't gonna work!"). She pointed at bumps and ripples in the concrete, and sections of sidewalk ripped open ("that's an accident waiting to happen"). Peering under her visor, Earl considered a small step, maybe four or six inches off the sidewalk.
"They could ramp that," she said. "It's a matter of will, the will to do it. Either they don't think about it or it requires extra effort. It's fixable."
Earl has a slow-progressing form of muscular dystrophy which has affected her life significantly since she was diagnosed 40 years ago, at age 26. Earl lives downtown, and she's found that a major part of accessibility is attitude. 
Does the hostess run to grab the door when they see her struggling? Is there space for her scooter to slip under the table, or is the pedestal base too large? All of this tells Earl, "You are welcome here." 
"The responsibility is always in the hands of the disabled person," Earl said. "You can never assume that you have access. ... You want to feel welcome somewhere, rather than you're a pain in the neck and I've gotta tolerate you. That is what gets communicated."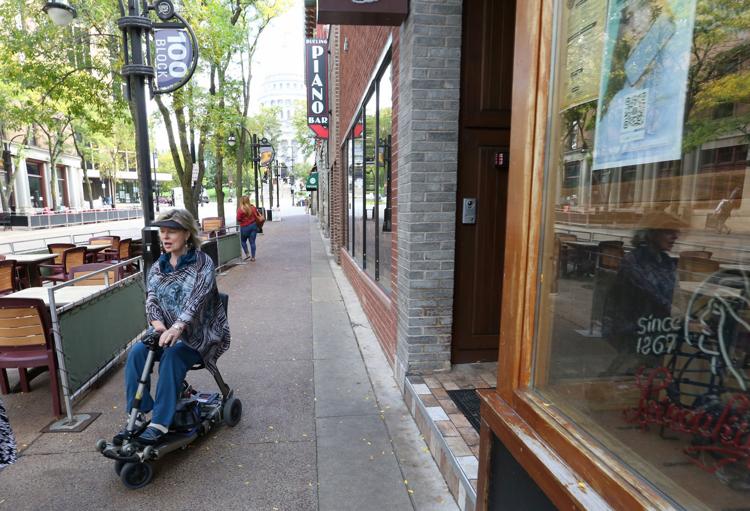 American society values independence and ingenuity, Earl said. She doesn't want to be defined by disability, and she doesn't want to be a burden to anyone. Meghan Whalen feels the same way. Whalen lives in Blooming Grove, graduated from UW-Madison and trains service dogs. She is blind. 
"I strongly prefer being able to access the menu on my own," said Whalen, who moved to town in 2006. Software on her phone makes it possible for her to hear printed menus if a website offers them. When she goes out on her own or with friends, she brings her service dog, a lab/hound mix named Amiera. 
"I like to look ahead of time so I don't have to ask them if they have a Braille menu, and then they feel bad they don't have a Braille menu, and it's a frustrating exchange," Whalen said. 
She appreciates accommodations for her dog, like a booth or a low table where she can feel Amiera's head on her foot. That way she can tell if the dog is distracted or if someone's trying to feed her.
Darkness in restaurants and bars, in addition to sound, can be an issue for people who are hard of hearing. Ralph Smith, now in his 50s, has had hearing aids since he was 7 and started wearing them consistently in college.
"It's very important to be able to see the person's face and gestures," Smith said. "A lot of times we can't tell where the sound is coming from, and that makes it hard. You've got to get the person's attention so they can look at you. That's something not a lot of people do in restaurants and bars, people just start talking."
Patty Mullins, a former senior lecturer at UW-Madison, said one of the settings on her hearing aids is specifically designed for background noise in restaurants. She takes note of noise-dampening details, like drop ceilings, hanging curtains and cloth-covered surfaces.
"I find that, with most of our friends, we tend to select restaurants by how loud they are, and if they're really loud we never go back again," said Mullins, who lives in Cross Plains. A wine bar opened there recently on the main drag. The music was so loud she couldn't hear her companions.
"We asked them to turn down the music and they did, and then they showed us where the control was on the wall so we could do it ourselves," Mullins said. "That was really nice."
For Mullins, context is important. If it's a sports bar or she's out for brunch with friends, she expects a restaurant to be "energetic" in volume. At a nice dinner, though, "I don't care what age you are, you want to sit and talk and have a relaxing evening."
"People avoid places that are noisy and very dark, because the older you get it's not worth it if you can't see and can't hear people talking," Mullins added. "You avoid those places that aren't accessible."
Access-wise, downtown may be better than Williamson Street, with its converted houses and older construction. Madison itself may have better access than smaller towns. Jim Turk does a lot of volunteer work in rural Wisconsin, and when he eats out there he often sticks to Culver's drive-thru windows.
 "Madison is pretty accommodating," said Turk, who uses a cane or two trekking poles when he's in town. "Even if stuff is not accessible completely, usually somebody will help you with the door or move a chair out of the way."
Still, on a recent trip to a sports bar on Regent Street, Turk spotted a large wooden container shoved into the restaurant's one accessible parking spot. Luckily Turk had his wheelchair with him, but he pointed it out when he got in.
"I found the bartender, and I said, 'I'm not trying to be a stinker, but if you have that accessible spot and somebody needs it, you're not inviting them in,'" Turk said.
The constant checking, explanation and advocacy is exhausting. The result can be increased isolation. 
"I know the 70th person who asks me about my dog, or who tells me their uncle's brother's ex-mother-in-law's daughter has a dog who looks just like her ... they don't know I've had to deal with that 4,000 times today already," Whalen said. "It gets exhausting. And I don't always feel like I should have to be on my best behavior, just in case they meet another blind person tomorrow."
"As a whole, the disabled community is on the defensive," Whalen added. "Often we are judged or treated like we're amazing 'cause we got dressed that morning. Sometimes we expect judgment unfairly when it's not at all intended."
To help people figure out where they can easily dine out, Access Madison has been mulling a commendation program. This could be like a gold, silver or bronze designation, for example, that restaurants could put up on their websites, maybe with a sticker for their doors. 
"It's a really good way to both acknowledge and celebrate businesses that are making a genuine effort and incentivize other businesses to make more of an effort," said Sobah at the Disability Rights Commission. "I would like to see more conversation about, 'What do you need? What can we do to make it accessible for you?' The first step is acknowledging that accessibility is a wide-ranging concept that isn't really a standard."
Susan Quam, executive vice president at the Wisconsin Restaurants Association, is cautious about this "gold star" idea. It could have unintended negative consequences, she said. 
"With any kind of rating system, the devil's in the criteria," Quam said. "If you're meeting the law, shouldn't you be a bronze? How do you ramp up beyond that?"
The WRA has been lobbying for "common sense legislation," Quam said. It would like to see a "period of cure," so if someone files a complaint against a restaurant for violating the ADA and it's found to be true, the restaurant can fix the problem before facing other penalties.
"From a physically accessible standpoint, going above and beyond makes life easier and makes you more attractive," Quam said. "Suppliers want to be able to put in the right type of apparatus and make money as well."
The city doesn't want to compel accessibility by regulation. There are grants available, Glozier said, that restaurants can apply for to make accessibility more affordable. Access Madison would like to do a conference for architects, contractors and builders focused on universal design standards.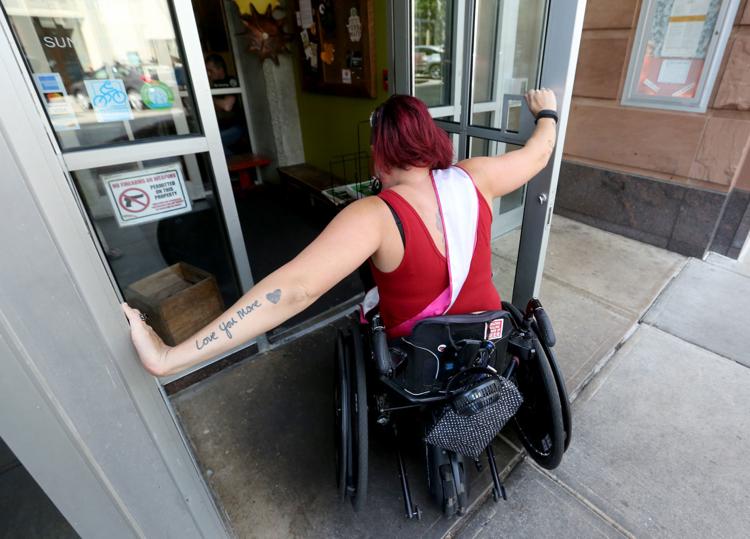 Melissa Destree of Destree Design Architects said universal design is an ongoing conversation in her industry. She, too, thinks there should be accessibility awards in Madison, for places that go above and beyond.
"We have a lot of renovated buildings that people have taken long term investments in," Destree said. "There's people who do the minimum and have code compliance. There's people who don't follow the code and get away with something. And there's the other people that make the investment and try to make the improvements so it's accessible."
For those who are nondisabled, the essential thing is to shift their lens. Notice the steps. Look around at a restaurant and see who's being kept out. Ask people what they need.
This was a shift for Neugent herself. Growing up in Madison, she never thought about whether places were accessible before she started using her chair. She can't help but think about it now.
"I don't fault people for it not being on their radar," Neugent said. "I'm not anti-business. I'm anti-ignorance. And there are so many barriers for people that some are just not going out in public. I am the general public."  
Stay up-to-date on what's happening
Receive the latest in local entertainment news in your inbox weekly!