As an elementary school kid, I used to get mad when my dad mowed the lawn.
I was an early four-leaf clover hunter, taught and encouraged by my maternal grandma on the hill behind her house. Dad's lawnmower chewed everything in the yard with equal animosity, ripping curved edges jagged and making deviant clovers harder to see.
This weekend, Gabriella Gerhardt, 30, is worried about the same thing as she prepares to set the Guinness World Record for most four-leaf clovers found in an eight-hour period.
"I started keeping mowing notes," Gerhardt said of her favorite Dane County clover patches. "I want to knock down all the records."
Gerhardt, a dedicated clover hunter for the past eight years, works in development at the Madison Children's Museum. An exhibition of her finds called "Make Your Own Luck" will go on view starting on Wednesday, across the lobby from the museum's front desk.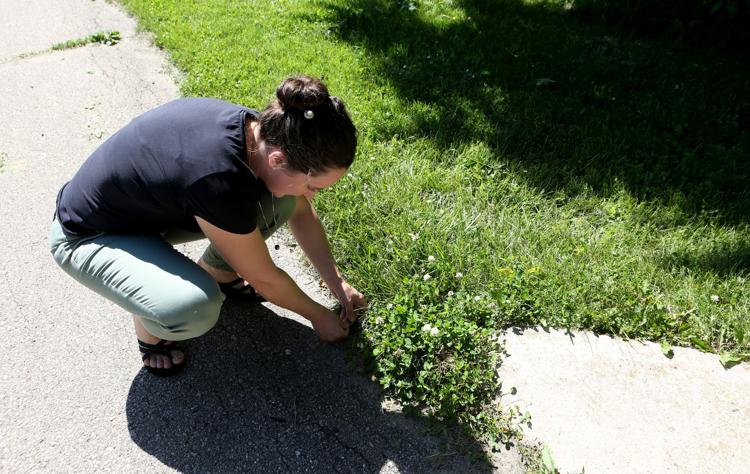 She recruited four volunteers for the morning and four more for the afternoon. She roped in Guinness-approved adjudicators, people she trusts but doesn't really know, to verify her finds. She'll be changing out the batteries in her video camera every hour or so.
Victory is as close to assured as Gerhardt can make it. For the past four weeks, she's gone out every day to scout the best patches, picking five-and-more leaf clovers but leaving the four-leafers for herself to find later.
On meticulously kept logs, she refers to these clovers as "mutants." She's found more than 18,000 of them, many of which she presses and laminates in her basement studio in Fitchburg.
"I don't know if anyone is collecting like I am," Gerhardt said. "Obviously I'm a little bit — I'm pretty intense.
"I've always cultivated hobbies. I'm a person that can't sit still, so I always have to have something going on. This took over as one of my primary hobbies."
Gerhardt is obsessed, charmingly, with mutations of trifolium repens, also known as white clover. Bunnies love the flowers, and homeowners used to love it too.
"Clover was once highly prized in lawns because of its soft texture and its contribution of nitrogen to the soil," according to the UW-Extension. A marketing campaign in the 1950s and subsequent herbicide use changed that, making a good patch of clover a valuable find for a hunter like Gerhardt.
Gerhardt found her first four-leaf clover when she was a senior studying geology at Tulane University in New Orleans. Walking to and from class, she began to notice the patterns in the leaves.
"A friend of mine had an empty lot next to their house and there was a clover field," she said. "And one day I said, 'I already found a four-leaf clover, let me go look!'"
She found a four-leaf, then a five-leaf, then a six-leaf clover. The rest was history.
Gerhardt harvests and preserves thousands of clovers every year, logging finds near her house in Fitchburg, industrial stretches off Stoughton Road and fun spots, like Wisconsin Brewing Company and Paoli Hop House.
She can disappear into a hunt for hours at a time — she and her husband, a photographer, sometimes use the Find My Friends app to track each other down. She logs mowing times, marks patches as "meh" and gives herself notes ("love this area, need time to wander").
"I have a mental Rolodex of places that I go and re-check over time," Gerhardt said. "I have about 80 locations that I would revisit. I have some historical locations that didn't regrow this year but I do sometimes check back.
"There was one patch where I had found my first seven-leaf clover, when I first moved to Madison in 2011. The next couple years, I didn't find anything. And then two years ago I found my first nine-leaf clover there."
Gerhardt invited me over recently to see her clover collection. We wandered through McKee Park, a favorite hunting ground with its clusters of clovers around marshy areas and pathways.
I'd plucked four clovers before I realized she had deliberately not been picking this area in preparation for the big hunt. Oops.
"In summer, if it's daytime and nice out I'll usually be clover hunting," she said. Lately, she's been going out for hours every day, logging the best patches but picking only the five- and more-leaf clovers that won't count toward the Guinness record.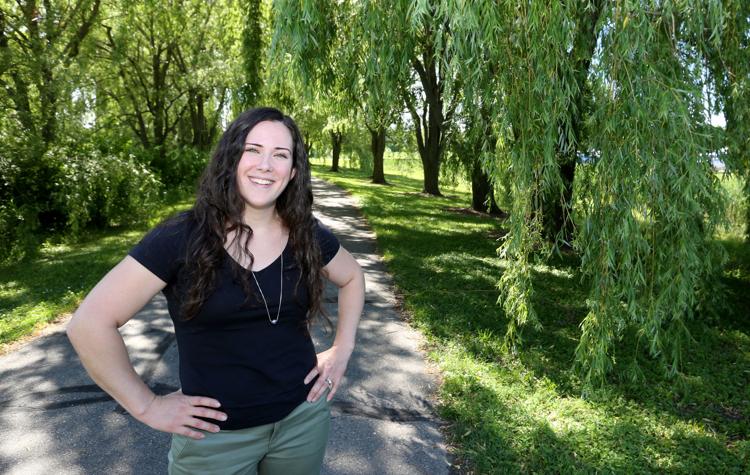 In some ways, this method is completely contrary to the way I look for four-leaf clovers. Clover hunting is what I do when I'm waiting for something else.
As a kid, that meant waiting for a soccer ball to roll toward me during an elementary school match or lolling on a backyard swing while mom made dinner. Lately I find clovers while waiting at the bus stop or sitting on a blanket before Opera in the Park.  
Gehardt used to be like that too. She still hunts near the museum and between the sidewalk and the road while she walks. She can be seen crouching on the ground in the background of wedding photos, once when she was part of the wedding party.
"Everyone tells me like, 'Oh, I've never found one,'" she said. "And I say, 'Come out with me.' Almost always people will find one within 10 or 20 minutes. They just don't believe it, but it's probably the first time they actively tried and had the intention to do it."
Clover hunting can be meditative. While your friends wait in line at the beer garden, the passive/active combination of scanning the grass for a familiar four-leaf pattern is just enough to engage an overactive mind.
"The human brain is naturally good at pattern recognition," Gerhardt said. "It's why we can recognize people's faces and why you see shapes in clouds. With clover hunting, you want to let your brain do what it's already good at doing.
"The way you do that is by clearing your mind and being present so that you're just seeing what you're seeing, and not in your head."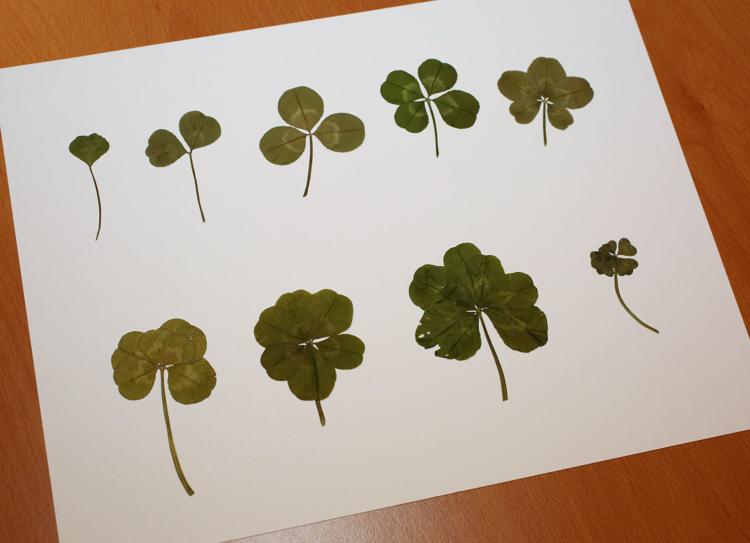 One of the most common questions a clover-hunter gets is whether she has dropped something. (We have not.) As Gerhardt wanders, people often stop her to ask if she's OK.
She's keenly aware that being a small white woman serves her in this — people are more inclined to approach her or try to protect her than shoo her away.
"At Fish Hatchery and Park, there's a weird triangle piece of land, and that was my go to spot," she said. "I would go maybe once a week.
"One time I was out there and a woman walked across the field toward me. She was like, 'Me and my coworkers work in this building and we see you come back and wander around this field. What are you doing? We've been talking about it for weeks!'
"I gave her some four-leaf clovers to take back for everyone."
Sometimes people ask Gerhardt to find a clover for them. When she was hunting near a playground, one little girl, maybe 10 or 11, accepted a clover and wished for "a mansion and as much chocolate as she could possibly eat."
"One woman saw me doing it and said, 'I'm having a hard time right now, I could really use some luck,'" Gerhardt said. "We found a couple, and she was so happy … like, this was just the nicest thing that's happened to her in a long time.
"You get a range, but people have had really intense emotional reactions to being offered a four-leaf clover."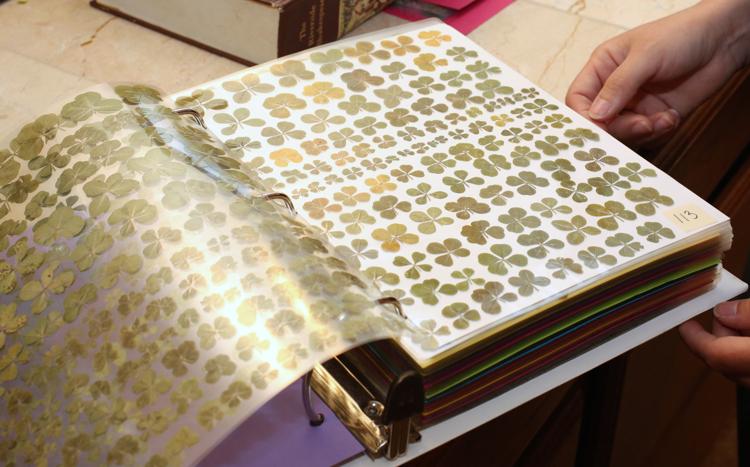 I don't really believe clovers are lucky anymore. Gerhardt doesn't either. We love them anyway.
"I think they're interesting. They're mutations of a plant that's super common, and also really important," she said. "I don't think of them as good luck charms. The tagline for my Etsy shop was 'make your own luck.'"
Martin died in 2013. George Kaminski, a Pennsylvania prisoner who held the record before him, died in 2008.
The rest, though, she's coming for. The record for most seven-leaf clovers is 17, and she already has 29. She's found hundreds of five- and six-leaf clovers in 2018 already, and the season has just begun.
"I would like to hold them all," she said. "This is the first of hopefully many."