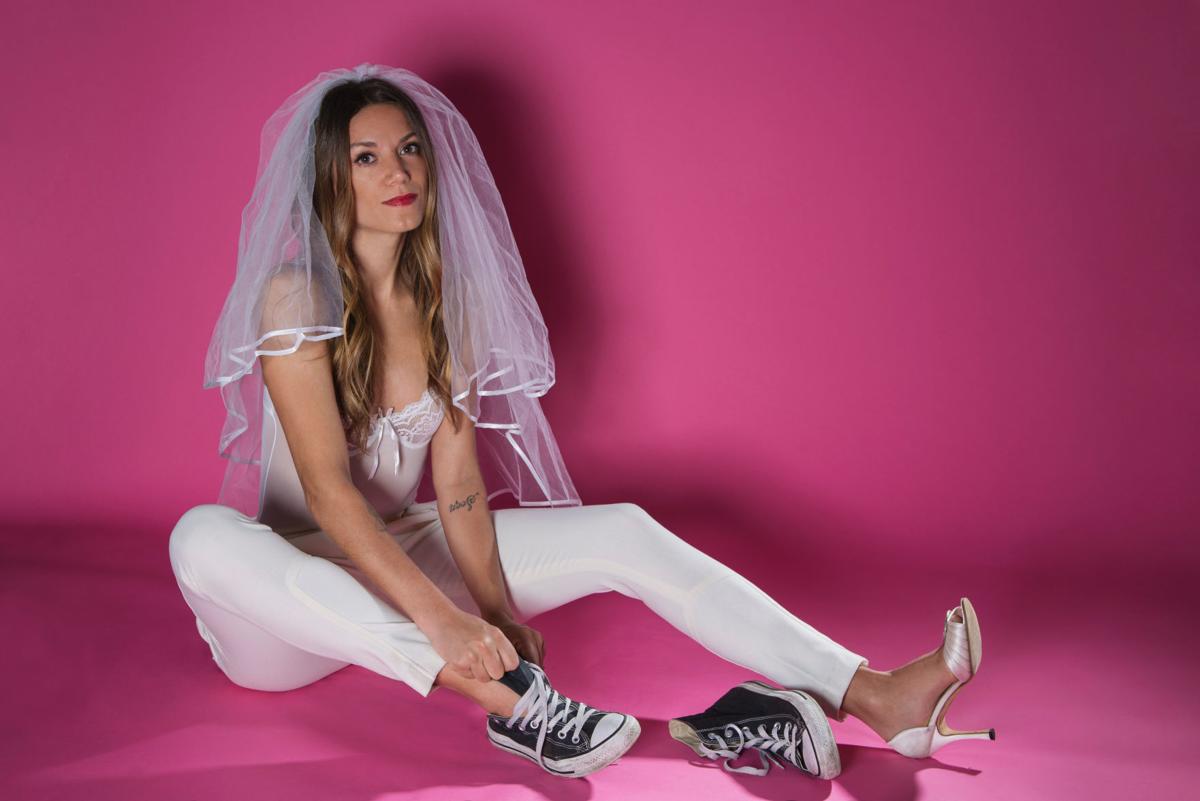 On June 15, Natasha Pearl Hansen will come home to Wisconsin to celebrate her deep emotional commitment to a partner who has supported and inspired her for many years:
Originally, the Stoughton-born Hansen, who now lives in Los Angeles, had planned to get married to her longtime fiancé on that date at the Brink Lounge. But she says life, and the couple, ended up having other plans, and the wedding was postponed (again).
But she had still booked the Brink. So she decided to do the next best thing, and shoot her first stand-up comedy special there, fittingly titled "I Was Supposed to Get Married Today."
"I thought, you know, rather than make this be a negative, I'm going to use this space for something cool and talk about what's really going on," she said in a phone interview. "I'm really wanting to talk to women and tell them it's going to be okay. Take the pressure off yourself about finding the perfect person, and take the pressure off about having the perfect marriage."
She's leaning in to the idea of a stand-up comedy show as a wedding substitute, and her maid of honor, two bridesmaids and many members of her family, including her grandmother, will be in the audience. But everyone is invited — as long as they pay the $40 price of a ticket. The ticket price includes access to an after-party "reception," and those who pay $65 can come early and take part in the dinner that was supposed to be part of the wedding.
(Also, for those who think this might be a publicity stunt, if you go to the Brink Lounge website it still has "Schwan & Hansen Wedding" listed for June 15.)
Hansen stresses that her fiancé is a great guy, and they are still together. They went on their first date 12 years ago this month, and have been a couple for eight years. But it was after they got engaged two years ago that things changed.
"Just a lot of things bore down on us," she said. "Things started getting tough, because so many people try to infuse themselves into your relationship once you're about to get married. They tell you how things are going to go, they ask you all these questions about your future."
Hansen said the theme of pre-wedding pressures seems to resonate with her audiences, whether she's performing in the Caribbean or in Europe, and people often come up to her after shows to share their own stories of premarital stress.
She said she feels comfortable sharing her own personal experiences onstage, especially since she takes pains not to disparage her fiancé as many comedians might do.
"I always flip it so I look like the asshole. He is a really good guy and whether he ends up with me or somebody else, I want people to be aware of that," she said.
Hansen got her start in comedy in an unlikely way. When she was 14, she went to Europe as part of a student ambassador program. As she traveled through France, Spain and Italy, she began writing down funny stories of the things she experienced.
The habit continued when she got back to Wisconsin, as she continued writing what she called "Natasha's Books of Thoughts."
"I have this fireproof box at home with all these funky, torn-up notebooks in it. I started my podcast based on that, and called it 'Future Role Models.' It just spurred this need to tell funny stories," Hansen said.
While attending college at the University of Minnesota, a professor suggested she try improv. After college, she moved to Chicago to do improv at Second City, and found the transition from writing comedy to performing it surprisingly seamless.
"I do a lot of my writing onstage," she said. "I come with an idea and I don't really have (an ending) for, and because I'm stuck on stage alone in front of people, I'll have to figure it out."
She now has a busy stand-up career that takes her all over the world, in addition to writing for film and television. She believes her experience, both in comedy and in life, helps make such a personal show like "I Was Supposed to Get Married Today" possible.
"People have this stigma in entertainment about succeeding at a young age," she said. "In comedy, it's not a bad thing if you pop really young. But you become more interesting with time. And interesting people make better comedians."
A director friend of hers will be coming to Madison to film the event, as well as interview Hansen's friends and relatives for documentary-style vignettes that will be included in the special. After it's done, they'll pitch it to platforms for a possible release.
And as for marriage? That release date is less definitive.
"We are trying to figure out what we both want out of ourselves in this moment," she said. "We've taken the pressure off of ourselves to set a new date or even open up the marriage conversation again, until we get a few things that we want out of life individually.
"It's in that question mark phase. It'll live there until it straightens out into an exclamation point, or a comma or a period."