Planning to buy Mom some flowers or take her out from brunch this Mother's Day?
That's fine. I guess you just don't love your mother as much as Nick Prueher does.
The Stoughton native and co-creator of the Found Footage Festival has something special in mind for his mom, Jeanne Prueher — honoring her with a heavy metal-themed float, complete with a 25-foot balloon version of his mom, in Stoughton's annual Syttende Mai parade on May 20.
"It's done out of love, but it's half-tormenting my mom, too," Prueher said in an interview from his home in New York City. "She's sort of reserved and has put up with a lot of this kind of stuff."
Is Jeanne Prueher a heavy metal fan? No. Her tastes run more to Josh Groban and the "John Denver and the Muppets Christmas Album," he said.
But, about three years ago, while searching through the St. Vincent de Paul store in Stoughton, Prueher came across a Metallica T-shirt. Featuring a toilet and the slogan "Metal Up Your Ass," Prueher vividly recalled seeing a fellow student wearing the shirt at Stoughton Middle School years earlier.
"I was terrified of this shirt," Prueher said. "I bought it and gave it to my mom and asked her 'Would you wear this shirt in the backyard barbecuing a hot dog?' It just made me laugh to see my sweet mother wearing this 'Metal Up My Ass' shirt that had terrified me so much. It was almost cathartic."
And so the Metal Mom Tumblr was born. Prueher spends a lot of time in thrift stores looking for old VHS tapes for the Found Footage Festival, which collects cheesy instructional videos, bad children's programming and other cultural flotsam. He made a point of looking for old metal T-shirts as well and sending them back home to his mom in Stoughton.
Prueher estimates that his mom now has over 100 metal shirts, taking up an entire closet of her home. The blog features photos of his mom doing the most mom-ish things while wearing the most extreme heavy metal T-shirts. There are photos of her putting up spring decorations in a Napalm Death T-shirt, doing the daily newspaper crossword in an Armored Saint T-shirt, vacuuming in a Pantera shirt and more.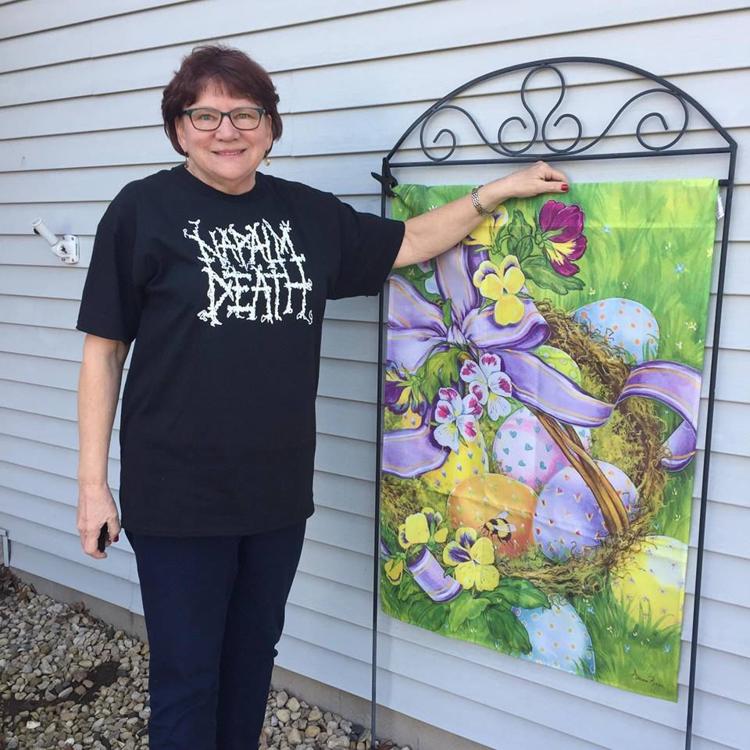 "I thought what the heck," Jeanne Prueher said in an interview with "Inside Edition." "It's not hurting anybody. When you have a son like Nick, you just do things."
Prueher decided to take it to the next level this year by honoring his mom and her reluctant embrace of metal culture with a special Metal Mom float in this year's Syttende Mai parade, intended to celebrate Norwegian independence. Amid all the marching bands and accordion players, Prueher's mom will ride on an "evil"-looking float on a "Game of Thrones"-style throne — although it will be made out of knitting needles, not swords.
On a flatbed truck behind the float, the veteran Stoughton band Crackhammer will play covers of heavy metal songs. And the crowning glory (one that Prueher is keeping secret from his mom) is a 25-foot "Metal Mom" balloon.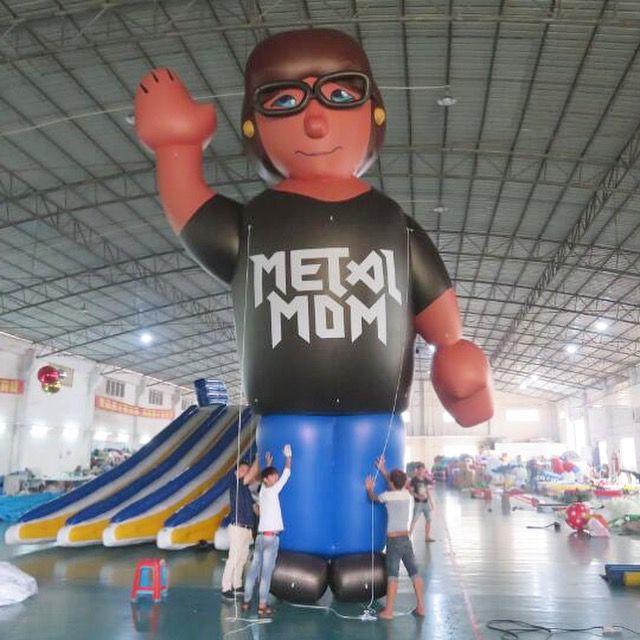 "My parents have been supportive of all my dumb projects over the years, and this is just a continuation of that," Prueher said. "When I brought it up at last year's parade, I think she thought it was a joke. But I'm like, 'No, the application's been accepted.'"
Prueher started a GoFundMe page in March to help cover expenses, and is over a third of the way to his $7,000 goal. Backers can get access to a short documentary he's making about the experience or even a "Metal Mom" temporary tattoo.
"This is the inaugural year, but I hope to make it a tradition," he said. "I would love this to keep expanding, or for the float to get even more ornate and more evil."