A classically trained mezzo soprano and a theater artist schooled in improvisation are teaming up to get more women's voices heard.
Veronica Rueckert, a co-host of "Central Time" on Wisconsin Public Radio with a degree in vocal performance, started a consulting business in vocal coaching and workshops for women (and a few men, too) in the summer of 2015.
"I don't see any way we can break the glass ceiling, close the wage gap, have more women in the sciences, unless we get women talking as much as men do. Even politicians, women don't talk as much as their colleagues of equal rank."
For the first time this weekend, Rueckert will be joined in her effort by Sheila Robertson, who works in sales for Renaissance Learning. She started with ComedySportz as a teenager and has been performing with Monkey Business Institute for more than a decade.
Their new workshop, Your Authentic Voice, aims to help women "learn to think on (their) feet and build killer confidence" using improvisational skills. It comes the day after a workshop Rueckert has taught several times before called "Speaking While Female."
"I kept hearing from women that meetings were very hard," Rueckert said. "Idea stealing and interrupting, and how not to interrupt. This is to gamify the scenario of a meeting, to make it fun and give women practice."
Last fall, Rueckert explained to Gwen Rice in the Isthmus that she had "seen first-hand how interesting, sometimes brilliant ideas can be sabotaged by anxiety, timidity, clumsy phrasing or the unpleasant sound in the speaker's voice."
The 2016 election threw the judgment of voices, particularly female voices, into even starker relief. Rueckert calls this "the age of authenticity." To succeed, speakers have to take risks.
It's no longer the case that a "perfectly beige voice, professional ... that no one can object to" is the aim for professional women, Rueckert said. "That was the goal in the past, that neutral voice."
But now, "it's not enough to be safe as a speaker. People want authenticity."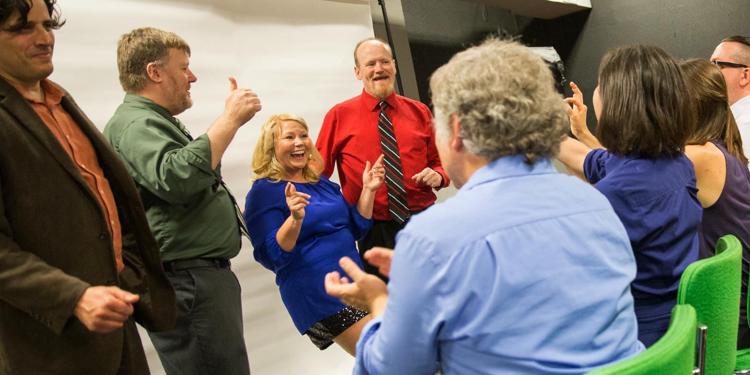 Rueckert pushes workshop attendees to literally find their voice, both through physical techniques like using their diaphragm, and telling a personal story.
It's like a wardrobe, Rueckert explained. A person can dress her vocal style up or down with slang terms or extra-crisp diction, but at its core her voice is her own.
"We want to find out what the real voice sounds like," Rueckert said. "Why are you pitching your voice down an octave when you have a huge upper register you're not doing anything with?
To those skills, Robertson's improv background brings flexibility, the improviser's technique of saying "yes, and" to suggestions. 
"You learn to be a better listener and connect quickly with people," Robertson said. "The core concept of 'yes, and' is if an improviser in a show comes up to you with an idea, your job is to accept and add on to it.
"The real world is different than a show. But even arguing about a concept doesn't mean you're denying it, it just says we're in this conversation together. We're both open."
With Brad Knight at Monkey Business, Robertson has worked on "playshops," in which improvisers come into workplaces like Lands' End, Oscar Meyer and American Family Insurance to teach employees how to think on their feet.
"We work with lawyers on how to be a present listener, to be present with a crowd or a judge," Robertson said. "We use improv games to keep you agile, to keep your brain moving and thinking outside of the box.
"You can learn some of these improv skills in five or 10 minutes. If you take it to heart ... you will make your life better, and it will have a ripple effect in the world."
Rueckert may advise female clients to steer away from "up talk" at the end of sentences and not to over-apologize.
But she isn't looking to polish their voices to an indistinguishable sheen. There's room for individuality. That's something perhaps a younger generation is already willing to grasp.
"I always ask, 'How many people love their voice?'" Rueckert said. "In all the workshops I've given, I think I've had one person raise their hand. Nobody raised their hand at One Million Cups this morning.
"But at Madison College, a whole bunch of people raised their hands! Which was amazing. I want everyone to fall in love with their voice."