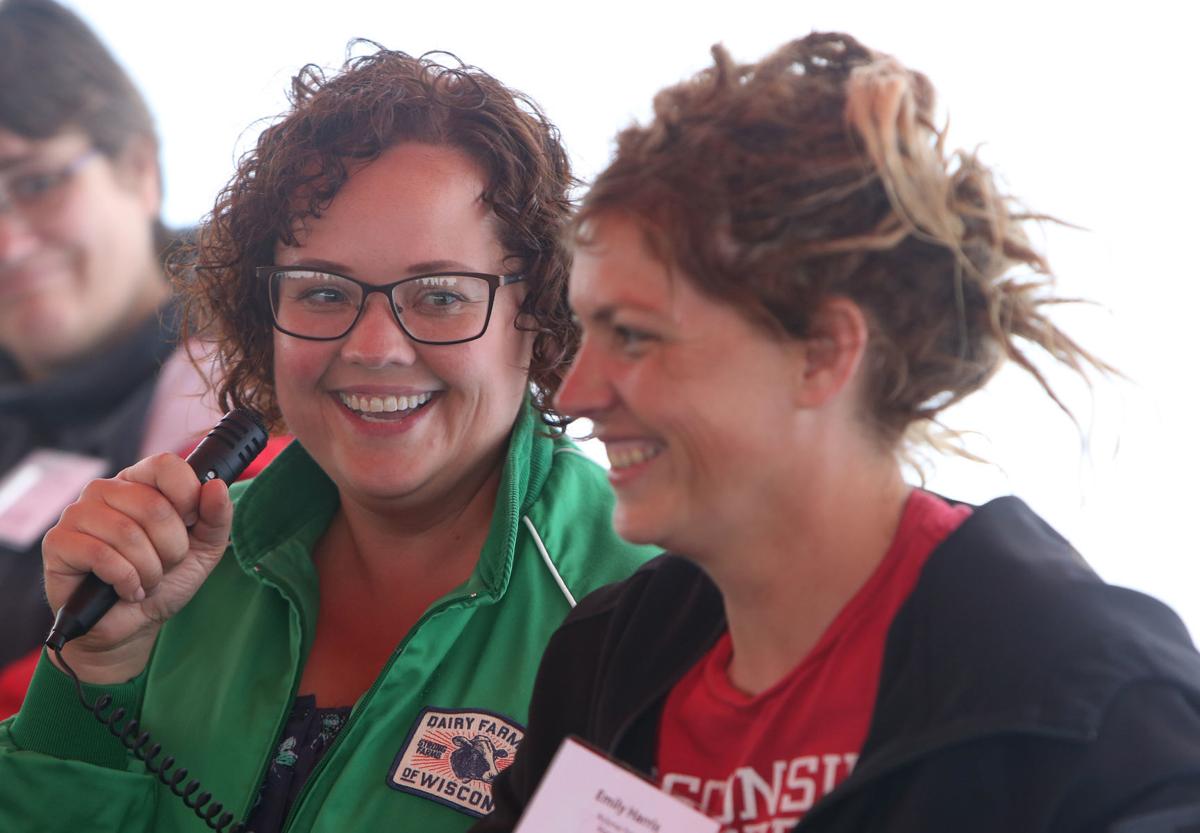 Rain lashed the tops of canvas pop-up shelters and sturdy boots sank several inches into the mud at the edge of a Green County field on a stormy day in early summer.
Still, farmers Emily and Brandi Harris were smiling.
"I hope we maybe make friends, and we learn things, make connections," Brandi Harris said as a group of women in rain jackets and baseball caps pulled camp chairs into a semi-circle under the canopy. "We're a small farm and we want to help small farmers, women farmers."
In late June, the Harris couple hosted the first In Her Boots event of summer 2018 at their dairy farm, Wylymar Farms. Forty-eight women had signed up, though the weather kept a few of them away.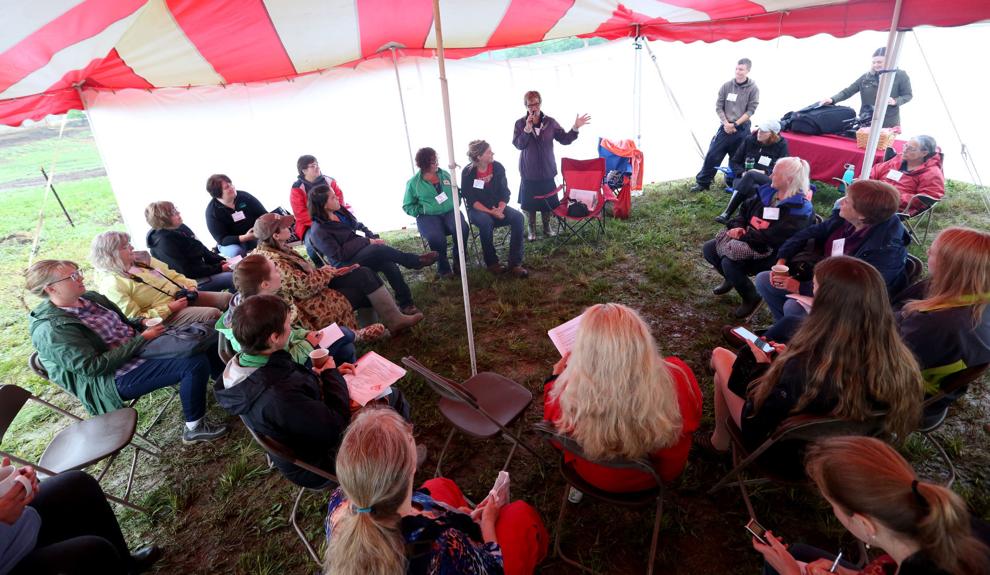 In Her Boots started in 2009, originally called the MOSES Rural Women's Project. The USDA estimates that women are the principal operators of about 14 percent of the farms in the U.S., and in total make up 30 percent of farmers in the country.
MOSES is short for Midwest Organic & Sustainable Education Service. The goal of In Her Boots is to "provide training, outreach and a voice for women in organic and sustainable agriculture."
In practice, this means workshops, networking opportunities and access to resources related to women and farming. The next event is set for Thursday at Humble Hands Harvest in Decorah, Iowa, where farmers and educators will focus on "tools and machinery, vegetables, CSA and diversification."
The events' primary organizer and promoter is Lisa Kivirist, who with her family runs Inn Serendipity Bed & Breakfast and Farm in Brontown, half an hour south of Monroe. She's worked with MOSES for eight years.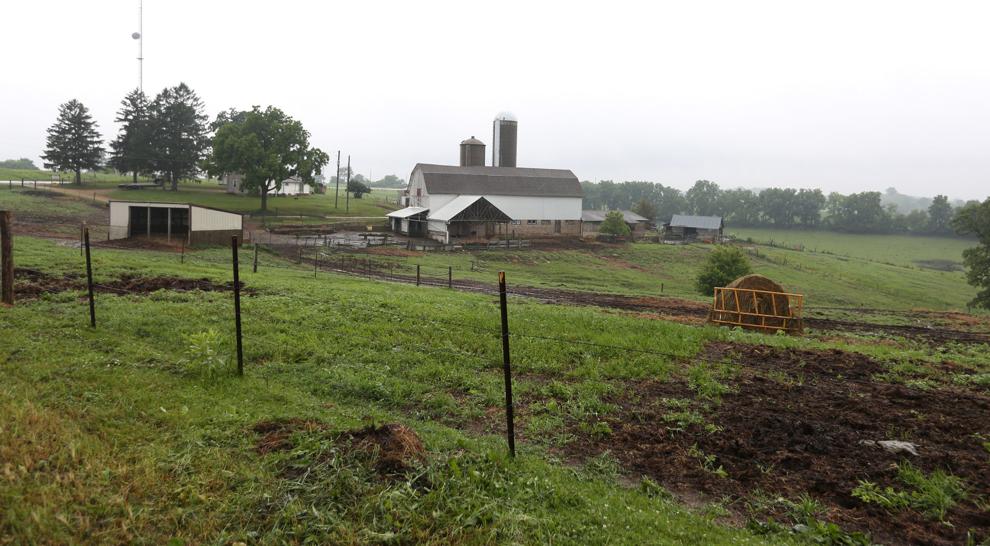 "Women make up one of the fastest growing groups of new farmers," Kivirist said. "But (there are) not a lot of resources for those of us who don't always do things by expectations and rules, who want to innovate and do different things. Our best resources are each other."
In Her Boots takes on all kinds of issues, like debt, permaculture, water conservation, outreach and growth. Kivirist brings in representatives from the USDA, the Wisconsin Farmers Union, environmental experts and industry veterans.
Women farmers experience some of the same pressures as their male counterparts, from the price of milk to the cost of equipment. Dairy cows don't take a day off, and good help is hard to find.
The Harrises haven't taken a real vacation together of any significant length in years, and Brandi works a second job at Blackhawk Technical College in Monroe.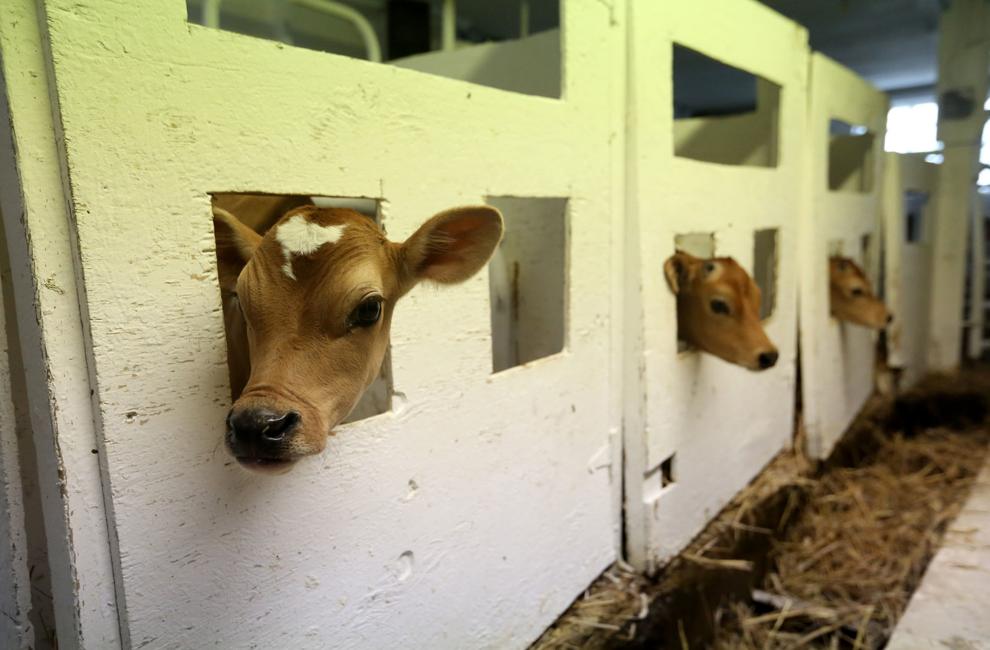 Other challenges do disproportionately affect women. Jonnah Perkins, part of the Vermont Valley Community Farm in Blue Mounds, was quoted in a New Food Economy story last month about balancing a baby and work on a farm.
"Though lack of affordable, accessible child care is a problem for many American families … farm parents can face unique challenges," wrote Danielle Beurteaux. "They live in remote areas, where opportunities to hire help are slim. At the same time, agriculture's extreme seasonality makes scheduling difficult; inconsistent revenues can make regular payments another obstacle.
"Many female farmers struggle with the idea they should be able to do it all, and they feel like failures if they can't."
At Wylymar Farms, Emily and Brandi Harris farm 162 acres off County Road J, north of Monroe and east of Argyle. About 60 acres serves as pasture for dairy cows, about 100 head at any given time. On the rest of the land they grow organic hay and corn.
Brandi spent her childhood "in town" in nearby Monroe, but Emily is a legacy farmer. She grew up five miles down the road from Wylymar, where her family owns 540 acres, and learned from her grandfather, beef farmer Wyllie McMicken.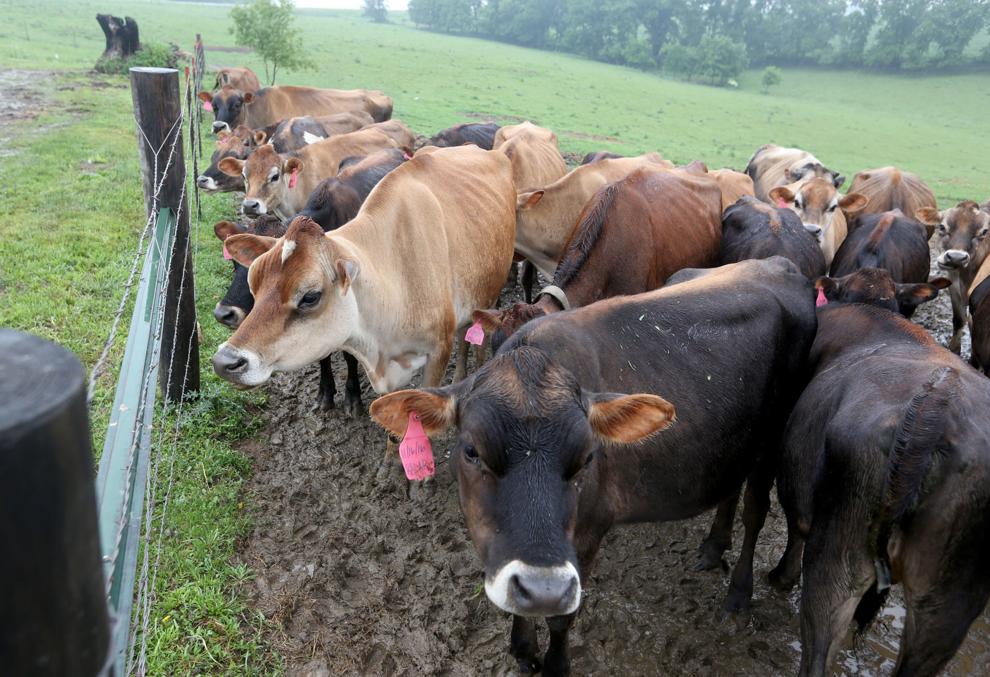 "I started buying Jersey bull calves to throw into the feedlot to make more money, you know, with grandpa," Emily said. "And I just fell in love with Jerseys. I kept telling him, I want to dairy farm, I want to have Jerseys. I went out on my own in 2010."
McMicken has been farming since the 1940s, but his granddaughter approached her fledgling dairy operation in a thoroughly contemporary way. Emily went to other dairy farms to learn techniques and then, while still in her 20s, she bought the first cows for her herd on Craigslist. She picked them up in a borrowed trailer.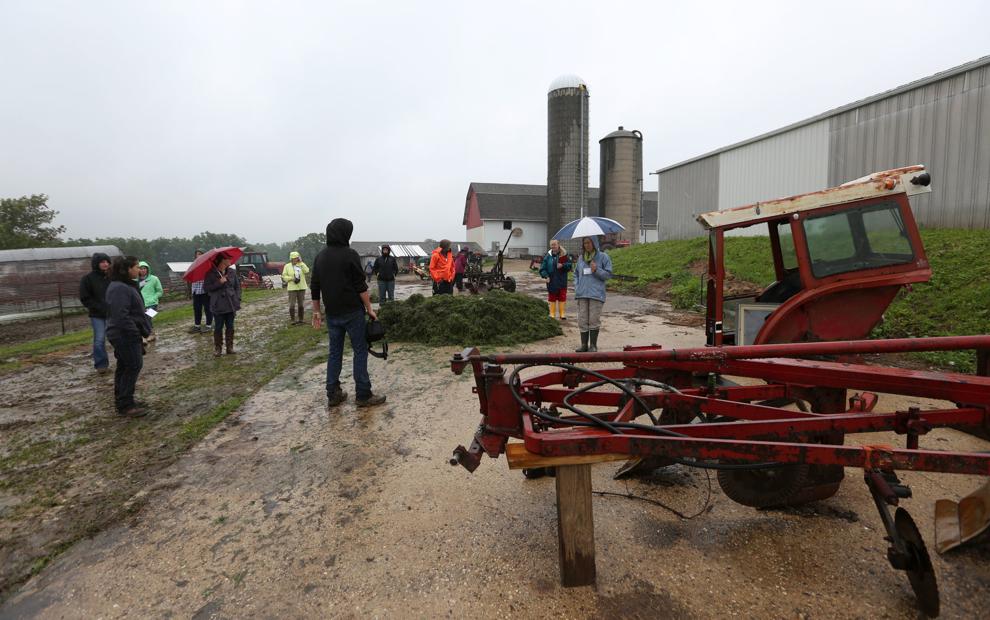 "We change things all the time," Emily said. "The cows are pretty versatile.
"The thing I've learned in the past few years is how to not be scared to take things apart," she added. "We try not to hire much done. We've gotten pretty crafty."
Parts of the Harris farm, including the house and the barn, were built in the mid-1800s (there have been many additions since). Emily and Brandi walked the group through the barn, full of wide-eyed Jersey calves, and out toward feeding areas where orange and white tabby cats curled beneath troughs in dry patches of hay.  
"I think women have always farmed, they just did it alongside their husbands," Brandi said. "They feel more empowered now to do it on their own."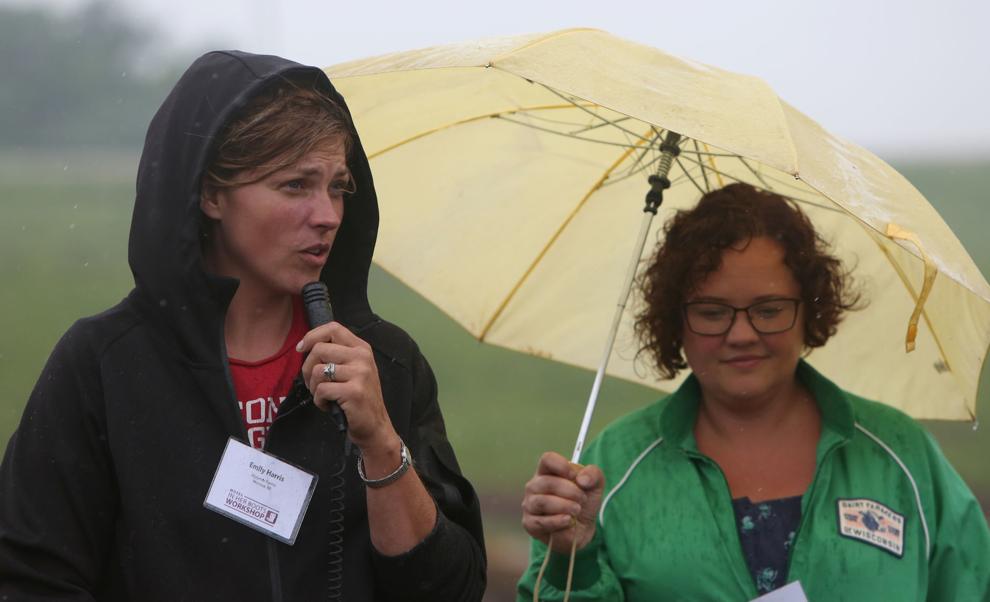 Though the Harrises had plenty of wisdom to share, they're still wrestling with the industry's ups and downs. Currently all of Wylymar's milk goes to Emmi Roth, a cheese company in Monroe, for its organic cheese line.
When that contract expires, Brandi thinks it's unlikely that the company will renew at the same rate, due to changes in the market.
"We're looking into grants to do more rotational grazing," Brandi said. "With the conventional side you don't know what you're getting paid month to month. With organic, you're contracted for two years.
"There are always challenges," Brandi added. "They change, but there always will be challenges. You have to have a lot of faith."