For those who prefer the companionship of a quiet, purring feline over the chatty human kind, a new business on Monroe Street has you covered — in fur. 
Charmed by a cat cafe in Seoul, South Korea, in which patrons could hang out with felines, the Glover family will open Cat Cafe Mad at 1925 Monroe St. on Monday. Hours, to start, will be 3 p.m. to 9 p.m. on weekdays and 3 p.m. to 11 p.m. Saturday and Sunday.
There will be a cover charge of $10, reduced to $5 for the first week (Monday through March 28). That includes a non-alcoholic drink. 
Cheryl Glover and her two grown children, UW-Madison doctoral student Lauren, 34, and New Jersey engineer Kirk, 28, own the cafe. It appears to be the first of its kind in the state (though Milwaukee may soon want one).
"For students, it's really great, because a lot of them miss their pets," said Cheryl Glover, a real estate agent and online businesswoman who lives in New Jersey. "When you go to college, you don't have pets around you like you used to.
"They can go spend a couple hours a week with a pet and have that comfort like they have at home."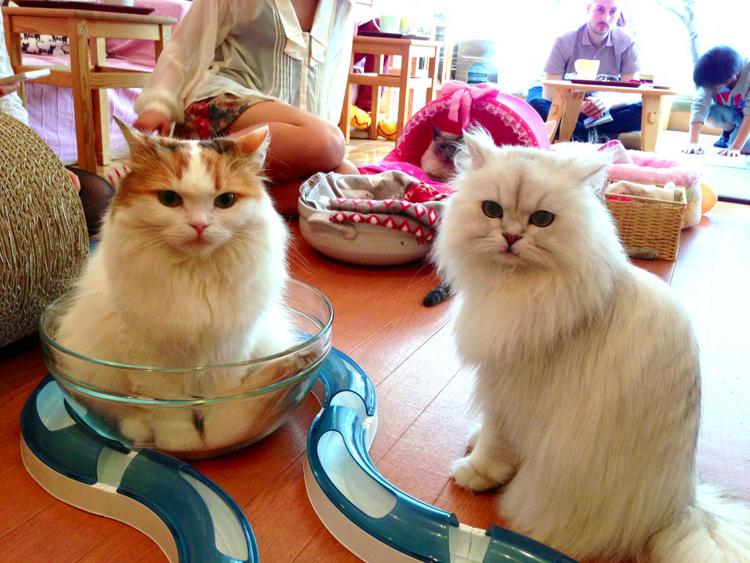 "Lauren's been at ones in Tokyo, in Korea, in the U.K.," Cheryl Glover said. "She always used them to study. She thought it was fun that the cats would try to sit on the laptop, 'cause it's hot.
"Japanese businessmen use it as a place to go have lunch and release stress," Glover added. "They pet the cats and forget about business for an hour."
Unlike some other U.S. cafes of this kind, the 15 to 20 adult cats at Cat Cafe Mad will not be up for adoption, though the cafe expects to host adoption events for the rescue organizations from which the felines came.
"We will advertise," Cheryl Glover said. "People will see which cat came from which shelter, and know they could get another cat like that from that shelter."
The best feline candidates, being selected now, will be either "a cat that loves to be on your lap ... or a cat that loves to play," Glover said. 
The "cafe" part of Cat Cafe Mad will be set up like a 7-11, Glover said, with self-serve coffee, tea, hot chocolate and soda. That part will be inside a cage where the cats can't go, per health department regulations.
Patrons can then take their beverage to cafe tables in front or exercise mats in back, where they can get down on to feline level. The cats will roam free throughout most of the shop's 2,000 square feet, with a cubby-style structure away from patrons where the cats can retreat to get out of arm's reach.
As for litter boxes, "our attendants will change them hourly, so that there's no odor," Cheryl Glover said. Dry food will be constantly available, with wet food at certain intervals.
Some cat cafes sell treats, which patrons can use to get more attention from the kitties. Cat Cafe Mad currently doesn't plan to do this.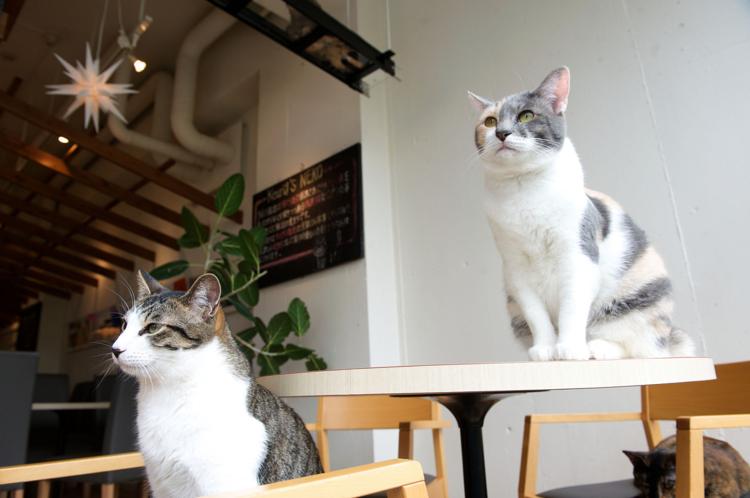 Despite being a headache for municipalities with no precedent for such things, cat cafes have become a national phenomenon. Already popular in much of Asian, they've popped up in the U.S. from Seattle, San Francisco and Denver to New York and Naples, Florida.
Many of these cafes have rules about picking up the cats (most say not to, at Cat Cafe Mad it's OK), keeping the noise down and bothering the kitties while they're sleeping. Cat cafes aren't like dog parks — outside felines are generally not allowed. 
Patrons will have to sign a waiver when they come in, in case of cat scratches or bites, Glover said. 
The Glovers will address other issues as they arise. For an adult cat who develops a health problem like diabetes, Cheryl Glover said, they'd see what staff could handle in terms of care. If a cat became bullying or put other cats in danger, they might have to go back to a rescue organization to get it adopted out. 
"If they need too much help that'd be difficult," Glover said. But if a cat has a manageable disability, like a missing leg, "people will love them too. They'll get more attention here than they would ever get anywhere else."
Cat Cafe Mad's official grand opening is set to be April 1-3, when the owners plan to do a cosplay-style "Halloween in April" event encouraging costumes. 
"The atmosphere and openness to animals is so prevalent here," Glover said. "Everybody has been so welcoming and open to the idea."