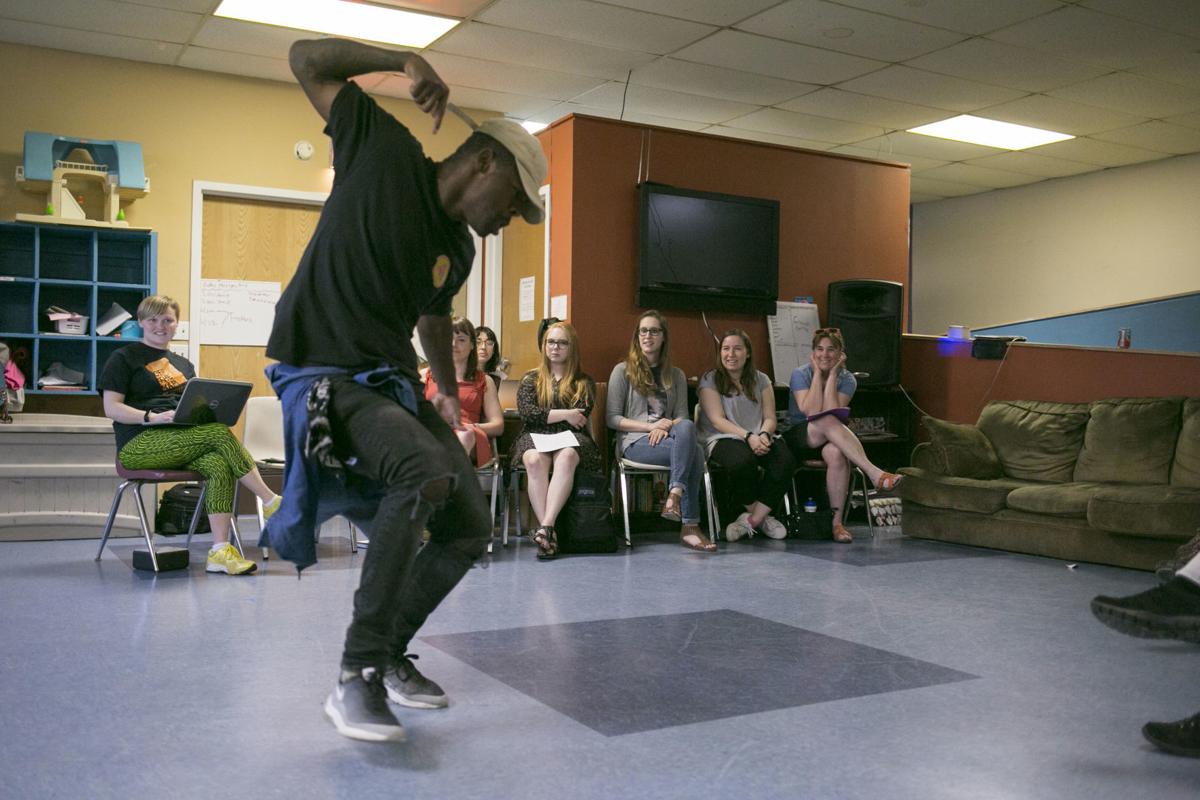 In the wake of the 2016 election, Emily Erwin-Frank felt compelled to take on some kind of project to help other people.
It didn't take long for the social work student at the University of Wisconsin-Madison to land on something already familiar to her, thanks to her field work: helping people with mental health issues.
The result was UpStage Stigma, a performing arts showcase featuring artists and non-artists alike expressing experiences with mental health through dance, poetry and even heavy metal.
"What if I could help people tell their story in their own way … where they could be vulnerable, in a stigma-free environment," said Erwin-Frank, recalling her thinking at the time.
This year, the free event will take place at the Majestic Theater, 121 King St., on Saturday night at 7 p.m.
The first UpStage Stigma took place on a much smaller stage, at the Brink Lounge on East Washington Avenue. That event featured more than 20 acts, from author Marie Deaconu-Baylon reading from her sci-fi novella "North For Sun," about a Filipino time traveler grappling with mental illness, to a performance from local hip-hop dance instructor Kooy Buie. Erwin-Frank herself performed, singing "Defying Gravity" from the musical "Wicked."
"It's been nearly a year now, and people still talk about how impactful it was," said Karl Locher, another social work student who is helping organize the event. "One of the things people expressed was that it was really emotionally helpful to have other people, in public, address their experiences with mental illness."
This year's event will feature a similarly diverse lineup. Andrew Archer, a social worker, will talk about his experiences with bipolar disorder. The metal band Morningstar will perform music composed about a close friend of theirs who was diagnosed with schizophrenia. Smattered throughout will be original dance, spoken word and poetry.
The 14 acts that comprise UpStage Stigma will be followed by a celebratory digestif: Live music from the Big Payback, a local jazz rock band.
A prominent goal of the event, organizers say, is not just to create a stigma-free space onstage for performers. It's also to dismantle that stigma in a broader context.
Locher said that while he's seen some positive changes in the mental health conversation in 2018, profound stigma and misrepresentation persists in the U.S. when it comes to mental health, particularly when it comes to severe and persistent illnesses like bipolar disorder and schizophrenia.
He also said that a trend of linking violence to mental health in the news media isn't helping, either.
"They're not empirically grounded discussions," he said.
"It is really unfortunate that there's this narrative that connects incidences of mass violence to mental health," added Erwin-Frank. "(Those with a mental illness) are no more likely to make crimes than people who don't have diagnoses."
Ultimately, Erwin-Frank said she hopes that the event sparks conversations about the stigma surrounding mental illness, and that "people come away and feel less alone."
Locher also noted that the timing of the event is intentional: May is Mental Health Awareness Month.
The event is free, although those who attend are encouraged to make a $10 donation to the Program of Assertive Community Treatment, a Madison-based initiative to serve people in the community with chronic, severe mental illness.
Correction: The original version of this article incorrectly said that Amber Swenor would emcee the event. Amber Sebastian is the actual emcee.