ARTS
The art of the sale: Madison's art scene finds new ways to connect with businesses and collectors
Christina Libs, a 28-year-old staffer at Zendesk, got her introduction to Madison's art scene a few years ago at Art Fair on the Square.
"Everybody's just walking around with their friends looking at really expensive art and slightly more affordable art," said Libs. "It made me aware that there's a big network of people in Madison focused on art."
But Libs didn't make her first major art purchase until until she met Carlos Eduardo Gacharná, an artist and the arts manager of 100State, a downtown coworking space. At a night market called Dane Arts Buy Local in 2016, Libs was drawn to one of Gacharná's pieces, an image cast on metal.
"It was a personal connection for me," said Libs. "I know people collect expensive art and that's not really where I'm at. I'm just getting into the scene."
The time it took for Libs to go from casual interest to a significant art purchase offers a tiny window into Madison's collector culture in 2017.
The city's constellation of art collectors is disparate. Sales opportunities for artists are driven by events, which prioritize personal interactions and can require significant investment from artists upfront.
"The days of the incredible corporate art collection are definitely past," said Peter Lundberg, who has owned Janus Galleries for 30 years. "Budgets are stretched so thin, they don't set aside dollars for art."
Artists call the Madison market "tough." Gallery owners say it's "fickle."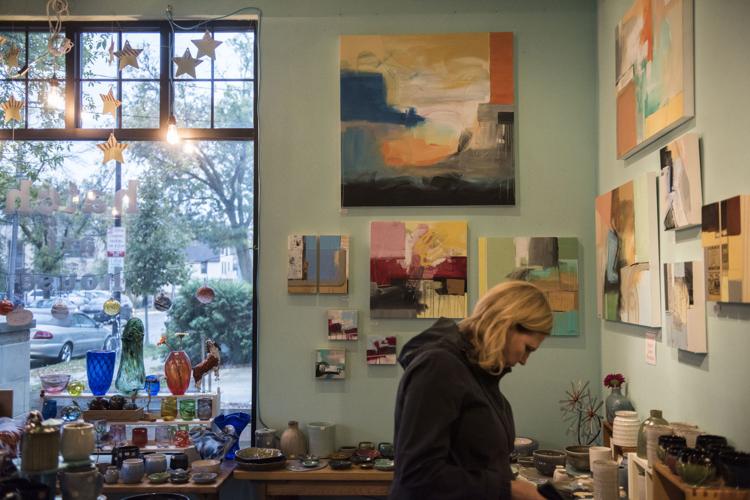 Yet as galleries like Janus, Grace Chosy and Fanny Garver move or close, the art scene remains active. Madison arts advocates have been exploring new ways to connect artists with corporate buyers and individual collectors.
On the east side, a fledgling program called Curatorial Connection aims to facilitate art rental. Artists set a rental price to exhibit their work for six months to a year.
Tandem Press's Partners in Prints program, now in its second year, allows collectors to buy in early at a lower price, not knowing what the finished print will be until it's revealed months later.
On Nov. 1, Arts + Literature Laboratory will open a call for artists for the second annual CSArt program, similar to community supported agriculture (CSA) for artwork. The pilot program this year sold out all 50 shares.
Nearly 70 venues participated in fall Gallery Night on Oct. 6, many showing art for sale. The following week, the third annual Dane Arts Buy Local market drew several hundred people to a locally focused evening art market.
"Gallery Night for so many years was focused on standing art galleries, and it has morphed into something with many more venues," Lundberg said. "It's giving people another place to see art, but I don't know if that has translated into the best business plan for artists."
As for Libs, her first purchase at DABL has since been followed by a new wood piece, a sculpture of a sailboat on the water by Joseph Taylor.
Taylor said he's used to "working the café circuit" and playing the long game with art buyers like Libs. It can be a tricky value calculus.
"I might have a show that feels really bad, I don't sell anything," said Taylor. "For months I'll think that show really sucked.
"But I might get a call six months later: 'I just got around to calling you, I saw your art at Lakeside (Street) Coffee House and I want to do this big commission for my house.'
"Then I have to go back in time and say that show was worth $1,500."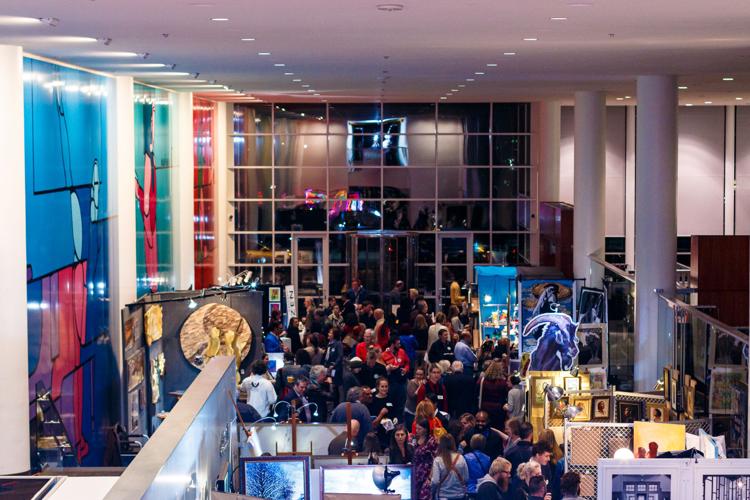 A healthy art scene
When Grace Chosy Gallery closed on Monroe Street in summer 2013, longtime art consultant Margaret LeMay watched and worried.
"I was nervous," said LeMay, who opened her own gallery, Marzen, on Atwood Avenue in fall 2014. "Everything I had heard about people buying in Madison was it's a tough market. And it's proved to be.
"We've gotten so many accolades for being here on the east side and having a beautiful space. People come out to our openings and walk through and enjoy it, but the sales are few and far between."
For more than 20 years, LeMay worked as an art curator and buyer in the corporate world. She had modified expectations for Marzen. Despite shows with well-established artists like Andy Rubin, Paula Schuette Kraemer and Linda Koenig, sales have been slow.
This year, she set a rental price for use of the space as a showroom. She plans to rotate art as needed, instead of the monthly shows she started with.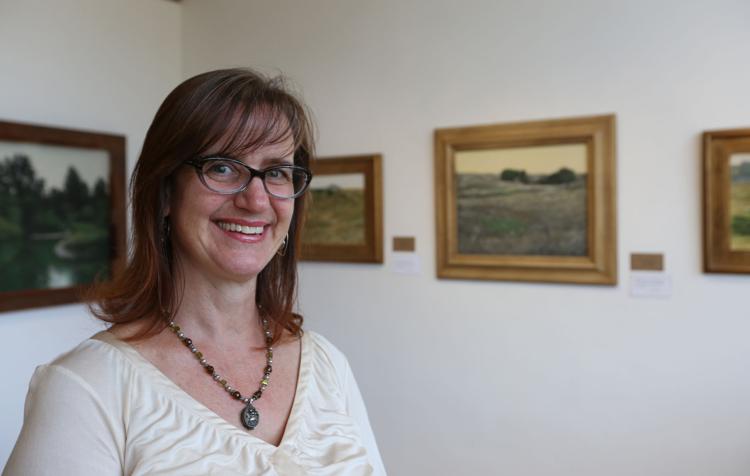 "It is just not performing anywhere near what I was hoping for," LeMay said. "If I didn't have the consulting business the gallery would be long gone."
LeMay supports Marzen by working with some of the biggest buyers of fine art: the health care industry.
Epic Systems, which declined to be interviewed for this story, has been known to spend thousands of dollars at the Art Fair on the Square (artists call the phenomenon "an epic day").
UW Health has Mandy Kron, who coordinates rotating art shows and purchases work for clinics and hospitals, including the recently opened seventh floor of the American Family Children's Hospital.
The theme for that floor was "clouds," and among works she commissioned was one from a college friend, photographer Emily Hutchison. The floor-to-ceiling photo shows fluffy cumulus puffs edited to look like animals — a squirrel, a bunny, a whale.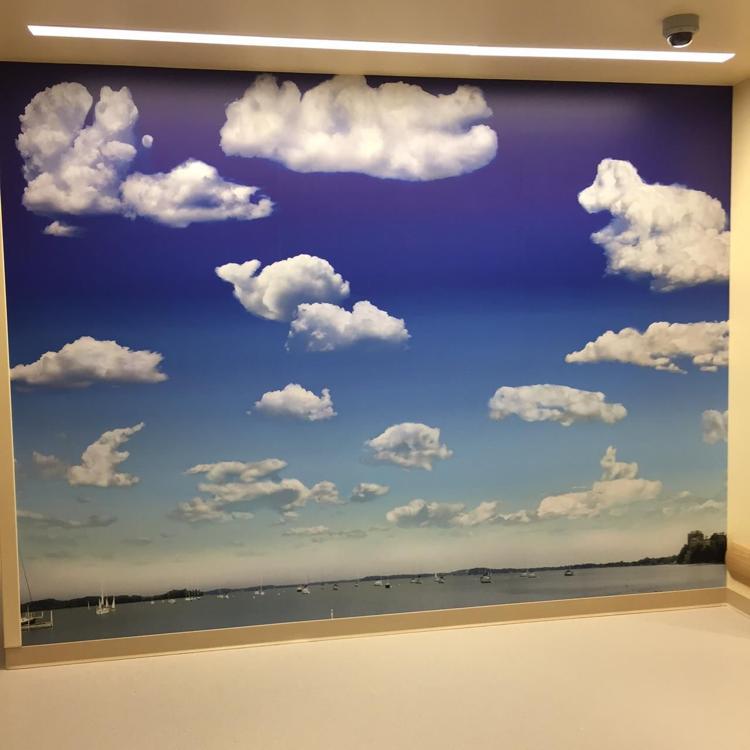 "I keep in mind that my audience here is probably not coming here to view the art," said Kron. "They came for an appointment or to visit a patient or to work.
"I'm not going to put up more controversial work like a museum would because people aren't choosing to see it."
UW Health not only buys art, it sells the work to visitors and staff at exhibitions. For each sale, UW takes 20 percent commission to support the art program.
Photographs, like those by Ron and Sandy Curran currently on display in an entryway at University Hospital, often prove popular with exhibition attendees.
"Lately we've been selling pretty steadily," said Kron. "I have sold 10 pieces since the beginning of the month."
Like with Hutchison's cloud animal photo, UW Health commissions work as well. Barbara Westfall, a mixed media artist, made a 12-foot oak savannah sculpture with a river of glass for the emergency room at UW Health at the American Center.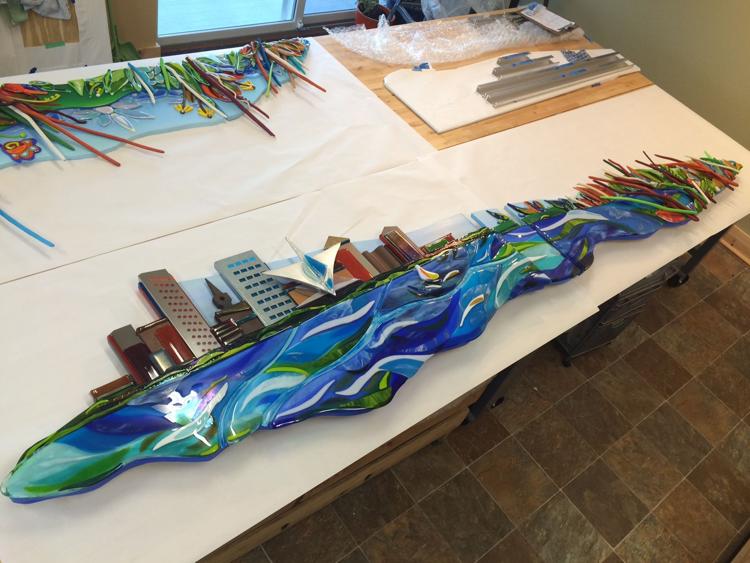 "For the commission pieces, people who are going to be spending $10,000 on a piece of art want to make sure you know how to work with subcontractors and can get it done on time and on budget," Westfall said.
Westfall has gotten commissions through Dane Arts Buy Local, including one from the software company WIDEN to make a rendering of the Milwaukee skyline in glass, metal and willow branches.
She frequently works with health-related businesses, like Inner Sparks Gym & Spa in Middleton and the University of Wisconsin School of Nursing.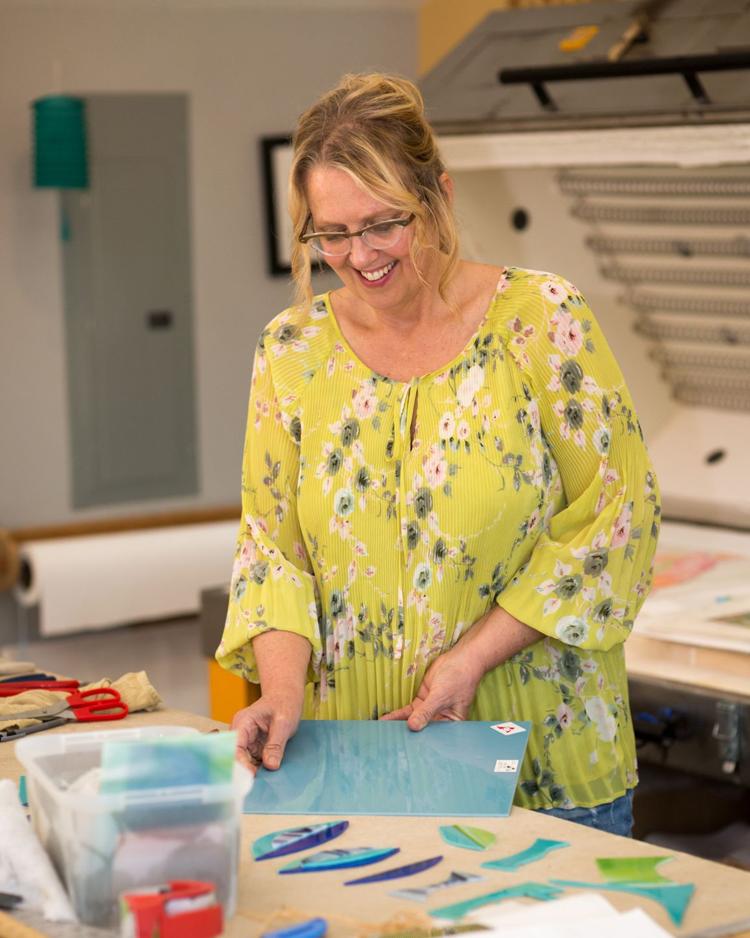 "Health care has been a really good example of an industry that has recognized the importance of art in interior spaces for healing," said Westfall. "Artwork is a huge part of how we respond to our spaces. It can create moods and motivations, spaces can be energetic ... greens and blues are more calming and cooling."
Even in the health care industry, support for the arts doesn't always take the form of cash payment. Having a show at Promega Corporation in Fitchburg generally does more to raise an artist's profile than sell his or her work.
"I try to make it so the artist does get something out of it," said Daniel Swadener, who has been coordinating exhibitions at the biotech company for 20 years. "What they get is the ability to exhibit, the exposure and being able to sell some things."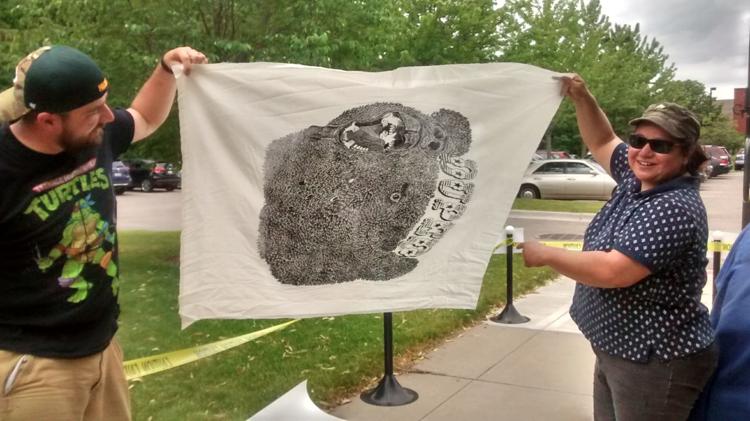 This past summer, artist Jenie Gao guest curated a show for Promega called Intertwined featuring four artists. The exhibition space, she said, "is not a commercial model, it's an educational platform," which means curators can take more risks.
"It's interesting in a corporate environment," said Gao. "This was not innocuous art that exists for decoration in a corporate space. This work has a philosophical backing. It's got a political message. And some of it's heavy."
Sometimes after a show, Swadener said, employees will rally around Promega CEO Bill Linton and ask him to add a piece to the permanent collection. Gao said that overall in Madison, "there's not a strong collector culture."
"They get scared of the price," she said. Most people pay more for their smartphones than what they would pay for a work of art that they love."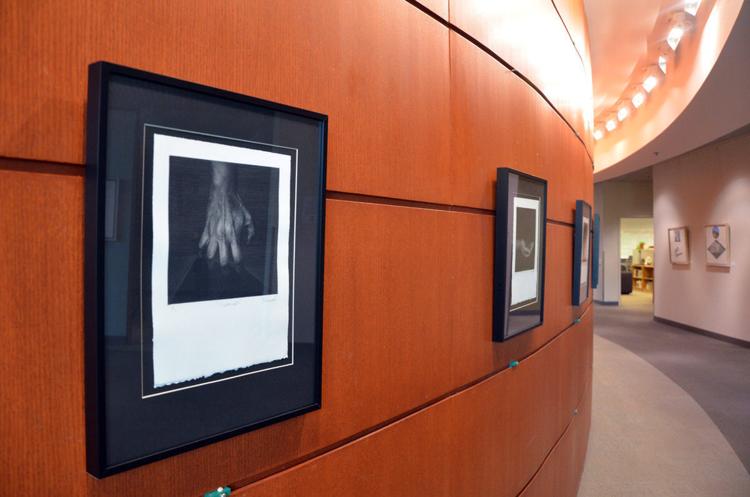 On the other end of the health care spectrum is Monroe Street Family Dental, a near west side dentist's office with a rotating art show since 2009. The office has participated in MMoCA's Gallery Night since 2010.
Amanda Farrow curates the office's art, usually two to three artists at a time. It's café style, so artists show for free but can post prices for their work. Farrow focuses on comforting images to as not to upset anxious patients.
"We don't want artwork that will make people uncomfortable," she said.
Patients might not realize that Beth Scott's vivid watercolor of orange lilies, part of the current exhibition, is for sale. Farrow tries to educate the staff.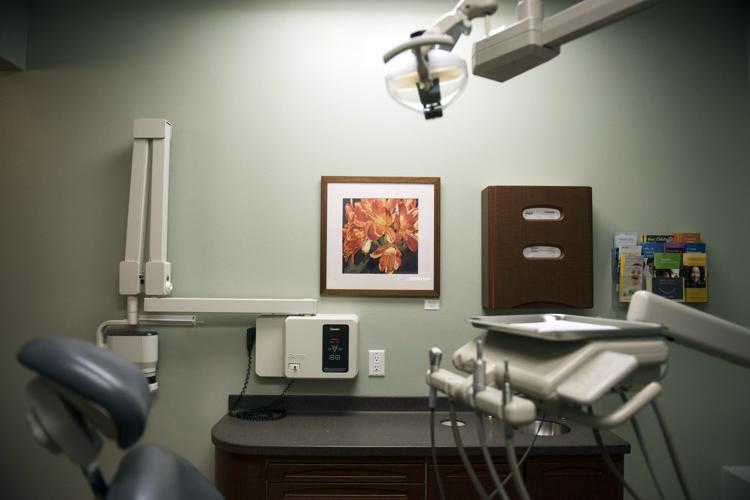 "We've sold, I'd say, a dozen pieces," said Farrow. "Some people are surprised that the artwork is for sale, but everything is labeled with a tag: who it's made by, how much the asking price is.
"It's not just for patients to see the artwork but for the artists to get more visibility."
Visibility might be all they get.
"It's a really fine balance between artists wanting to get their artwork out into the world ... in cafes, restaurants and businesses in the name of exposure," said LeMay. But "they don't recoup anything out of it and it's a lot of work for them.
"So on the one hand they're getting exposure, but how many times have you walked into a restaurant or café and bought something off the wall? That's few and far between."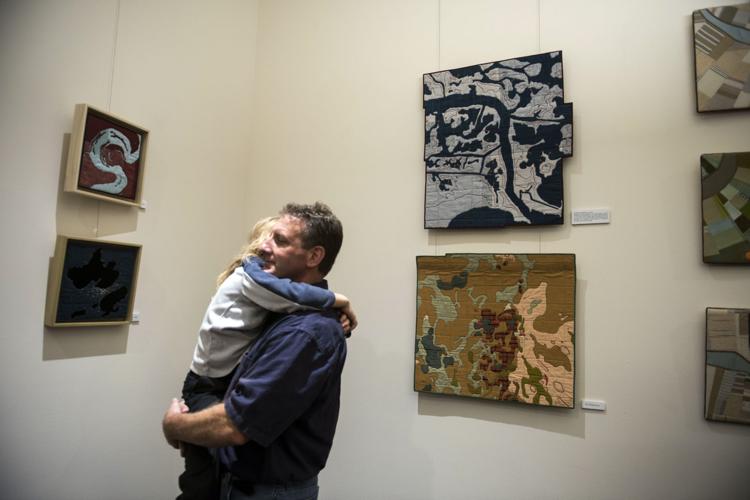 Rent-a-print
Kristie Schilling used to be a graphic artist. Now as the executive director of the Monona East Side Business Alliance, Schilling was sensitive to the artist's perspective when setting up a new art rental program, Curatorial Connection.
"I thought there had to be a chamber of commerce somewhere doing this," said Schilling, who launched Curatorial Connection earlier this fall.
Schilling's idea is a directory of artists (participation costs $30), each offering a collection of their work for rental. Artists like watercolor and collage maker Trudi Theisen and east side painter Char DeVos set a price for businesses to rent their pieces.
If they like a piece they might even buy it to keep.
Schilling, who was out recruiting at Dane Arts Buy Local last week, has published a list of seven artists so far. She's been gauging interest in the program for months, talking with members whom she knew already displayed original art.
"Connections are tough," Schilling said. "We're such a siloed community. I know the east side is home to the creative class in Madison.
"I am going to find them and create this link between the businesses and arts community so it can be easier."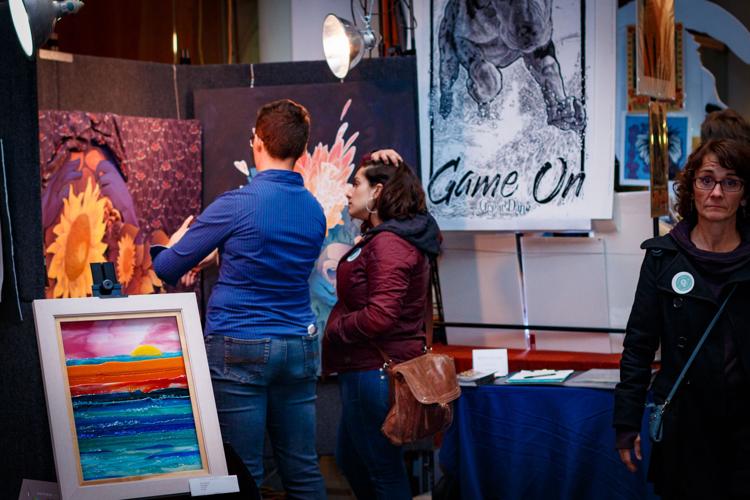 That's what Dane Arts Buy Local was created for, too. Dane Arts director Mark Fraire launched DABL in 2015 as a parallel to Art Fair on the Square for local artists, with the goal of selling work.
"I can marry businesses to the arts and make it a win-win for both sides," said Fraire. "That's what I'm trying to do."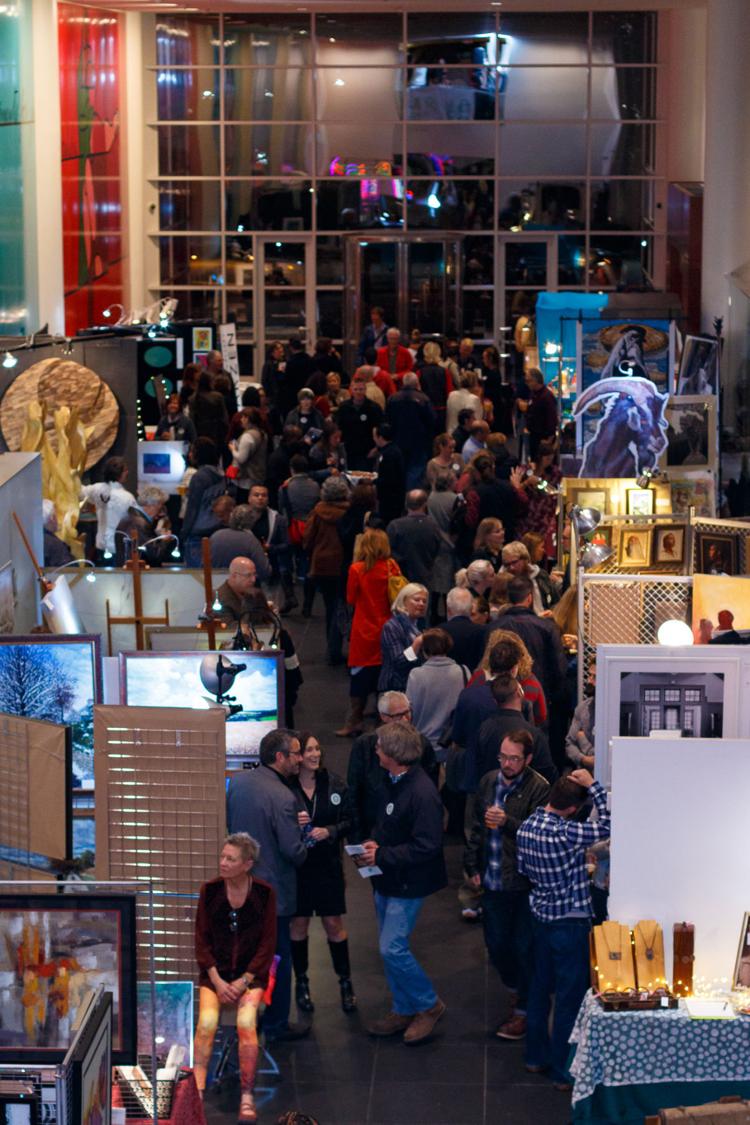 Artists self-report their sales from DABL, but Fraire estimates that in the first two years, artists sold close to $25,000 and made twice as much in commissions. Dane Arts gets plenty of artist applications — close to 60 this year, of which 32 were accepted.
The tendency to browse rather than buy is still strong among attendees, though. Fraire sees more work to be done in connecting with businesses.
"I'm part of Rotary downtown and it goes over their heads in terms of the impact art has in an environment," Fraire said. "I congratulate the businesses that understand that and have purchased art directly.
"But the bulk of businesses, it's not even on their radar that art drives the motivation of employees in their buildings."
Tom Linfield is a local artist who also works at the Madison Community Foundation. On Oct. 6, MCF planned to go to Dane Arts Buy Local to meet artists, but expressed no plans to purchase work.
"They don't have problems getting artists to apply," Linfield said of DABL. "But how do you get corporations to say, 'We're sending five of our staff with a $5,000 budget once a year to buy art?' That could be an extraordinary sales opportunity for artists."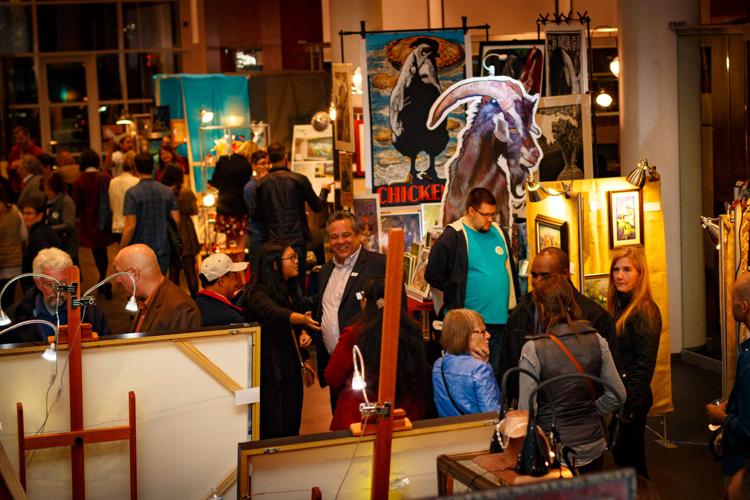 Community supported creativity
Collecting art often starts with a single piece. For Kathie Nichols, it was an abstract painting she bought with her then-husband in Washington, D.C.
"It was very abstract, I think acrylic on glass," Nichols said. "It was very unusual, very beautiful. We were both very taken by the work and decided to take the plunge."
The couple went on to collect monotypes and drawings by Mark Mulhern, photographs by Greg Conniff and paintings by Barry Roal Carlsen, from whom Nichols bought a fiery triptych.
"It was especially meaningful to both of us to have a relationship with the artist," said Nichols. "That made the artwork more special."
Nichols is the kind of collector Arts + Literature Laboratory wants to cultivate with its program, CSArt. Structured like community supported agriculture, CSArt aims to ease fine art sticker shock while highlighting a variety of local artists.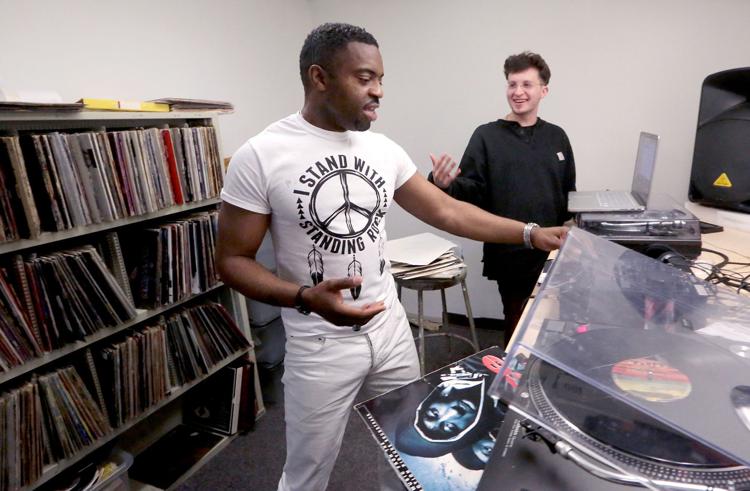 "I don't know that Madison will ever support the high-dollar commercial gallery scene that we see in major art markets around the world," said Max Puchalsky, who launched CSArt with Simone Doing less than a year ago.
"But I think there is a space for newer economic models that tap into existing economic structures people are familiar with, like CSA."
Artists who are chosen for CSArt agree to make 61 of something small — miniature sculptures, drawings, paintings or textiles, or a limited edition run of prints, photographs, poetry broadsides or chapbooks.
A share costs $300, and each participant gets 10 pieces, or five with a half share ($150).
CSArt will open its second call for artists on Nov. 1. The first iteration of the program sold out its 50 shares and generated $15,000, two-thirds of which went to the participating artists.
Shareholders would like to see the cost go down and artists would like to see their stipend go up, Puchalsky said. ALL wants to find a balance to keep things accessible.
"That's the goal," he said. "Expanding who has access to contemporary art, who can purchase it and bring it home with them. Also the artists, making sure it's worth their time, that they're paid a living wage or at the very least are able to cover the cost of their materials."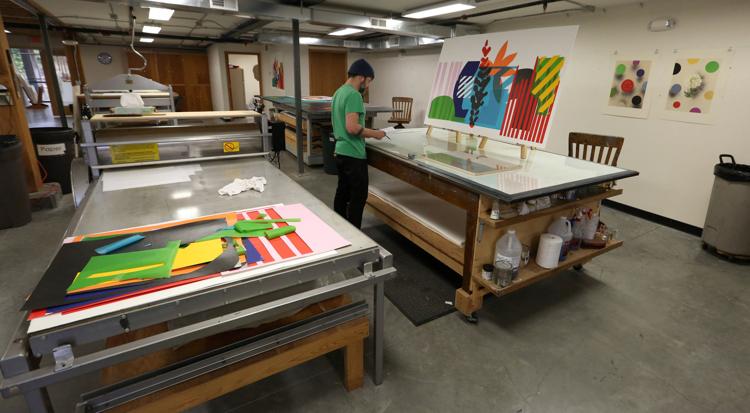 Like with a farm share, folks don't know exactly what they'll get from CSArt until the work is done, months after they've put money in.
At Tandem Press, a printmaker affiliated with the University of Wisconsin-Madison's art department, the Partners in Prints program takes the same idea and scales it up. The buy in for partners is $1,000, the printmaker is a mystery, and all proceeds go back to the press.  
"It's a gamble, and that's why the price point is a little bit lower" than market value, said J. Myszka Lewis, a curator at Tandem Press (as well as an artist herself in the first iteration of CSArt).
For individual collectors and museum buyers, "it's a way for them to build their collection at a pretty affordable price."
Partners in Prints started quietly last year with a print by Dan Rizzie, made with assistance from a graduate student. Lewis and co-curator Sona Pastel-Daneshgar quickly realized the run was too big (80 prints) and they didn't have enough time to market it. The buy in was smaller than they'd hoped.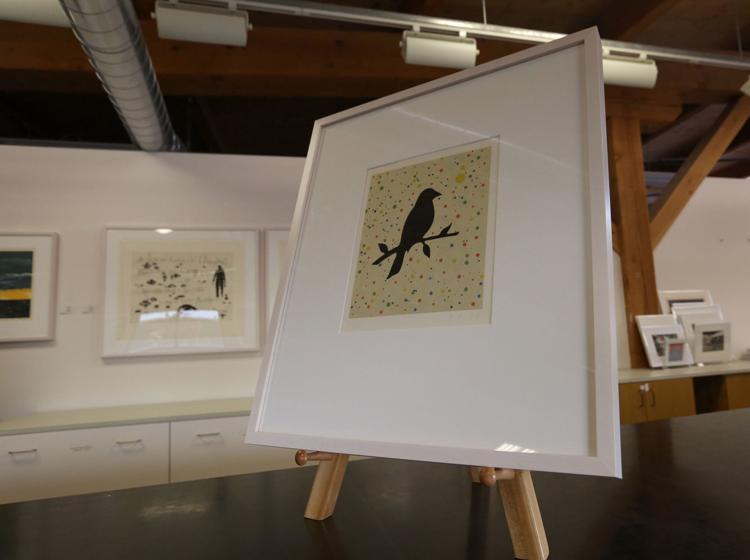 This year, shareholders will receive one of 50 limited edition prints, set to be revealed in December. After Tandem unveils the print the price will go up, Lewis said.
"We're trying to be more visible locally, because it does seem like we're Madison's best-kept secret," said Lewis. "We can connect with those people that live here that have the (disposable) income to spend on art."
For those who have more money, prints are a good way to scale up an ambitious collection.
"Prints are a really great way to get into collecting," added Pastel-Daneshgar. "You can get a Jim Dine print for $15,000, versus one of his sculptures for six digits. It is, from that standpoint, absolutely affordable if you want a Jim Dine but can't make the plunge."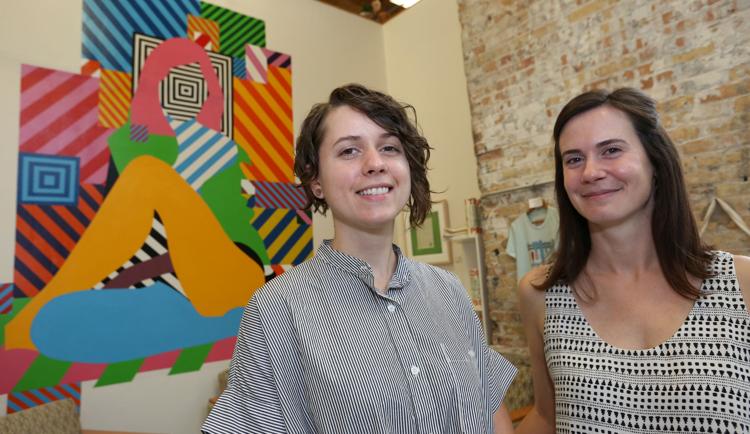 Filling empty walls
In her work as a printmaker and curator, Jenie Gao has heard plenty of reasons why people don't buy original art.
The art's too expensive, or it's too big. They're not sure where they'll be living in a year or two.
"We're a very experience-driven culture," said Gao. "I hear a lot, 'Well, if I move, I'd have to move this piece.' And it's like, yeah, and you'd have to move your couch and your TV."
Gao wants to dispel the idea that original artwork is only accessible to the rich. She has had her art purchased by teachers, social workers, "people with normal jobs and normal salaries."
"It wasn't a question of 'Someday when I'm rich,'" Gao said. "It's 'Oh hey, I love this piece. We want this to be a part of our lives.'"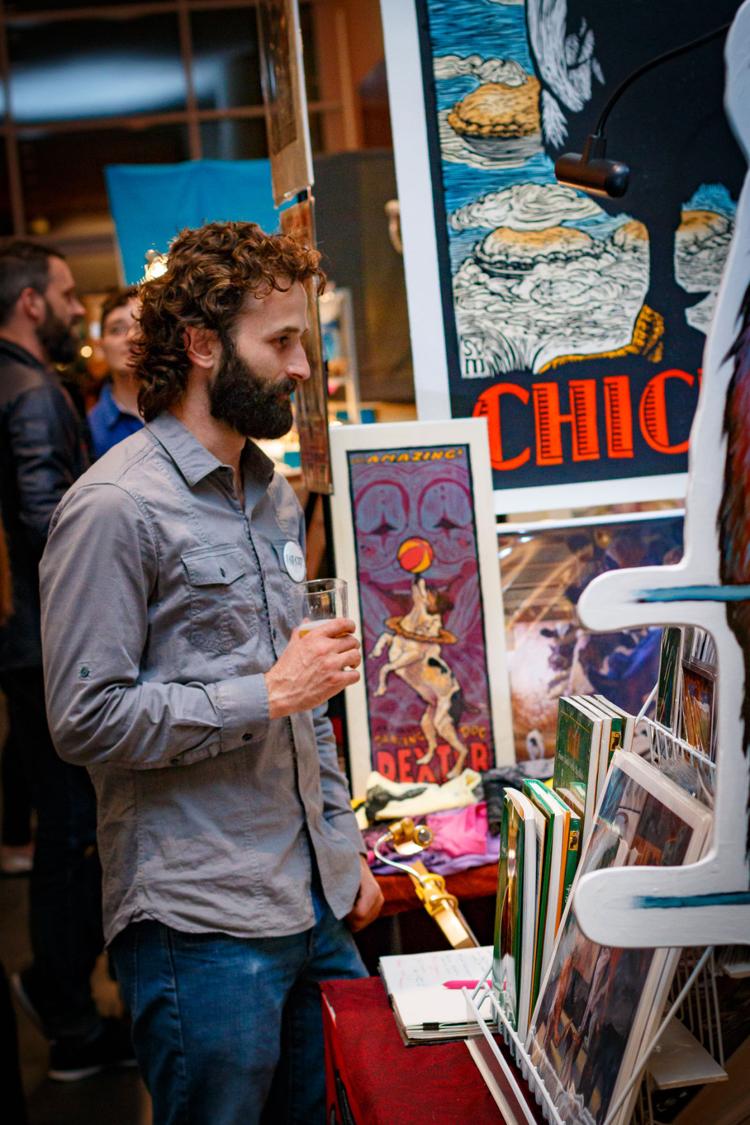 Aspiring collectors can get started at events like the Winter Art Fair Off the Square on Nov. 11-12 at the Monona Terrace, hosted by the Wisconsin Alliance of Artists and Craftspeople, or the recently renamed MMoCA Art & Gift Fair is set for Nov. 18-19.
"Some people may feel hesitant about buying artwork," said Annik Dupaty, MMoCA's director of events. "Maybe they feel they don't have the skill to evaluate artwork and make a good choice.
"A person who's a little unsure can come to our art fairs and know the artist has been vetted by a jury ... they've been evaluated for quality, craftsmanship, originality, design."
Beginning collectors like Libs, the young Zendesk employee, like facetime with artists.  
"It's important that I have that understanding of what the piece means to me," Libs said. "That's part of my connection to the community — wanting to support the arts in a relatively straightforward fashion."