This August, dozens of walls around the city of Monona will sport faces and flowers, sprawling graffiti-style letters and nature scenes.
Momentum Urban Arts Fest, set for Aug. 24, will celebrate street art by bringing dozens of artists to create work on auto shops and offices. High visibility commercial buildings work best.  
"I think it could put Monona on the map in a cool, creative way," said Kristie Schilling, CEO of the Monona East Side Business Alliance and a co-organizer of the festival. "So many of our buildings were built in the 1960s and '70s. They're large buildings, sprawling, cinderblock, and that's the easiest for these guys to put up and remove paint."
From 9 a.m. to 4 p.m. on Aug. 24, attendees should be able to follow a map to locations all over Monona where artists are actively completing their murals. Inspired by street art events like Wynnwood Walls in Miami with a similar aesthetic to the traveling muralist Walldogs, the Urban Arts Fest in Monona is being spearheaded by James Gubbins.
Gubbins owns Momentum Art Tech, a specialty arts store at 195 Cottage Grove Road that, among other things, sells paint to street artists.
"Wynnwood Walls has this massive festival with DJs and breakdancers, that's kind of our vision, it's leading up to that," Schilling said. "James will have a hub by his store in the parking lot there with a DJ and someone selling food. That's where you can get the map, we're going to encourage people to bike to these, to eliminate the car."
In addition to grant funds to help pay the artists, Gubbins is soliciting business owners in Monona to pay a flat fee to have a mural on their walls for three months, six months or a year. Participants will be part of a map that the business alliance is pulling together.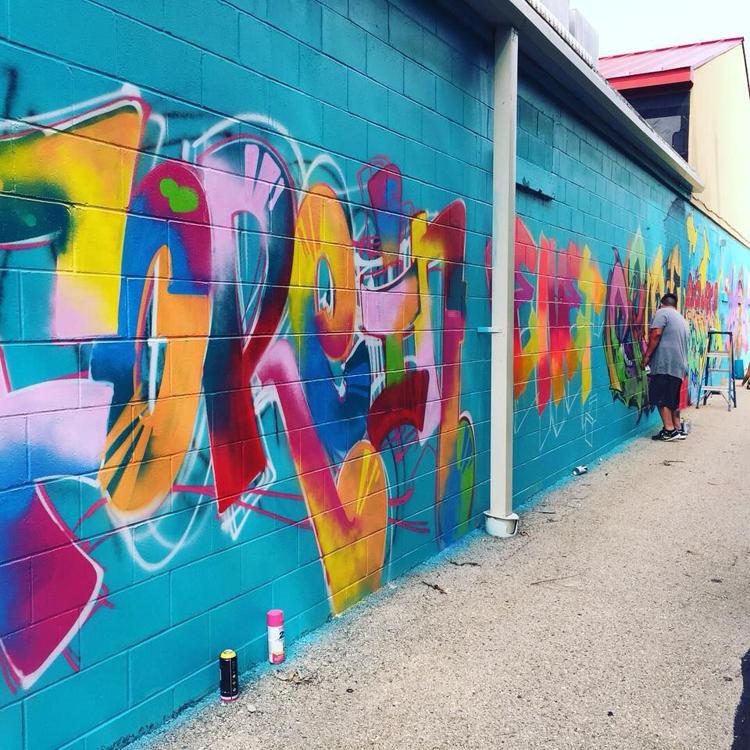 "You're going to have people in front of your business and they might stop in," Gubbins said. "Even if we don't put your name on the wall, you're still advertising."
Gubbins came up in the Chicago street art scene and maintains strong connections there. Every third or fourth muralist he puts up at his own shop on Cottage Grove Road is from Wisconsin, and the festival will be a mix of hyper-local artists and some from out of town.  
"We have to keep it regional," Gubbins said. "An event like this brings (artists) publicity, brings them jobs. I reach out to everyone I can locally and whatever I can't fill I go outside the box."
Gubbins tried the street art fest concept for the first time last August, when he brought 55 artists into Monona to cover a dozen walls with bold colors. Some of the walls that got an instant makeover were fairly hidden, like the alley behind the Lake Edge Shopping Center.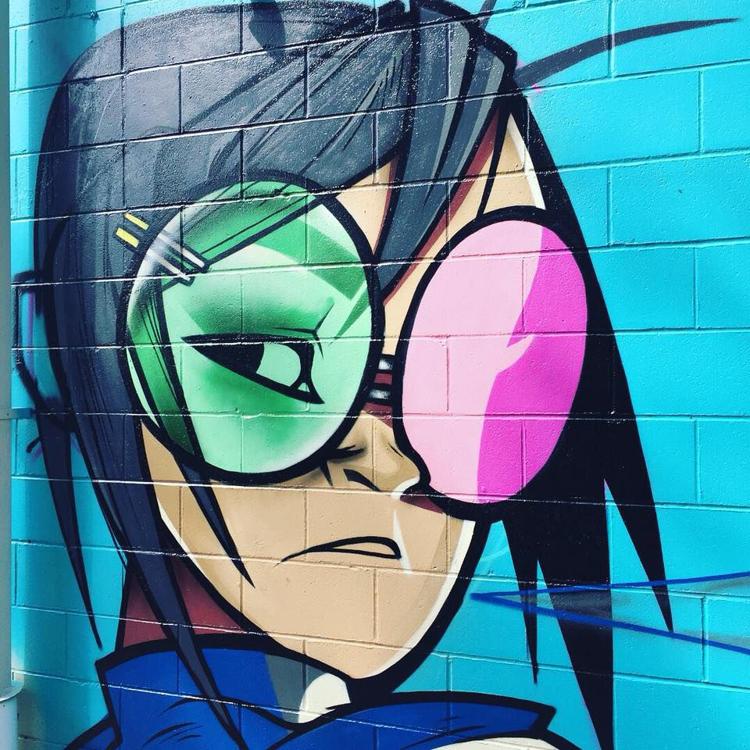 "Some of them you really had to know the location and hunt them down," Schilling said. "We learned a lot from that."
For the new festival, Gubbins expects "closer to 70, 75" artists. This time, he said, they'll be paid.
"I want to bring in top-notch artists, people that are living on their art, and I want junior artists to see where you can go with it," he said. "I want to show a child that might be watching the street art that we're not just a bunch of kids running around doodling on walls, that this is a profession.
"I want to show the spectrum … from the person who's just started to people who've been doing it for 30 years."
The street art Momentum Art Tech promotes lives between more formalized, community-focused murals funded and created by Dane Arts Mural Arts (DAMA) and a loose community of graffiti artists, taggers and some others who believe street art "shouldn't be put in the public eye," as Gubbins said.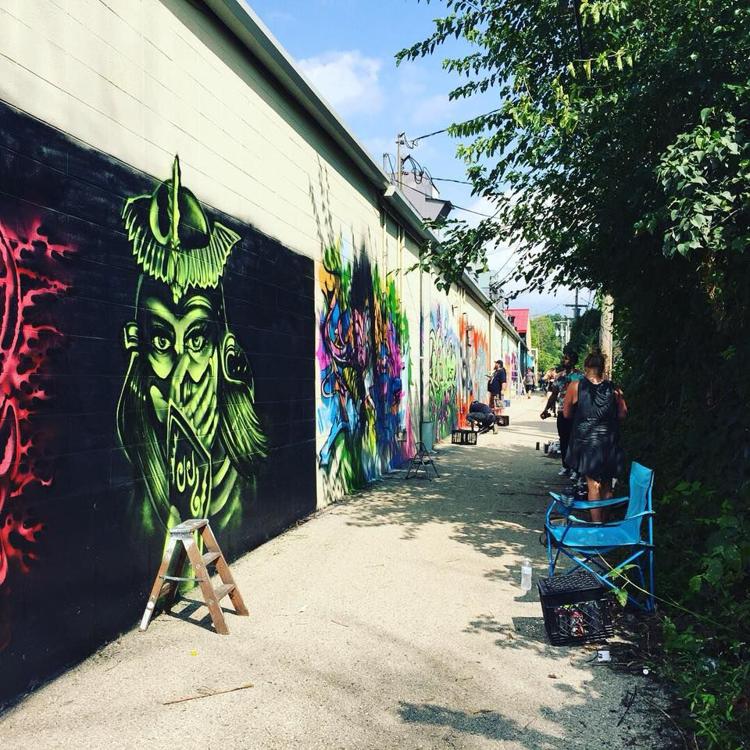 The difference isn't in technical ability of the artist, but in the amount of hoops they might have to jump through to make the creative work they want to. It's easier to make street art in Monona than in its larger neighbor, according to Gubbins.
"It's a mission of mine to bring street art into Madison, because regardless of what people around here tell you … they're not street art friendly," Gubbins said. "If you look at other cities, smaller cities even, they're more open minded."
"We talked a lot about not restricting the artist's creativity," Schilling said. "We're committed to letting the artist create and stimulating the conversation when people complain."
Giving artists free reign over their work and not requiring any kind of sketch or mockup before the art goes up can lead to wrinkles.
At the event last summer, the artist Dredske painted a grotesque Ronald McDonald and a skull with "666" on its forehead on the side of J&H Auto Supply on Monona Drive. Staff at Schwenn's Service next door had the mural in direct view.
"James was getting calls, I was getting a lot of calls, the city was getting calls," Schilling said. "We got calls from parents, 'my children!' While it was controversial and got people talking, the one mural that generated the most comments was the clown.
"It was a great conversation starter for a lot of people. I thought it was interesting and thought-provoking."
Gubbins asks the artists he works with to "keep it PG-13 … no drug references, no politics, nothing gang-related or sexual."
"I don't want to see Trump with a hole in his head," he said. "It's going to be seen by the public. Be expressive but don't be offensive."
Gubbins is the one to sandblast the murals after the agreed-upon time. It's rare that he has to paint over one right away when an artist didn't abide by his content suggestions.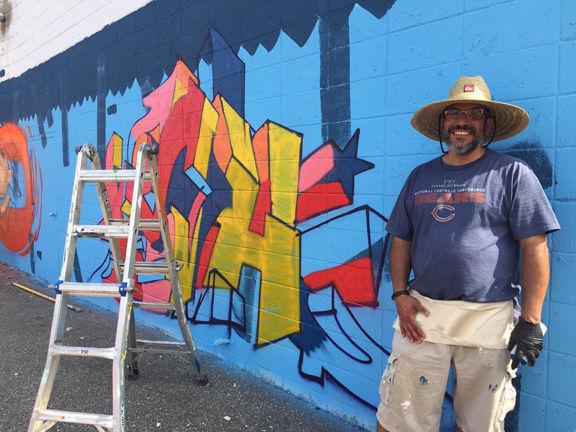 "The beauty of it being temporary is you don't have problems of maintenance, and if it's offensive to someone it's not this long term problem," Schilling said. "Having it be temporary is a nice solution in a lot of regards."
Some business owners choose to have the art on their walls rotate. Others may want something permanent ("that's a separate conversation," Gubbins said). Both he and Schilling hope that festivals like this expand and enrich the art on local walls.
"It would be amazing if Madison could … make it more accessible," Schilling said. "I just think it would make our world more colorful. It would be a big piece of enrichment for communities."