Butterflies, bears, propaganda-style paintings and portraits have transformed a beige church basement into a bold burst of color with a social justice message.
Eight artists, brought together by the University of Wisconsin-Madison's Slow Food chapter and The Crossing campus ministry, spent several weeks creating a wrap-around mural in the space where Slow Food UW has served potlucks and hosted dinners for 11 years. An opening reception for the murals is set for this Saturday at 1127 University Ave. 
Last fall, Slow Food and The Crossing selected a group of artists out of four dozen applicants. Though they named a lead artist, recent graduate Natalie Hinahara, organizers had little idea what the artists would do once they got their paints and access to the space on Jan. 2.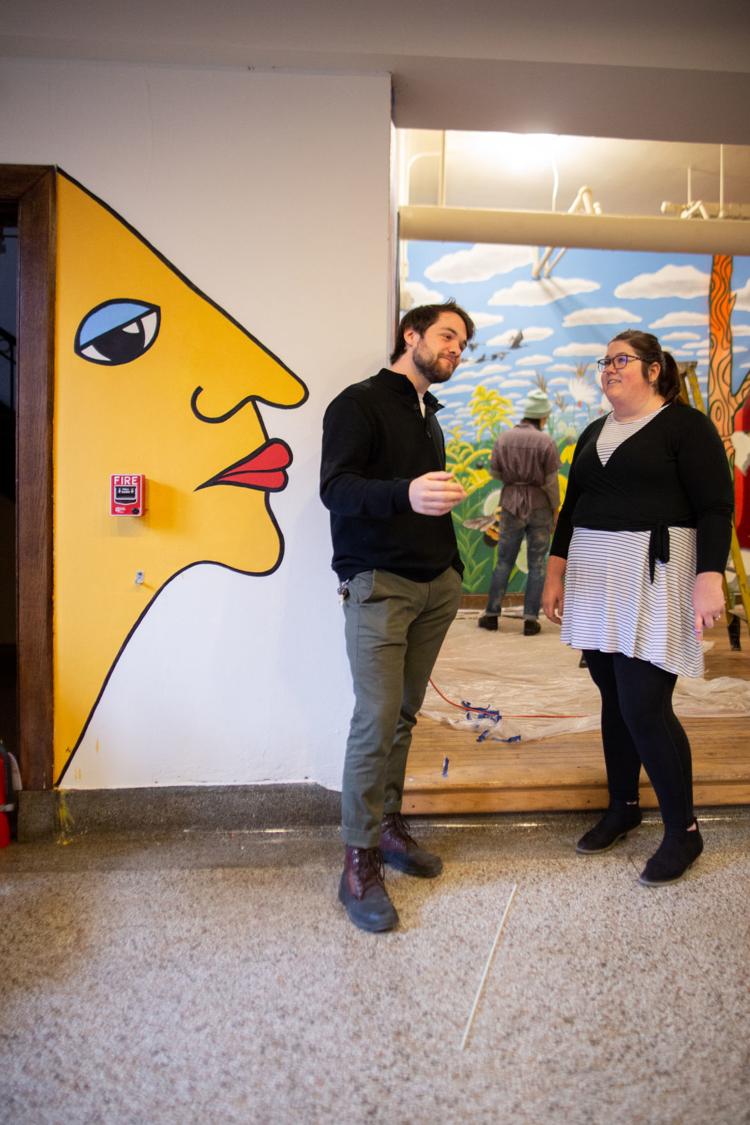 "We didn't know what it would look like," said Mallory Moore, executive director of The Crossing. "It's way more than I imagined it could be. We were envisioning each artist would have a chunk of space, but artists worked together. Being open ended with social justice ... and letting the artists emerge out of their creativity has been exciting."
Slow Food has chapters all over the world in cities, regions and universities. It aims to promote and model an alternative, sustainable and equitable food system. The Crossing is a progressive Christian ministry.
The social justice theme links both the organizations and these new murals, with ideas embedded in each work about access to food and natural spaces, inclusion, equity and identity.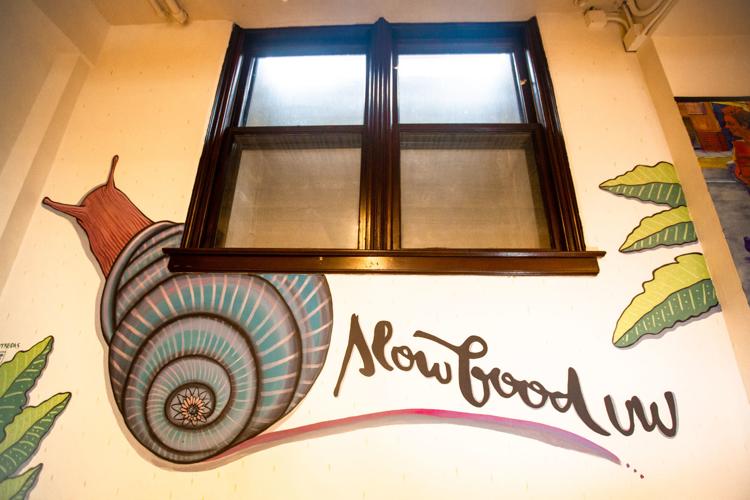 Some of the artists, like Pete Hodapp and Sylvia Hecht, have worked professionally as muralists. Others, like street artist and UW-Madison junior Mario Fregoso and Adreena Burhan, are students or recent graduates.
Each artist was paid a small stipend for their work, and funds raised on Saturday will go directly to the artists.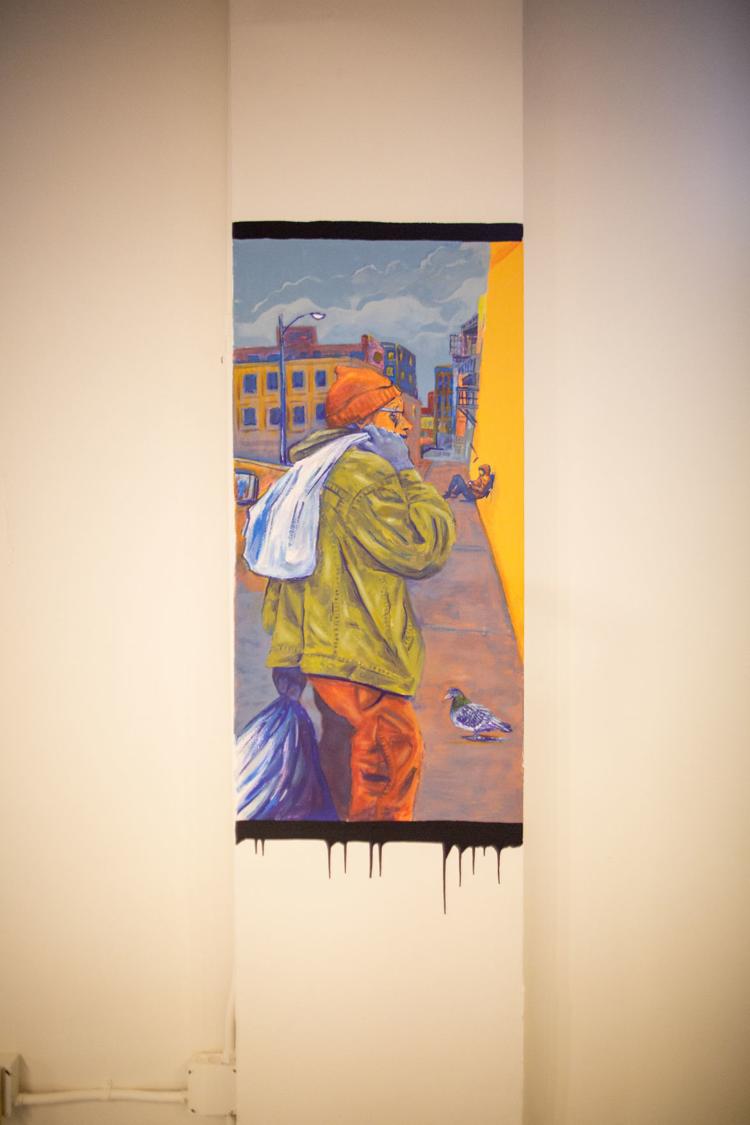 Madisonians may remember Hodapp's work from the inside of the renovated Madison Municipal Building and as part of Mural Alley behind Hawthorne Library on the east side. Here, the Viroqua-based artist painted a series of five images on wall pillars, inspired by propaganda posters. They're vividly detailed, showing people carrying food in various ways — a canvas bag, a plastic bundle, a CSA box, a shopping cart.
Angelica Contreras, a Madison artist who also has work on display in Overture's first floor galleries through March 3, used heart imagery inspired by Mexican folk art. Hecht, a former Madison resident who's about to head back to Mexico herself, settled on an image of the living earth, a green goddess who looks like Te Fiti from the film "Moana."  
"Every space is different," Hecht said. "I really have to be in front of the wall. The plan I made for this was stick figures, very simple. Most of it was drawing directly on the wall."
Each muralist worked one specific yellow paint color into their piece, a subtle way of linking them. Each mural has some detail painted close to kids' eye level, for little ones to see.
Without discussing it beforehand, both lead artist Natalie Hinahara and Shiloah Coley painted monarch butterflies. Hinahara's mural showed native flowers and milkweed both in bloom and going to seed, some being pollinated by rusty patch bumble bees and butterflies. Coley's were a nod to the Dreamers, undocumented immigrants brought into the United States as children.
"I knew I wanted to have my mural give the feeling of being immersed in nature, the landscapes around where we are," Hinahara said. "It felt like an opportunity to tell a bigger story, so I tried to feature movement of things, like milkweed seeds blowing, migrating birds and monarchs and bees.
 "We should all be able to move where we need to move, that's a fundamental right for humans and animals."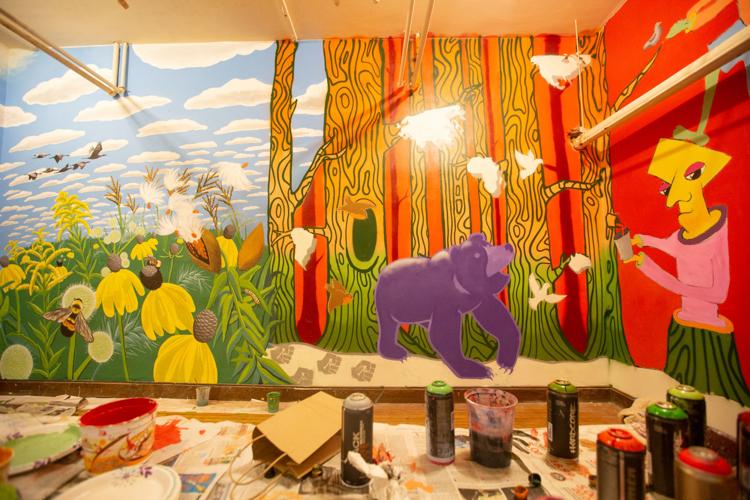 Some of the murals' themes are more overt than others. Fregoso painted a big purple bear as a reference to the strength and courage the animal represents in native culture. The bear's footprints look like "black power" fists, and it's being led by a dove of peace.  
"The bear means courage and love," Fregoso said. "No other animal suits social justice better."
Sophomore Tony Torres made a forest scene in collaboration with Ragoso, who extended the trees from his section of the wall into Torres'.  
"I make large-scale stuff. I make characters ... all of my art has a playfulness to it," said Torres, who's originally from Berkeley. "I focus on environmental stuff, those are my interests."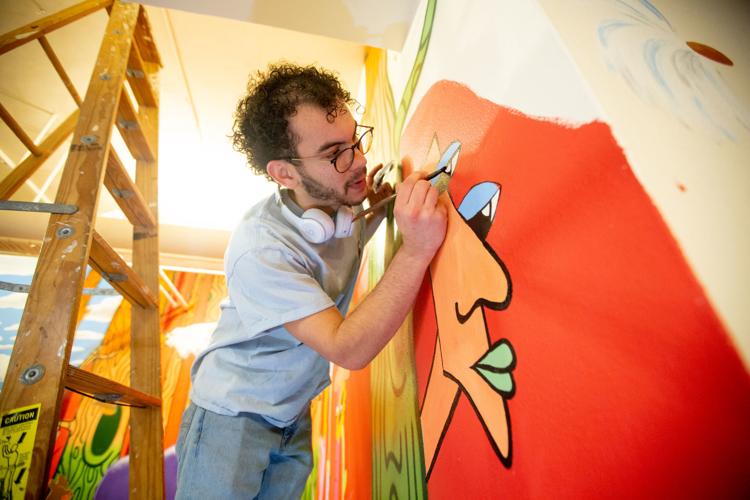 On a corner portion of the wall behind a chair lift, Adreena Burhan painted a stack of huge schoolbooks with small children climbing them. Of all the artwork, Burhan's looks most like something one would see in a Sunday School classroom. A closer look reveals a lesson in academic privilege.
"Her imagery is about the interaction between education and privilege," said Slow Food UW director Charlie Koczela. "This mountain of books is meant to tiers of educational success and celebration. With her little figures, she went for literal racialized characters. It's directly critiquing her time at UW-Madison."
All of the murals are kid-friendly, and the opening reception on Saturday will include a scavenger hunt for young attendees. If parents want to have conversations about the more challenging themes, they can do that, too.
"The harder topics presented by some of these murals, kids should be talking about that," Koczela said. "Privilege and education on the UW-Madison campus? Madison is so scared to talk about that, and it's so obvious."