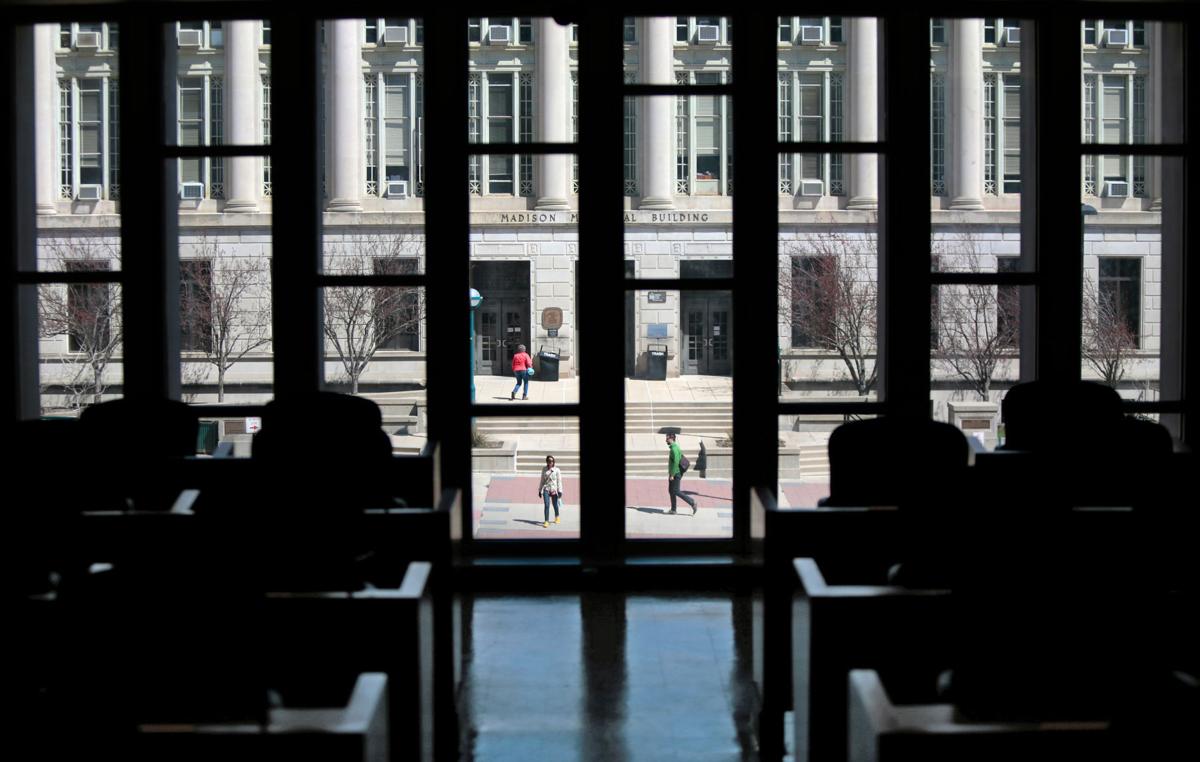 Next week, rooms once home to dry public policy meetings will be transformed with creative, original artwork. 
Municipal, a pop-up event for one day only on Dec. 10, fills four floors and 75,000 square feet of the Madison Municipal Building with installations, performance art and interactive events. It's free and family-friendly, running from 11 a.m. to 6 p.m. 
"It's similar to the daytime part of Bookless," said Miller, referring to the 2012 event that turned the Central Library into a temporary art pop-up and community party.
"Bookless took a building ready to be thoroughly remodeled and used materials in the space, as well as rooms and offices" to make art, Miller said.
In the evening of Bookless, a ticketed event included cocktails, dancing and DJs. Miller didn't have enough lead time to pull something like that together this time.
At Municipal, work from about 100 artists will fill the building, parts of which have 20-foot ceilings and a courtroom, where there will be music. 
"Each little room will have an artist in it, just tons of these rooms," Miller said. 
There will be an entire room of screen printing, sewing and other hands-on activities for attendees. 
Organizers have assembled a team of poets to turn the post office's mail system into a living oracle, likely involving dropping of questions into mail slots.
The oracle was immensely popular at Bookless, which made use of the pneumatic tubes that send books to and from other levels. At Stacked, the opening of the remodeled Central Library, the oracle became mobile. People wearing question marks walked around and took queries.  
For Municipal, Miller is most excited about art pieces that use materials or take direct inspiration from the space.
Artist Angela Richardson is making a piece with file cabinets and folders, a "huge installation," Miller said, and artist Michael Veliquette's piece is set to be located near the entrance. 
Niki Johnson is using tubes used for planning drawings, metal tubes that she's compiling into a piece "with a light element in it," Miller said. That's going into an old vault in the basement of the building. 
Gabe Strader-Brown, a sculpture artist, is "perfect for this show," Miller said. Strader-Brown works in wood and is inspired by things in the city, like mailboxes, garbage cans and the sunbeam-style grates around the bases of trees. 
"He takes those and beautifies them, makes them out of wood and metal and makes you think about them differently," Miller said. 
Liz Sexe, a dancer and performance artist, is going to do a piece where she slowly falls down the stairs in a stairwell. Later, David (DB) Pederson will perform throat singing in the stairwell. 
Doing something like Municipal or Bookless shows what's possible, Miller said. 
"It's this big huge empty space, and we don't have these kinds of spaces in town," Miller said. "I think things happen a lot in other cities ... I would love to see more of these popping up."
Artists make connections with one another, and the public gets a chance to see their work.
"It can lead to lots of other things," Miller added. "The Bookless event led to the Bubbler ... the art shows we do here, the Night Light and artists in residence. A lot of that came out of Bookless."