For a new show in Edgewood College's jewel box gallery, one woman simply took the art off her walls.
"The Louise Bourgeois was in my bedroom," said Annemarie Sawkins, an independent curator and art historian based in Milwaukee. "The Alice Neel reminds me of when I was a kid and had a cat.
"I adore the Kara Walker. I work at home, it's (usually) behind my desk. I love how sparse it is and yet how rich it is."
Sawkins is both the primary collector and the curator for "nevertheless, she persisted," a show of prints made by contemporary female artists. It opens this week in The Stream, Edgewood's fine arts building, with a reception on Friday. It will run through May 14, the end of Edgewood's spring semester.
The core of the exhibition is a set of eight art prints created as a portfolio in 1998 for an anniversary show at the National Museum of Women in the Arts in Washington, D.C. Sawkins purchased them in the early 2000s as a personal investment.
"The reason the National Museum of Women in the Arts came into being was because one couple was very aware of the male/female inequities in the art world," said gallery director David Wells. "They began collecting art by women, and they were the major people behind pushing for and helping to bring that museum into existence."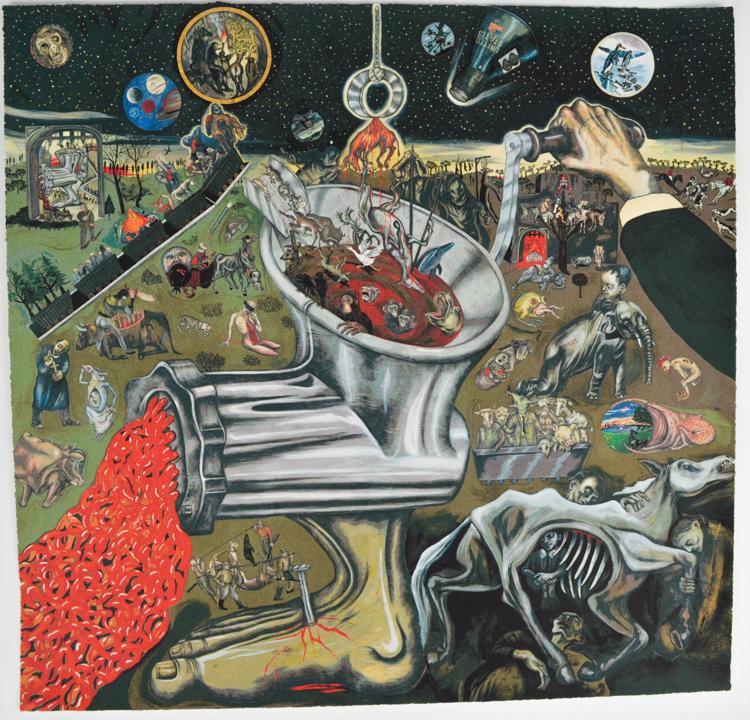 The works in the show reflect a range of styles and content. "Second Millenium," made in 1997 by activist and artist Sue Coe, has a grotesque, surrealist look, with people going through a meat grinder and eating their own intestines. Melissa Miller's "Fossil" from 1998 imagines a tree with a horse, fish and bird nested inside it like Russian dolls.
Sawkins loves the "strong voices" she hears in the works. Portuguese artist Paula Rego is represented in the show with a piece called "Mother with Big Daughter," from 1997.
"I adore that piece," Sawkins said. "There's an awkwardness in that scene. She's a storyteller. So is Alice Neel," whose 1981 piece, "Victoria with Cat," Sawkins added to her collection later.
"These are women who were doing figurative art when everybody else was doing abstraction."
Some artists in the show, like Bourgeois and Walker, are major names. Bourgeois' print, "Le Lit Gros Edredon (with lips)," depicts a rolling comforter that plumps into the shape of a mouth.
"Louise Bourgeois was an incredibly tough woman in challenging situations," Sawkins said, adding that the print might have been dually inspired by Man Ray's 1936 painting "The Lovers," with lips in the sky, and an affair Bourgeois' father had with the family's nanny.
"She's drawing from a tradition of paper cutting but she's a modern African American woman who is resurrecting American history," Sawkins said. "She's filling out the story."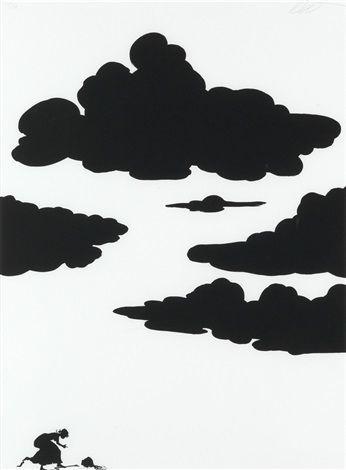 Wells and Sawkins developed this show in late 2016, but it wasn't until Elizabeth Warren's stand against Congress Republicans last year that Wells found his title.
As Warren protested the nomination of Jeff Sessions as attorney general, Mitch McConnell said, "She was warned. She was given an explanation. Nevertheless, she persisted."
Those last three words became a rallying cry. For the 14 artists whose work appears in this show, the title echoes the struggle to be recognized in an art world where gender disparities are rampant.
"This is not a throwaway title," Wells said. "This means something. The prints in the show have a lot of meaning within that."  
In 2016, just seven percent of the artists on view in the Museum of Modern Art's collection galleries were women. In 2015, ArtNews reported that "Discrimination against women at the top trickles down into every aspect of the art world — gallery representation, auction price differentials, press coverage, and inclusion in permanent-collection displays and solo-exhibition programs."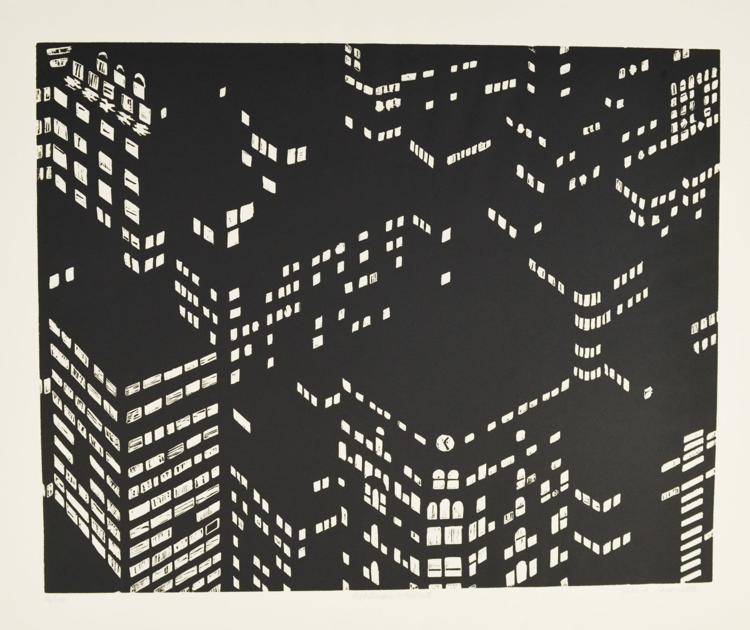 The all-women's group show, as a trend, fell out of favor in the 1980s and '90s. But the New York Times recently reported that the gender-focused exhibition is "flourishing again" at museums like the Minneapolis Institute of Art and the Saatchi Gallery in London.
Locally, Brenda Baker and Bird Ross announced last November the formation of a Women Artists Forward Fund, an endowment meant for female artists. The visual component of this effort, "Being Forward," will be on view in conjunction with " nevertheless, she persisted" through April 13 in the Atrium of The Stream. 
The student population at Edgewood College is about three-quarters female. A few pieces that were added to the show by Judy Chicago and Joan Snyder came from the college's own collection. Wells also intends to bring in professors who can use the artwork as a launch point for discussions of gender politics, art history and more.
"A lot of people don't know who these artists are, even though to those of us in the field these are huge names," Wells said. "There still is much less visibility ... of women artists in the marketplace, in museums, in gallery representation, in every form.
"This is one way to move that discussion forward."