Duane Lee Holland, Jr. is thrilled to be the first hip-hop faculty member at the first university in the United States to grant degrees in dance.
"It goes along with the legacy of why the dance department was created here," said Holland, who joined the University of Wisconsin-Madison this semester as an assistant professor of dance. "This is the language and the culture that are of the people, whether people want to acknowledge it or not."
Holland, a native of Devon, Pennsylvania, comes to UW from The Boston Conservatory at Berklee, having earned an MFA in dance from the University of Iowa. His dance credits include a stint in the original cast of "The Lion King" musical and time as assistant director of Rennie Harris Puremovement.
Holland has major plans for his time at UW. He wants to help develop a bachelor of fine arts degree in hip hop and commercial studies. He aims to create a music/dance/theater conference called the Afro Scholastic Futurism Conference that would return every other year and connect with artists in New York and Los Angeles.
This fall, Holland is teaching two classes, History of Hip-hop Dance (Dance 560) and Hip-hop Technique (Dance 115). He's trying to create "pockets of experience" at Lathrop Hall, to invite people in to participate who aren't part of the college student body.
Shortly after settling into his new Madison home, Holland came by the Cap Times. He talked about his first impressions of the dance department, being a conduit between hip-hop practitioners and the academy, and the one-man show he's working on.
The announcement of your position says it is part of "placing African Diasporic (dance) forms on an equal level with their white cultural counterparts in the curriculum." That's a big job for one person.
It's going to take a community. This opportunity is allowing me to work with other scholars and practitioners who believe this is important, and they're not associated with the culture, which is beautiful.
You have pioneers who have created this contemporary canon of expression, and young people don't know who they are. I consider myself a conduit. In higher education, in a literary sense, hip-hop culture has been in academia for 20 years. Hip hop itself is 46 years old.
In Rennie Harris Puremovement in the early '90s, we would do lecture demonstrations and it was a hands-on, tangible demonstration for people. We were in a proscenium space, speaking of contemporary black stories — that in and of itself was revolutionary.
What were some of your first impressions of the dance department?
I'm in the room with all these amazing artists and scholars who know that dance is the main objective to get everyone together on this campus. Our mission is dance is for everyone, that's our mission, to bring people together through dance and our lens.
As a unit of people who are representing true diversity — you have Asian representation, black representation, two white women running the department — the formula itself creates that space of innovation.
We are here to utilize our gifts to have people find themselves, because we know what it's doing for us. It's creating a new space of conversation and research.
We talked about a certificate track in African diasporic (dance) and the discussion of Eurocentric form and Africanist form was on the table immediately. To know that type of proficiency and efficiency is happening right now was really welcoming.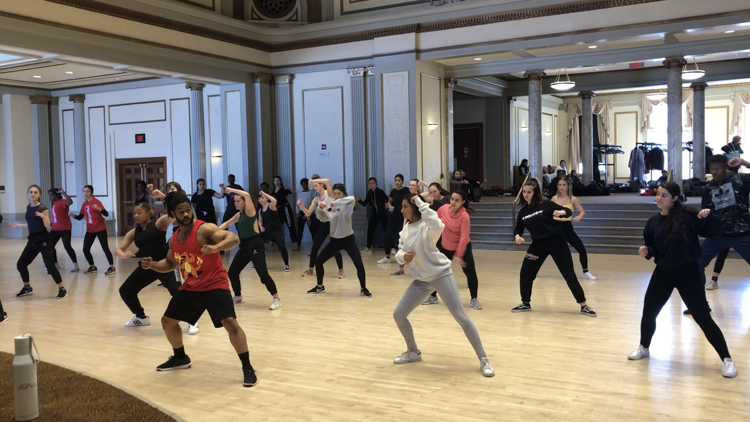 You'd already started teaching before you went to graduate school in Iowa. How was that a turning point for you?
My partner and I have been together for 13 years, and he's 16 years older than me. He said, "When we move, are we a couple, are we roommates?" And I said, "I'm going to grad school to heal myself."
I didn't go to undergrad; they took my professional experience (in its place). That program at University of Iowa gave space for an artist like myself to go back and create something that we didn't know we were doing while we were dancing for people.
The theoretical side of that program is top-notch. You have to go deeper than the deepest you've ever gone. My practical research was new, but it was a black body, a black enlightened body, a black gay body on top of that.
In hip hop it might feel like an intersectionality for myself to create a specific lane of research that hasn't necessarily been cultivated, due to people not feeling safe enough to do it. There isn't a space for it within hip hop.
What are you working on right now?
I'm working on a one man show, an autobiographical, cathartic journey of black masculinity, sexual liberation and empowerment. I plan on doing an excerpt of it by February. And I'm still auditioning — they're pushing me to do my own work.  
There's a piece I do with Jennifer Harge who is a Detroit artist, called "Regalia: Plantation Lullabies of Royalty." That reveals the stories of enlightened bodies from Underground Railroad, that lineage of people making the great migration north.
We want to make the stage have big huge tree limbs coming out from the sides and vocalists like birds, singing hymns. We have 17 minutes of it, an excerpt we performed in Detroit. We will do this work here.
I have this idea, along with my colleagues, to create this space at UW-Madison where the pioneers of hip hop and these new social media artists that are making names for themselves could hold symposiums and weekend discussions and classes. We can honor the inception of the culture, as well as the evolution of it.
What role does joy play in your work?
It's at the center of it. My work is an ongoing transgenerational conversation. Any type of African diasporic expression or practice is based in joy, because it was cultivated to create a space of safety, expression, community and spirituality.
Hip hop culture, starting with the blues in Louisiana, gospel and rock and roll and R&B, all these cultures and genres of music were ways for people to heal themselves in spaces they were marginalized in.
It's very Eurocentric to have everybody in a line, and everybody watching what this person is doing in the front. In Africanist exchanges there's something called the cypher. It's a circle. That is a whole other space. It's a safe space to exchange knowledge. It's a sacred space, because you can see everybody, everybody's valid.