Not long ago, artist Luisa Fernanda Garcia-Gomez made a series of lovely, floating orbs, hung at a February festival at Garver Feed Mill. Her drawings are intricate and extremely colorful, featuring tight patterns in blue and green, yellow and pink, like crazy quilts or fish scales.
Viewers might be surprised to learn that those inflatable balls were inspired by bombs that dropped on the city where Garcia-Gomez grew up, the tension and trapped way she felt echoed in the tension of the trapped air. Those drawings were part of her "Explosions" series.
Just after college, Garcia-Gomez fled the violence of drug cartels in Medellín, Colombia. She has learned to create beauty out of trauma.
"When you see my work you see colorful stuff, bright colors and shapes," she said. "But all my work is political. Colombia always comes back."
In 2018, she was among the second cohort of ALL's CSArt program, for which she created 80 unique drawings for small-scale collectors.
Garcia-Gomez moved to Madison five years ago to pursue a masters of fine arts degree in Design Studies in the School of Human Ecology at the University of Wisconsin-Madison. She graduated in 2018.
As a young adult, she studied and worked in France, working for ELLE magazine as a designer. She created a shoe company with a friend in Minneapolis. She maintained a consistent art practice everywhere she went.
Garcia-Gomez spoke to the Cap Times from Miami, where she'd gone to be near the ocean for awhile before returning to her studio in Madison. She had hoped to come back by the end of March but, with COVID-19 outbreaks making travel dangerous, she decided to stay put.
Cap Times: How did you come to be an artist?
Luisa Fernanda Garcia-Gomez: I'm from Colombia, and my bachelor's is in industrial design. I was always more interested in the concept part of the design, not just making objects.
It was a weird time in my country in the early 2000s when I finished my schooling. It was a mess — violence, we had the narcowars, the paramilitary groups ... different organizations terrorizing the country.
I decided to leave the country when I was 23. I wanted to know how it feels to be alive for once. I moved to France to continue my studies, and was accepted to study for a PhD. I was very young, and I started hanging out with a bunch of artists.
I decided to take a year off, study French. I was living the party life. It was awesome. I was like, this is what I want to do, develop the conceptual part of creation. As a designer, your aim is to answer questions and create a solution. As an artist, you create questions. It's not your role to answer them.
Was the work you were making political then?
I felt more of a social conscience. What is my role as a human? What is my position? Humankind is important to me.
At the university, my degree was connected with the philosophy department. Art and philosophy were one. I ended up having an MFA in drawing and it was analytical ... it was about art as an object, how we can use it, how we can create and think in different ways.
I was also working for ELLE France from 2004 to 2008. In 2008 there was a coal crisis, I lost my job. I was out of school and I had an artist's visa. I didn't know what to do. I couldn't stay in France. I didn't want to move back to Colombia — I have mixed feelings about my country. I make the joke that it's like a toxic relationship, when you love but hate. It hurts, everything that happens there. So I moved to the United States.
When was the first time you did public art?
It was in 2009, in Minneapolis at an old magazine store called Shinders (on Hennepin Avenue) that went out of business. It was a free space and a ton of artists, and we took over the space. I had a "d-day," a drawing day. For three or four sessions, I put out paper and pencils, water and popcorn.
This building had these outside big windows, so people that were walking in downtown Minneapolis could see and they were invited to come in. Any random people could sit down and enjoy — let's just draw! And it was awesome. We had a ton of beautiful drawings and we put them in the windows.
That taught me, people want to participate if you create the space for it. Let's get together and talk about other people's lives. The more we know about strangers, the more empathy will grow in your heart. And how can we make society without empathy?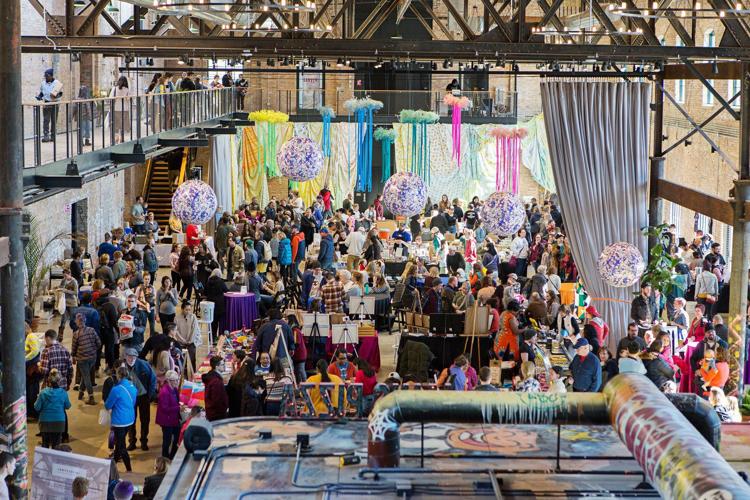 Your most visible works in Madison have been installations. Can you talk about your process with public art?
The program (at UW-Madison) was really empowering, about how you can use your skills to create a better community. I'm no social worker, I'm no psychologist. I'm just an artist with an angle. For me, it means to be engaged, to create a better society and a better community.
I want to participate — that's my call as an artist, how I feel it's supposed to be. I want to create space in which we can talk and share with no judgment, and that's something arts spaces create super well. People can open themselves because it's a neutral space. People know there's not any judgement. It's amazing what everyone has to say. Sometimes when I do community projects it's an excuse to hear other people, and then to talk. It's simple but it's awesome.
We don't need to solve anything. But let's rethink the way that we live. Let's share in community. That's where public art gets involved.
With this encouragement for people to stay distant and quarantine themselves from COVID-19, how is that affecting your art practice?
It's new, but for me as an artist being isolated doesn't change very much. Artists are in their studios, they're used to working. My family is all the way around the world — my one sister is in France, my other sister is in Argentina, my cousin is in New Zealand, another cousin is in Colombia. We are in contact constantly. We're all checking with friends, other artists, what are you doing? People are concerned — how did you feel when you woke up?
This is forcing us to open our eyes to our community. It's not just about me, it's about others. I'm not isolated because of me. I'm isolated because if I'm sick, I would make other people sick. I think it's hard right now, but we have to keep communicating, keep talking, keep reaching, keep working.
This is a great moment to review everything. To review our political views, our social consciousness, our relationship with nature, with other (people). I'm pretty sure we're going to learn a lesson from that. Artists, we speak about the world, about how you see. I can't wait to see what the artists are going to say.
Stay up-to-date on what's happening
Receive the latest in local entertainment news in your inbox weekly!