Iron, calcium, protein and sodium are the nutritional building blocks of Korean birthday soup, a broth made with kelp, anchovy and daikon radish.
Those same nutrients are present in menstrual blood. At "Feast: A Performative Art Dinner" on Sunday night at Morris Ramen, that connection between "the nourishment we shared with our creators in the womb" and six elegantly plated courses was more figurative than literal.
Kel Mur, the artist who conceived Feast, "didn't encourage there to be a literal interpretation of menstruation on the plate," Morris Ramen chef/owner Francesca Hong explained to diners. She and co-chef Autumn Fearing "wanted to have blood sausage and concord grape sauce to express how we are thinking of menstruation now. There was discussion about it, but she gave us the freedom to come up with the menu."
Feast, now in its third iteration, was as much about care and comfort as it was about exploring a collective discomfort, shame and complicated feelings about menses. Mur herself took private joy in the fact that she was "kind of making all these guests eat menstrual blood without eating menstrual blood, which I think is funny and transgressive, or subversive," she said.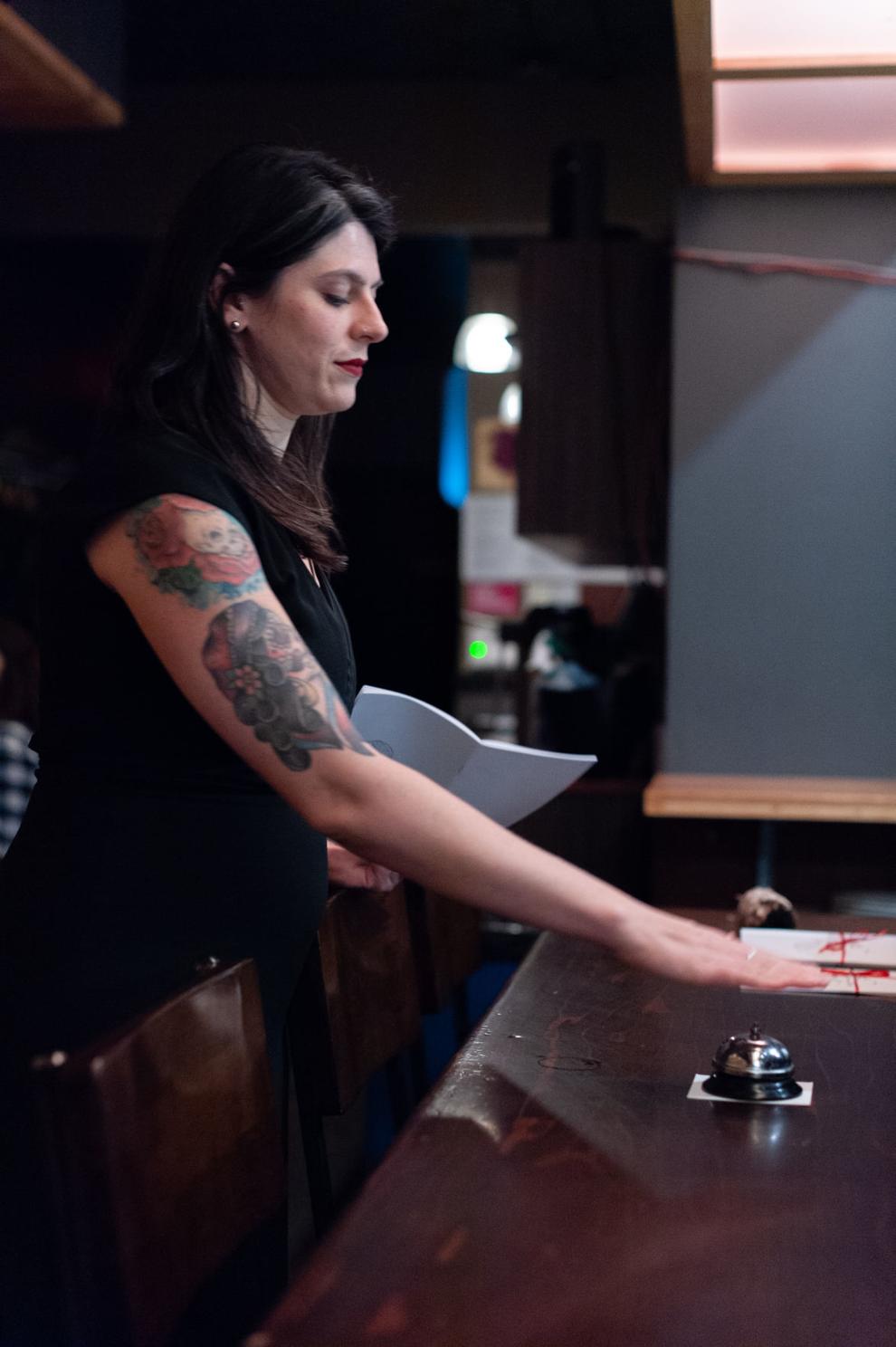 Kelly Murray, a New Jersey native who moved to Madison from New Orleans, makes sculpture and performance art as Kel Mur. She's in her third year of the Master of Fine Arts program at the University of Wisconsin-Madison. Mur has long explored and challenged ideas of the female body in her work and once described herself as "a body-positive, feminism-forward artist and designer who is in love with found objects."
Mur's fascination with menstruation began when she noticed that, at age 11, she was "interested and not shocked by my period." She has made work around free bleeding and tracked her first menses after her mother died, "thinking about the biological cycle, trying to feel my mother in my body."
"When I was younger I was interested in being in your face with it, being more aggressive with the overt imagery," she said.
Two years ago, she launched Feast with eight people she trusted not to be "completely disgusted" by the project. She called it "Feast of the Feminine."
She changed the name a few weeks ago to avoid a connection with biological essentialism. In other words, the social construct of gender is not determined by whether a person can have a baby or get their period.
"We had some friends approach us and let us know that the language we were using made them feel excluded," Mur said. "So we changed the name to honor that and make it more open."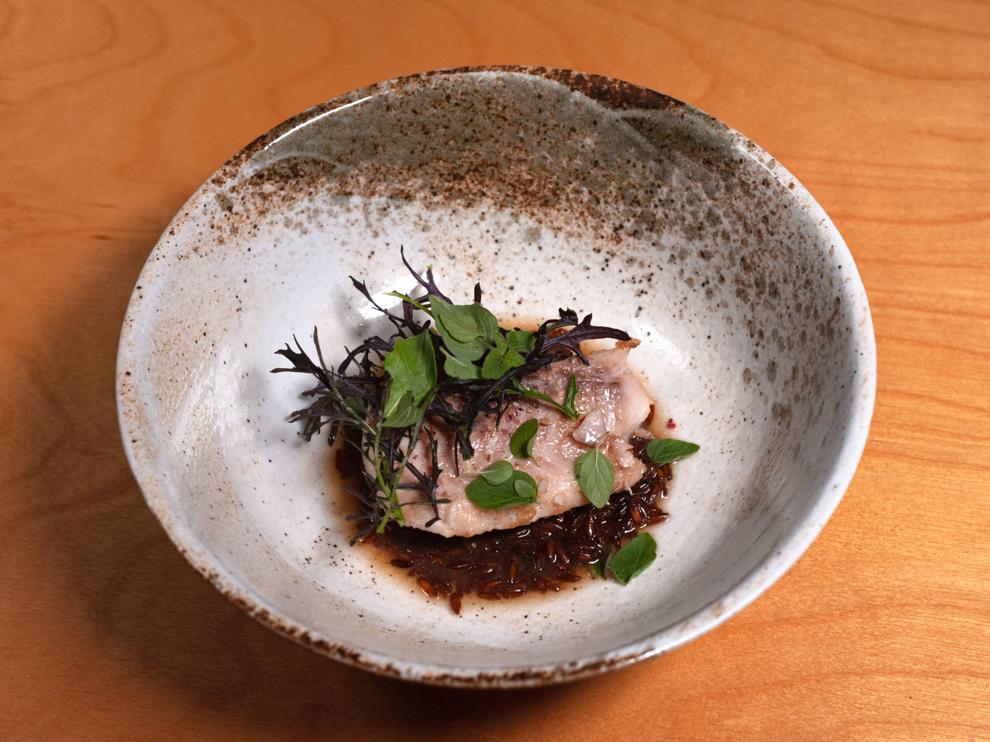 The work is still informed by her identity as a cisgender woman, but Mur now imagines her role as a facilitator, somewhere on the spectrum between "ancient earth mother and bartender." On Sunday, she read poetry and cleared empty oyster plates, offered conversational prompts and popped bottles of Austrian bubbles.
As she moved down Morris Ramen's narrow center aisle picking up plates of satsuma frozen yogurt and espresso sorrel sorbet, Mur looked confident and calm. She's come to find that working in service has "become this emblem of community and sharing experience and food. It's this act of care, serving people and cultivating relationships with strangers."
"How do I make an environment where people who don't know each other can find common ground?" Mur said. "I think a lot of that skill set comes from being a bartender."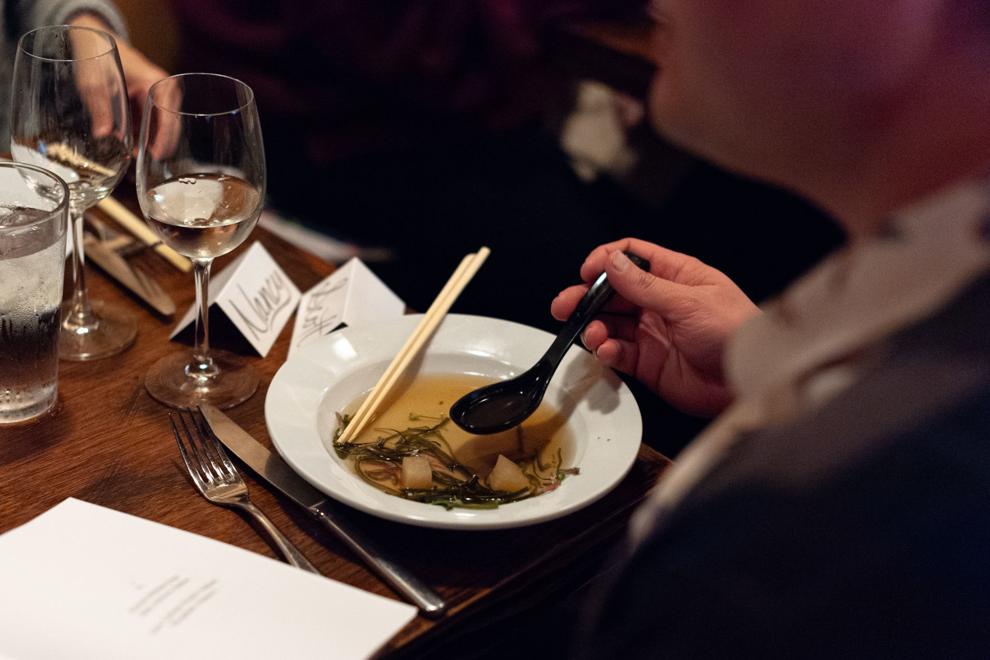 She noted that these two parts of herself — Mur the artist and Murray the server — have not always been easy to reconcile.
"I fell into the service industry at a really young age because I needed to pay rent," Mur said. "I was 17, 18 and I needed to eat. There's always been friction there for me between the service industry as something I have to do versus something I wanted to do."
Attending the collaborative event were several dozen colleagues, friends and interested diners. With each course, Mur encouraged the tables to chat amongst themselves.
The questions started fairly simple — who are you, what are your pronouns and your passions. By the third course, a whitefish dish with rye berries, apple dashi (a seaweed-based broth) and mustard greens, the topics got chewy. "What is it about menstruation that sometimes conflates it with feminine identity?" has no easy answer.
"Once you get people talking about it, it's like a floodgate of conversation and sharing between men, women and everybody on the spectrum in between," Mur said. "That was really moving to me."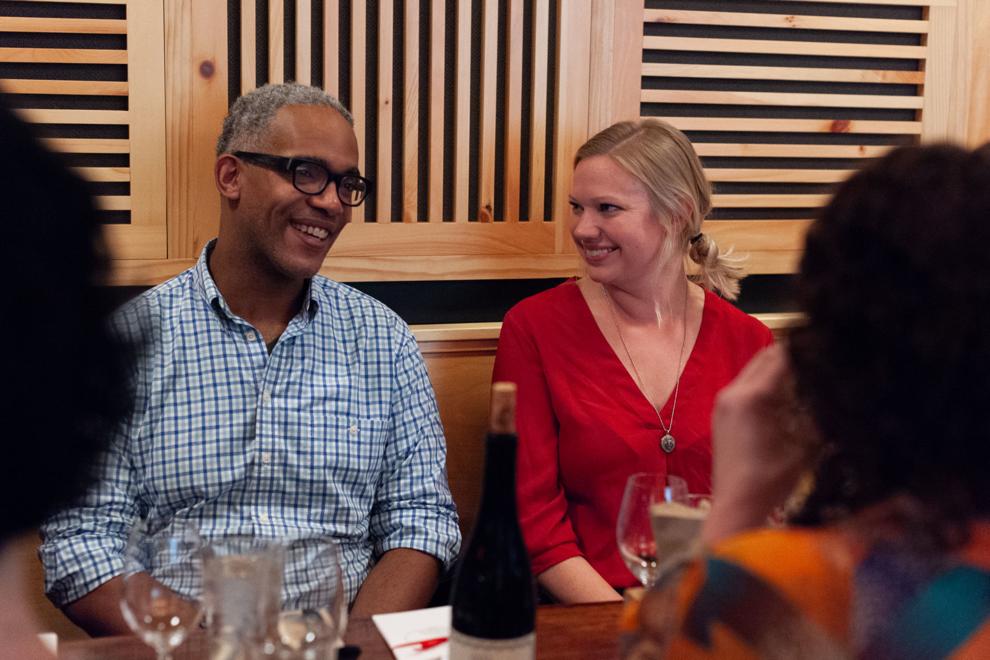 Yet on Sunday, those with personal, first-hand experiences with menstruation had complicated stories to share. One woman talked about infertility and miscarriage. Others shared stories of embarrassment and real physical pain.
At previous versions of Feast, "there were people saying 'I've never even told my husband this,' telling details about their menstrual cycle over food to strangers," Mur said.
In the midst of that emotional discomfort, she wants to make people feel as cared for as possible.
"I will feed you, I will give you booze, I will sit you in proximity of someone who can be your anchor in case something goes off the rails," Mur said. "It would be unfair for me as the orchestrator not to give my participants those things since I'm asking so much from them."
Mur wants to keep Feast going, and she's considered reviving it in April 2020 at a Gender and Women's Studies conference at UW-Madison. She wants to have one version be free or low cost for those who can't afford a ticket (Feast cost $55 per person).
"I feel like this project has to keep manifesting itself. I'm still figuring out how it can be scaled up and scaled down," she said. "I am interested in making the viewer uncomfortable ... (but) I'm hoping the outcome is positive in making the participant do this labor of vulnerability. It's a strengthening exercise."