Lee Weiss's method of painting in watercolor began as an accident more than 50 years ago.
"She worked wet on wet in her watercolor," said Weiss's youngest daughter, Jo Weiss. "One day she was not happy with the initial marks she was putting down on the paper, and she turned it over to start working on the other side.
"For some reason she flipped it back over and discovered that this flipping process introduced a whole new textural element she could work with."
Lee Weiss, a prolific, nationally shown watercolor artist with a decades-long career, died last week at the age of 90. Some of her exquisitely layered large-scale watercolors are now bound for collections at the Madison Museum of Contemporary Art, the Chazen Museum of Art and the Phillips Collection in Washington, D.C., among others.
"She was incredibly important for Wisconsin painters, and for elevating watercolor as a serious medium," said Bruce Pepich, director of the Racine Art Museum. "She was also very important in her role as a mentor and example of how women can have a professional career as a painter in the latter half of the 20th century.
"She was part of a generation of painters who really took the watercolor medium and expanded its opportunities. She was claiming attention for her own work, but at the same time she was breaking barriers for other artists."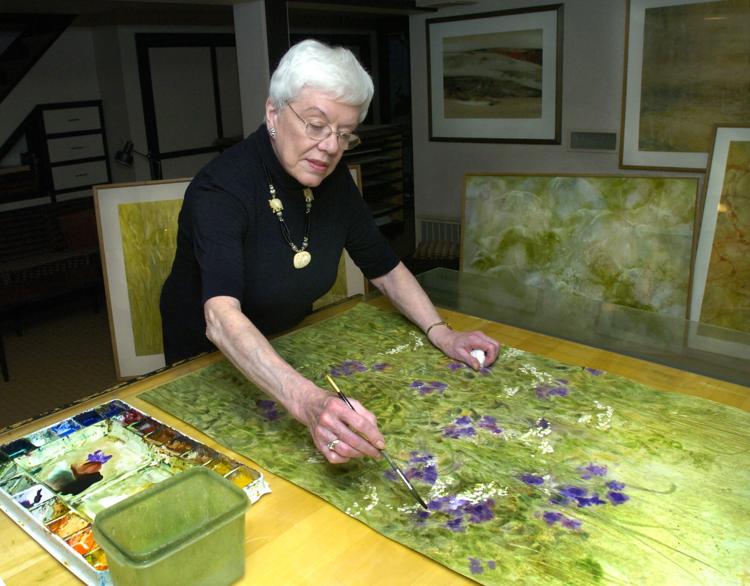 Born Elyse Crouse in 1928, Lee Weiss grew up in southern California. She trained in the arts formally for a year in college before dropping out to marry Dr. Wallace John Chapman in 1947. They had two daughters, and she worked as a designer in the San Francisco area.
After her divorce in 1955, Weiss married economics professor Leonard Winchell Weiss, a widowed father of two daughters himself. Weiss soon rediscovered her passion for watercolor, and in 1957 she audited several classes taught at San Jose State College by Nels Eric Oback.
She attended a half dozen critiques with Alexander Nepote and began participating in juried exhibitions. In 1962, she earned a solo show at the California Palace of the Legion of Honor.
That same year, the Weiss family moved to Madison, where Leonard Weiss taught at the University of Wisconsin-Madison for the next 29 years. Lee Weiss fell in love with Hoyt Park, and often took inspiration from it in her work.
"Weiss had always enjoyed watercolor painting as a student," Pepich wrote in a 1987 essay accompanying a semi-retrospective of Weiss's work in Racine. "Now as a young mother of four children under 5 years of age, she prized the ease with which the quickness of this medium enabled her to fit painting into her busy schedule."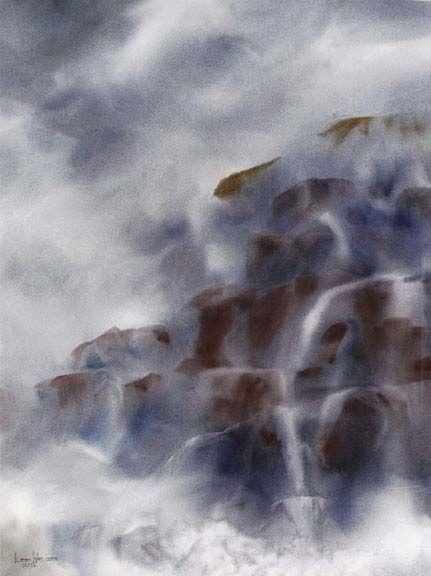 As the kids grew, Weiss continued to paint at night. She worked in her studio from memory, eschewing photos, sketches or slides. She developed methods of monoprinting and color lifting that allowed her to layer washes of mixed colors.
"Hers were landscapes, but not a sense of a long view, it was more of an intimate view," said Jo Weiss. "What she used to say is instead of macro, she would look at the micro."
Viewers were often surprised that Weiss's work was watercolor. The paintings, Pepich once wrote, were "infused with air, water, earth, light and movement."
"They were very much a reflection of her personality," Pepich said in a recent interview. "Her ability to capture atmosphere, color and texture and also elicit emotion out of the viewer ... were some of her major achievements.
"It's almost like she wasn't depicting nature, but the essence of nature and the way nature made her feel and think," he added. "It's not an exact depiction of any one thing, it was more universal.
"It encourages all of us to look at the natural world around us and realize you can see beautiful thing in your own backyard if you just attune yourself to be receptive to it."
At her peak, by her own estimation, Weiss made 50 or 60 paintings in a year. She was represented by half a dozen galleries across the U.S., including some in Beverly Hills and New York City.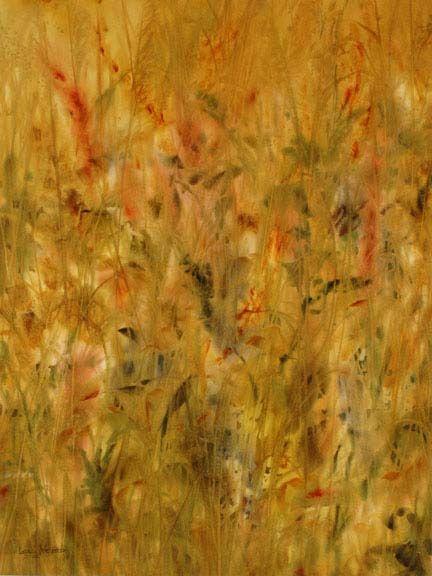 Locally, in 1969 Weiss found representation at the Jane Haslem Gallery. A few years later Fanny Garver bought it and the Garver Gallery, now run by Fanny's son Jack, showcased Weiss's work with biennial exhibitions for nearly 50 years.
"Lee was an absolutely wonderful person," said Jack Garver, who has known Lee and her family since he was 10 years old. "No one could tell a story like Lee. She traveled the world. She was inspired by her travels, inspired by nature."
The accolades stacked up. For various time periods between 1969-1975, Weiss had three paintings on display in the White House Rotating Exhibition Program, all selected by the Smithsonian Institution. She was named a Dolphin Fellow by the American Watercolor Society and given a lifetime achievement award by the Watercolor Honor Society.
"Lee quickly developed a national reputation, but over the decades I think her artistic gift was cherished most at home in Madison," said Lynn Watrous Eich, who led the Dane County Cultural Affairs Commission (now Dane Arts) for its first 30 years.
Weiss, Eich said, "quietly trained us all."  
"When Lee's watercolors burst onto the local scene in the 1960s, their large scale and subtle perspectives of the natural world clearly left viewers breathless," Eich said. "Anyone who admired her pebbles under rippling water or sumac leaves in an autumn fog would forever after contemplate their surroundings with a more discerning eye."
Georgene Pomplun, an oil painter also represented by the Garver Gallery, called the late artist's pieces "very serene, very beautiful, very calm."
"If you really are going to appreciate it you have to stop and take a breath and slow down," Pomplun said. "There is a rhythm and a pattern and a flow to her work. If you take the time to look it'll draw you in."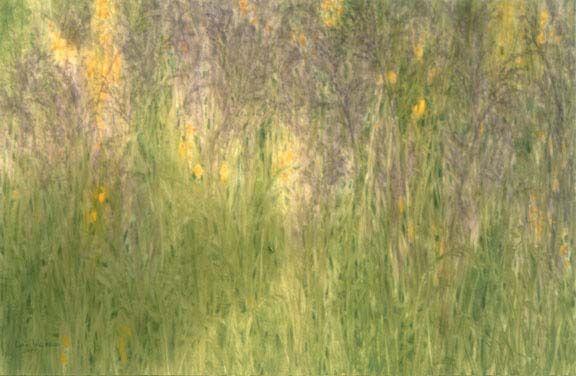 Peter Lundberg, owner of Janus Galleries, recalled how Weiss would find something complimentary to stay about a variety of works in his collection, even though they span three centuries.
"The word 'pioneer' is often overused, but she really lived up to the term," Lundberg wrote in an email. "She was breaking ground in subject matter, medium, style and size. Her works were large, and even though the colors were often subdued, they packed a punch.
"A Lee Weiss on your wall made a statement."
Karen Crossley, another former cultural affairs commission director, called Weiss was "unbelievably gracious." She owns one of Weiss's paintings, describing the work as "dreamy and spiritual."
Pepich remembered Weiss's spirit, and how it came through in the paintings.
"She was a lively and spontaneous person," Pepich said. "There's an essence of this love for nature that comes out of her work that is very much her, this love of life and liveliness. I think you feel that in her paintings as well. They're very beautiful on an intellectual level but they're also satisfying emotionally."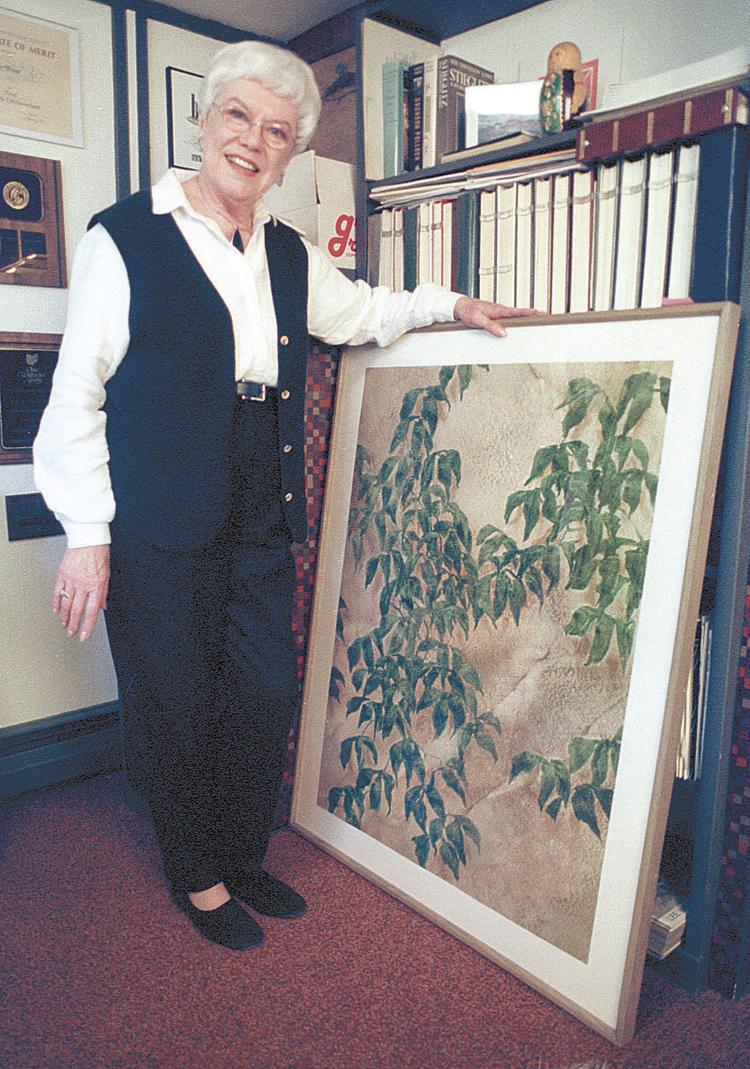 In her late 50s, Weiss survived ovarian cancer, though she later told a reporter the chemotherapy affected her ability to stand for long periods of time. When she neared 80, she began to slow down. She finally stopped painting about six years ago.
In 2007, Cap Times arts editor Jake Stockinger asked Weiss what first drew her to watercolors. A need for spontaneity was part of her character, she told him. This medium made space for that.
"I need the instant gratification," Weiss told Stockinger. "I like what watercolor gives back. It's a very giving medium. Often what's on the paper is far more beautiful than anything in my head. I like the freedom of it."
Working in a quickly-drying medium forced her to "give up and go with it," she said.
"It is very independent," Weiss said. "I know where I want the basic elements to appear and be in control of the painting. It's not all an accident, but I can allow the paint to tell me where to go."
A memorial service is planned for Lee Weiss at the First Unitarian Society, 900 University Bay Drive, on Friday, Jan. 11, at 5 p.m.