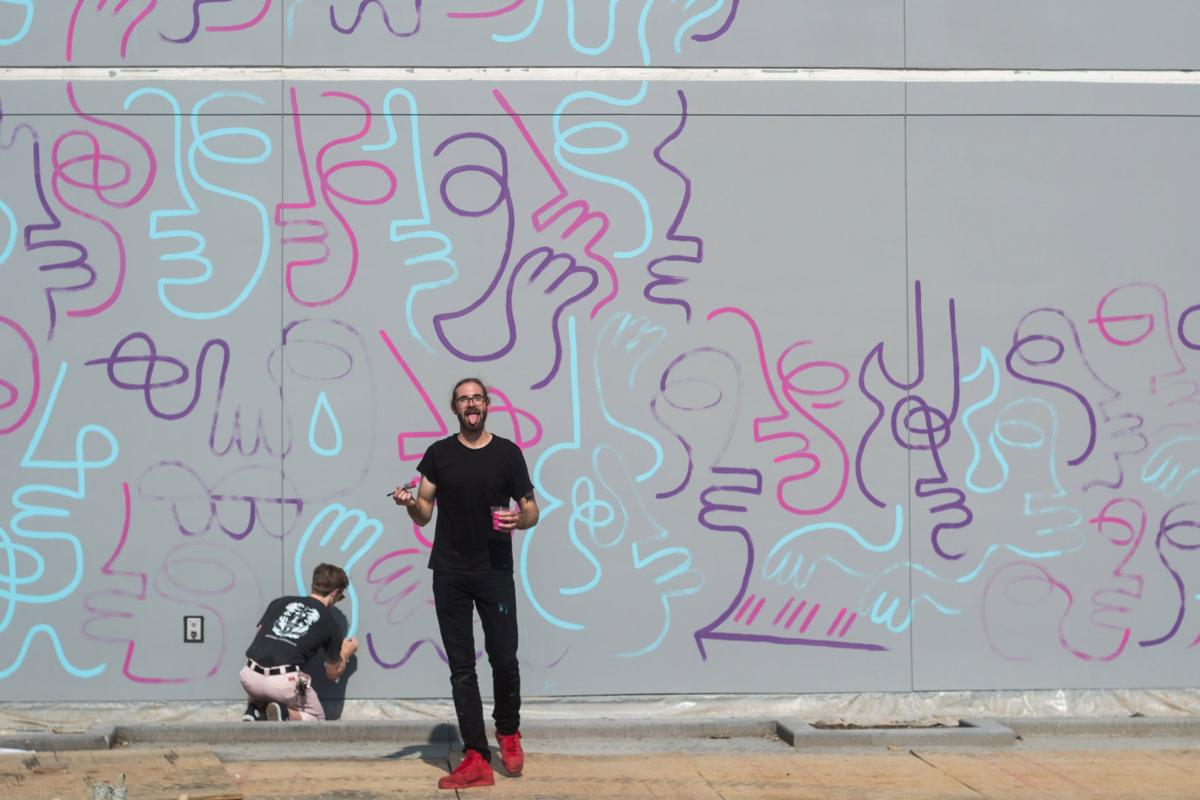 Anyone who has met Stefan Matioc has probably watched him work.
At work, at the bar with friends or sitting at home in his living room, Matioc doodles constantly. Sometimes he'll draw the same face over and over on whatever happens to be handy.
"If you know me, I have drawn in front of you quite a lot," said Matioc, 27, a 2009 West High graduate. "At my old job I was always drawing. I'd draw on stranger's walls, clothing, stuff like that."
In the past two years, Matioc's doodles have made their way from Natt Spil pizza boxes to much larger canvases around Madison. His work can be found on the side of Banzo Shuk on Williamson Street and on the patio of Next Door Brewing Company.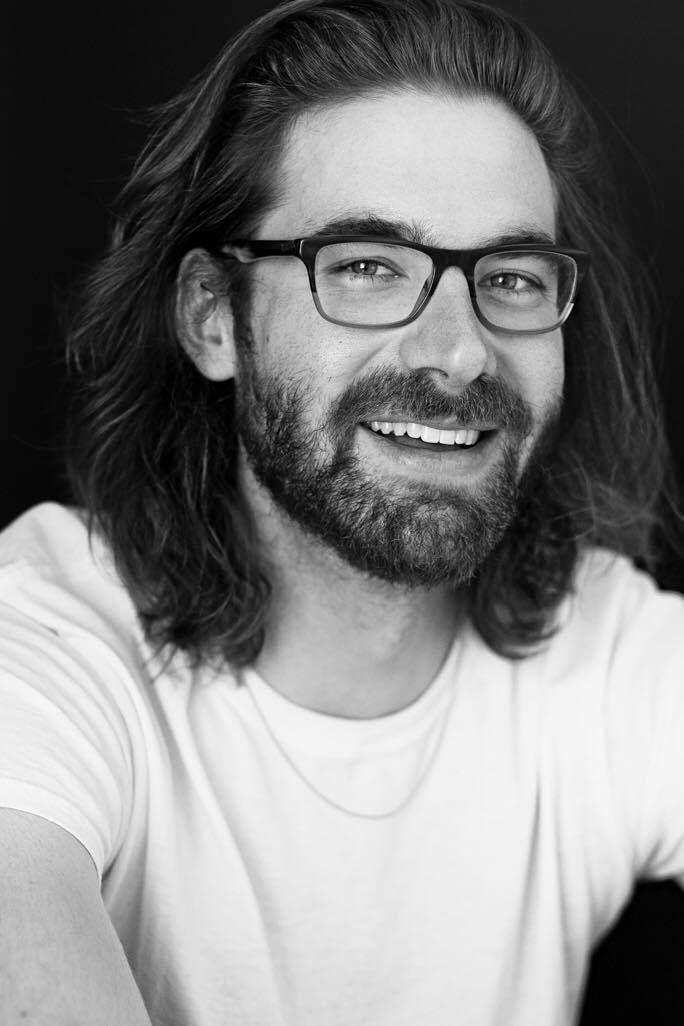 A Charlie Brown-inspired face greets visitors on the entrance to Robinia Coutyard. Last summer, he made a large-scale mural on the outside of The Sylvee, a new music venue.
Matioc now works and lives in Coyoacán, Mexico, where he maintains an apartment and studio. These commissions, he said, grew organically through friends and former coworkers at Planet Propaganda.
"I have relationships with business owners, and I know that people want art on their buildings," said Matioc. "They don't just want it to be a plain color."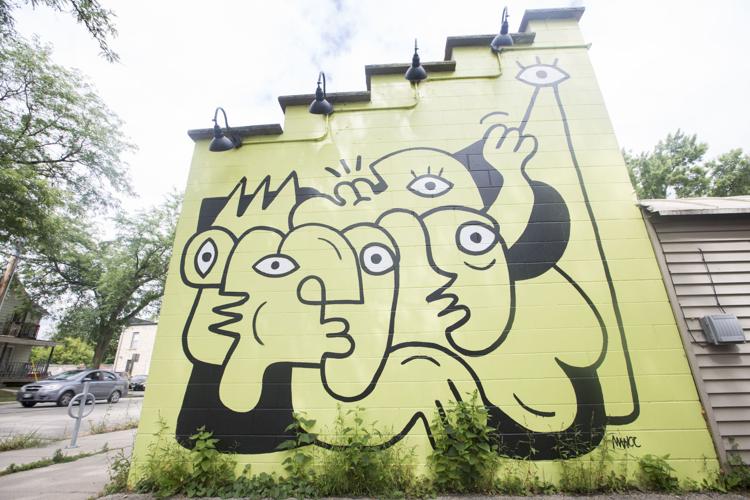 Matioc is the son of immigrant parents who came to the U.S. from Romania before he was born. He studied animation at the now closed Art Institutes International Minnesota.
Matioc describes the looseness of his artistic style as "stream of consciousness." His public work often involves characters or faces, collage-like images that share aesthetic qualities with cubist portraits, well-known cartoon characters (Calvin, Peanuts, the Simpsons) and the repetitive motion of drawing for animation.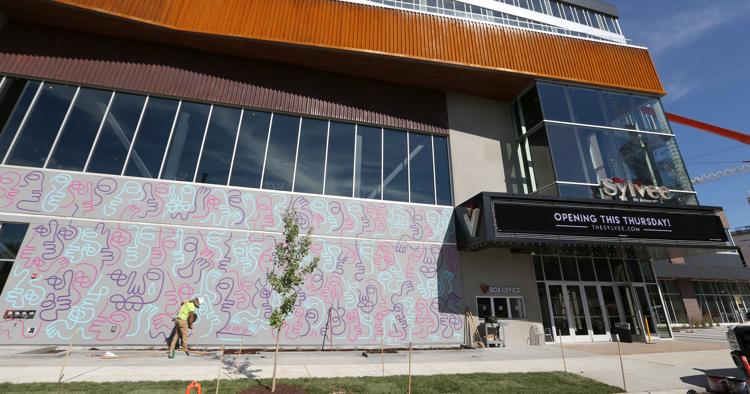 The first glimpse most locals got of Matioc's work was in 2016 when the pizzeria Lucille opened in the former Isthmus building on King Street. At the entrance to Lucille's dark basement lounge, Matioc drew a free-wheeling, floor to ceiling mural.
"He was a regular at Merchant and he would sit at the bar and do his drawings in his notebook," said Maddy Van Elzen, hospitality director at Merchant and Lucille.
Once, he took bar manager Thor Messer's notebook and "did a cool drawing over a couple of pages," Van Elzen said. She and Messer both loved it. 
"Our building has history ... we wanted to have an original Madison piece of art on the wall," Van Elzen added. "I reached out and asked him if he might be interested in doing a larger scale drawing for us, and he was pretty excited.
"We wanted ... some attractive feature that would make people go whoa! What's down there?" 
"It was a very good location," Matioc said. "People would put it on their Instagram posts or stories or Snapchat. Bartender friends said they would see people taking photos all night in front of that mural, just constantly."
"Matioc usually uses graffiti pens that leave a bit of a paint dribble beneath the lines, but this time he used big paintbrushes and deliberately used just three colors, to create crisp, bold lines," Gordon wrote. "(He) used some free-flowing drawings in his sketchbooks as a starting point."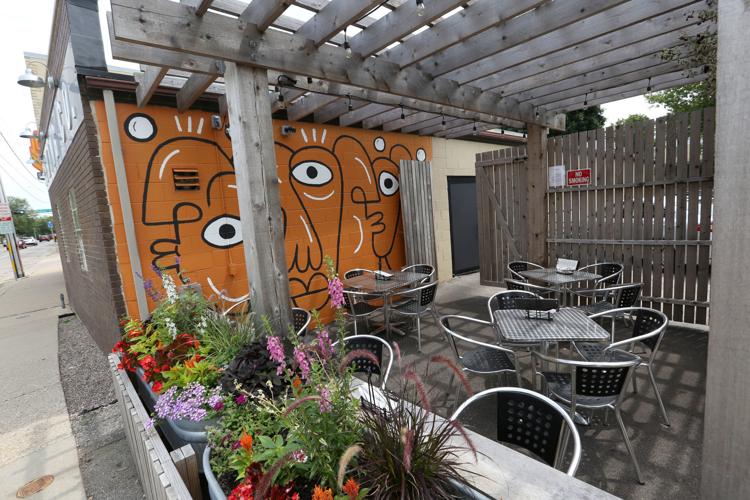 Good Style Shop owner Peter Benck has known Matioc for years and noticed when his friend's work began showing up around town.
"I like that he's a big thinker — literally he wanted to do something big, and that's what I needed," Benck said. "He really took off with different, small businesses here in Madison. I liked the idea of tethering to an aesthetic that looked very Madison and of the moment. He set the pace for that."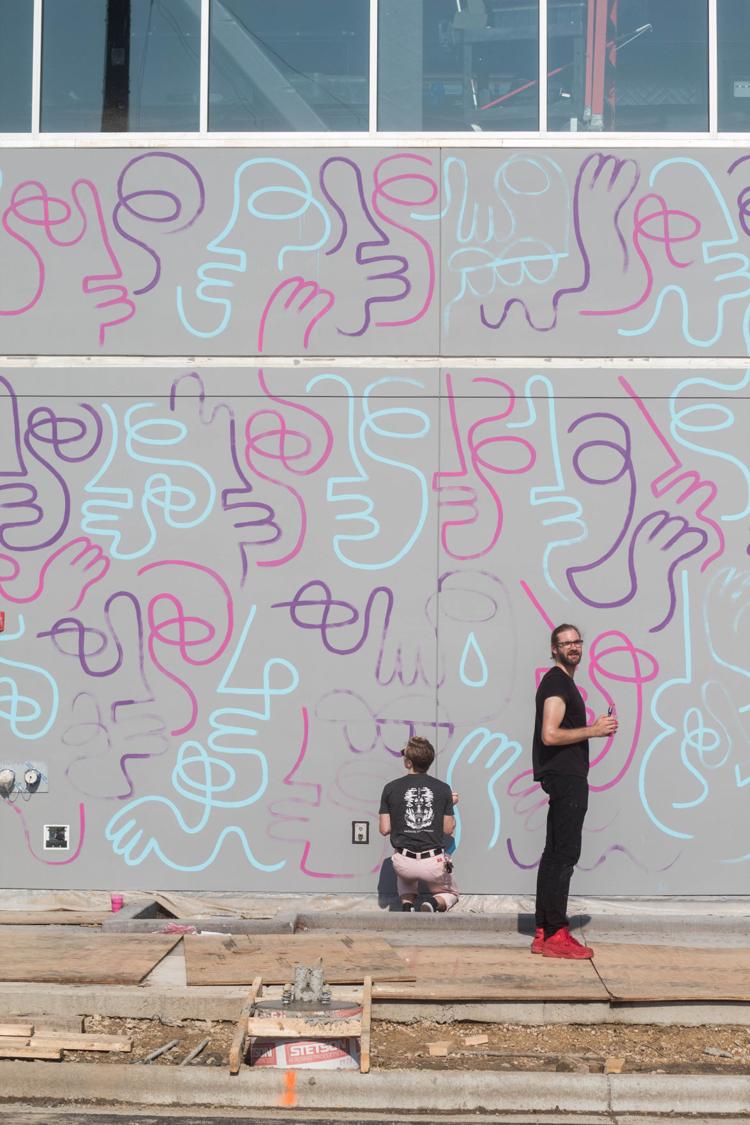 Before Matioc could start his mural on the west-facing wall of 817 E. Johnson St., Benck sought the blessing of another artist, Niki Glen. Glen's fading mural from decades before had adorned the side of the Whole Earth Grocery, the building's former tenant.
As soon as Benck had approvals in hand, Matioc showed up in a cherry picker and began priming the wall for the design they'd agreed on. It took just a few hours, Benck said, to make a cubist-inspired figure that stretched from about a foot above the ground up to the building's roof.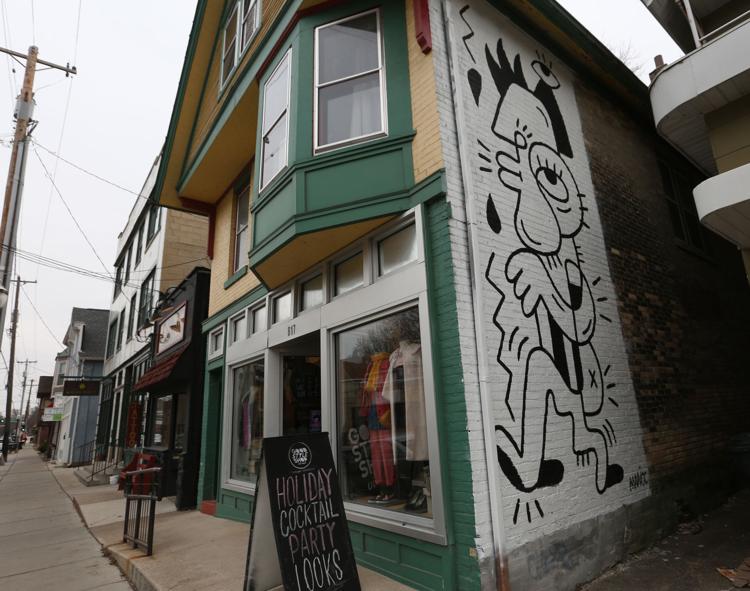 "It's walking into the street," Benck said. "It's captures your attention from half a mile away. I like the way it looks fresh, it looks big, it's compelling.
"It brings a vintage clothing store closer to the modern era." 
Matioc plans to move back to the United States, probably upstate New York, in spring, but he will keep his Mexican art studio. He's working on screenprinting a clothing line called Line that he hopes to launch soon, and he's been freelancing in paintings, drawings, murals and neon.
"For the past half a year now, I've been putting all of my eggs in the artist basket," he said.
Matioc's long term goal is to have artistic "camps" all over the country as well as in Mexico and Europe, places where he can "spend time and develop relationships with artists and collectors."
"I couldn't be a more perfect example of an artist with support from his home city," Matioc said. "I want that support to launch me to New York and L.A. and Chicago and Nashville and Europe ... to paint murals and get noticed."
Stay up-to-date on what's happening
Receive the latest in local entertainment news in your inbox weekly!