Imagine someone tucked a couple of GoPro cameras into the corners of Arts + Literature Laboratory's two 750-square-foot rooms and hit "record" for a couple weeks. Take that footage, speed it up, and you'd see a flurry of motion, something like:
Set up folding chairs for a poetry reading. Take chairs down. Set up chairs, music stands, an amp and a mixer for a jazz concert. Set up chairs for a writers' workshop. Set up chairs for afterschool art. Set up chairs for queer youth book club.
Now clear everything out; there's an art exhibition opening this weekend.
"We were joking about having a performance art piece about what it's like to be a nonprofit arts space," said Jolynne Roorda, who opened ALL in 2015. "It would just be someone constantly folding and unfolding tables, and another person putting out chairs and putting them away."
By the end of the year, Arts + Literature Laboratory will close temporarily to move to a three-level, window-filled, 9,910-square-foot space. The city of Madison is partnering with ALL to offer below-market rent and a $500,000 grant through the Capital Revolving Fund to build out a section of the Capitol East Parking Garage at 111 S. Livingston St.
East side Ald. Marsha Rummel, an early supporter of the project, was struck by the displacement of artists in Sector67 and how hard it was for those workers to find spaces that were safe, appropriate and affordable.
"I was tired of everything being about bars and entertainment," Rummel said at a ceremonial groundbreaking on South Livingston last week. "Not that that's bad, but that would be easy.
"We're displacing all this art, all these studio spaces. I told the mayor, we need to write this RFP (request for proposals) so an artist function can come here."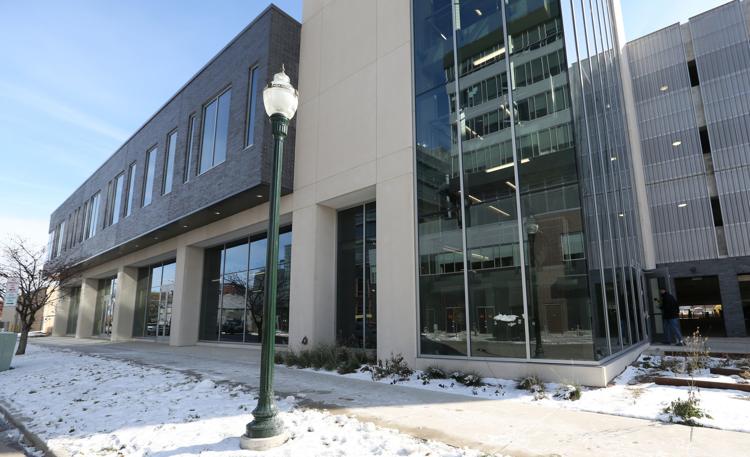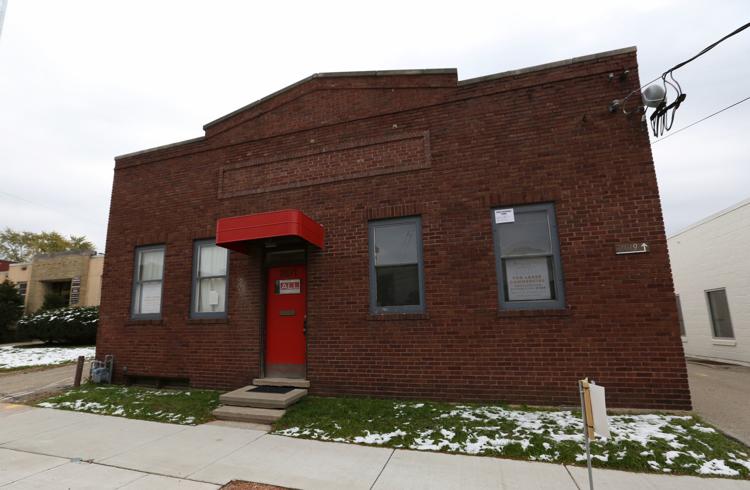 The new ALL is five times the size of the chilly brick studio on Winnebago Street it has called home for the past four years. The gallery and performance space will be on the first floor. Education claims much of the third, including art studios. Literary arts, with a small library, is in the middle: a sketch of the mezzanine shows a 835-square-foot writing center. The opening is planned for March 2020.
"It's very exciting," said Roorda. "A grassroots, community-driven organization like ours often doesn't have the ability to design a space. This is somewhat unique. We're not going into an old factory or something that's already there."
Arts + Lit Lab describes itself as an arts incubator. What it lacked in physical space it made up for in flexibility and openness. It's the kind of place where, if you have an idea for a book club where readers also make art or an impromptu staged reading of Shakespeare's "King John," there's probably a way to make it happen.
A lack of pretentiousness and low barrier to entry drew self-styled music promoters, queer teen artists, aspiring poets and established printmakers through ALL's doors. And it led ALL to outgrow its tiny east side space.
"People were saying, 'How can you leave this space on Winnebago?' thinking that was the identity," Roorda said. "The space is not the identity, it's the people."
Roorda wants to keep the intimacy and warmth of ALL while reaching a larger population, but with less chair-stacking. 
"We never hesitated for a moment about leaving," Roorda said. "As great as it has been to grow where we are now, ALL is the people. … This (new) space is not dissimilar. It's just taking and multiplying it so we can have separate spaces for the programs. It's kind of like multiple little ALLs."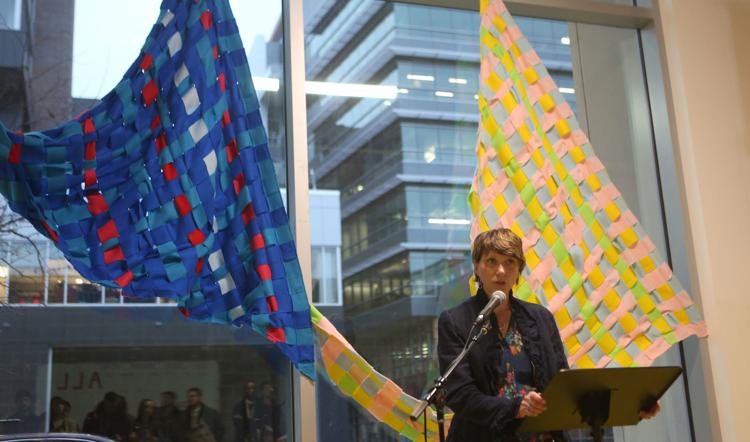 Roorda, a sculptor and graphic designer, founded Arts + Literature Laboratory in 2003 in New Haven, Connecticut, with poet Dianne Bilyak. For three years, ALL hosted art exhibitions, poetry readings, acoustic music and workshops.
When Roorda's family moved to Madison in 2011, she looked for a space to pick up the work again.
The search took a long time. Madison doesn't have a huge number of post-industrial, potential arts spaces. Many of those had already been turned into commercial space.
Eventually her husband, a virologist at the University of Wisconsin-Madison, was up for tenure. They agreed she would put the hunt on pause.
"I said, 'Yes, I can wait a year,'" Roorda said. "The next day I saw this ad on Craigslist and went to view it. I called him up and said, 'So, about waiting for a year? I think I finally found a space.'"
Around this time Roorda was introduced to Rita Mae Reese, a poet and novelist. With Angela Voras-Hills, Reese co-founded The Watershed: A Place for Writers, a community of poets, fiction writers and literature lovers who met for readings and workshops.
Reese lives on the east side. She'd already snapped a photo of the "for rent" sign at 2021 Winnebago St. When the women met they realized their goals lined up, and Reese tucked Watershed readings under the ALL umbrella.
"My dreaming is centered around programming and people and not space," Reese said. Roorda, she said, is "better at visualizing space."
ALL had a soft opening in November 2015 and a bigger launch the following January, starting with enthusiastic volunteers and a $24,000 budget. It became certified as a 501(c)(3) nonprofit, tax-exempt arts organization, sustained by a combination of grants, corporate sponsorships, ticket sales, fees from educational programs and individual donations. Early on, ALL received grants from the city and county toward professional development for writers and programming for emerging visual artists.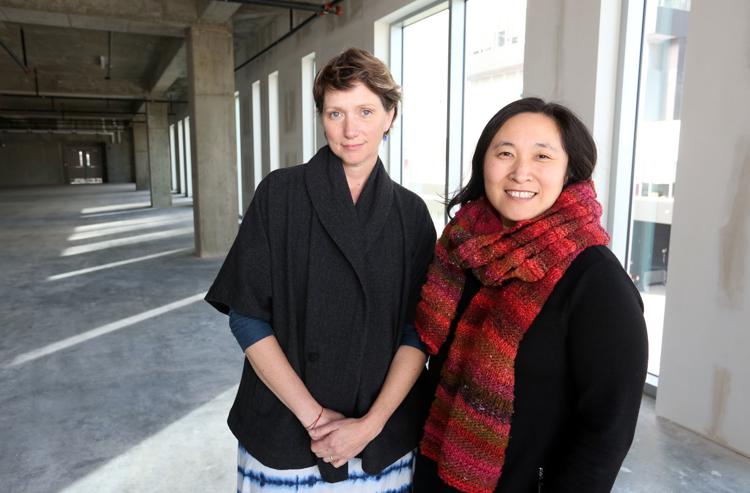 From the start, organizers welcomed politically charged work. The first photography show, "Captured," focused on queer youth and young people of color who were incarcerated in Dane County.
"At ALL, we were supported at our most radical," said Maggie Snyder, part of a feminist art trio called the Spooky Boobs Collective. Spooky Boobs credits a solo show at Arts + Lit Lab last year with helping increase its visibility. Their work is currently part of the 2019 Triennial at the Madison Museum of Contemporary Art.
"Bigger institutions who have to balance donations from more conservative businesses or who want to be open to a very broad base of the public can't support some of the more radical elements of our work," Snyder said. "And MMoCA and the Chazen are awesome but not everyone is working at that level. ALL fills a unique niche for all kinds of artists at lots of different levels."
Among the first artists to show work in the space was Borealis, now ALL's education and outreach director, whose solo show, "Toast," went up in April 2016.
"My experience on the exhibition side was so positive," said Borealis, who uses they/them pronouns. "I wasn't asked for a financial contribution. I was given a lot of freedom as an artist … there was this sense of possibility and positivity."
Before joining ALL, Borealis had been working with the ArtWrite Collective. Like Reese, they eventually saw the wisdom of combining strengths with Arts + Lit Lab.
"ALL hadn't been able to launch education programs in the way they wanted to, simply out of labor capacity," Borealis said. ArtWrite "decided it wasn't important we retain the name, it was more important to get the work done."
ALL tries to make as many events and workshops free and low-cost as it can while ensuring that teaching artists are paid. Borealis often drums up funds for educational scholarships using Facebook. Every time they post a call for contributions, they see more than a financial benefit. They also see more referrals of students to the program.
At first, ALL rented half of the building. In 2017, ALL expanded into the rest of the space, bringing its total layout to 2,000 square feet. As the organization's profile slowly rose, capacity became an issue. Borealis had to cap classes at 15 students. Fire code allows 49 people to squeeze in for a jazz quartet, no matter how big the name.
"It's not serving us to say, 'We've got more kids on the waitlist for open art studios or this summer camp than we have physical space for,'" Borealis said. "Even if we have the staffing and can hire more teachers, if we don't have the space, we have to say no.
"To me, that's a major problem."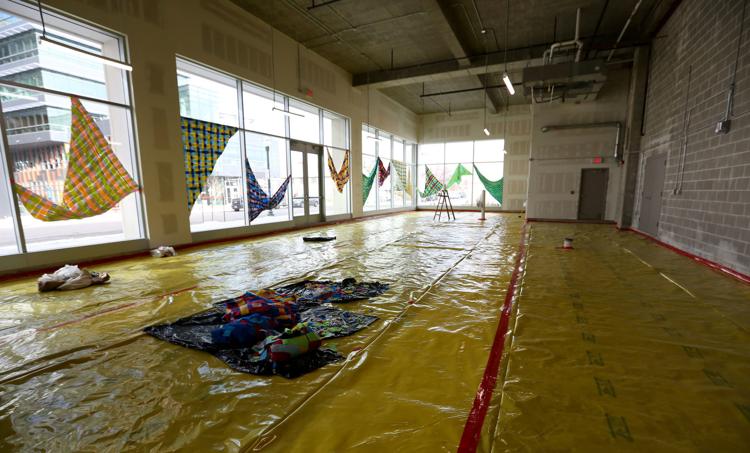 A few years ago, ALL began contemplating a move. Reese and Roorda had a few options in mind when the South Livingston location came through in September.
City support was a bonus for the young organization. Funds for the buildout will come out of the Madison Capital Revolving Fund (MCRF) program, defined by the city as designed to encourage "the redevelopment of blighted and underutilized properties consistent with a strategy for neighborhood and downtown revitalization," among other things.
The $500,000 is basically a loan that ALL will pay back via rent payments ($58,800/year, or $4,900/month). The new site has lots of parking, is close to the bike path and accessible by bus.
Roorda and Reese liked that it was still on the east side, only a mile or so from the original ALL.
"We were nervous — are there going to be other things there?" Roorda said. "But now it's so active and vibrant. We want to make sure we maintain a connection to the residential areas we've been serving for these four years. SASY (Schenk-Atwood-Starkweather-Yahara) is our neighborhood."
The garage might have shared space with retail, and doors on the main level would have made it accessible to several spaces. It could have been a bar. The fact that new construction was approved for an arts use is a boon to a small organization like ALL.
"We were building the parking garage anyway, and rolling construction costs in (for an arts space) was a genius move," said city arts program coordinator Karin Wolf.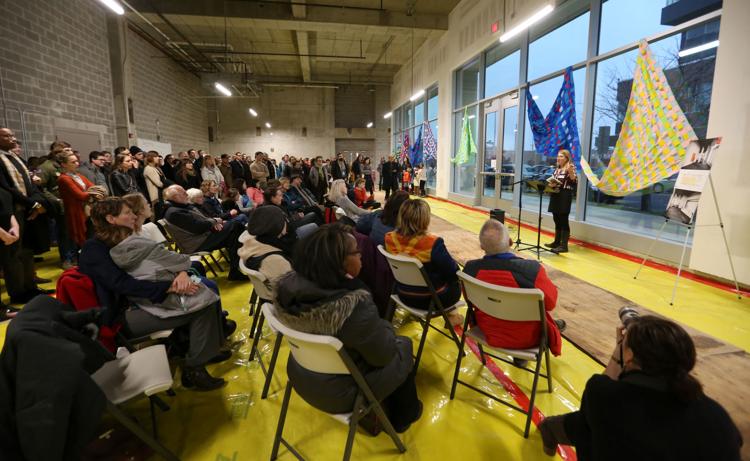 Investing in a 'creative culture'
The east side is starting to look like an arts district. The new ALL is close to the 65,000-square-foot Madison Youth Arts Center (opening spring 2021). Printmaker and muralist Jenie Gao recently opened her studio at 901 E. Main St.
ALL will be down the block from The Sylvee, a music venue built in 2018. Through the windows of ALL's future space — currently draped with a colorful installation piece made by Luisa Fernanda Garcia Gomez — one can see into the offices of American Family Insurance's DreamBank and StartingBlock.
"In the face of gentrification, how are we staking a claim for community-based arts?" Roorda said. "You can't keep pushing arts to the fringe — "
"And expect to have a good quality of life within the city," Reese finished.
In four years, ALL's annual budget has grown to around $200,000. Gao, who works on ALL's visual arts curatorial team, will move into a development director role for an upcoming $2.1 million capital campaign. A public rollout is set for next month.
"We've got tech companies moving into these areas, development for commercial real estate firms and banks," Gao said. "There's no reason we shouldn't have artists moving into the area.
"That's part of why I chose to move my studio here," she said. "It's reversing a trend. Artists are moving into the city center, and this is how you can begin to stabilize an area."
In the new space, three studios on the third floor could be offered as rentals to artists. The maximum class size will double. Borealis' goal is to expand ALL's education programs from 400 students to 600 within the first year in ALL's new location, and bring that up to 800 by the following year.
Borealis is excited about teaching artist development and a dedicated space for early childhood programs. The current space, they said, is "not toddler-centric."
"A lot of our teaching artists are in temporary spaces," Borealis said. "We're trying to fit student projects in wherever we can, trying to fit our supplies. Our goal is to have physical areas where teaching artists can experiment with curriculum, projects and media in an ongoing way."
Membership in ALL has played an important part in helping it grow. Gao plans to connect supporters with upcoming fundraisers, not yet announced, via ALL's email newsletter.
"We have more nonprofits per capita than other cities, but we have a culture that wants community initiatives to happen," Gao said. "We're going to be relying on private donations, donations from major sponsors and possibly some national level grants."
Wolf said governmental support for the arts has dwindled. No organization can sustain itself on a $3,000 grant, and Madison has seen venues like Project Lodge and Grace Chosy Gallery shutter.
Still, she said, there are other ways for the city to invest in creative culture.
"We have lost so many galleries in the last decade in Madison," Wolf said. "It's important that there are still opportunities for artists to showcase their work and for experimentation to take place, to spawn more creativity. That (ALL is) staying on the east side is important for the stabilization of the arts ecology."
Community supported artwork
ALL established itself as a place for visual artists to practice, show work and find support. "Bridge Work: New Art from the Midwest" featured artists like Jennifer Bastian (a founder of Communication, an arts venue on the east side) and Yeonhee Cheong, whose work is currently on display at Overture Center.
Leslie Smith III, an abstract painter and associate professor in the UW-Madison Art Department, was chosen for the second annual CSArt program. CSArt (on hold for 2020 due to the move) works like community supported agriculture.
Participants pay up front for an art share, and each artist makes a collection of something small, like prints, photographs, drawings or poetry chapbooks.
"It was really great," said Smith. "I had this drawing project I was working on … I wanted to expand the project with a process I hadn't used before. It was a perfect opportunity to dedicate time and energy to figuring out the nuts and bolts."
Arts + Literature Laboratory has "boots on the ground" in the Madison arts community, Smith said. It can be the first contact for artists who move to the city and want to expand their community and comfort zone.
"Arts + Lit Lab has the opportunity to not only inspire and encourage artistic growth, but elevate the conversation around its importance," Smith said. "The ALL Prize given to a grad student, the open call for exhibitions, the film viewings, screenings, the workshops or readings. All of these things cultivate an awareness about the arts."
Lynne Allen, a professor and printmaker at Boston University, showed work in a group print show in 2018 and was chosen for a solo show this month. Her 25-piece exhibition, -fractured-, is on display through Dec. 21, after which it will move to an art museum in North Dakota.
"Places like this are invaluable to the community, because they offer something that museums can't," Allen said of Arts + Lit Lab. "A small nonprofit like this is showcasing cutting-edge stuff and the community in which they live. It's trying to educate the population about what artists do and why they make what they make."
"The mission behind a place like this is invaluable, because it's pure," Allen said.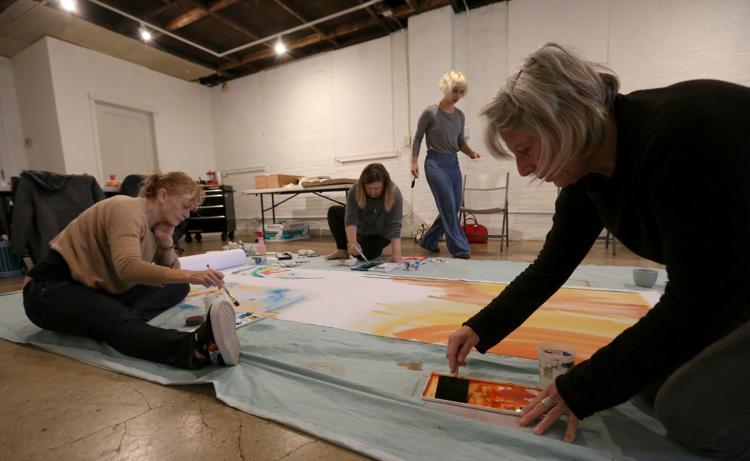 On Halloween night, the room with Allen's prints transformed from art gallery to intimate music hall. The Tomeka Reid Quartet, featuring 2019 MacArthur genius grant winner and guitarist Mary Halvorson, packed the tiny house for two consecutive concerts.
Performances at ALL are often described as "DIY." A decent number of shows are jazz and experimental. Last year, ALL joined the Greater Madison Jazz Consortium.
Scott Gordon, founder and editor of the arts-focused website Tone Madison, sometimes books shows out of the space. He has a mixer and a couple of speakers "that just kind of live there," and he's pretty sure Halvorson was playing out of his amp at that Halloween concert.
"They've been willing to take chances, and they've been willing to learn from folks who contribute to the music programming," Gordon said of ALL leadership. "Jolynne … is a good listener and a good facilitator. She's invested in every facet of the place."
Gordon included ALL in Madison's motley line-up of independent venues like Art In, Communication, Café CODA, Mickey's Tavern, Crucible and North Street Cabaret. Each of these places take risks on "music that's a little more experimental or fringe, acts that may not have developed a big enough niche audience to bring in a decent amount of money at the door," Gordon said.
"That's a lot of heavy lifting, financially and logistically," Gordon said. "And it's not the main purpose of bigger for-profit concert promoters."
James Kreul brought small-scale films to ALL in 2018 with Mills Folly Microcinema. Mills Folly works with regional filmmakers and experimental artists.
Jason Compton started bringing theater workshops to ALL in February 2016, when Madison Shakespeare Company gave a post-Valentine's Day performance of Shakespearean scenes of betrayal. Compton has staged short plays with a theater group called Left of Left Center, as well as variety shows and workshop productions.
Earlier during the week of the jazz concert, Compton's Falconbridge Players assembled for a dramatic reading of "The Upper Berth," a 1894 horror classic by Francis Marion Crawford.
"It's not a big cavernous hall that you have to fill," Compton said. "It's cozy. You don't feel like you're stepping into an abandoned warehouse you're lucky enough to use, or a murder dungeon."
Compton has discovered unexpected opportunities to "cross-pollinate."
"The fact that it is used as a gallery sometimes results in really terrific coincidental discoveries," he said. "When Madison Shakespeare Company did a staged reading of 'Doctor Faustus,' there were these really cool construction paper animal heads on the wall that played in nicely as a set." (This was likely a screenprint installation by John Hitchock, part of CSArt 2017.)
Falconbridge Players presents a double header of Susan Glaspell's "Trifles" and Alice Gerstenberg's "Overtones," at ALL on Dec. 3. Compton would like to see more permanent lighting for performance groups to use, and a layout that would allow a small theater company to perform two shows in repertory over a longer period.
"Could we spread out over a span of several weeks, taking off some nights?" he said. "Spreading out gives people time to learn about shows."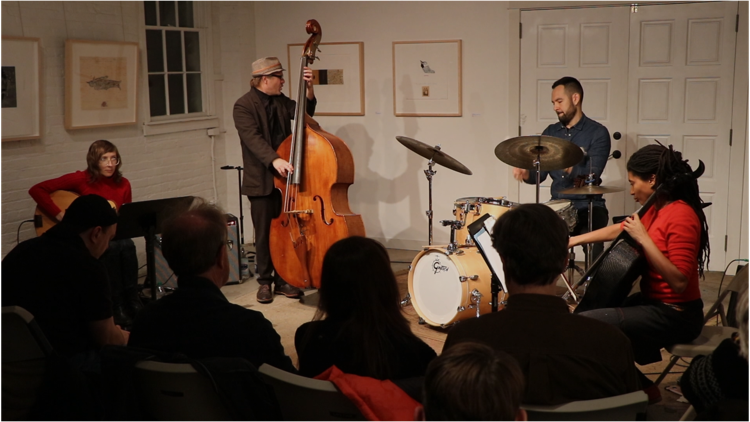 Over the past few years ALL has hosted craft talks for working writers — chats about handling rejection, where to find community, how to write endings. There are monthly write-ins, currently held at A Place to Be on Williamson Street, as well as motivational "sip and submit" events and dozens of poetry readings. Registration opens Dec. 15 for "Introduction to Screenwriting" with Jeff Pfeiffer, a six-week workshop starting March 2, 2020.
"A little part of me is sad to move away from the grittiness," said Jessica Gilkison, a member of ALL's literary arts team and a writer working on a memoir. "On the flip side, there will probably be some increased comfort there, like the temperature won't be so intense."
Gilkison may be ready for more comfortable chairs, but she doesn't want to lose the accessible feeling ALL has cultivated.
"We were setting up for an event in the summer, and we couldn't find the right equipment," Gilkison said. "All this stuff is in the basement and the basement is so creepy. Not that a new space is going to magically solve all that, but the organization is taking a step forward, toward something more formalized.
"I'm just hoping it retains this grassroots feeling."
On the last Wednesday of October, Gilkison and some friends had gathered for Mallory Shotwell's monthly art/book club. They'd all just read Mary Gabriel's "Ninth Street Women" and spent the first hour or so making watercolor murals on a roll of paper on the floor.
Shotwell said the book club, which she launched last year, is a great example of ALL's "your ideas belong here" philosophy. Shotwell likes art, she likes reading, she was willing to organize — and the club was born.
"I'm one of the few paid people here, and it is my job, but it's not a job," Shotwell said. "It's challenging and it's amazing. … You can work as hard as you want but that doesn't mean that anyone is going to come. The organic piece is when people like what you're doing."
Shotwell is an early childhood specialist and a creator of community-based art. Her interactive piece "Changemaker" was featured at the 2019 Cap Times Idea Fest. As ALL prepares for its move, she's excited to have her own classroom and coworking space.
"What I love about ALL is that everything has happened so organically," Shotwell said. "Everything was a beautiful flow. That's not to say it's not a lot of work … but it's an incredible space.
"When we move to the new space, it will be an opportunity for those things to continue."