Eric Adjetey Anang's striking, elaborate design coffins can be almost anything: a chili pepper, a sea horse, a film projector, a beloved pet dog.
Colorful, functional pieces with a brief but intense viewing time, design coffins can symbolize a person's importance to her community or the thing someone loved most, like the Bible or even a beer bottle.
For Madison, Anang wants to try something with a more direct message.
"I'm trying to build a coffin in the form of a broken gun, to address the issue of how guns are handled here in the United States," said Anang, 32, who is in residency this fall at the University of Wisconsin-Madison Art Department. 
Making such a statement is a relatively new thing for Anang, who through his travels and documentaries done about him has become an international representative for the coffin makers in Ghana.
As coffins that look like a piano, a hammer and a bevy of animals gain publicity, Anang wants to seize the opportunity to say something with them.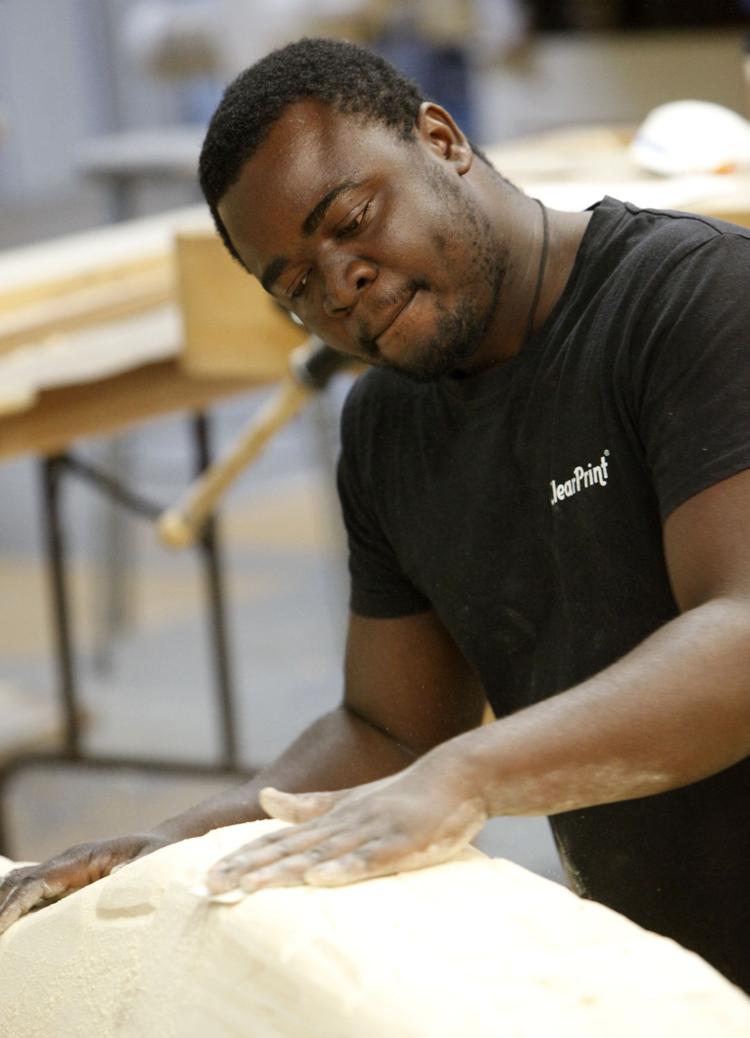 "While I was in Philly last year, I built a fish and filled the fish with plastics," he said, "just to address the issue of how waste has been handled and thrown into the ocean. It's something bothering us in Africa.
"We have all of our lakes linked to the sea. So when they throw garbage away ... they finally go into the ocean. The fisherman, instead of catching a fish, they catch garbage."
Anang has been working in the studio since he was 8 years old, continuing a family business that his father and uncle are involved in as well. It began in the 1950s when Anang's grandfather, Seth Kane Kwei, built an airplane coffin for Kwei's grandmother, who had always wanted to fly.
Anang took over the studio in 2005. Now, each coffin is created by Anang, his family and several apprentices. Each piece may cost $500-$2,000 and often take weeks, if not months, to complete.
Usually Anang carves and does not paint, but more recently he's been doing all the work himself as he tours art galleries and universities. On the seventh floor of the Humanities building, he's been working on an eagle, which in Ghana might be used for a prominent figure in the community, like a chief.
"It's a great opportunity for me to come up with new ideas," Anang said. "I'm going to build a piece here that I tried in Ghana but I wasn't impressed with it. That's the sea horse."
"I love to work with wood," Anang added, turning over a piece of sandpaper in his hands. "It looks very rough."
The coffins have gained popularity in Ghana over the past several decades. They complement the festive traditions of Ghanian funerals, like animal sacrifice and the "pouring of libations," as Anang explained.
Some call them "fantasy coffins," but Anang prefers the term design coffins, or "Abebuu Adekai," which means "boxes full of proverbs."
"These are very symbolic to us, very important," he said. "An ordinary man can't be buried in an eagle. When you talk 'fantasy,' it's like fun. Although now, people are buried in like a beer bottle—that could be fantasy."
The coffins have also attracted international attention. In 2009, Anang and his shop in Accra were featured in an advertising spot for a Coca-Cola owned soda called Aquarius.
Part of what captures the imagination is that this is art designed to be hidden. In a UK news spot about another prominent Ghanian coffin artist, Paa Joe, documentarian Ben Wigley noted that even the most elaborate coffins have an all too brief window where people can see them.
Paa Joe, Wigley said, "could spend up to three months building a coffin and then the paint (will) still be wet and it goes in the ground.
"In one way, he's glad that he's been paid and he can feed himself. In the other way, his hard work and his craft and this beautiful object that he's built go straight in the ground."
Anang himself has been the subject of many documentaries. Articulate, easy going and able to travel internationally, he has become an advocate for the work of his fellow coffin artists.
"Most of the carpenters are not educated," Anang said. "They've been at apprenticeships for 10 to 15 years, so to them it's a school they attended.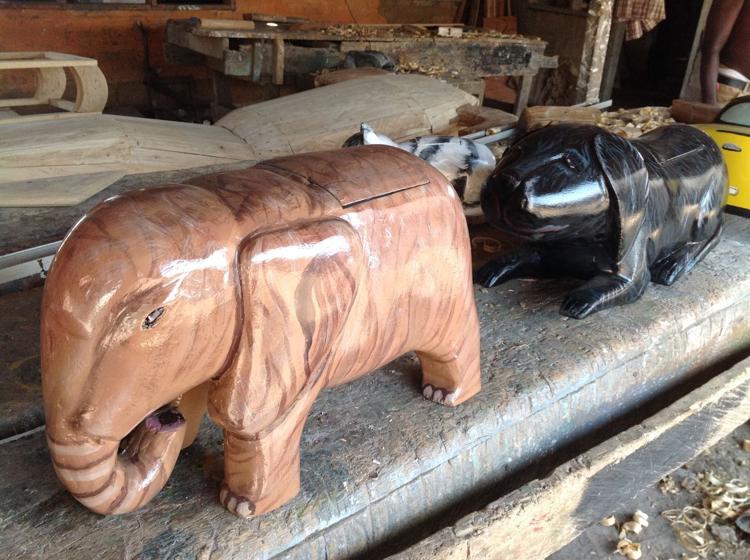 "Finally, they graduate and open their shops. They call themselves masters. But how much do they make from what they sell to pay the other apprentices? You understand, it's not enough."
Anang has waved off an intrusive anthropologist who, he says, tried to manipulate the mostly illiterate coffin makers. As he attempts to connect African chiefs with Japanese filmmakers and works with collectors in Belgium, Anang has been trying to find more outlets for coffin artwork in restaurants and galleries.
"In Ghana, people think once it's associated to death there is no need for it to come into the mix of people who are living," he said. "In recent times, I try to push a little ... into restaurants and public places.
"You have it being art, not a coffin. Even in Ghana, some of the galleries have them, which means automatically they are art pieces."
That means not only that the craftsmanship will be on display longer, but the coffins can fetch a higher price—$3,000 instead of $300, like one of the first coffins Anang sold to a gallery eight years ago.
As for the pieces he's working on in Wisconsin, the sea horse will likely head to Florida. For the gun, he'd like to connect with the members of the Black Lives Matter movement in Wisconsin, maybe have a parade.
"If it works well, I might leave that," he said. The eagle, "maybe it goes to a museum or a gallery.
"I may have to find a home for it."