It was the contrast that struck Trent Miller most clearly last summer as he sat in the dark, watching on his iPhone as Donald Trump accepted the Republican nomination for president.
Miller kept his headphones in as his son sat and watched a children's show nearby. This was a major national moment, rendered tiny on the screen in his lap.
"There was something about watching this go down on your phone," said Miller. "I thought, this is how so many other people are seeing this happen, on this little device. It was this weird intimate moment."
Later that night, Miller made a pen and marker drawing. He called it "In the Dark," with a nod toward both his private experience and the text of Trump's acceptance remarks, which tread heavily in violence and fear.
"There was so much darkness in that speech," Miller said. "It was depressing. Like 'Oh gosh, is this really what America's like? I don't think we're heading in this direction of all these terrible things.'"
Miller's impulse to use an artistic medium to process what he was seeing, then post it for friends on Instagram, has been a common response from artists. Work like this has been immediate, specific and instantly disseminated.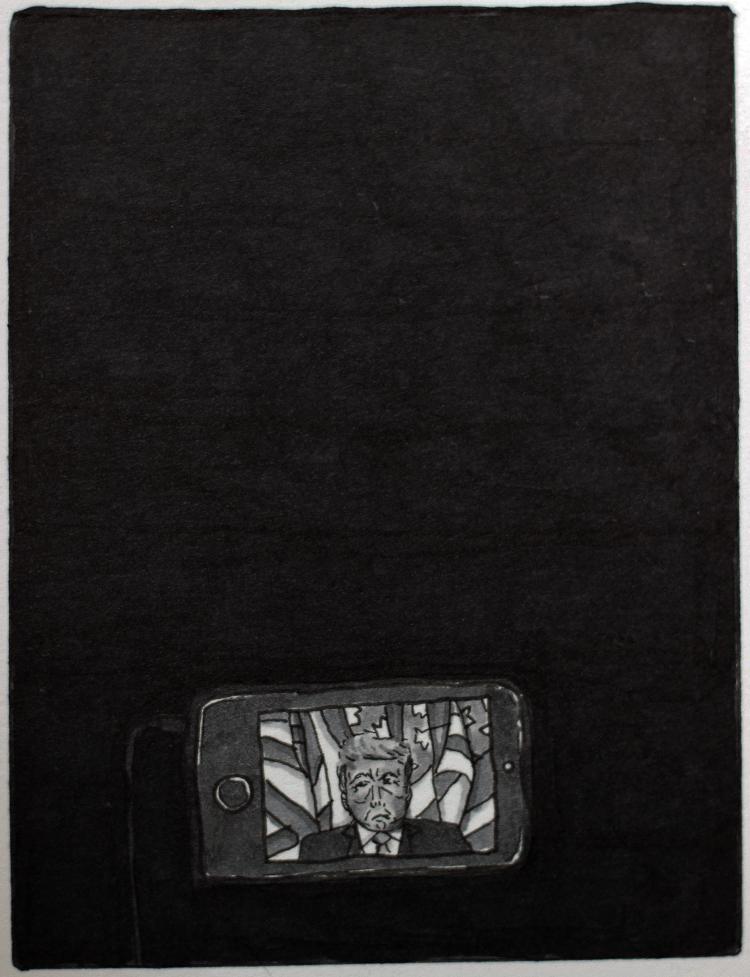 And it's just the beginning.
How artists have responded, and will continue to respond, to the divisive presidential administration taking office on Friday offers a preview of what political protest could look and sound like over the next four years.
While artistic response to political change is nothing new, what feels different about the most recent surge of artist response is how interconnected it is, both locally and nationally, and how quickly ideas are spreading.
"It felt good to make it and also to share it, to put it out on social media or Instagram," Miller said. "That is part of this work ... to have it so fresh and raw and out there right away."
After the election, many people around the country felt shocked and shaken. Artists began to address that shock in different ways — Liz Scheer felt compelled to paint mundane scenes from her life to contrast her growing daily unease. Ashley Robertson, who works with paint and metal, has turned to writing in a journal. Alaura Seidl made a piece with figures in free fall and called it "Anxiety."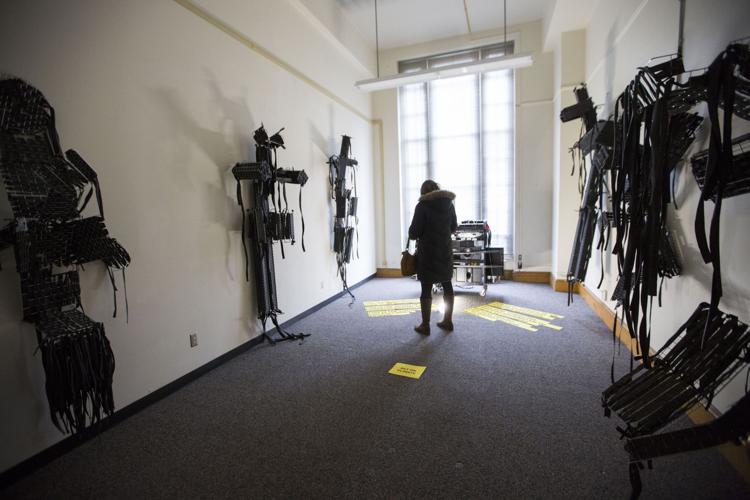 Other artists, like "TetraPAKMAN" Victor Castro and photographer Lewis Koch, made provocative installation art. "Walmartopia" writers Catherine Capellaro and Andrew Rohn wrote a mini-musical called "Pussy Grabs Back" as part of a fall theater event suddenly and unexpectedly dominated by politically conscious work.
Some artists sound afraid and worried. Others say they're energized.
"I think we're going to see more and more politically and socially-focused work," said Miller, whose professional life has him working with artists as part of the Madison Public Library's Bubbler program.
On Dec. 10, Miller and several other curators from Arts + Literature Laboratory, Madison Community Discourse and The Apartment Project organized Municipal, a one day pop-up art event in the Madison Municipal Building. (The building closed for renovations and is set to reopen in late 2018.)
Coming just a month after the election, Municipal seemed to have protest woven into its fabric. People walked down hallway beneath signs made by Michael Duffy that read "Nothing Strengthens Authority Like Silence."
Amy Owen and Larissa Back leaned down from towering stilts to ask attendees, "What do you stand tall for?" Work that addressed waste and the environment, like Gabe Strader-Brown's dumpster installation, seemed to take on a darker, more urgent cast.
"The world feels different. It will be in the work people make," said Miller. "It's a disruptive thing in a lot of people's minds and psyches.
"It's hard not to address that when it's such a big thing you're thinking about."
A call to canvas
Some artists have been looking back to find context for their work, to the poster art of the Civil Rights era to how artists responded to repressive regimes in other countries, like Chile and Turkey.
"We have a new medium, the internet," said Stephen Perkins, an art historian and emeritus curator of art from the University of Wisconsin-Green Bay. "A whole load of stuff is going to take place on that, in all sorts of new and unique ways."
In DePere, Perkins ran something called the WC Gallery out of his home — literally, a tiny art gallery in a bathroom in his house. In November, he bought a home on Madison's east side, and he hopes to resurrect something similar there.
Artists, Perkins said are feeling their way forward with this new administration. Strikes and protests are just the first step.
"I was involved in calling for an art strike in the '80s," said Perkins. "I would support that as a symbolic gesture."
In fact, there is a call for an art strike on Friday, an "act of noncompliance" aimed at museums, galleries, theaters and artists who could present "an anti-fascist cultural front." The art strike is connected with a general strike, all linked under the social media hashtag #j20.
Perkins himself has been working in more traditional methods of dissemination. One piece he made for Municipal involved business-size cards that he scattered around the second floor of the building.
One card said "never" on one side, with "now" on the other. Another read, "we got what we deserved/ let's really f--k things up."
More recently Perkins, who is from the U.K., has printed another set of cards: "I'm an immigrant and I'm not going back/ stick that where the sun don't shine." He planned to send some along to organizers of an immigration rights protest in Milwaukee.
Perkins isn't the only artist turning back to print to spread a message.
In conjunction with local inauguration protests, Madison-based comics scholar Leah Misemer has organized a group of activists to distribute some 1,000 free copies of RESIST! Magazine, a collection of comics and illustrations created by women.
"I believe in the power of word and image to expose and confront people with ideas that might not be visible otherwise," said Misemer, who hopes to get copies to the Women's March on Madison on Saturday, as well as to Anthology on State Street, Arts + Literature Laboratory, and bookstores like A Room of One's Own and Mystery to Me.
RESIST was edited by the art director of the New Yorker, Françoise Mouly, and her daughter, Nadja Speigelman. The theme for submissions was "not our president," and it contains images like a tampon being inserted into the end of a gun.
"I think that pictures have a way of searing themselves into your brain and cutting through the hypocrisy," Spiegelman told New York Magazine. "Constant and immediate reaction through pictures is a necessary form of political resistance."
This Friday, the Majestic Theatre on King Street will join venues across the country to produce What A Joke!, a comedy festival that lets comedians across the country vent (and raise money for the ACLU).
Madison's fest includes Nate Craig, known for Last Comic Standing and Funny or Die, as well as Chicago comedian Reena Calm and three local comics: Esteban Touma, Cynthia Marie and Anthony Siraguse.
"I think it's important for people who are liberal-minded in red states to know that they're not left behind in this, and they're not to blame for this," co-organizer Jenn Welch told the AV Club. "That we're all in this together."
Writers Resist, another national effort, joined Madison poets, fiction writers and essayists to like-minded writers in Austin, Tallahassee, Reno, Nevada and Toledo, Ohio. There were more than 90 events in all.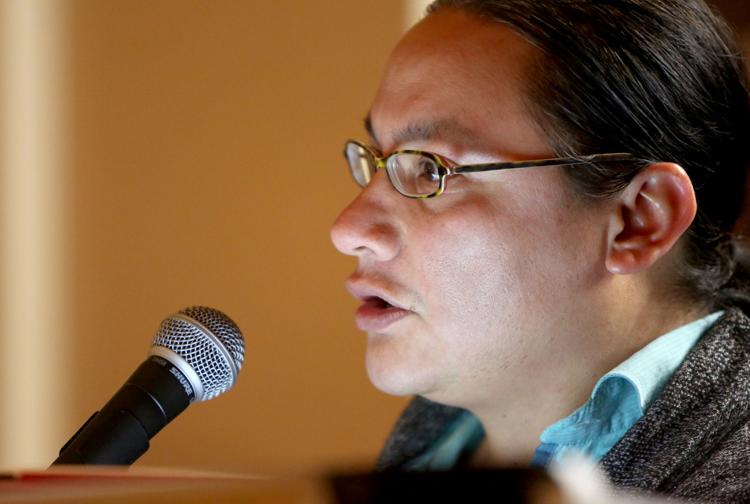 On Sunday, dozens of writers gathered here in the Gates of Heaven Synagogue to read work loosely gathered around the theme of "democracy." (See more about this in the sidebar.)
The election "was a big wake up call for a lot of artists," said Rita Mae Reese, who organized Madison Writers Resist with author and educator Kara Candito and Ron Czerwien of Avol's Books. Sean Bishop, a poet who teaches creative writing at the University of Wisconsin-Madison, designed the poster and served as emcee.
"A lot of people are feeling lost right now and shocked by everything that's happened and is still happening," Reese said.
With the spread of fake news and deliberate misinformation, Reese was dismayed to see "an assault on meaning."
"That's why so many writers got really freaked out," Reese said. "Every writer I knew was in deep distress. It's not just that it's an assault on our basic rights as women and minorities.
"It's an assault on meaning itself."
Yet disquieting as that idea was, Reese felt oddly encouraged. Meaning, she thought, is something poets and writers know how to confront.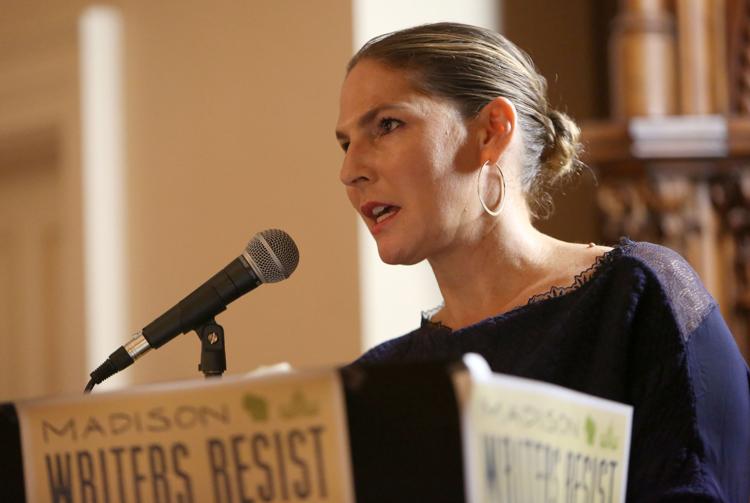 The first event raised money for the American Civil Liberties Union of Wisconsin. Reese has organized a similar event for March 8 at 8 p.m. at Arts + Literature Laboratory, where she is vice president of the board. "Nasty Women Reading" will take submissions through Feb. 3 and is set to benefit Planned Parenthood.
"To be honest, I think a lot of art will be lost over the next couple years," Reese said. "My days are filled with a lot more activism than I would prefer them to be. I would rather be playing my banjo! That's the price you pay for living in a democracy."
You've thrown a tomato. Now what?
Laurie Beth Clark and Michael Peterson, two UW-Madison professors in the art and English departments respectively, started organizing colleagues and friends just days after the election.
The first meeting of their Art Activist Work Group is set for Monday, Jan. 30, at the Art Lofts Lounge, and they're actively seeking more participants via the email address artactivistworkgroup@gmail.com.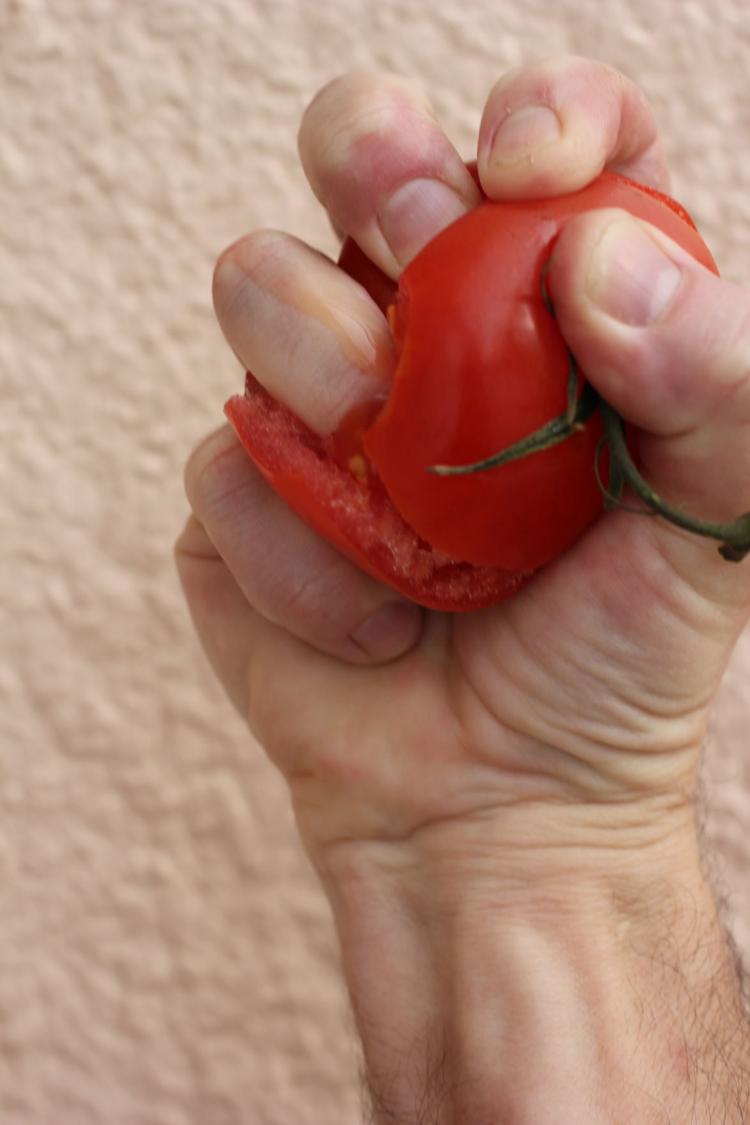 "These more extreme political moments bring out an impulse in us to gather a larger collective and think about how to organize," said Clark. "It's an important opportunity for artists.
"Many of us on the left feel politically like we are stuck, like there's no possibility to do anything within conventional institutional frameworks anymore," she added. "Like that's all going to come to a dead halt on January 20th."
Clark and Peterson make work as the performance art duo Spatula & Barcode. Their work is collaborative and community-based. It often seeks to connect personal experience, something as simple as grocery shopping and eating dinner, to larger social and cultural contexts.
Spatula & Barcode's piece for Municipal was called "Rage Grief Comfort &." Participants were invited to hurl ripe "rage tomatoes" at a wall, chop onions to encourage tears, and eat some mashed potatoes, a near-universal comfort food.
For a take-away, Peterson baked 1,600 sugar cookies with an ampersand on them ("that was my own therapeutic process," he said).
The implication was, now what? You've been sad and angry and comforted. You've thrown a tomato. What will you do now?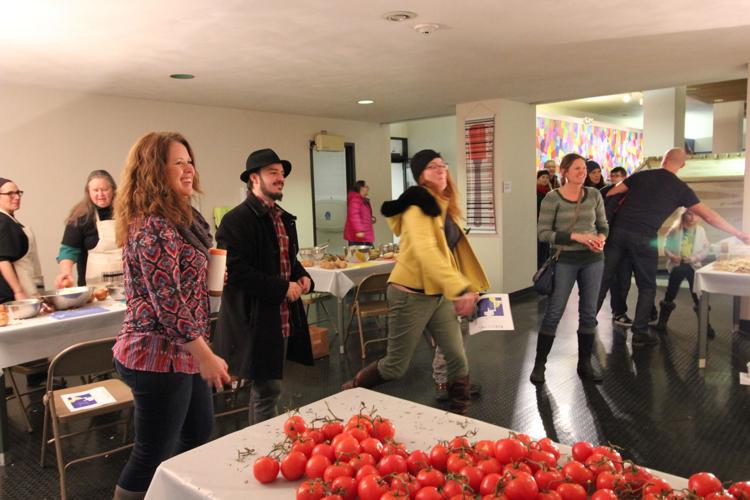 "In Madison ... it's a real pastime to indulge in outrage, and there's nothing wrong with that," Peterson said. "People build a culture of shared political vision through that shared venting. There's a quality to Madison progressive culture that's a critique of the world.
"But there's an important tradition of people showing up, of people doing stuff. Those two can feed each other instead of being in opposition. The ampersand has to push us beyond that sense of 'insider,' toward political action."
Peterson predicted that nationally, the "culture war is going to heat up." He believes artists must "take a serious role in pushing back against the tactics of repression and shaming and hostility directed at people who are culturally marginalized."
To that end, the Art Activist Working Group will be open to artists in all kinds of media, doing work that's overtly political — or not.
"All kinds of folks make art that's not explicitly political and that work still needs to get made," Peterson said. "It's even more important than it was before.
"Censorship is going to become an increasingly common tactic. Artists have to work together."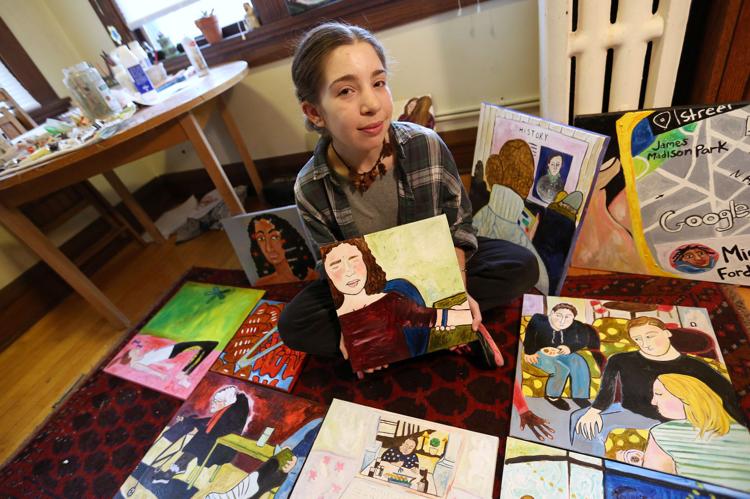 "Politics are vibrating underneath the surface"
Those who look through Liz Scheer's latest series of paintings, "Red State of Mind," might not think "protest."
There are images of football-themed snack trays and an old woman struggling to stand at an Espresso Royale coffee shop. There are paintings of teddy bears at Festival Foods, a woman doing a yoga bridge pose, and Scheer herself texting while sitting on the toilet.
Scheer could imagine how these "weird little mundane things," wouldn't seem political to most people. That's the point.
"They're personal paintings that vibrate with a kind of instability and menace underneath them," Scheer said. "They speak to the ways in which politics are vibrating underneath the surface of our personal lives.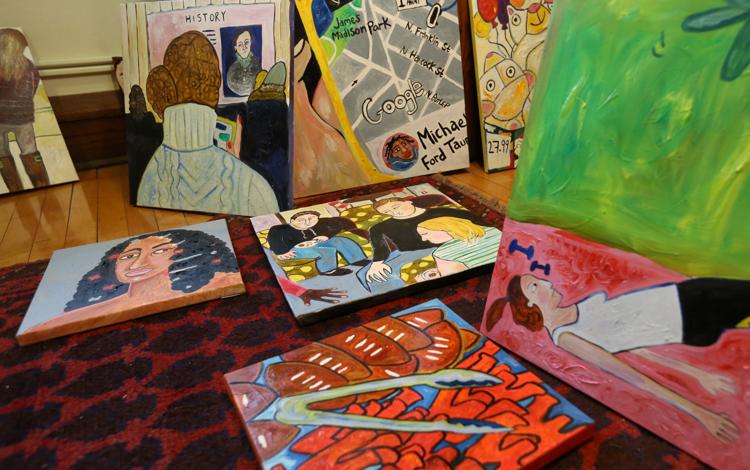 "This new political reality has crept up on all of us unaware," she added. "Until we see the ways in which our quotidian lives are deeply implicated in these larger political truths, we may be doomed to repeat what just happened again."
On a personal level, making this artwork has been part of how Scheer herself is processing the "destabilizing" events of the past two months.
"We've been walking around and some little thing happens, we go to the doctor, or we have a bad exchange with a co-worker," Scheer said. "We see a sad tidbit of humanity, like a woman having trouble getting up from her chair.
"You'd see one of these things, and then the sick punchline would be: 'And Donald Trump is going to be our president.'"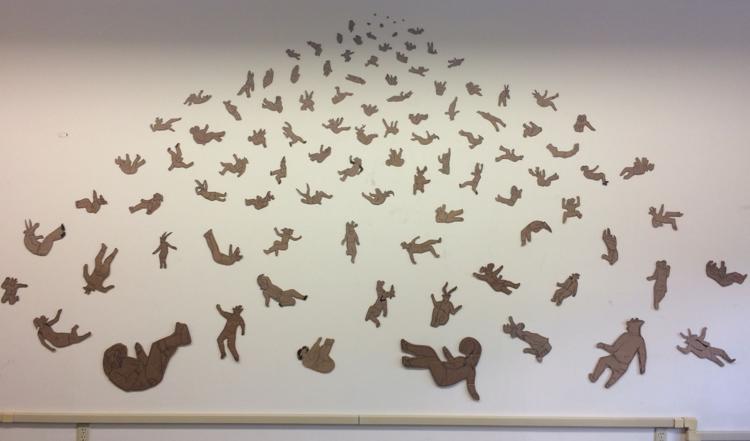 At Municipal, artist Alaura Seidl's work was also a mix of personal and political. For an installation piece called "Anxiety," Seidl made cardboard cutouts of ram-headed people that appeared to fall from the sky.
Seidl identifies as a nonbinary trans person and often uses antlered animals in self-portraits to address gender issues.
"I'm personally free falling," Seidl wrote later, "with mental health destabilized by ... renewed politics of hate. So are many others like and unlike me."
But there was a political angle, too. Mounted on the wall of a city office, "Anxiety" included 100 figures, a quiet reflection on what can happen during a president's first 100 days in office.
Not everyone got this, Seidl said; some people posed in front of it with their children, pretending to be falling themselves.
"I'm OK with a flexible interpretation of work," Seidl said. "I learn a lot, actually, by hearing how folks interpret pieces. I'm excited by that. I see it as reciprocal.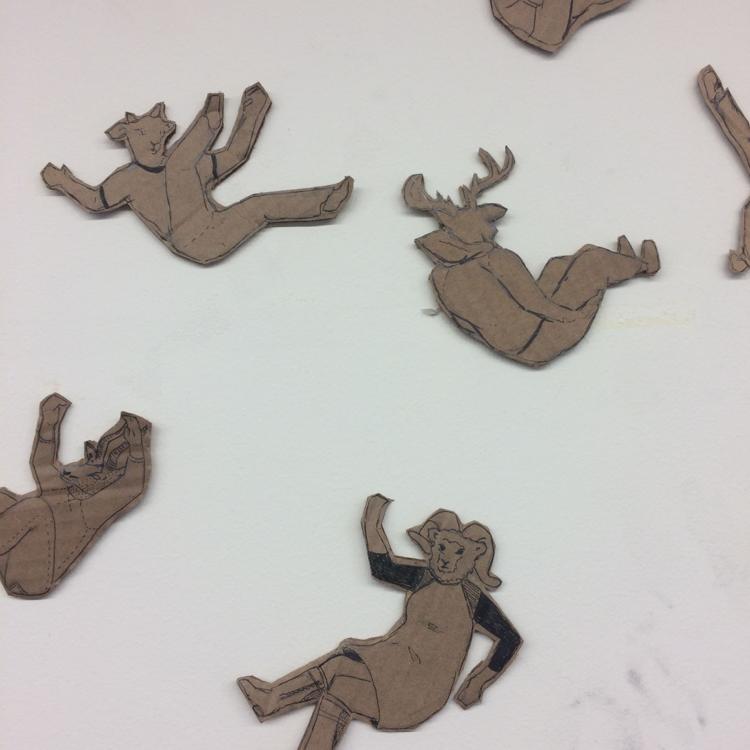 "I probably wouldn't have thought to make a piece immediately about my position in these blossoming politics if Municipal hadn't happened," Seidl added. Since the show, "Anxiety" has been broken up, given away, sold and traded, "slowly traveling out into the world drawing by drawing."
Seidl works with ArtWrite Collective to curate shows at Cafe Zoma on Atwood Avenue. March's show features the founder of West Label Art, Ashley Robertson.
Robertson is a painter and multimedia artist, and so far she's been making a lot of notes in her journal.
"Art should be courageous," she said. "It's the artist's responsibility to document history, especially during this time, to document what's going on, to communicate that we protested, what we felt, that we disagreed."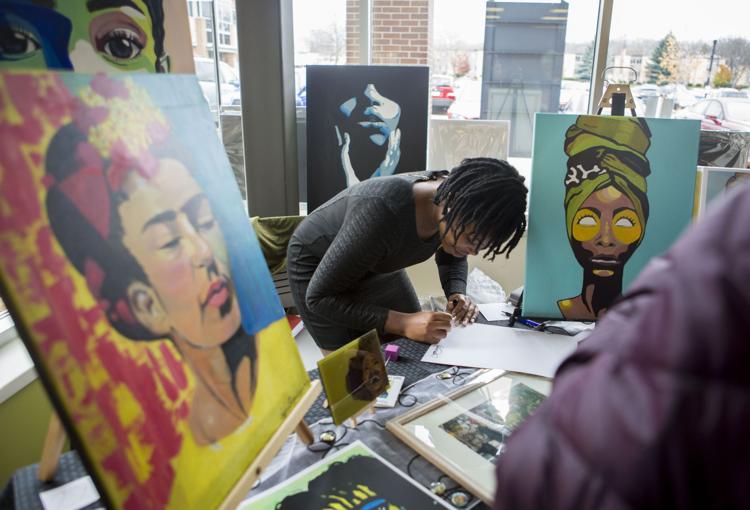 Robertson said her work starts with her own experience, but is necessarily impacted by politics. She sees value in expressing the joy amidst oppression, to depict the things that keep people going, things like dancing, singing and celebrating.
"I feel a strong responsibility in my art ... to clearly represent the voices of black women," Robertson said. "The experience a lot of black women communicate to me is invisibility.
"It's an incredibly dangerous time to be invisible. My responsibility as an artist is to elevate other black women, and to combat that feeling of invisibility."
The big picture
Many artists who've responded to the election results quickly already make socially conscious, community-driven work.
Victor Castro, who has been making work in Madison for the last few years as TetraPAKMAN, infuses every installation with bold statements.
A recent piece that was part of the Madison Museum of Contemporary Art's 2016 Triennial used waste materials from Promega — colorful plastic grids from boxes used for pipettes — and turned them into a sculpture.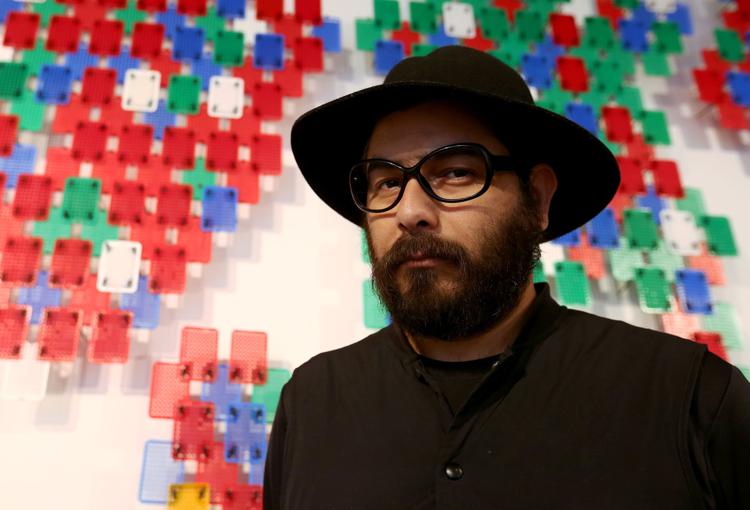 In workshops, Castro (as TetraPAKMAN) showed young students how to attach the grids to each other. With the addition of their work to the sculpture, "About the Future (Dreaming)" slowly grew.
The message? Small actions, repeated over and over, can make big change.
"Do small actions that benefit the future of the next generation," Castro said. "Don't buy the stuff of the people who are supporting this administration. You have that power."
Castro had two installation pieces at Municipal. One of them, "CEOs of Denial," was involved 8-foot-tall pieces of rubber that created abstract portraits of the "dark people behind business that are hurting the environment."
"I played sound, and I put text on the floor: 'This is the sound of a pipeline being built over your rights," Castro said. "This is the sound of the powerful making their progress against yours.
"This is the sound of the future if you stay quiet.'"
He then added the #nodapl hashtag, referencing the Dakota Access Pipeline protests. 
"We can envision something; we can make it happen," Castro said. "Last year there was indifference, because we are comfortable. Right now it's time to do something."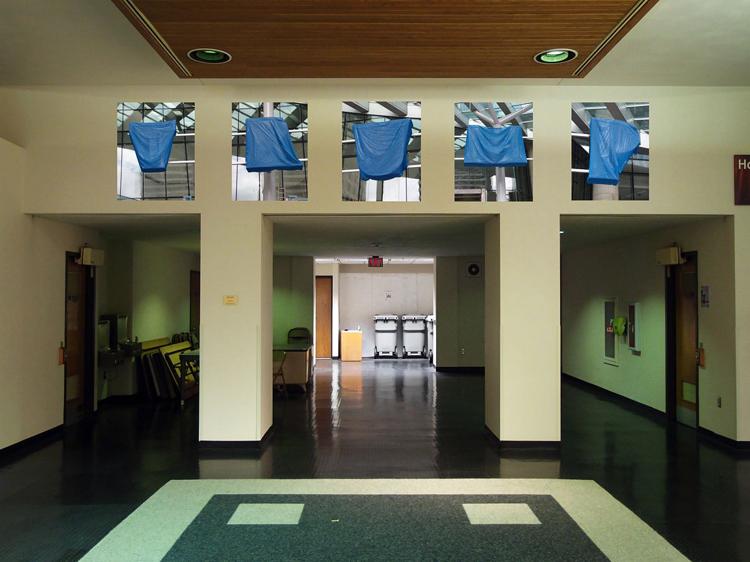 Lewis Koch, a photographer, found inspiration for his work at Municipal while on a trip to Vancouver. He saw a Trump building that was under construction, the letters T-R-U-M-P sheathed in blue fabric.
It reminded Koch of the artists Christo and Jeanne-Claude, who made the "Gates" installation in Central Park.
The series of five photos that came out of that, "Hostile takeover, 11.08.16," were mounted near the ceiling at the front entrance to the Municipal building. It's a response, Koch said, to "the new Trumpocracy" and his own overwhelming sense of dread.
"It's not really intended to tell people how to think," he said. "It's more important to engage in a conversation with people and trust that they'll form their own opinions."
Before the show, Koch encouraged fellow artists to address the election results in their work. He described his own work as "offering a social critique."
"What an artist can do best is present questions, and hopefully the audience will engage," Koch said. "I don't want to suggest that every artist need be a political artist or make political art.
"Artists have a right and an obligation to respond in ways that they see fit."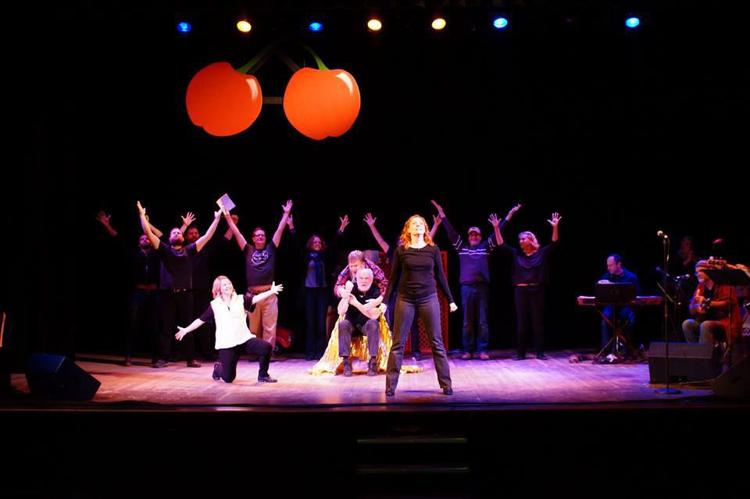 Performing protest
Most dance and theater companies have already set plans for the first part of 2017, but recent events have caused artistic directors to re-examine what they might bring to the stage.
Doug Reed, a playwright, director and performer, may be best known outside the theater community as the guy who in 2011 wrote " The Lamentable Tragedie of Scott Walker." Reed's faux-Shakespearean political comedy was one of the most successful plays in Broom Street Theater's politically charged history.
Later this year, Reed will begin to transition into a new role as the next artistic director of Broom Street Theater. He takes over for Heather Renken, who planned the 2017 season.
Reed has big plans for the little black box on Williamson Street.
"What I wanted to do before the election is very different than what I want to do now," Reed said. "Given the freedom that Broom Street has, that gives us a duty to go back to our provocative roots, our political and confrontational roots, and be a First Amendment lightning rod."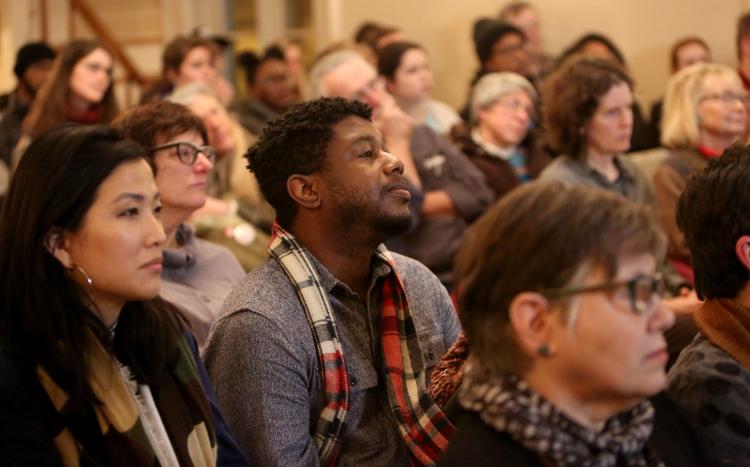 Reed sees the need to diversify as even more important than before, finding writers and performers from a range of backgrounds in economic status, sexuality, creed and religion. He wants to "blow open the comfortable white nest" at Broom Street.
"I'd be thrilled if I could get a Republican in here," Reed said.
Because Broom Street owns its own building and does original work (no royalties to pay), the company the infamous Joel Gersmann ran for several decades doesn't rely on ticket sales or sponsorship like other theaters do.
"The attacks will come on journalism, the New York Times, the Washington Post," Reed said. "We've got a responsibility to be out in front, saying you know what, this is what we're putting on and it is directly aimed at putting a sharp stick in your eye.
"This isn't a time to play it safe. We have an audience to reach (but) we can afford to piss them off."
Music Theatre of Madison artistic director Meghan Randolph has always committed to doing "the weird stuff." That seems even more important to her now.
"With the administration the way it is, we must tell stories that speak to social justice issues," she said. "Not preachy ones, but stories that bring these people to the forefront of conversation. It's our responsibility to make art that reflects the people our administration seems determined to suppress."
The first musicals — mini-musicals, actually — to respond to the Trump administration in Madison were written and performed at the Barrymore Theatre about a month after the election.
Are We Delicious? focuses on theater created from concept to curtain call in the space of a week. The December production featured several musicals, including " Pussy Grabs Back," that dealt with a Trump presidency.
"Delicious has never been political before," said founder Tony Trout. "Of the 100-plus short plays, only a handful had been overtly political before the Barrymore show.
"Musical Heroes was a situation where our writer/performers all understood that they had thoughts and feelings about the election," Trout said. "We didn't join elbows or anything, but I think we were of one mind. What we created definitely resonated with our audience."
Are We Delicious? is unique in that it's quick, allowing artists to respond to events very quickly. Whether future plays will take up the new political realities, Trout couldn't say.
"It was sorely needed. It's still needed," he said. "But is addressing Trump or politics in general the correct direction for Delicious? I don't think so. Eventually, political theater is likely to end up talking to itself.
"I have no doubt that Trump will figure into future Delicious plays," Trout added. "He's the biggest character to ever become president. But I don't think Delicious will directly and deliberately focus on him again ... unless it gets really, really bad."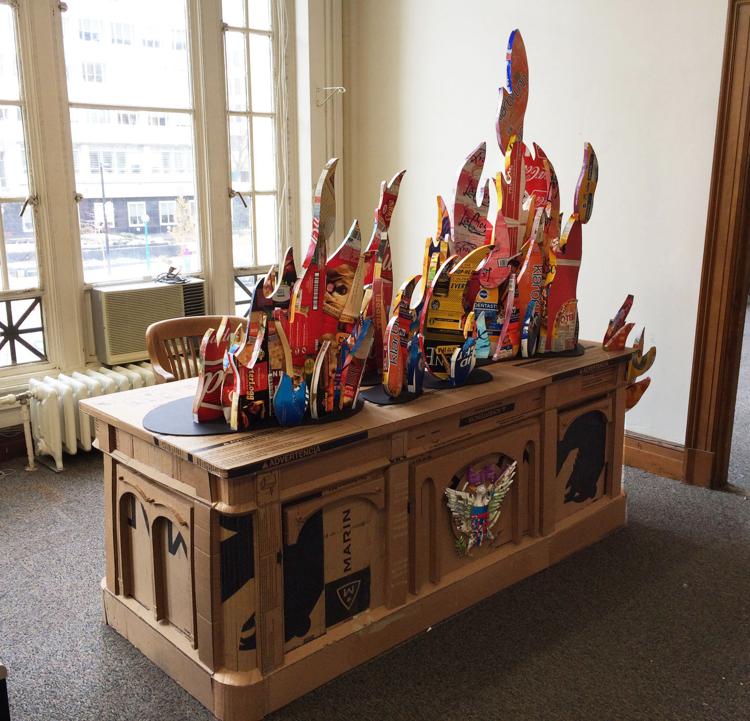 Curators with a cause
Some of the work in Madison galleries and shared spaces in 2017 will be truly new, made in direct response to the election and new administration.
But curators are already wondering how art that was made months or even years ago look substantively different in an America that elected President Donald Trump.
One such show is coming to Overture Center in the summer. A few years ago, Amber Sowards at the queer youth-focused nonprofit GSAFE made "Captured," a photography series that focuses on incarcerated teens.
The images have been paired with poetry readings and combined with other work in previous exhibitions. But Overture programming and community engagement manager Beth Racette thinks that this June, people will see the same photos with new urgency.
"I think there's going to be more and more necessity for people to connect the dots, to look at how people are being affected," she said. "Overture has such a big audience, and this really needed to be seen."
Overture and the James Watrous Gallery on the third floor are just now announcing calls for art for the coming season. Some of these shows won't happen for a year, so the artists will have time to make new work.
"We know their work is evolving," Racette said. "We want them to show what's most important to them and what feels most lively and pertinent. We do try to give artists a lot of room there."
Bethany Jurewicz, an artist and curator with The Apartment Project, was a co-organizer of Municipal as well. She looked around during that show and saw signs of things to come.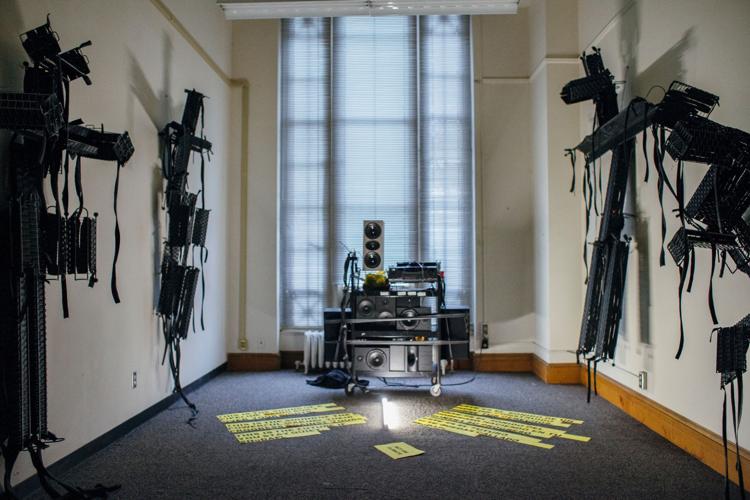 "I think political unrest often breeds a surge of provocative creativity in the arts," Jurewicz said, referencing dissident Chinese artist Ai Weiwei. "It is the duty of the arts community to provoke and broach conversations that may be uncomfortable and controversial.
"This is already happening in Madison."
Jurewicz brought up Gail Simpson's "Resolute," a sculptural rendering of a presidential desk on fire, the "flames" covered with brand names. She vividly remembers Koch's photography, Duffy's text installation, and Amy Owens' stilt-walkers.
These, Jurewicz said, "are great examples of this type of reactionary art."
"I asked myself how I can push back against the direction in which our country is going and actually make a difference," Jurewicz said. "I plan to organize some thought-provoking fundraisers for institutions that will likely see a cut in federal funding.
"New audiences are necessary in order to generate changes in the way we think about immigration, sexism, racism and each other," she added. "I feel lucky to be part of an art community that I can contribute to, who will contribute to this change."