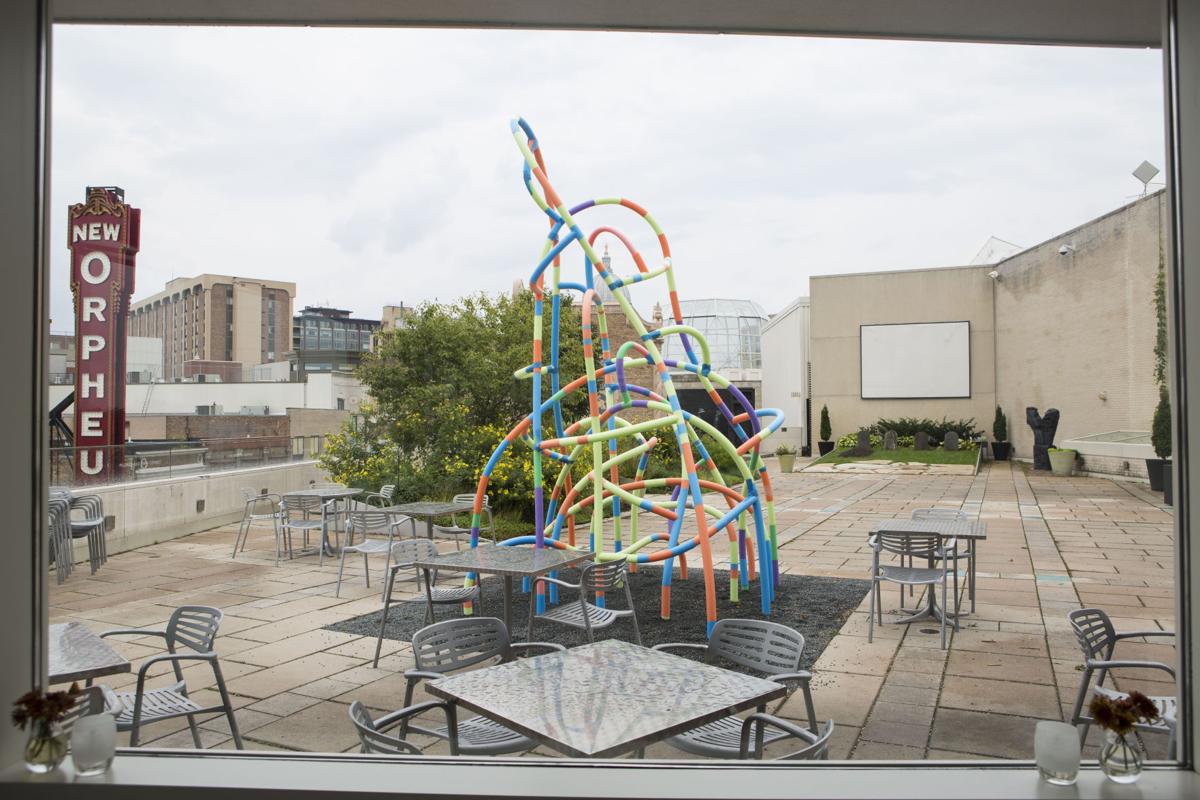 It was a little unsettling, just days before the opening of the Wisconsin Triennial at the Madison Museum of Contemporary Art, to watch Ray Chi's rooftop sculpture shudder and shake in the rain.
So far, "Noodle Around" has withstood the weather. But then, its materials are made for water — it's built out of foam swim noodles.
"That's part of the work," Chi said, "That question, 'How is this actually possible?'
"They want to keep it up through winter. It'll be interesting to see how it will transform with snow and ice on it, too."
The 2016 Wisconsin Triennial, officially opening Saturday, is a showcase of some of the state's most exciting artists, from longtime practitioners who are taking their work in a new direction to new faces, including recent graduates of the University of Wisconsin-Madison's Master of Fine Arts program.
Chi's brilliantly colored, squiggly sculpture is one of several pieces in the show that have a childlike, interactive quality.
"His work is all about play," said MMoCA curator Leah Kolb, "using architectural forms and structures and making them playful, using unexpected materials."
"It's like a jungle gym gone crazy," added fellow curator Rick Axsom, watching "Noodle Around" through a window on the museum's rooftop. "You want to grab and climb up it."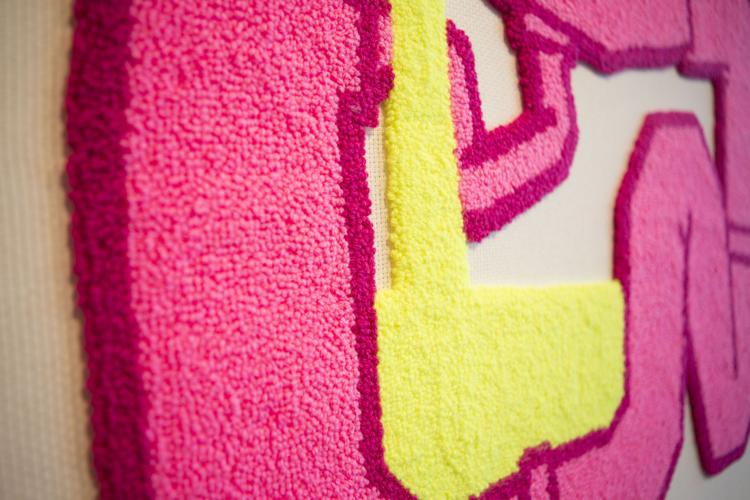 To prepare for the Triennial, museum staff sifted through 600 applications and visited 95 studios around the state. The final list features 34 individual artists and three pairs of artists working in collaboration.
Those teams include the performance art duo Spatula and Barcode, currently in residence in Madison Public Library's Bubbler space with their "Foodways" project, and Salyer and Schaag, who made "Performing MMoCA" buttons to draw attention to how we "perform" the role of museum visitor.
On MMoCA's main level, Michael Kautzer's "The Blue Little Red Barn" (2015) greets visitors on the right as they enter the museum's lobby. It looks like a grounded tree house, or a brilliantly hued barn in miniature.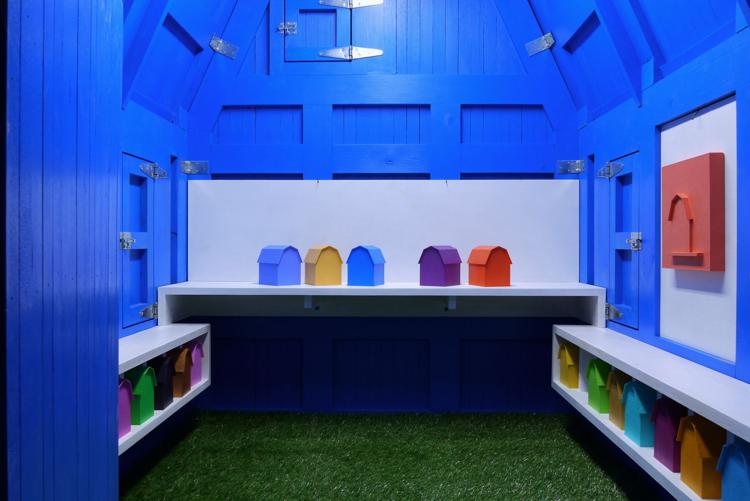 On the inside he assembled smaller barns, some the size of lunch boxes, others matchbox-sized and tucked into drawers. Kautzer, a Sussex-based artist, added AstroTurf carpeting to make it more comfortable for people who crawl inside.
"I decided that I would like to build my pieces to appeal to as wide of an audience as possible," Kautzer said. "I definitely played with Legos. ERTL had this whole line of farm toys, farm buildings I played with."
The State Street Gallery has a quiet but pervasive conservation theme. Some of the art works there are dark, like Brendan Baylor's eerie screenprints made from coal dust.
Milwaukee artist Colin Matthees' ink sketches have a darker sensibility, too, but it's dark comedy. The "Essential Knowledge" set, a series of drawings started in 2012, have a doodling, comic book style.
The topics would appeal to anyone preparing for an apocalypse, zombie or otherwise. A combination of handwritten instructions and illustrations, the drawings have titles like "Quick Weapons," "Making a Boat" (from the ruins of a gas station), "Eating Insects" and "Surviving a Grizzly Attack."
An important part of Victor Castro's work is using recycled materials. In the case of his Triennial piece, a pixilated-looking plastic wall hanging called "About the future mA03/11", the materials are plastic trays that had been pipette holders from Promega held together with zip-ties.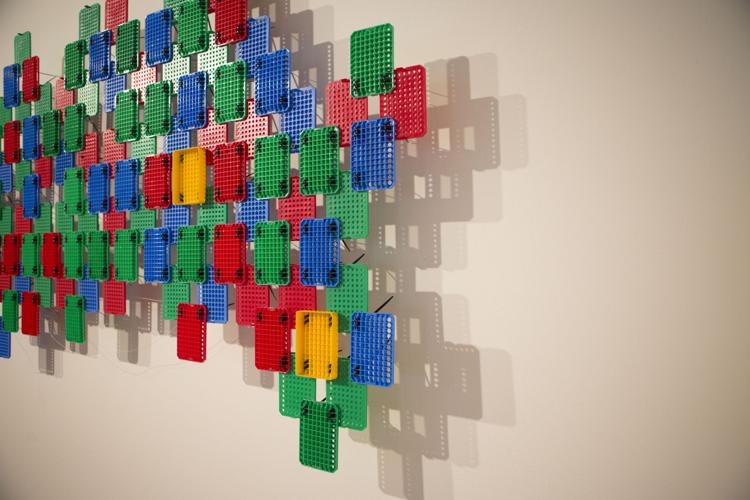 Castro, who goes by TetraPAKMAN, plans that his State Street Gallery installation will evolve over the months of the Triennial. He's working with ArtZone, MMoCA's after-school community center art program, and those kids will add to the sculpture.
People who come to Gallery Night on Oct. 7 may be able to contribute to the artwork, too.
"He liked the idea of it having a very different visual impact far away versus up close," said Kolb. "You see it far away and it's going to look like this curtain of color. As you get up close, you start seeing the detail and start wondering, what is this? What are these objects, what are these items?"
That sense of discovery is another thread that weaves through this year's Triennial. Madison artist Derrick Buisch has been in several Triennials and chose this year to tuck his four "Tower" acrylic and oil pieces into unexpected corners of the gallery. It feels like an Easter egg hunt to find them.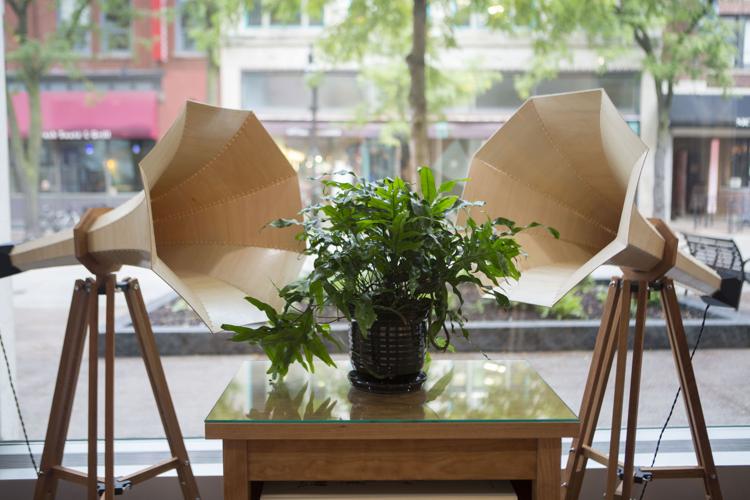 Artist Meg Mitchell created three "Fern Stations," slender wooden tables positioned between two wooden horns that look like the bellows of a Victrola. A fern sits between them, a silent nod to British colonialism — the Brits loved ferns and brought them from all over the world.
Mitchell's deliberately contrasts the old and new, the Victorian shapes made with contemporary tools like a 3D printer. On a shelf inside the table are letterpress prints that viewers can take with them. Each station has a different print.
Getting into the Triennial as a Wisconsin artist feels to some like a validation of the work they do.
"Anytime you're picked to be in a show like this there's definitely a lot of luck involved," said Chi, the Milwaukee sculptor. "It helps to validate you as an artist.
"Especially with current events of the world today it's often hard to justify the work that you're doing," he added. "Anytime someone asks you to be in a show and likes your work, it helps encourage you."
This is Kautzer's first Triennial, though he applied in 2013. He doesn't know how people will react to his barn, but he sees it as "a playhouse for playing with colors and shapes." With its small interior and bright colors, it looks like a kid magnet, but it has yet to be tested.
"I actually think adults are really going to like it too," said MMoCA curator Kolb. "It just elicits that sense of playfulness. It's that idea of inviting people in ... and letting them engage." 
Stay up-to-date on what's happening
Receive the latest in local entertainment news in your inbox weekly!