Chesney Snow built the confidence to wow a 2,000-seat house in the tiny, black box Regina Theatre at Edgewood College. 
Now a Brooklyn-based singer and beatboxing virtuoso, Snow is on a national tour with a new a cappella show called 'Vocalosity,' coming to Overture Center this Thursday and Friday.
Snow has performed in an off-Broadway musical written, in part, by half of the "Frozen" songwriting team, and has traveled internationally with his music.
He credits Edgewood with some of his most formative training. 
"Edgewood really transformed a lot for me," said Snow, who went to high school in Platteville. "It was the experience of doing shows in the round. That training immersed me in the characters ... there was no place to hide."
At Edgewood, where Snow attended college in 1997 and 1998, Snow studied with Prof. Jewell Fitzgerald (now a professor emerita). He credits her with helping him build his theater technique, working with American classical texts and learning oral interpretation. He remembers working on Shakespeare plays, and playing one of the Antrobus children in Thornton Wilder's "The Skin of Our Teeth" in April 1998. 
Snow also learned a lot about working backstage, "the management, the technical side." 
"I've had the opportunity to work with other legendary teachers, people from the Ivy League schools," Chesney said. "Now, when I look back on it, I wouldn't trade it for anything else."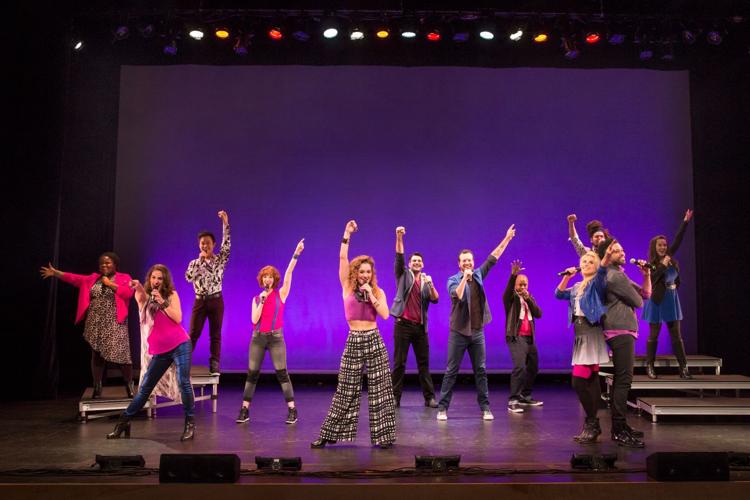 Snow was recruited for "Vocalosity" by Deke Sharon, an a cappella producer and arranger with credits that include the film "Pitch Perfect" and the television competition show "The Sing-Off." 
There are 12 performers, male and female, singing a mix of medleys (Beatles, Motown), classic tunes ("Sing, Sing, Sing," "Fever") and contemporary arrangements ("Please Don't Stop the Music"). 
Sean Curran, director and choreographer, used movement reminiscent of his time in the percussive musical "Stomp" (which, incidentally, opens a run in Overture on Feb. 11). 
Vocalosity's mission, Snow said, "is to inspire people to sing, to use their voices, to be empowered by those voices," Snow said. 
"Ever since you're a kid you're told 'Don't scream, don't shout, don't cry, don't jump, don't walk,'" he said. "Pretty soon, you carry this in your body, everything that you can't do."
That's part of why Snow loves beatboxing, which he calls "a creative vehicle for your imagination." 
"It's really important to explore the mistakes, explore what you can do," he said. "With beatboxing, there is no wrong answer. There is no wrong sound.
"You are exploring any sound you can make, and you are refining and polishing that sound to make it musical, to make it precise, to express what you're feeling." 
Snow has big dreams of doing for beatboxing what Sharon has done for a cappella. 
Sharon, Snow said, is "really inspirational in what he's done for the a cappella movement. Artists are exploring the world by not limiting their voice."
Vocalosity doesn't have many limits, either.
"The show almost defies genre," Snow said. "One moment you can be hearing a classic choral work, the next moment, something from the '60s. I can't tell you how many times in the last week I've been wandering in the airport, hearing music from the show that was popular 20 years ago, 30 years ago. 
"It's fast paced, it moves, but it moves with purpose," he added. "And it gives you those moments where your body relaxes, and you're ... hearing music in completely different ways."