Painter Calvin McFarlane has multiple degrees in art and a background as a graphic artist, but it's been several years since he's created a show of his own work.
For years, struggles with homelessness and addiction kept him from being as productive as he would have liked. But now, after close to a decade of stability thanks to Housing Initiatives, McFarlane is ready to re-enter an art world he never really left. 
Housing Initiatives sponsored the Healing & Hope Art Show, which runs through November and opens Tuesday night with a reception at Cargo Coffee East on East Washington Avenue.
Housing Initiatives, a nonoprofit, provides permanent housing to men and women who are homeless due to mental illness. The organization hopes McFarlane's story will help others who might be struggling with something similar.
"We're trying to raise awareness that this could happen to anyone," said Amanda White, development and outreach director for Housing Initiatives. "It takes a lot of strength to come back from that."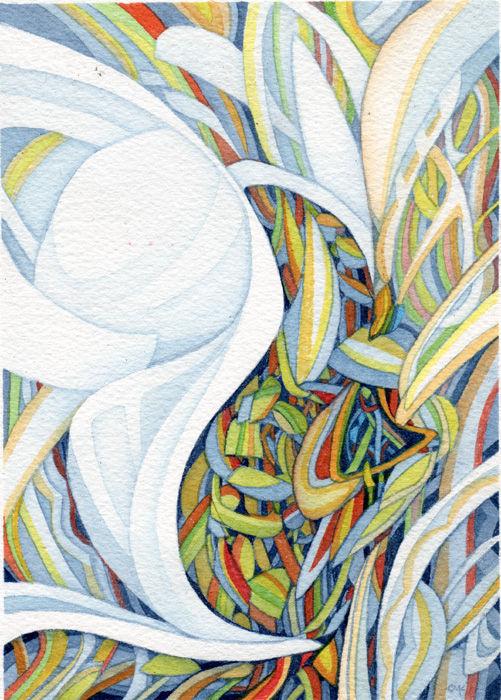 McFarlane, she said, "was homeless for several years and he had substance addiction ... he's come back from that, and he's a great success story, of how people can fall — everyone falls — and come back." 
McFarlane's evocative, softly colored abstract watercolor and digital imagery recalls plant life, water and kaleidoscopic visions.
McFarlane told Madison365's David Dahmer that each piece usually takes about 10 hours, and that he sometimes paints at 2:30 a.m. At the show, 8-inch by 10-inch framed pieces are on sale for $100 each, and can be purchased in sets.
"The way he described it to me is, he doesn't even have a particular idea in mind," White said. "He kind of starts painting and lets his mind wander, and then he pulls it together in the end. It's that process he enjoys, where he lets his artistic expression come out ... and he pulls it into a really cool abstract form."  
Coming up, McFarlane is set to do an art show in 2017 at Luther College in Decorah, Iowa, where he spent some time as an undergraduate. 
Hope & Healing Art Show
Through Nov. 30; reception, Tuesday, Nov. 10, 5-7 p.m. 
Cargo Coffee East, 750 E. Washington Ave.
FREE