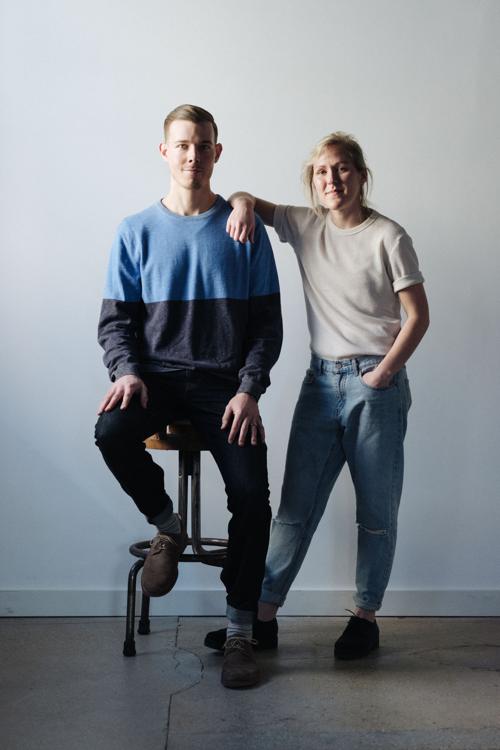 Swap onions and eggplant for prints and pottery and that's the basic idea for the newest development in Madison's arts scene.
It's called CSArt, and it's a national model being brought to Madison by artists and curators Simone Doing and Max Puchalsky. A public information session for interested artists has been set for Jan. 7 at the Goodman South Library, 2222 S. Park St.
"If local artists want to sustain their practice they need to find other ways to make a living," Puchalsky said. "This is our beta test in trying to create an alternative model to the commercial gallery system, a cooperative model where the risk is pooled amongst the artists."
CSArt takes inspiration from community supported agriculture, or CSA, in which people pay a set amount during the off-season for a weekly box of locally-grown vegetables during the summer and fall.
In the case of CSArt, collectors purchase shares in spring for art that should be complete by midsummer. After receiving artist proposals due Jan. 17, 2017, Puchalsky and Doing will choose 10 artists, each of whom will receive a $1,000 stipend to create 60 small artworks.
50 of those pieces will be made available to the public. The remaining 10 will be distributed amongst the other nine participating artists, and one of each is set to go into the collection at the Arts + Literature Laboratory (ALL) on Madison's east side.  
"We anticipate prints, photographs and things that are more easily produced in series," Doing said. "That will lend itself to more series-based media, but it could also be more drawings and paintings.
"It's up to the artist to decide what it means for them, what's worth their time."  
For buyers, the cost is $300 for a full share of 10 art pieces or $150 for a half share of five.  
Puchalsky acknowledges that this isn't cheap, but compared to an original artwork at a commercial gallery, it's "a much more accessible price point for new buyers … or established collectors to get a really great deal."
"We're leaving submission process pretty open," Doing said. "It's not limited by media. We're looking for artists to submit their ideas for how they could make it work for them.
"Ceramics, functional or otherwise, could be a part of that … if it's music, vinyl pressings, or artist books. The idea is that it's limited edition and limited to the CSA."
They pair has noticed the lack of a "collector class" who go to exhibitions for the purpose of purchasing contemporary artwork. This is something that Dane Arts Buy Local, or DABL, has attempted to address as well.
"Before we start promoting purchase of the shares we'll be promoting the artists and their work," said Doing. "The work created for CSArt will be similar to artists' current or past body of work."
"We're looking for people with a track record of producing high quality work who have demonstrated an ability to meet production timelines," Puchalsky added.
For a new artist, CSArt might offer a springboard. Midcareer artists could find new audiences. Doing and Puchalsky plan to offer studio visits to shareholders, during which they could ask the artists questions about their creative practice, subject matter and methods.
"It's 10 works by 10 different artists," Puchalsky said. "You're bound to find something that you love or at least like amongst the entire share."
After studio visits in May and June of 2017, ALL will have an exhibition closing and pick-up event on July 22, 2017, featuring food, drinks and music.
The goal is to create specific, original and new pieces, just for CSArt. If that leads to more sales for the artists involved and additional CSArt offerings, all the better.
"It's about making sure it's fresh and local," Doing said. "Just like your agricultural share."