When Sharon Irwin's grandson, Tony Terrell Robinson, died violently last spring, there was little she could do about her sadness, frustration and anger.
But Irwin has always been an artist. Painting and drawing are intimately familiar to her. When an opportunity arose to create a public, shared portrait of Terrell, as his family called him, Irwin readily agreed to help.
"It's good for me to paint," Irwin said. "It's good for me to work with my hands. I've done that my whole life."
This past summer, Irwin joined several artists and other family and friends of people who died violently to create a new mural on the east side.
Led by Dane Arts Mural Arts (DAMA) director Sharon Kilfoy and funded by Dane Arts and an ongoing crowdsourcing campaign, it's called the PEACE Mural and it's located on the back of the Social Justice Center at 1202 Williamson St.
The mural, set to be dedicated on Saturday afternoon from 2-5 p.m., has a bold turquoise background and bright colors, showing silhouettes of people doing the things they loved.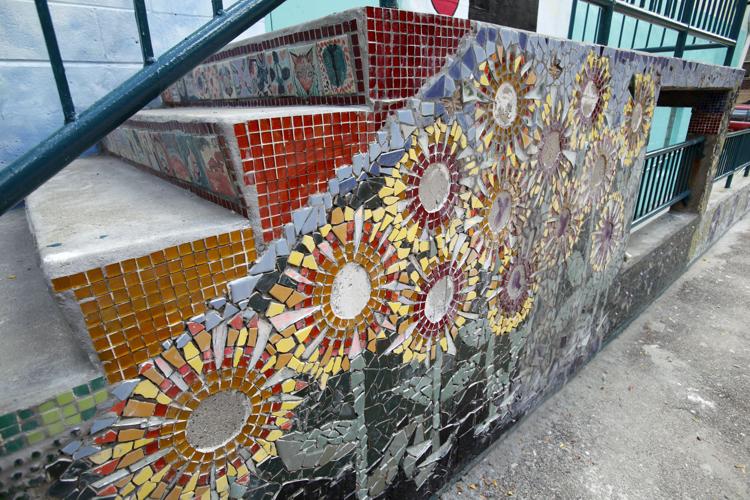 Youth from the Madison Children's Museum contributed "PEACE" tiles for the stairs, near a garden of mosaic sunflowers. At the center of each flower will be a portrait created by Kelty Carew, a lead artist on the project who also designed a labyrinth rose on the pavement in front of the mural.
Carew called the 30-foot diameter labyrinth "a meditation space (for) thinking about the themes of the mural."
"Losing someone to violence is a unique and tragic experience," Carew said. "To connect the families has been ... very powerful. We had a lot of skilled painters and artists in the families who showed up to help."
Carew worked with Kilfoy and her daughter, mosaic artist Shadayra Kilfoy-Flores, to contact families with connections to the east side of Madison who had lost loved ones to violence. Carew is intimately familiar with grieving families, as her artistic "day job" involves making memorial images for headstones.
What connects the two things, memorials and the mural, is "a sense of ownership and healing," she said.
"I had a lot of private meetings with families to hear the stories of who they lost," Carew said. "I would encourage them to bring photographs."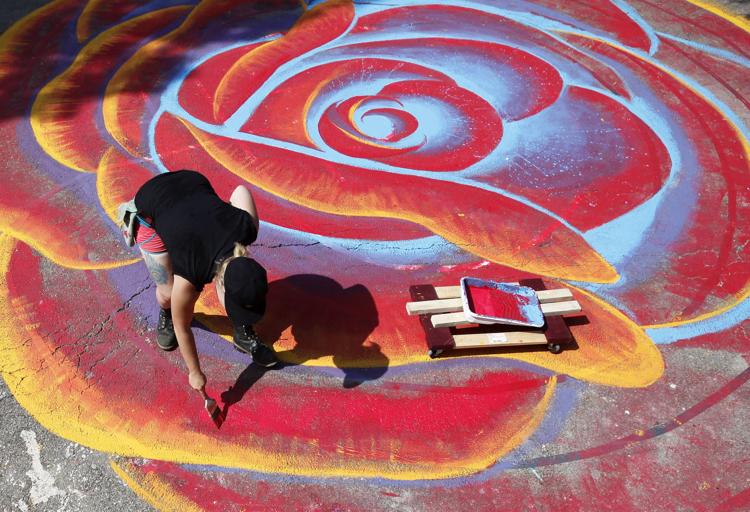 The people depicted in the mural include Fredrica Hanger, who was shot by his brother just days after being released from prison. Artist Brendan Scanlon's parents decided to represent him painting his tag, SOLVE, on the upper right portion of the mural.
Scanlon, whose tag can still be found on the east side, was killed in Chicago when he was attacked on the street.
"We know who they are," Carew said, "but they're in silhouette so more people can relate to them and see themselves or loved ones in the figures."
Conor Dunleavy, killed at age 20 in a drunk driving accident, is represented at a writing desk. Others who died young, like teenage Shaina Davenport, 30-year-old Paul Heenan (killed by police when he mistakenly entered the wrong east side home), 26-year-old Ashley DiPiazza and 18-year-old Jaden McRaven, are shown in the mural.
The figures are walking a dog, playing ultimate frisbee, skateboarding, playing music. They're happy.
"It's meant to be joyful," Irwin said. "It's meant to show them in moments of their lives they loved to do — what they were good at, what they stood for, what they meant.
"It's all violent, what happened to them," she said. "But why do we want to depict violence when it's the life that mattered?"
Irwin decided to show Terrell playing basketball.
"It was great for me to be able to draw him in one night when we were all together," Irwin said. "We got a projector and projected the image on the wall and then drew it."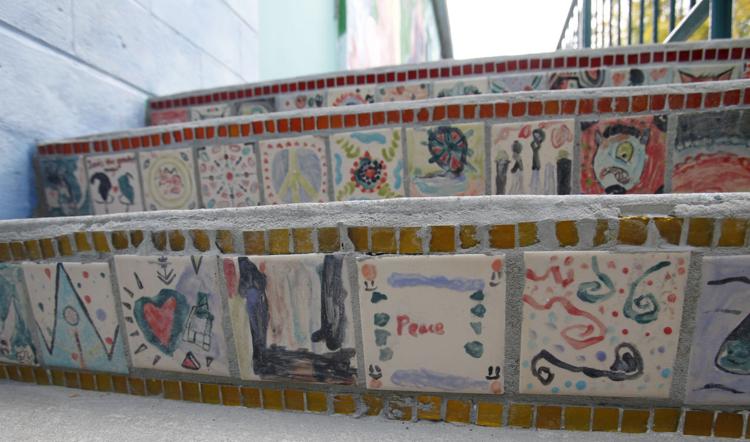 The mural is visible from East Wilson Street, where it's part of the Capital City Bike Trail, and South Few Street. Already it's getting attention — Carew remembered one day when 16 people stopped by to take photographs and ask questions.
And the mural may continue to grow, as more people ask to participate. It's designed in a way so that, if people come forward, the artists can add on. Carew said the owners of the former Jolly Bob's building at 1210 Williamson St. have also given them permission to paint on the wall facing the parking lot.
An art project like this may be small comfort, but it's tangible, a lasting monument that people can visit for decades, Carew said.
"The act of creating something is extremely powerful," Carew said. "For everyone to physically have a hand (in creation) and get out of their often debilitating, grieving headspace to do something — it has reverberating effects.
"We call it the PEACE Mural, but no one's at peace. It's the ideal of peace that everyone is reaching for."
"The mural helped me," Irwin said. "It doesn't alleviate the anger, it helps me use it. I focus my energy on making dots on the water (in the mural). I don't see the big picture; I just see the little dots I'm making.
"It's a mural for peace. Hopefully people will wake up, and say this isn't right. It's a beautiful way to protest."