At most plays, these conversations wrap up after 20 minutes, a little longer if the discussion is lively and the actors aren't too exhausted.
This past weekend in the Bartell Theatre's black box Evjue stage, talkbacks have been running 45 minutes or more. One lasted an hour-and-a-half. Some audience members ran onto the stage to hug the actors during the curtain call.
"Who would have thought that something that happened in my life would make a difference in the lives of others?" said Tanisha Pyron, who performs in the play and has her own story read by another actor. "There's something universally appealing about positive stories about mothers. Everybody has a mom."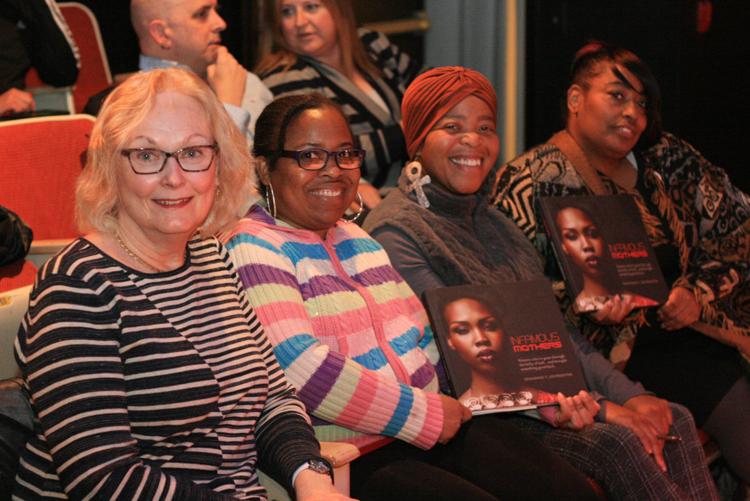 "Infamous Mothers" has fully sold out the tiny Evjue stage for every performance of its premiere run, with audiences averaging about 82 people. Producer Matt Korda said he's added extra seats many nights for playgoers on a waiting list. The 11-show run concludes this weekend.
Like most theater companies in Madison, Strollers Theatre has a traditionally older, white audience demographic that is used to seeing people who look like them onstage. Strollers pursued this project, Korda said, because "it's wrong to not have more diverse representation."
"We knew this had the potential to bring in audiences, diversify our base," Korda said. "We absolutely need to diversify the stories that are being told. There's no question about that."
"Infamous Mothers" was adapted from the book by Levingston and Coleman, a local playwright who goes by one name. It imagines a book club/support group in the home of one of the members. The women take turns reading aloud biographical stories in the book, while Levingston serves as a narrator.
Then after the lights come up in the theater, "we're having these wonderful conversations. The play sets it up for that," said Marie Justice, director of "Infamous Mothers." "It stirs conversations about allyship, what that looks like, the intersectionality of being a women and being a woman of color."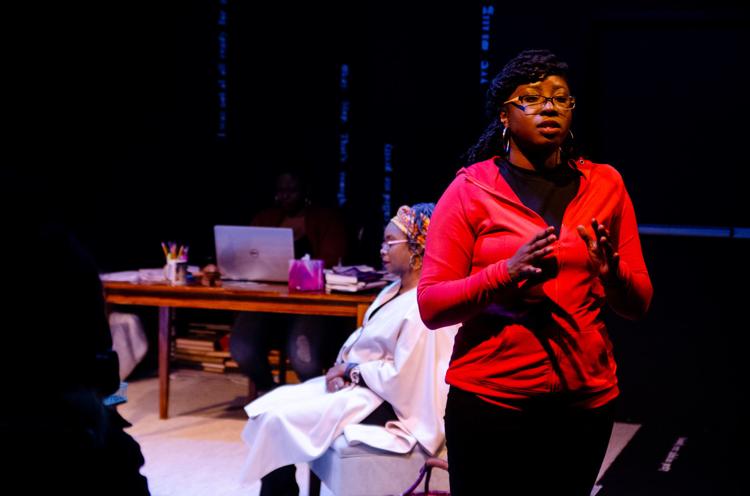 Justice loves how people are responding to the play, even as parts of the talkbacks have gotten uncomfortable.
"One guy said, 'I don't see race,'" Justice said. "One person said, 'I know what it's like. I can relate to what it's like being a black woman, because I had black friends and I've read a lot about the black experience.'"
In the first act of the play, the show's one white character, Max, recites a poem from the book and turns it into a '90s-style rap. Most of the women in the book club think it's great, rapping and dancing along with her.
"The audience is giggling and thinks it's so funny and cute," Justice said. "But Akeesha, who is new to the group, is like, 'What is going on? This is crazy.' She says, 'You took Janet S.'s words, you're white, you can't do that. You're overstepping your boundaries and making light of serious material.'"
That's when the temperature in the audience changes, Justice said. You can feel it in the room.
"You can feel the air come out of the room in a good way," Pyron said. "Everybody's breath goes away for like three seconds."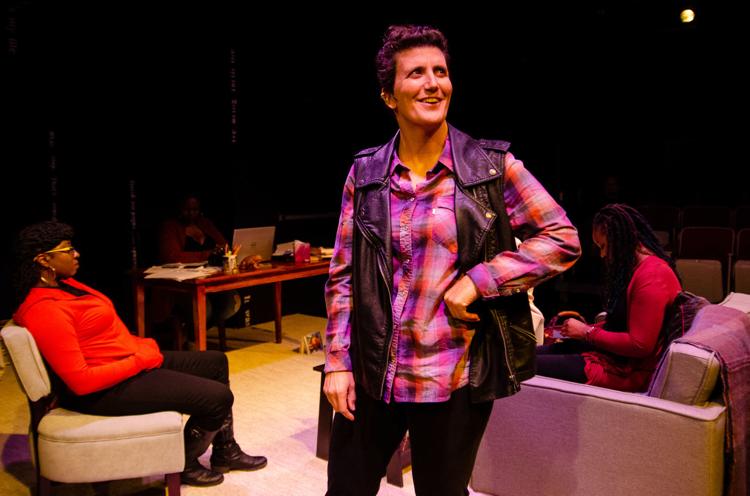 Some of the stories are explicit, including Levingston's descriptions of her own assault and abuse as a little girl.
"I've heard, while sitting in the audience, 'Oh my god, I don't know if I can do this,'" Justice said. "Sagashus talks about such horrific events in her life, but she does it so poetically. It's beautiful when she recites it. There's not a dry eye in the audience ... half the time, people come up and are hugging us, thanking us."
During one talkback, a white woman in the audience, a social worker, expressed complicated feelings about how social workers are portrayed in the play.
"Black women more afraid of social services than they are of police," Akeesha, Pyron's character, says in Act II. "Sure, black men, they afraid of police. But black women, we always watching out for 'Child Protective Services.' Protective my ass. Child Kidnapping Services more like it."
Levingston took the woman's question and gently opened it up, Pyron said.
"She's great at asking the right questions and keeping us in a benevolent and honest conversation, a challenging conversation," Pyron said.
Levingston explained to the woman "the difference between what you intend to do and what actually happens," Pyron said. "Your mom might be intending to help when she comes to rearrange your cabinets, but to you, it is actually not helpful.
"She gave really honest feedback about ... how important it is to hear from women of color. A social worker is an advocate for the family. Racial bias can affect her effectiveness in working with a population she clearly loves."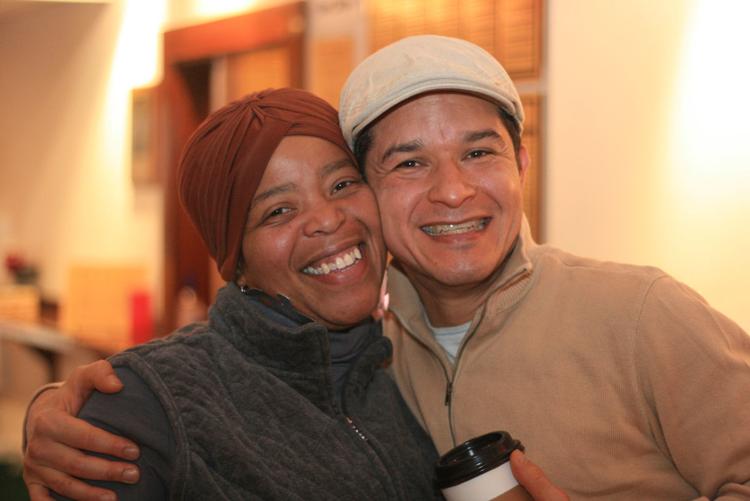 For one performance, more than half of the audience was associated with the UW Odyssey Project. Odyssey is a "jumpstart course" in the humanities at the University of Wisconsin-Madison for adults facing financial barriers to college. Keena Atkinson, one of the "Infamous" actors, is a graduate of the program.
"The student sitting next to me said she was alternating between laughing and crying," said Prof. Emily Auerbach, director of the Odyssey Project for 16 years. "The show has a lot of tragedy, heartache and injustice, but also humor, redemption and triumph.
"Keena mentioned what a roller coaster it was for her as an actor, and it was also a roller coaster for anyone in the audience."
The intimacy of the stage space may also contribute to how close the audience members feel to the performers. At times, "Infamous Mothers" feels truly interactive.  
"They would say, 'you go girl,' or you'd hear audible gasps," Auerbach said. "That call and response is so special in live theater, especially when you have an audience that is connecting directly to the stories that are on the stage."
She believes that "Infamous Mothers" could have long-term ripples in the kinds of stories brought to the stage.
"I think this is only the beginning of new narratives that will expand everyone's concept of what it means to struggle," Auerbach said, "what help is needed and what triumphs are happening every day that we don't even know about."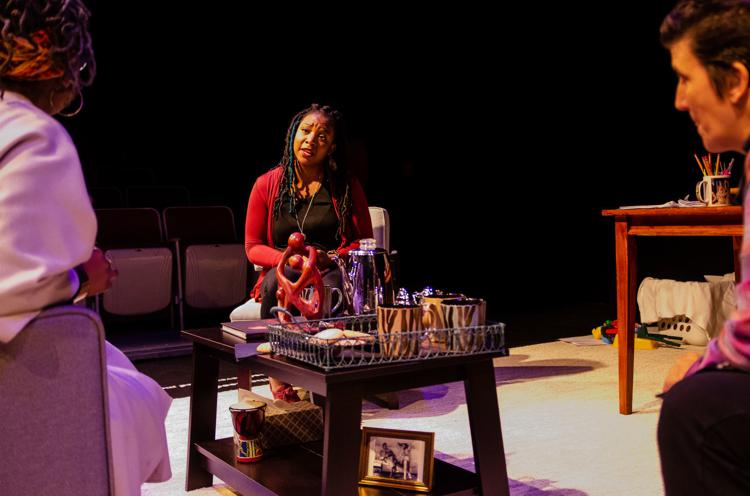 The "Infamous Mothers" team hands out surveys to its audience, asking them to rank their experiences. People liked that the play was honest, spirited and powerful, with themes of race and culture.
"Almost everyone said they'd like for it to be a movie or television series," Levingston wrote in a follow-up email.
Fewer than 10 people had complaints, one of which was that the theater temperature was too warm. One person didn't like the way Max, the white character, was treated. Another person didn't like that Max was in the play at all.
Levingston has been working on a new book project, "Infamous Fathers," as she and Coleman shop the current play around to other companies. Coleman said they've been running up against "the usual barriers" around play selection, but "we remain hopeful."
In an email, he quoted a line Levingston has in the show: "I put my despair in the ring with a knock-down, drag-out fight with hope. Usually hope wins."
"We're hoping to latch on to one or two or three champions, theaters that understand what we are trying to do and will help increase its visibility," he wrote. "We're also hoping to get the play produced on campuses, so we have a separate effort aimed at colleges."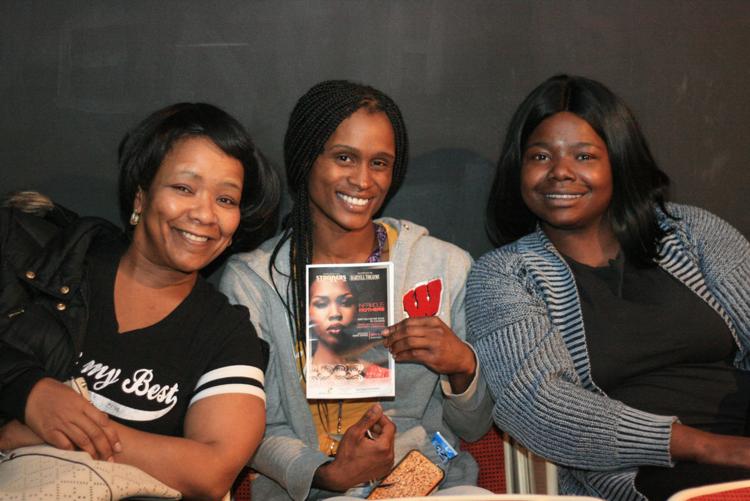 "The response has been overwhelmingly, 'thank you so much, thank you for bringing this to the theater,'" Justice said. "This is not a typical show. I hope it expands the material theaters are willing to put in their repertoire."
Pyron said she'd love to see "Infamous Mothers" become a television series, podcast or YouTube/web series. Whether these are fictional or semi-autobiographical, the work continues to be needed, she said, particularly given global stereotypes about black American women.
"My story is included in the play and the book, and we opened on my son's birthday," she said. "To think on that day so many years ago, I almost died, he almost died. It was bittersweet. I feel like when I was going through it, I didn't feel like I mattered or it mattered.
"Who better than the most nurturing mother to start that conversation?"