The goofy comic characters steal the show in an old school satire, and American Players Theatre's "She Stoops to Conquer" is no exception.
Josh Krause plays Tony Lumpkin, a "booby," "idiot" and "blockhead" who was "spoiled at his mother's apron string" and has grown into a twentysomething manchild. Self-absorbed and frequently drunk, Tony likes hanging out at The Three Pigeons, writing ditties about why religion and "learning" are for suckers, and pulling pranks on his family members.
He'd be a pain in the ass as a brother but he's a great character. In Laura Gordon's new production of Oliver Goldsmith's 1773 satire, Tony runs away with the show, singing as he goes.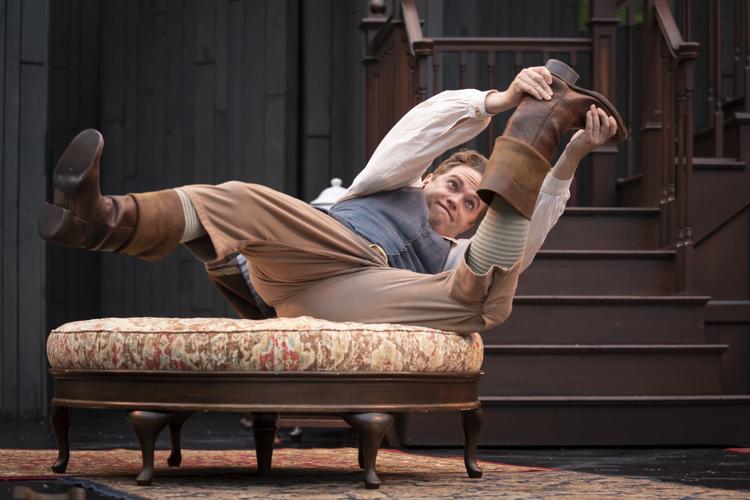 "She Stoops" is a comedy of manners and a satire of class, skewering social constructs like virtue and propriety.
It's the kind of play where people disguise themselves Clark Kent-style (a new dress? who's that girl!?). Fathers eavesdrop visibly on private conversations between their kids. Characters remove themselves midscene to let us know what they're thinking, usually surprise or indignation.
"A very impudent fellow this!" sputters James Ridge as Hardcastle, a country squire who's invited the son of a good friend down to meet his daughter, Kate (Laura Rook). Thanks to a trick of Tony's, young Mr. Marlow (Jamal James) and his friend Hastings (Ty Fanning) think the rambling old Hardcastle mansion is an inn.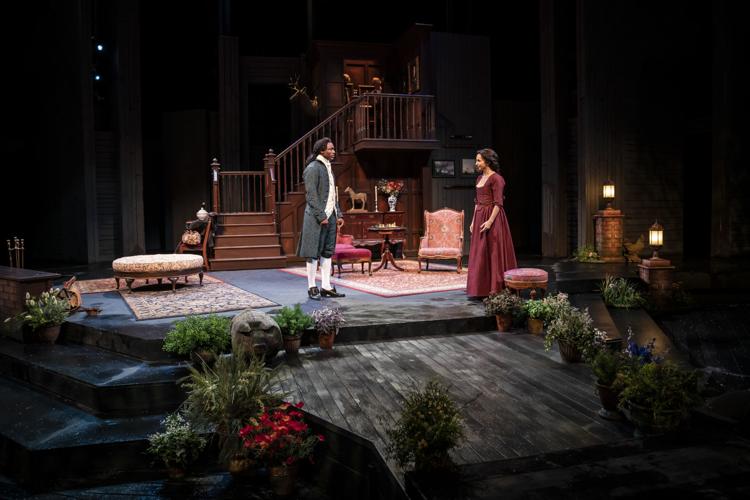 As brought to life by set designer Regina García, it certainly looks like one, with deer heads and carved wooden pigs as décor and patterned rugs in warm tones on the floor. The actors make frequent comic use of a cushioned footstool.
To Hardcastle's dismay, Marlow and Hastings act like they own the place. They put their boots on the settee and clear the chess board of a game in progress, making Ridge gasp audibly in dismay. They complain about the food. They demand punch. Their servants drink all the wine.
Circling each other in the middle of this are two romantic couples.
Hastings means to elope with Constance (Phoebe González), a smart girl with a fortune "mostly in jewels." Mrs. Hardcastle, a hilarious Sarah Day, wants both bride and baubles for Tony, who's not interested in either.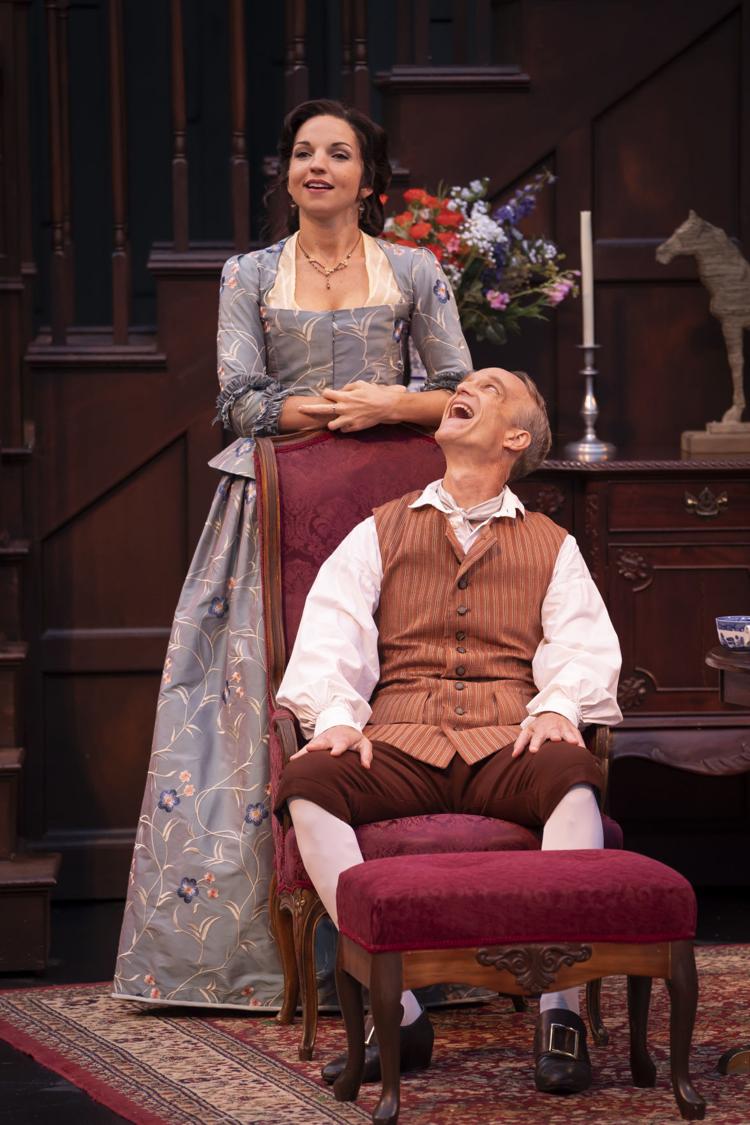 And then there's Kate and Marlow. The scene where they meet is so exquisitely awkward it feels almost cruel to laugh, so clearly does James telegraph the young man's social anxiety. Their roles reverse when Kate pretends she's a housemaid, and suddenly Marlow's more than assertive in his interest.
Rook, a skilled physical performer, shows Kate at a loss on how to place her body, how to act or respond, when she's not being herself. Her accent is cockney, then French, then vaguely Southern, slipping into a high-born inflection when she forgets herself.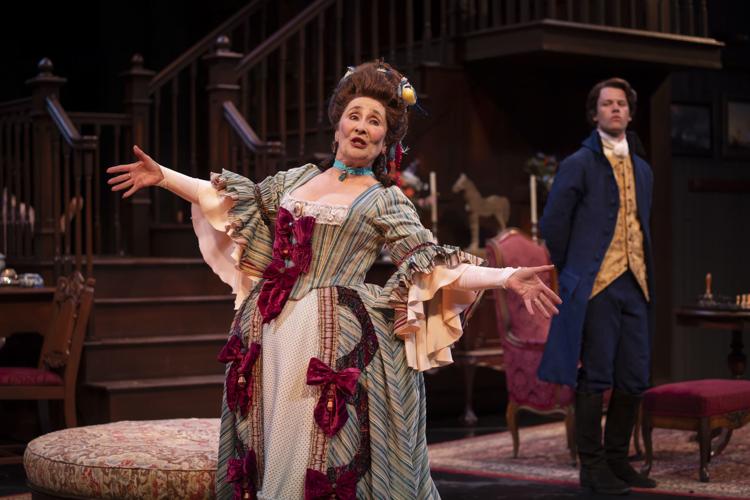 "She Stoops to Conquer" bursts with rowdy bar songs written by Joe Cerqua, set off by sumptuous costumes by Rachel Laritz. González's coppery traveling coat is stunning. Day's mid-Act I gown, decked out with bows, includes a bird in her coiffure, a fake Madonna mole, 20 feet of ribbon and sausage curls. It's unforgettable.
Gordon makes clever use of the sides of the stage, placing the musicians of the Three Pigeons pub downstage right and Hardcastle house garden downstage left, in a playing space that opened up after a 2017 renovation. It makes "Conquer" feel immersive and engaging, a welcome place to spend a few hours under the stars.