Long before Belle swirled with the Beast in her iconic, off-the-shoulder yellow gown, Anna Leonowens strode into Siam in a skirt just as wide and taught another royal to waltz.
"The King and I," running in Overture Hall through Sunday, stages a dance between a hot-tempered leader and the independent woman he hired to give his court a Western education. 
From the Buddha at the back of the stage to the shimmering golden curtain, this "King and I" is a beautiful production that foregrounds romance, wit and golden age glamour.
Bartlett Sher brought Rodgers and Hammerstein's 1951 musical back to Broadway for a much-lauded revival in 2015. He maintained much of Jerome Robbins' original choreography, on display in the striking Act II ballet, and updated the dialogue in small but important ways.
Angela Baumgardner plays Anna, a widowed mother from Wales, who arrives at the Bangkok courts in 1862 with her 12-year-old son and an arrangement to teach some of the king's 67 children. 
She soon finds herself educating the king's wives, too, all the while helping the king strategize how best to keep European colonizers at bay.
Baumgardner's Anna has a rich, warm soprano, a strong sense of propriety and a romantic streak, a bit like Mary Poppins in a hoop skirt. (Among her personal effects is a grandfather clock, apparently shipped halfway around the world on a barge.) Most importantly, Anna is unafraid to challenge the king (Pedro Ka'awaloa), whose restless energy and "spoiled" behavior can throw her.
Ka'awaloa cuts an imposing figure as the king, who struggles to maintain authority and humanity at once. While some of his lines are played for comedy, he's never a buffoon. One line, about "building a fence" around Siam, sent a wave of chuckles through the theater.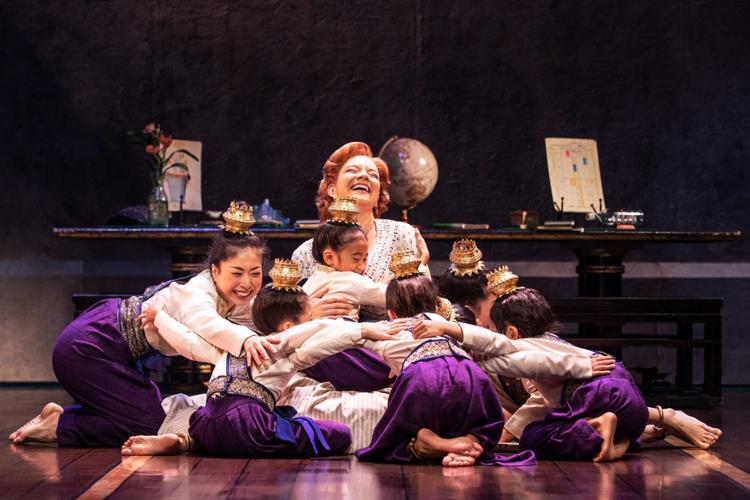 Vocally, the cast's major standout is Paulina Yeung as Tuptim, the young princess "given" to the king by neighboring Burma. Yeung has a steely resolve and a gorgeous voice. She soars on "My Lord and Master" and in duet with Lun Tha (Dongwoo Kang) on "We Kiss in a Shadow."
While "King and I" feels very much of its time, a few adjustments to the script have made all the difference. No longer do the wives, childlike, scream "evil eye!" at the sight of a monocle. When a woman who tried to escape is captured and returned to the palace, the original script had her dragged offstage, screaming. Here she walks off, head high, of her own volition.
Deanna Choi gives "head wife" Lady Thiang an appealing warmth on the delicate, proud "Something Wonderful." It's a delight to see the same chin-up attitude in Timothy Matthew Flores, playing her son and the nervous next prince in line.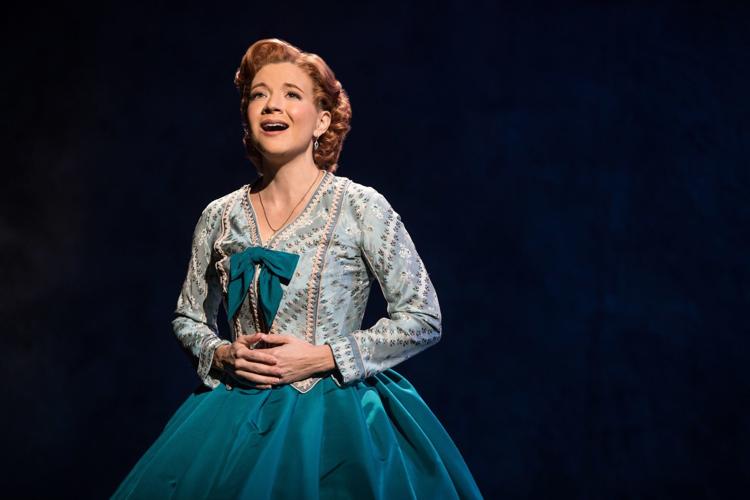 Unfortunately Hayden Bercy, as Anna's son Louis, is unintelligible. He and the prince are meant to be foils for each other.
Though it clocks in at nearly three hours, "King and I" never drags, thanks to Richard Rodgers' lovely, timeless melodies and a visual palette where a stunning new dress appears in every scene.
Catherine Zuber won a Tony Award for her costumes, elegant purple, red and royal blue pieces edged with gold for the wives and wide-skirted gowns for Anna that would make Meg March green with envy.
In the four years since "King and I" danced back onto a Broadway stage, enough has changed that it might feel tone deaf to celebrate a story about a white woman attempting to "civilize" an Asian culture.
It helps that "King and I" pokes fun at itself with songs like "Western People Funny" and keeps the focus tight on both Anna and the king as they struggle to make the right choices.
The king learns to respect the teacher. The teacher learns a new culture from her adorable royal pupils. And we all pick up a few tunes to hum, ones we may have forgotten these 68 years later.