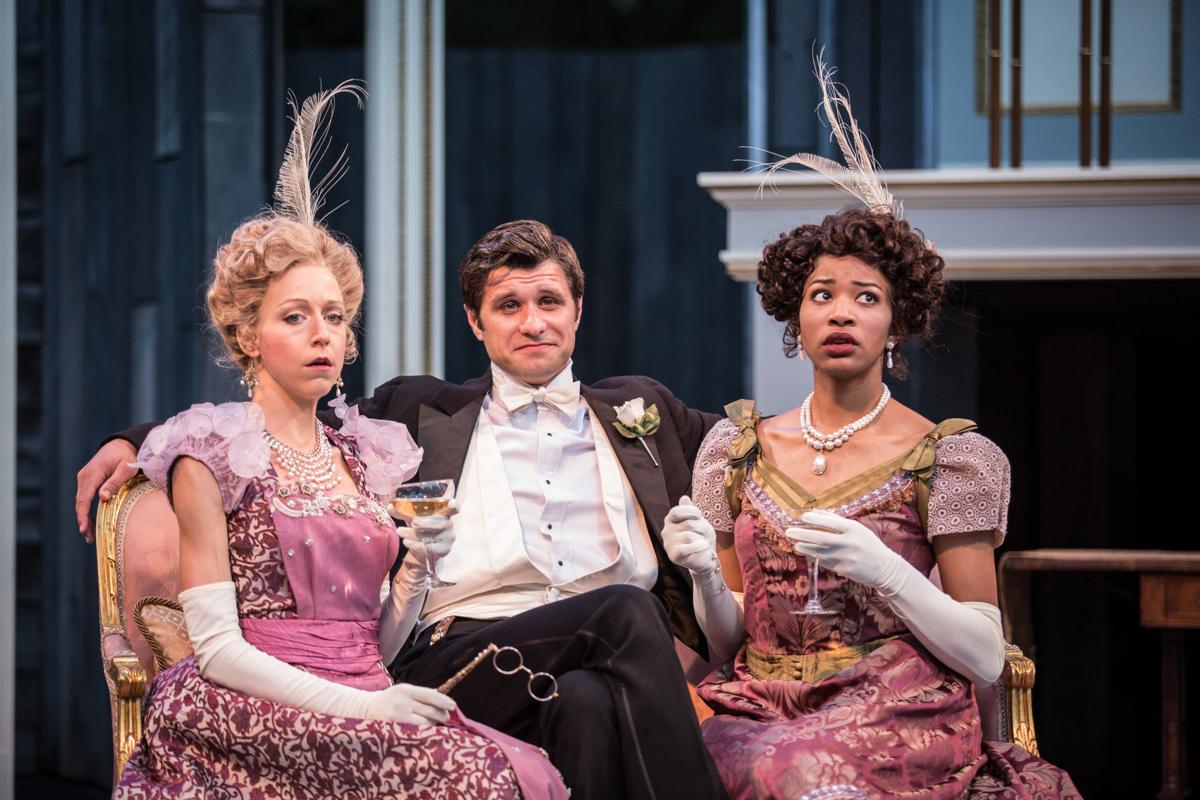 American Players Theatre is best known for its attractive, excellent productions of Shakespeare's comedies and tragedies. But in recent years, some of the most entertaining evenings have come courtesy of other British wits, like George Bernard Shaw, Noel Coward and Oscar Wilde.
Wilde, the masterful comic playwright who observed that "the only way to resist temptation is to yield to it," dances again up the hill in Spring Green this summer. "An Ideal Husband," in repertory through Sept. 24, keeps its chin lifted and petticoats starched for two and a half hours of urbane intrigue.
"Husband" casts Marcus Truschinski as yet another charming playboy, a reprisal of his priceless turn as Algernon in 2014's "The Importance of Being Earnest." David Daniel plays a captain of society with a shady secret, with Colleen Madden as his too-virtuous-to-be-true wife.
Everything is lovely and dull in Wilde's music box of London society, which director Laura Gordon reflects literally with actors rotating in affected "elegant" poses. These are people who fill their days riding horses and nights at the opera, making self-satisfied conversation in each other's libraries.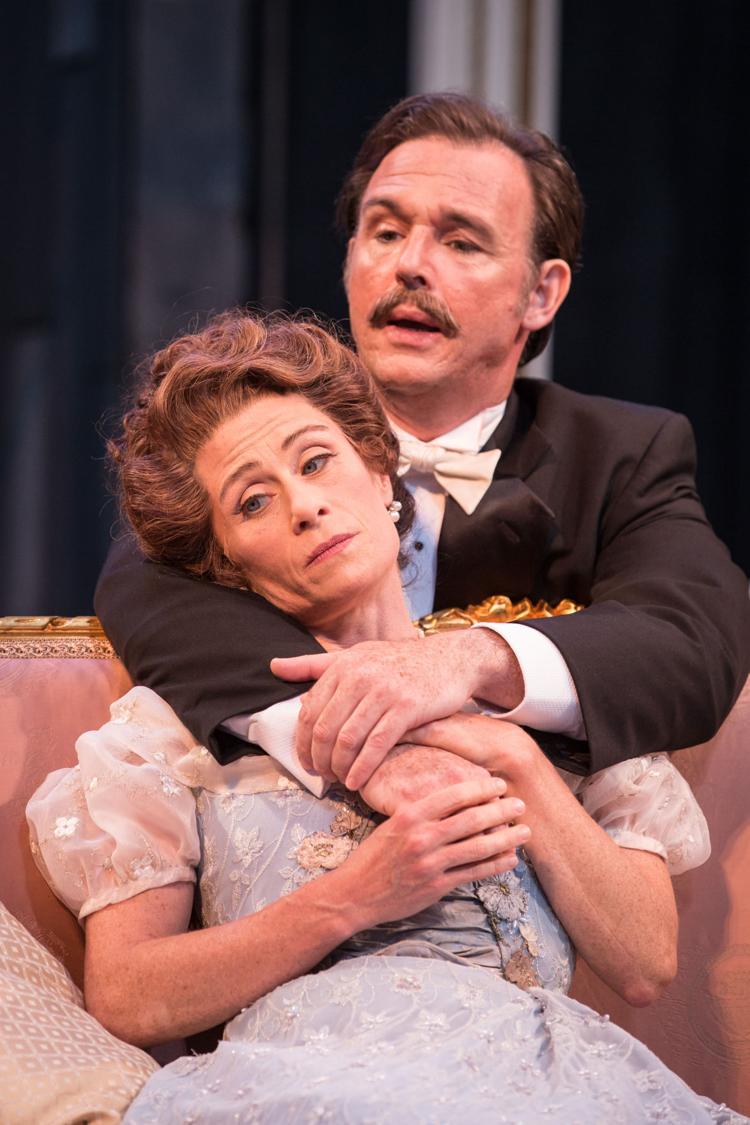 When Mrs. Laura Cheveley arrives, a swirl of scandal in the form of Tracy Michelle Arnold in a low-cut purple gown, feathers immediately begin to ruffle.
"Oh! A genius in the daytime and a beauty at night!" raves Lord Goring (Truschinski).
"Please don't praise other women in our presence," huffs Lady Basildon (Cristina Panfilio), a fashionable party goer. Though in small roles, Panfilio and Jennifer Latimore are pure candy as blasé young society ladies; Panfilio affects a half-pout and flattens her vowels into phrases that drip with boredom.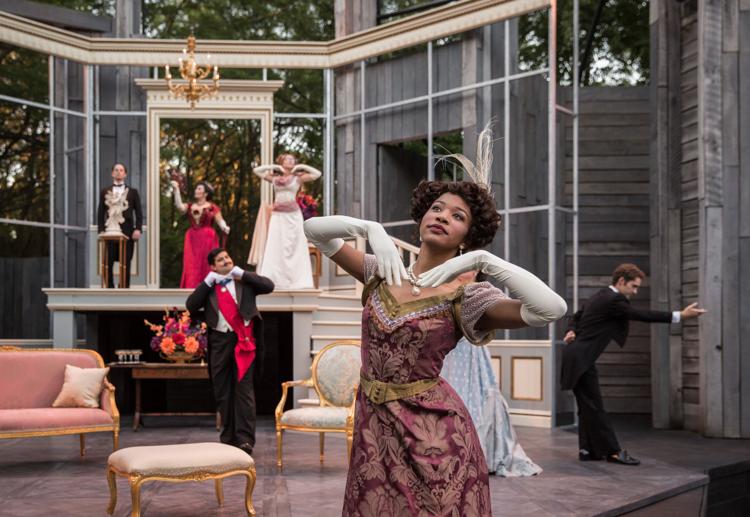 Mrs. Cheveley draws a beam on Sir Robert Chiltern (Daniel), a Parliamentarian who is not the perfect gentlemen his wife presumes him to be. Sir Robert succumbed to a slip of insider trading years ago when he "had the double misfortune of being well-born and poor, two unforgivable things nowadays." Now he must pay for it.
Madden and Daniel are in fine form as the Chilterns, whose mutual obsession with "doing the honorable thing" could easily become tiresome. They seem to have real affection for each other.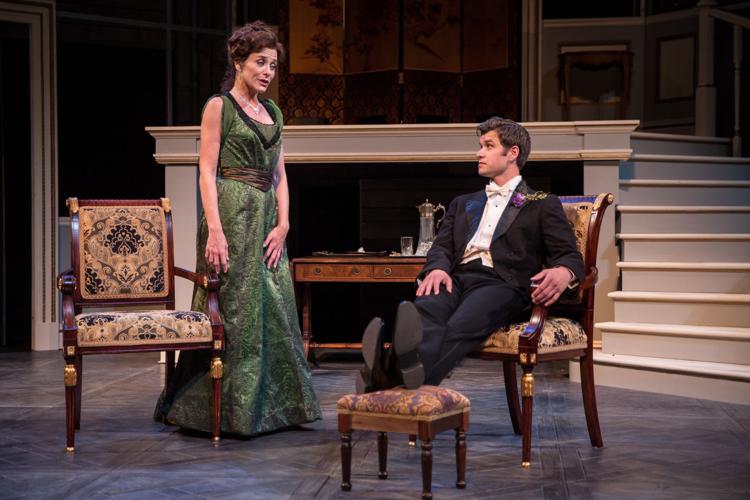 But it's Truschinski and Arnold, as the idle bachelor and the simmering provocateur, who look like they're having the most fun. They're marvelous at these roles that are all about arched eyebrows, spiky turns of phrase, and looking fabulous in Victorian gowns or three-piece suits.
Arnold plays the calculating Cheveley like a cat on the prowl, a smile playing on her lips. She's always perfectly put together, captivating company until she slips a piece of blackmail into the belt of her dress.
As Lord Goring, Truschinski captures the rare moments of self-recognition that ground the character in something more than "trivial" boutonnieres.
"Never know when you are serious or not," grumps his father, played with flair by Jonathan Smoots.
"Neither do I," Goring responds, in what reads as a moment of honesty.
"Ideal Husband" lacks the sparkle of "The Importance of Being Earnest," ironically because "Ideal" is more earnest in its central plot. Though Gordon's direction emphasizes subtle power plays and tensions between what characters say and what they do, the script of "Husband" lacks focus, and Wilde's "women do this, men do that" humor treads heavier here.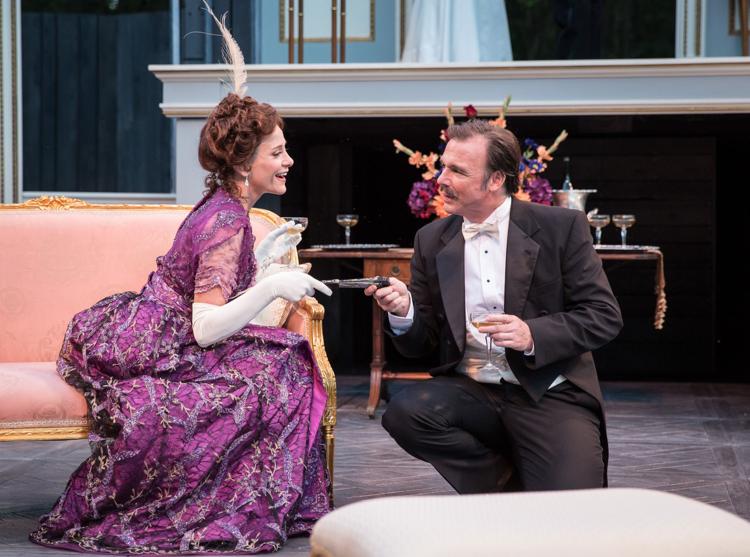 "The strength of women comes from the fact that psychology cannot explain us," Mrs. Cheveley opines. "Men can be analyzed, women merely adored."
The plot feels both more ambitious than "Earnest" and less fleshed out  It's never clear why Mrs. Cheveley and Lady Chiltern hate each other so much, beyond that Gertrude always got the "good conduct prize" in school and seems a bit holier-than-thou. Sir Robert's disgrace never seems like a real threat, and there's little doubt that Sir Robert and Gertrude will patch things up in short order, so delighted are they to be on the moral high ground.
Yet Jade Payton is delightfully open in her flirtations as Lord Goring's love interest, Mabel Chiltern, managing to be haughty and warm at the same time. Elements of stylized dance woven through the play add a humorous touch: Goring, preparing for an evening out, does an amusing pas de deux with his butler (John Pribyl) to a lilting score by Joe Cerqua.
Like the best performances of Wilde satire, "Ideal Husband" has layers, visually and textually. Mrs. Cheveley's gown, one of many sumptuous costumes designed by Matthew J. LeFebvre, is a shade of purple called "heliotrope," a poisonous flower. The line of her necklace echoes the lines of the chandelier on Takeshi Kata's blue-gray and gold-accented set.
True, "Ideal Husband" may not bubble like "Earnest's" Champagne. But what it does offer in Wildean wit and visual refinement make it a lively summer confection, too. 
Stay up-to-date on what's happening
Receive the latest in local entertainment news in your inbox weekly!