SPRING GREEN — In American Players Theatre's new summer farce, scandal tastes sweet and salty, like a fancy French caramel.
The more appalled the drawing room denizens claim to be in Georges Feydeau's "A Flea in Her Ear," the more delighted they look.
In this sparkling version of early 20th century Paris, the body is for pleasure. Decorum is only for show. 
Frank, a longtime artistic director at APT, waited to stage Georges Feydeau's breakneck farce until the stage could handle the double-quick entrances and exits the script demands. Lovers' trysts proceed with such speed that by Act II, their escapades require a rotating bed that quickly swivels behind a wall.
Feydeau's lusty comedy demands antique naughty words like "ribald" and "bawdy." The "flea in the ear" of Raymonde Chandebise (Kelsey Brennan, looking perpetually scandalized) is a persistent worry that her husband (David Daniel) has been stepping out on her.
Raymonde had been considering a dalliance with her husband's rakish business partner Tournel (Marcus Truschinski) to give herself "something to worry about." Instead, she sets up a game of To Catch a Cheater using pink stationery, heavy perfume and the handwriting of her reluctant friend Lucienne (Andrea San Miguel).
San Miguel, her mouth in a tight bow, instantly finds the heart of the farce — that strict, self-possessed dignity that the events of the play quickly break down. Her deadpan delivery and haughty posture make San Miguel, an APT newcomer, both a foil for Brennan's frothy Raymonde and an equal to her own hot-tempered husband (Juan Rivera Lebron).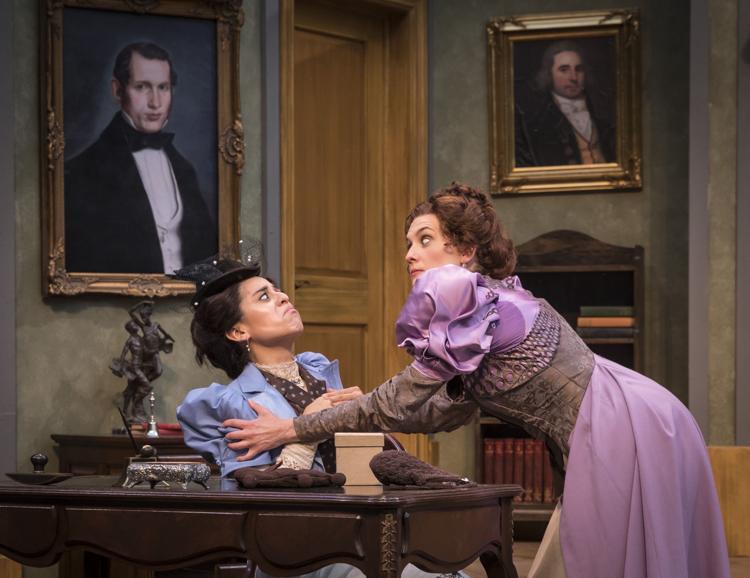 Frank's direction sends the cast tearing around on a vivid, detailed set by Jack Magaw with entrances and exits that seem to multiply. One exit at downstage right sends people running back on so quickly it's like a revolving door.
The show's a full sprint for David Daniel, who plays two roles with equal enthusiasm. As the pace of the play kicks up in Act II and III, Daniel must switch in seconds from the endearingly awkward Victor Immanuel, cringing in spectacles, to his drunken doppelganger, a simple hotel porter named Poche.
Daniel's costars echo his commitment to "Flea's" physical comedy. Truschinski, as the ardent Tournel, goes tail-over-teakettle, his head snapping back with each punch to the nose.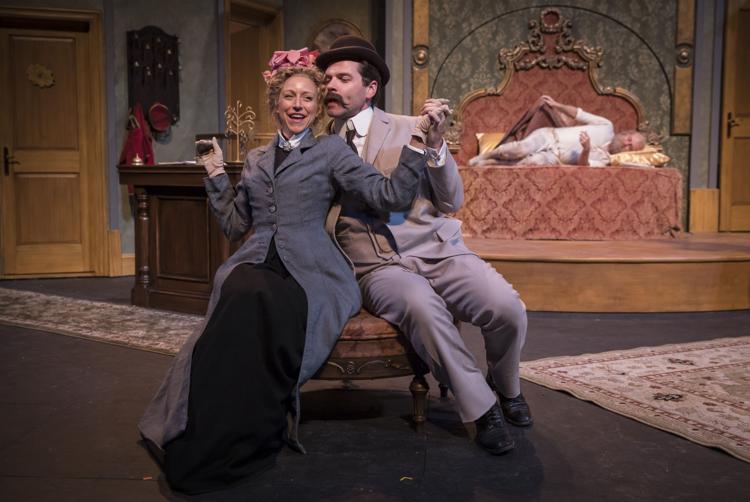 Nate Burger, as mumbling nephew Camille Chandebise, pursues a skirt-ruffling romance with Cristina Panfilio's Antoinette. To escape detection during one of their meetings, Burger drops into an impressive barrel roll.
The sticky hotel where the "Flea in Her Ear" characters catch one another in assignations has gone by different names, among them Coq d'Or (golden cockerel), Frisky Puss and in Frank Galati's 1980s adaptation in Chicago, Hotel Pussy a Go-Go.
Frank, working from a literal translation by Abbot Chrisman, rechristens it the Mount Venus Hotel. He casts as the owners a brusque John Pribyl brandishing a riding crop and Tracy Michelle Arnold, dressed in high rouge and orange curls like a Helena Bonham Carter character in a movie musical.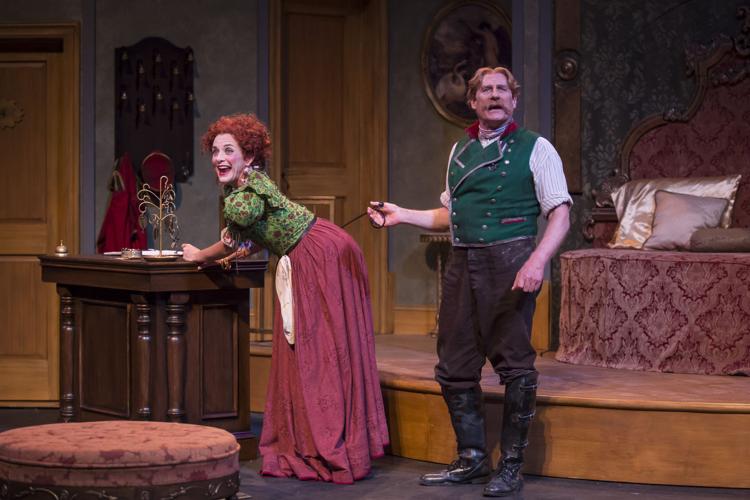 The costumes play into the comedy, too. Designer Fabio Toblini punctuates double-breasted, asymmetrical waistcoats and nipped-waist gowns with dangling watch chains, lavender shoulder puffs and delicate fascinators.
In a farce like this, things can get sticky if we start to think about the laughter. These portrayals are broad, and some actors play into stereotypes — like Lebron as the jealous Latin lover, wide-eyed and gun-waving — for the sake of comedy.
Still, it feels less awkward to laugh at Camille's speech impediment (he can't pronounce consonants until he pops in a retainer) because Burger doesn't play him for pity. Camille is a secret Don Juan, exasperated by his family of idiots even after he joins them sprinting through the halls of the Mount Venus.
In any case, most audiences don't look to broad farce for life lessons. If "Flea" has one, it's the simplest: don't take yourself so seriously. And before you jump into bed, make sure it's not already occupied.