I walked into "Miss Saigon" on the Broadway tour's opening night in Overture Hall looking for two things. Beauty and emotional truth.
That it sometimes succeeds at the first thing while failing at the second is a testament both to the skill of this Equity touring cast and the failure of the story to age well. "Miss Saigon" runs in Madison until Sunday; it last played here in 2002 (Broadway tour) and 2007 (Four Seasons Theatre). 
"Miss Saigon," like "Madame Butterfly," is an opera that is ostensibly about an epic romance. Yet the relationship between Kim, a virtuous Asian ingénue, and the conflicted white American Marine who picks her up in a bar does not feel like a bond between people with equal agency.
It's not because the story's old. Beatrice and Benedick are intellectual equals. Romeo and Juliet match in their impulsiveness and their complicated families. Even Anna and the King of Siam are alike in determination, intelligence and stubbornness. 
Kim is a sad 17-year-old bargirl who stakes her entire future on a soldier she spends less than 48 hours with. She's not a woman, she's a male fantasy of patience and feminine self-sacrifice. It's the kind of thing operas get away with because we all openly acknowledge they're outdated (and Puccini is Puccini).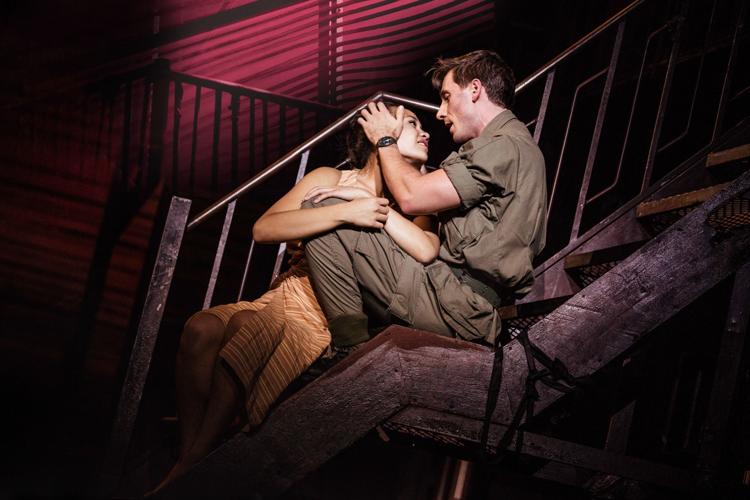 "Miss Saigon," written in the late 1980s by Claude-Michel Schönberg and Alain Boublil, has the recognizable language of the mid-20th century. Their florid score cranks the volume to 11 in ballad after showy ballad. Despite its high melodrama, reviews frequently point to the historical touchstones referenced by the story — the fall of Saigon in 1975 with its dramatic airlift exit among them.
That audiences may perceive some aspects of "Miss Saigon" as realistic make the baked-in stereotypes harder to dismiss.
And yet, as directed by Laurence Connor, there's beauty in "Saigon." Emily Bautista, playing Kim, has a breathlessly lovely movement in Act I, as the women of the brothel gather around to sing a poignant wedding song. "The Morning of the Dragon," a militaristic display of power choreographed by Bob Avian, has performers doing aerial cartwheels and handstands in front of a severe corps of identically dressed dancers.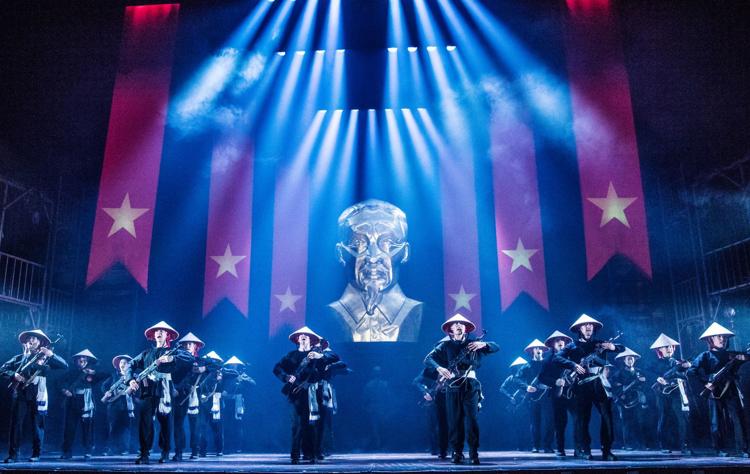 Another striking moment: When the male chorus opens the second act with an anthem to the children of Vietnamese mothers and American soldiers, "Bui Doi," led with gospel energy by J. Daughtry.
Daughtry, playing a debauched soldier who reforms after he returns home, is a highlight. His character John bears the burden with Kim of being the moral center of the story, but unlike Kim, John has choices.
Arguably, he's the only person onstage who changes. Anthony Festa, as Chris, belts "Why, God, Why?" to the rafters in Act I and makes out enthusiastically with Kim, but his character has no spine. Stacie Bono, in the thankless role of Chris's American wife, sings well but her attempts at emotional honesty get lost amidst the glitz.
As the pimp who drags Kim off the street, declares her a "princess" and sells her to a G.I., the Engineer (Red Concepción) looks like he's perpetually one line of coke away from a full breakdown. His energy is relentless. Concepción channels the violence and graphic sexuality in the show, tossing the women around and humping the hood of a Cadillac.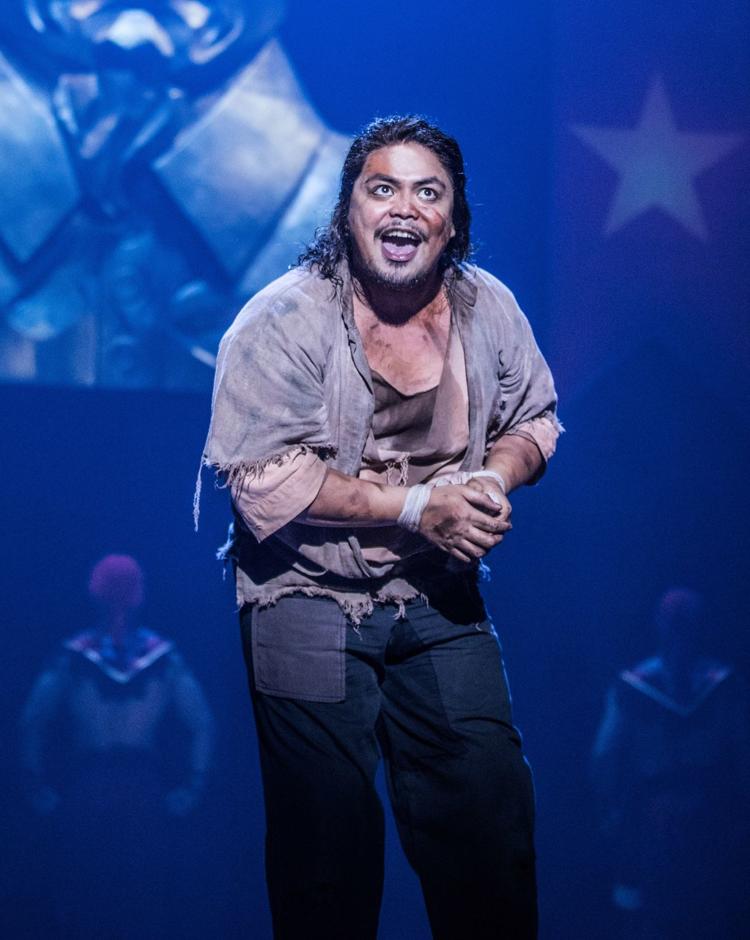 I used to think "Miss Saigon" was Chris and Kim's story. Now I think maybe it's the Engineer's. In 2019, "Miss Saigon" feels soulless. We may cringe as bikini-clad women simulate sex acts with the American soldiers and tourists in Beijing, but Chris and Kim's love story is meant to be a palliative. Instead it looks exploitative, doubling down on the discomfort.
"Saigon" is scary, too, in the blind, glowing eyes of a dragon paraded up the center of the stage. Kim is haunted by a ghostly vision that leads into the deafening chop-chop of the iconic helicopter. Remember that helicopter, the massive set piece that epitomized the megamusical of the 1980s and 90s? It's a video projection now (a cool one, I'll grant).
The lead up to presenting this musical in Madison over the past week has been thornier than most, which isn't new for a popular show that traffics in persistent Asian stereotypes. One scholar who was set to give remarks before a panel Overture canceled last week posted that his group had passed out 700 copies of an essay called "What's Wrong with 'Miss Saigon?'"
Based on the energetic crowd on opening night, Madison audiences aren't ready to throw out the bikinis or the "Bui Doi," those babies with big, sad eyes failed by feckless fathers. Less than the nostalgia in the love ballads, I'd guess the reason is the story we would like to keep telling ourselves about the United States' benevolent influence in the world.
Chris says it himself: "Christ, I'm an American. How can I fail to do good?"