As we head into the season when families start to gather for the holidays, let us enjoy young Monty Navarro's response to learning that he, a recent orphan, has a whole passel of cousins he never knew about.
Alas, these new relatives of Monty's turn out to be elitists, idiots and drunks. With an eye toward getting the girl and becoming an earl, Monty nudges them off one D'Ysquith (yep, that's pronounced DIE-squith) at a time.
The 2012 musical "A Gentleman's Guide to Love and Murder" has swanned into Overture Hall, where a fresh non-Equity tour sits through Sunday.
Inspired by a 1940s black comedy and set in 1909 London, "Guide" promises the quick-changing, theatrical appeal of "The 39 Steps" and the cracking wit of a Python sketch.
Monty's are merry murders, mostly manufactured accidents, nothing too dirty or direct. The cast, a tight band of 10, sings Steven Lutvak's score with full voice and razor sharp diction.
Designer Linda Cho's costumes, magenta for the vamp and an icy blue for the pious countess-to-be, put a Broadway spin on "Mary Poppins" period wear. Alexander Dodge's sumptuous stage-within-a-stage diorama, complete with footlights in the shape of madeleines, glows like the inside of an ever-changing music box.  
This unlikely 2014 Tony winner looks and sounds like watered down Gilbert and Sullivan. As directed by Darko Tresnjak, "Guide" wanders. The second act drags.
Too often Robert L. Freedman's story takes wide aim at broad humor and misses, playing to stereotype in ways that have been done before and better by Mel Brooks.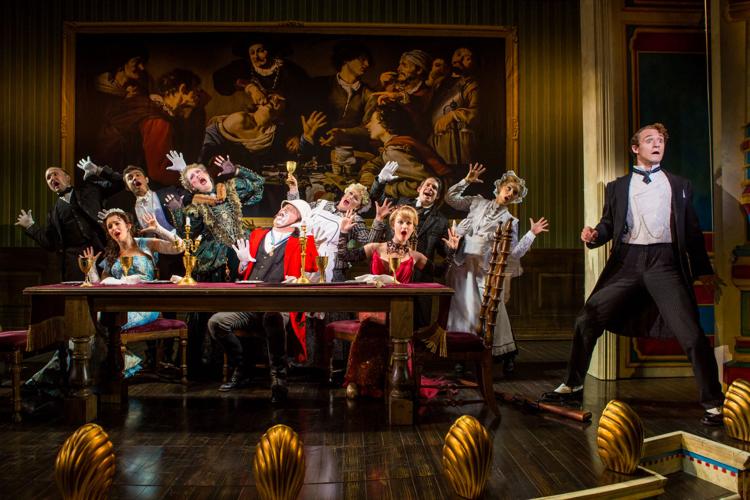 As a lisping priest, Odom teeters for a full minute before the old tippler plummets "Vertigo"-style to his death. He prances. He jousts. Playing a zealous matron devoted to saving the "backward natives," Odom grasps choristers to her (Lady Hyacinth's) pillowy bosom.
In perhaps his best role as the reprehensible Lord Adalbert, Odom conscripts a head-on fox fur to be his dancing partner in the clever "I Don't Understand the Poor." (Sample lyrics: "How I long for the days of yore/ when nary a vassal/ stepped into your castle/ they knew not to darken your door.")
Like many of his privileged predecessors, Blake Price's Monty aims to succeed in the murder business without really trying. Price moves well and sings with a mostly steady tenor, but the nonchalance that makes him charming also means he's hard to root for.
The objects of Monty's affection are glamourpuss Sibella, played by Colleen McLaughlin as a simpering, pouty child with a hand mirror, and bland, "noble" Phoebe (Erin McIntyre), yet another D'Ysquith cousin.  
Contrived to be foils for one another, both women have lovely soprano voices, showcased on patter songs and ballads. Their duet makes for one of the show's highest points, as they coyly seduce the inspectors in "That Horrible Woman."  
"Gentleman's Guide" sparks to life a few times. At the opening of Act II, "Why Are All the D'Ysquiths Dying" has crisp choreography, a tight vocal blend and self-referential humor that breaks the fourth wall to excellent effect.
Similarly, "I've Decided to Marry You," a marvelously entertaining second act trio, could be plucked wholesale from the show and re-framed as a cabaret number.
Witty and light, it's everything the rest of the show could, and should, be.