Some shows can make the crankiest old theatergoer feel like a little kid again.
"The Lion King," running in Overture Hall through June 5, may be one of them. Creator Julie Taymor's extraordinary Disney spectacle layers light, sound and movement in ways that still feel magical nearly 20 years after the musical opened on Broadway.
It begins with those extraordinary, now iconic, puppets. In the opening at Pride Rock, giraffes nose across the stage with bony knees and an awkward yet hypnotic stilt-walk.
Women in sheer white wraps seem to float down from the back of the theater, birds hovering about their hands and heads. Down on house left, an elephant puppet slams its trunk into the laps of the unfortunate folks on seated on the aisles.
But even an elephant trunk upside the head can't distract us from this story, a two hour and 30 minute fable with undertones of "Hamlet" and lion masks that appear to weigh as much as a small child.
Will Simba, the rightful heir to the throne, outsmart his evil uncle Scar (Patrick J. Brown with a perfectly wicked sneer) and avenge the death of his saintly father, Mufasa (Gerald Ramsey)?
Of course he will. But along the way there's soul-searching to do and songs to sing, bugs to eat and ropes to swing on. "Lion King" has kept its joyful, childlike heart.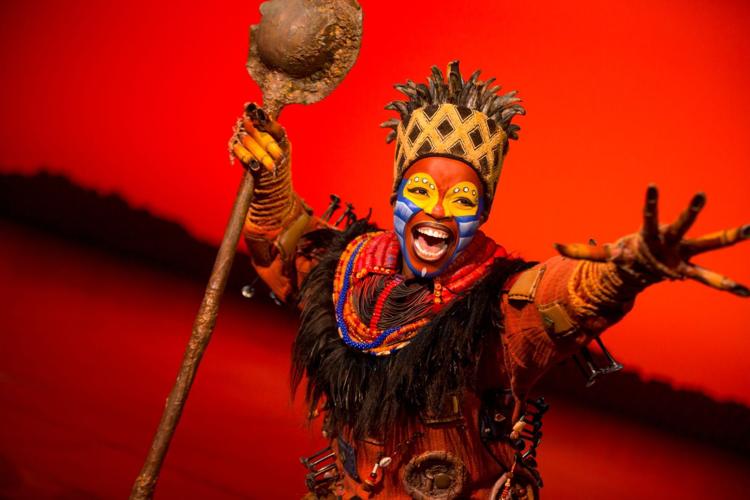 This national touring cast are all intensely physical performers. It features fine leads, among them Ramsey as gentle but powerful Mufasa, Drew Hirshfield as the chattering hornbill Zazu and Mukelisiwe Goba as Rafiki. Goba captures the spirit and gospel-edged vocals of "Lion King's" playful, wise baboon shaman.  
Aaron Nelson makes for a high-energy Simba despite a few pinched notes high in his vocal range, and Nia Holloway offers a regal, graceful Nala. She also sings well in the lovely "Shadowlands," one of several songs added to the musical on top of Elton John and Tim Rice's 1994 film score.
Nick Cordileone and Ben Lipitz swap fart jokes as Simba's buddies, meerkat Timon and warthog Pumbaa respectively. They get the affect and the accents straight out of the movie.
One of the toughest jobs on stage belongs to Scar's three hyena henchman, played in a perpetually hunched-over pose by Tiffany Denise Hobbs, Keith Bennett and Robbie Swift. They're articulate and clear even in big, lumpy costumes, and their comic timing is spot on.
Choreographer Garth Fagan draws from contemporary ballet and jazz styles for numbers like the lionesses' hunt in Act I and "I Just Can't Wait to Be King," which some in the audience find too infectious not to sing along to.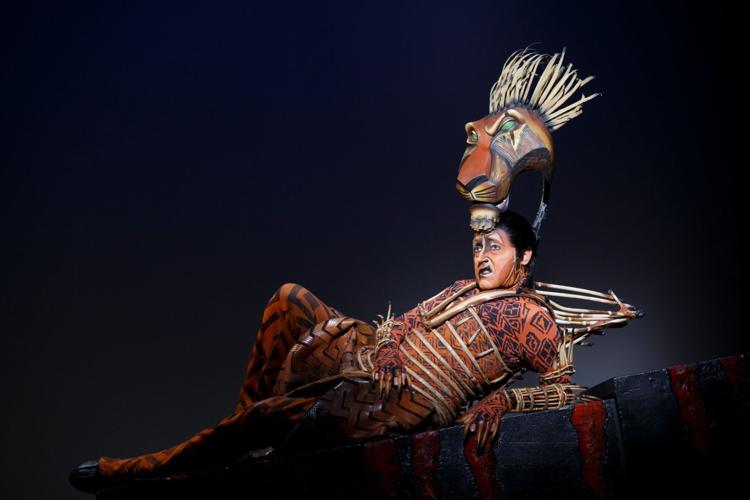 It's easy to be swept up in the sheer visual impact of this show, not only by the puppets but also by the "tree of life" detail on scrims, hanging vines and complex, textured lighting patterns, designed by Donald Holder.
One effect looked like jagged red claw marks, a menacing backdrop for Scar in his lair. Another effect created a lion's face hovering in space, and colorful fish swimming by in a river.
But while the production of "Lion King" itself doesn't seem to have changed save the occasional "Frozen" reference, the story holds up to repeated viewing. Since the first time I heard "They Live in You," Mufasa's lesson about legacy and honoring ancestors, my husband lost both of his parents. It sounds very different to me now.
Something feels sacred about numbers like "Circle of Life" and "Shadowlands," as Nala receives a blessing from Rafiki before venturing out to save her pride. Among all the Disney splash and cartwheeling clowns, there's a seriousness to this show I hadn't fully appreciated before.
There are some hiccups. Compared to the ghostly bones in Scar's elephant graveyard number, Pride Rock looks like something painted in a high school gym. When Simba discovers his father's death, clanking of backstage machinery jolts us out of a quiet moment. 
There's a lot of muscle behind the magic of "Lion King." 18 trucks have eased it down the road for some 14 years. Overture had to pull up seats on the orchestra level (which aren't intended to be moved) to accommodate the show. When it came to Madison in 2010, it sold about 98 percent of available seats. 
The energy is still high, the magic still there. Percussionists, visible to the audience on either side of the stage, keep the rhythms growing and building.
It is in their work that the musical finds its heartbeat, and in the story that "Lion King" finds its soul. Both, after 19 years, are very much alive in Overture Hall.