SPRING GREEN — As the country reacts to increasingly vocal white nationalists, it's striking how much Eddie Carbone sounds like one of them.
Eddie's not the type to rally — he's Italian American, a dockworker in Red Hook, Brooklyn. But Eddie's sense of entitlement and the deep-seated fear that he will be disrespected, left behind and irrelevant, sound exactly the same.
More topical than ever, Arthur Miller's 1955 Cold War drama "A View from the Bridge" is having a bit of a renaissance. Jim DeVita headlines American Players Theatre's production in the indoor Touchstone Theatre, an exceptional performance where control is the flip side of desire.
Miller drew from Greek tragedy in crafting Eddie Carbone, a flawed protagonist who believes his love and generosity entitles him to obedience from his wife Bea (a steely Colleen Madden) and attention from his pretty young niece, Catherine (Melisa Pereyra, brightly sweet).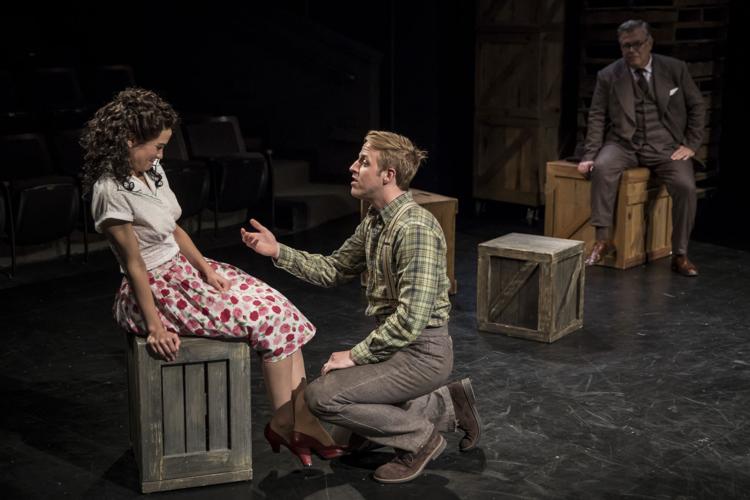 Catherine has gone from a girl to an attractive young lady who gets "heads turnin' like windmills" when she clicks her heels down the street in Red Hook.
Pereyra, grinning wide in nipped-waist '50s skirts designed by Holly Payne, makes it seem plausible that everyone has noticed this change but Catherine herself. Like a much younger girl, she still innocently throws herself at Eddie when he comes home from the docks, props her feet in his lap and massages his sore arms.
Eddie's noticed the change in Catherine, and Bea notices him noticing. The apartment feels stuffy with unspoken arguments when two immigrants, Bea's cousins from Italy, appear in the living room, having smuggled into the country illegally in search of work.
Marco (Casey Hoekstra) is the more intense and serious of the two, while his animated younger brother Rodolpho (Will Mobley) instantly charms Catherine. Suddenly the hunger Eddie has pushed down begins to force its way out, clenching his shoulders, turning him surly and snappish.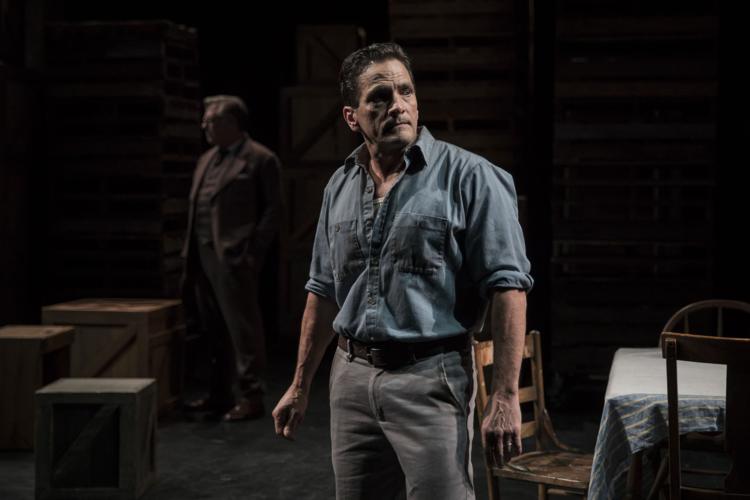 Tim Ocel directs this skilled, tight-knit ensemble like a spool unraveling, as Eddie begins to flail and sink further into a warped sense of injustice. Ocel gives each shift in power, silent decision and moment of understanding the chance to breathe and ripple out like a wave.
There's a tragic inevitability to "A View from the Bridge" that's driven home by a lawyer character (Brian Mani) who frames and narrates the action with a sense of powerlessness. There's also love in this story. That part is more complicated.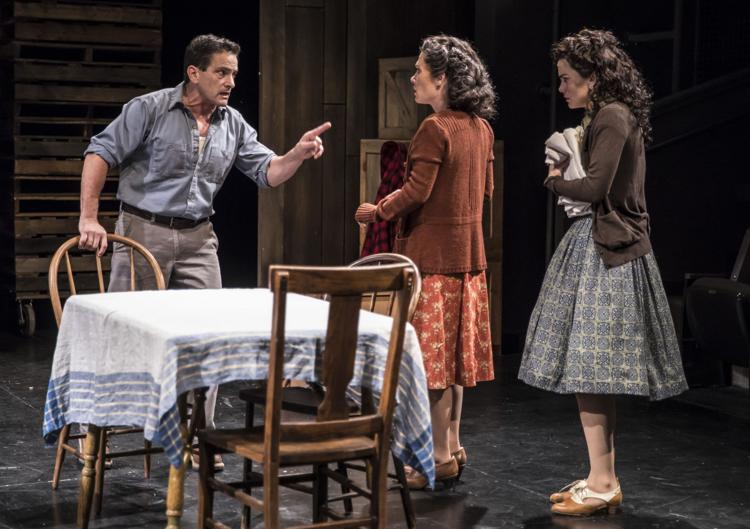 "Every day I saw him when he left in the morning and when he came home at night," Pereyra, as Catherine, says to Rodolpho with tears welling in her eyes. "You think it's so easy to turn around and say to a man he's nothin' to you no more?"
DeVita, a confident physical performer with a history on New York docks himself, deftly balances Eddie's machismo with a softness around the eyes. Madden gives Bea warmth as well as an iron core, even as she tells Catherine in no uncertain terms that it's time for the girl to go.
"You think I'm jealous of you, honey?" Bea asks, letting the question hang in the air. "You should have thought of it before."
The physical dynamics of "A View from the Bridge" are crucial. Ocel and fight director Brian Byrnes handle each boxing max and altercation so vividly, it makes the Touchstone feel almost too close to the growing violence.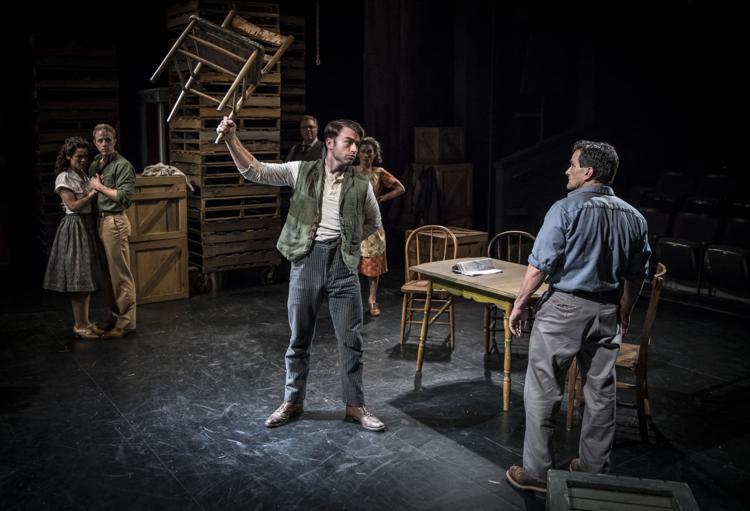 Takeshi Kata, the scenic designer, stacks the stage with towers of pallets, hulking over Eddie and Bea's small family with deliberately harsh lighting by Jesse Klug.
In the director's notes for "View" and "Three Sisters," also in repertory this summer, I noticed a curious word repetition. In his notes for the Chekhov play, Bill Brown cautioned against dismissing the stifled, wealthy sisters, arguing that plays "insist that we understand people, not judge their worthiness."
Ocel wants the audience to pull back from judgment of "whether Eddie is right or wrong, bad or good."
The protagonists in these plays have little in their lives in common. But in both cases, we're asked to acknowledge their lives, their flaws and their pain, no matter uncomfortable or angry it may make us feel.