"The Flick" is a play about everything and nothing.
Annie Baker's quiet, deceptively simple work sparked controversy at its 2013 premiere (too long, subscribers said), then snagged a Pulitzer in 2014. Forward Theater's production, Wisconsin's first, runs in the Playhouse at the Overture Center through Feb. 14.
On one level, "The Flick" sketches a few weeks in the lives of three young (or young-ish) people who work in a deteriorating movie theater in a small Massachusetts town. Over two hours and 40 minutes, they clean, complain and entertain one other.
There's chatter about the theater being taken over by a corporation and the swap of digital for film projectors. Still, not much happens.
Yet "The Flick" has a depth that belies its premise. Under Molly Rhode's confident, nuanced direction, it resonates with tensions between movie fantasy and the daily reality of working a repetitive, minimum wage job. We see silent distinctions of age, race and class, and pain the characters don't speak aloud.
"The Flick" is a dark-ish comedy, less because it's funny (though it often is) than because it lacks the powerful arc of drama. Sam, Rose and Avery are richly drawn, but it would be wrong to call "The Flick" character-driven. Nobody is driving anywhere.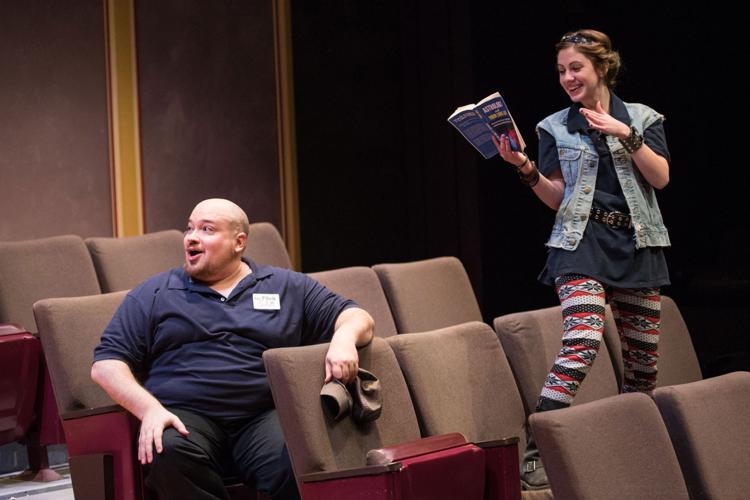 35-year-old Sam, played with a wry sense of humor by Alexander Pawlowski, has worked at the theater for the longest. Affable and easily wounded, he carries a torch for Rose, the 24-year-old projectionist.  
Pawlowski, who like his co-stars is based in Milwaukee, is a wonderfully expressive actor. Sam wears his heart on his polyester polo shirtsleeve; that his coworkers don't notice underscores how deep into their own dramas they are.
April Paul plays the self-consciously wild Rose. Rose declares she's "over movies," flirts outrageously with Avery, and likes to gauge the effect she has on the men. Rose wants to seem carefree, but she's calculating.
"Whatever," she says, after a display of dancing that involves "Thriller," twerking and grinding on Avery, who does not join her. "I feel like an idiot now."
As Avery, Marques D. Causey sweeps the floor like he's a robot programmed (badly) to do it. His anxieties cripple him, tightening his body like hardening clay. Desperately lonely and achingly naïve, Avery, at 20, only softens when he talks about his favorite thing: films.
It would be easy to turn these characters into objects of pity, especially Avery, with his nervous hands and terrified gaze. But the dialogue between the three — one New York critic called it "hypernaturalism" — feels so honest, empathy comes more readily.
Rhode packs scene after scene with awkwardness, chewy as a wad of gum stuck under a theater seat. Inside this frame, moments of real intimacy between the characters spark, struck matches in the dark.  
"Sometimes I worry that there's something really, really wrong with me," Rose confesses. "But that I'll never know exactly what it is."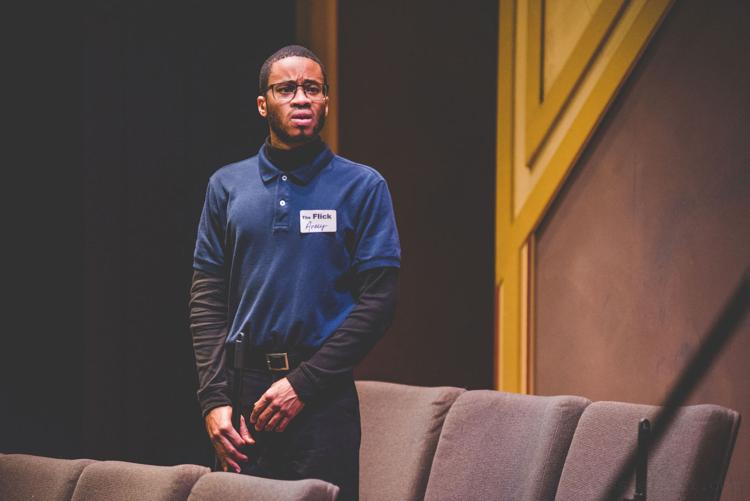 Sound designer and composer Joe Cerqua skillfully evokes movie scores during scene changes, weaving music with iconic lines ("You can't handle the truth!" "To infinity and beyond!") Every time, it brings the Hollywood promise of escapism and beauty that much closer.
To further the illusion, Ann M. Archbold's lighting flickers and shifts on the back of Stephen Hudson-Mairet's detailed set, banks of theater seats with a worn, familiar look.
"The Flick" feels like a play one needs to sink into to enjoy. Baker invites audiences to soften the wall between their own lives and those onstage. We're meant to see with new eyes people we never pay attention to — the janitors, the ticket takers, the guy making the popcorn.
This kind of permeability isn't always what theatergoers are looking for, which seems fair. But I bet that even those who leave "The Flick" wondering what they just saw will never throw popcorn on the floor of a movie theater again.