I'll bet the program I saved from my first role in community theater ("Oliver!," 1990, Waterville Playshop) that when people leave Forward Theater's latest production, they won't be talking about the show.
Very little happens, really, in "For Peter Pan on Her 70th Birthday," running in the Playhouse at Overture Center through Nov. 24. Sarah Ruhl's gentle 2017 nostalgia play seems designed to make you, dear audience member, recall the last time you were in a hospital room with a family member, or how it felt when your childhood dog died.
Maybe you never played the title role in J.M. Barrie's fantastical fable, but did you ever have a magical moment onstage? "Peter Pan" will make you want to share it. This is a writing prompt of a play.
As a playwright, Ruhl has a gift for theatricality. She loves stage magic and strong female characters. For proof, remember American Players Theatre's marvelous production of her "Eurydice" or Forward's 2010 "In the Next Room (the Vibrator Play)." What goes a bit missing in "For Peter Pan," written in tribute to her mother, is story.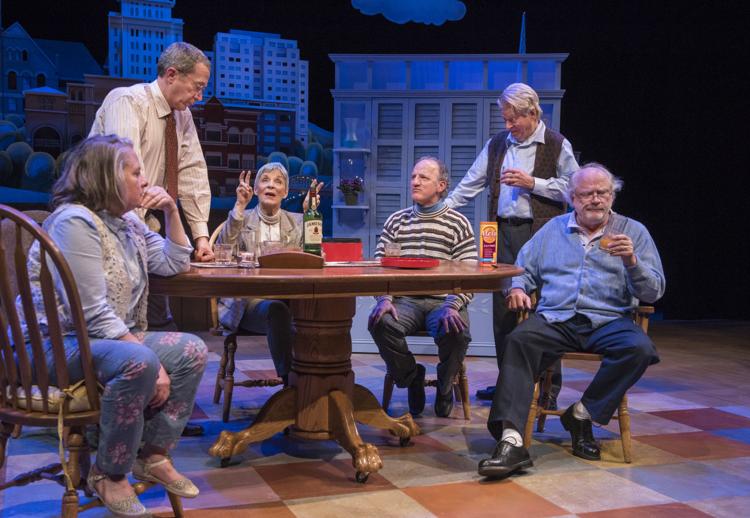 Five siblings, ranging in age from late 50s to nearly 70, gather at their father's deathbed and family home in Davenport, Iowa. Pops (a quiet, surprisingly comical Sam D. White) passes on, though his spirit lingers. In dad's memory, his grown kids drink Jameson and argue about politics around the kitchen table. They sleep in their childhood beds.
The last third of the play is a dreamlike "Peter Pan," in which the eldest daughter Ann (Susan Sweeney) puts on her old costume, recruits her siblings to play the other characters and flies around the stage. It's sweet, and the humor is the softest kind. Peter Pan/Ann has lines like, "it's not the diabetes, it's the gout."
"Are we getting too old to fly?" asks John (Norman Moses).
"One of my best friends just died," adds Michael, played by Michael Herold in adult-size blue footy pajamas.
The audience chuckles as the older actors pantomime stiffness and joint pain. They murmur knowingly at the family stories. We're all going to have stories to tell later.
Directed by Jennifer Uphoff Gray, "For Peter Pan on Her 70th Birthday" has pleasures more visual than plot-related. An exquisitely detailed set by Joseph Varga looks like a cross between a cityscape in a pop-up children's book and a ceramic Christmas village. Greg Hofmann's lighting design warms the stage as the sun comes up over the city.
The actors themselves bicker believably as a group of siblings. Strongest among the cast are Sweeney as the optimistic Ann, Celia A. Klehr as her youngest sister Wendy, and Herold, whose Michael has a boyish charm. But even they can't manifest a tale that doesn't exist.  
"For Peter Pan" wanders towards a point after about 90 minutes, touching on the heartbreak of aging and hope for reunion. But it can't shake the preciousness in Ruhl's script, or the heavy handedness in scenes that feel like emotional manipulation. No amount of Forward's fairy dust could make that fly.