Mary Jane lives inside out.
The heroine of Amy Herzog's affecting, personal play, now in the Playhouse in the Overture Center, is so minutely attuned to her ill son's every twitch and expression that when she turns that empathic search light on other people, it can feel — well, weird.  
"When I'm talking, you imitate my expressions," says a young woman (Nadja Simmonds) Mary Jane has only just met.
"No I don't!" Mary Jane protests. She tries to rearrange her face. Wait. Does she?
There's an unreality to the heroine's days in "Mary Jane," written in 2017 by Herzog ("4000 Miles"). Running through Sept. 29, "Mary Jane" opens Forward Theater's 11th season in Overture Center's lower level Playhouse.
The title character, embodied by Clare Arena Haden with tenacity and warmth, works so hard to make everyone else feel cared for she's got no energy left to think about herself. Hence the weird expressions.
Two and a half years earlier, Mary Jane had a baby born at 25 weeks ("I had barely started wearing maternity clothes," she says). What she thought might be a rough couple weeks in the NICU turned into years of tubes, positioning chairs and portable oxygen.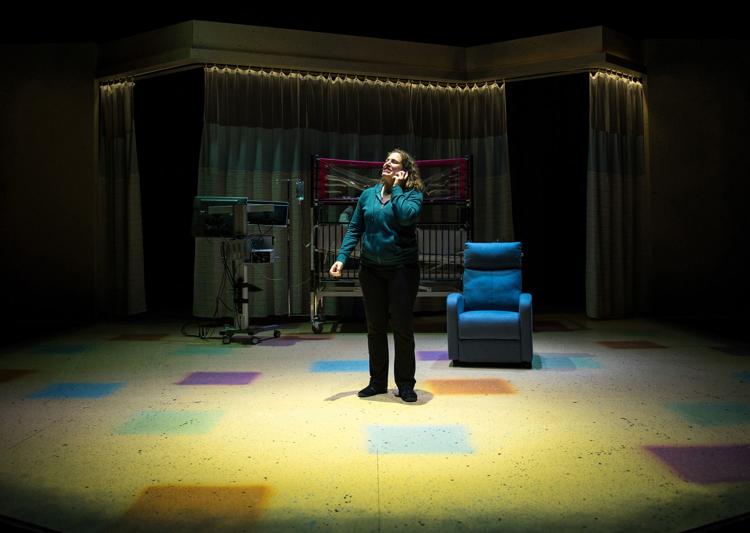 Mary Jane's husband left. She dropped out of teacher training. When we meet her, she's sleeping in the living room, having turned over the apartment's one bedroom to her toddler and his ever-beeping monitors.
Yet Mary Jane is never an object of pity. Haden, an introspective and generous actor, plays Mary Jane as quick to smile and genuinely empathetic, with an outlook so positive she can sound almost delusional. Who honestly thinks getting shut out of day care in the rain with your disabled child and missing work with no vacation days left is "hilarious?" This woman is a wonder.
Mary Jane's closest contacts are with caregivers, doctors and other mothers with children like hers. These women (and they are all women) touch Mary Jane's life but tend not to stay. The script and staging reinforce the fact that, despite her team, she's in this alone.
Mary MacDonald Kerr directs Herzog's 95-minute play with a keen sense of detail and skill for understatement. We can see Mary Jane's weariness, back pain and alertness to chirping monitors, even as she chats away about tomatoes or dishes about her boss.
Each character feels vividly drawn: Tosha Freeman as a practical, generous RN and a slightly weary doctor; Samara Frame as two very different mothers, both with sick kids; Canon Buinis as a super with a plunger and a Buddhist nun. Simmonds is a delightful newcomer to Forward's stage.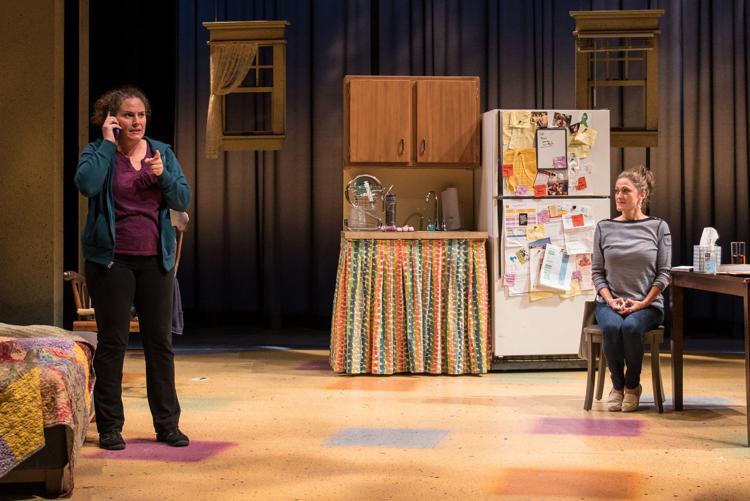 Kerr emphasizes the theatricality of the story as Alex's condition changes. Lisa Schlenker's scenic design smoothly adapts from a living room/kitchen in Queens to a soulless hospital waiting room in a surprisingly poignant shift. Joe Cerqua's sound design weaves the beeps, buzzes and chimes of Alex's monitors with a spiritual musical undertone.
So to take on pain the way Mary Jane does is a brave act, for the character and for Haden herself. When she does cry, it could be for so many things. For her son's pain. For the dreams she had for him. For her marriage, her career, the life she thought she'd have.
Mary Jane absorbs it all. She keeps going. In her own words: "Honey, why are you sorry?"