An air of magical thinking suffuses Forward Theater's thoughtful, dreamlike production of "Fun Home," now playing in the Overture Center Playhouse.
If Alison, having reached the same age her father was when he died by suicide in front of an oncoming truck, can figure out the whys — why he did it, why he chose the life he did, why he never came out as gay despite decades of illicit affairs — maybe she can stop it.
Maybe she can change the past, and by doing so change her own future.
Alison Bechdel published the graphic memoir "Fun Home," the nickname for her family's funeral home in Beech Creek, Pennsylvania, in 2006. When Jeanine Tesori and Lisa Kron adapted it in 2013, it was this version of Alison's family history they drew upon.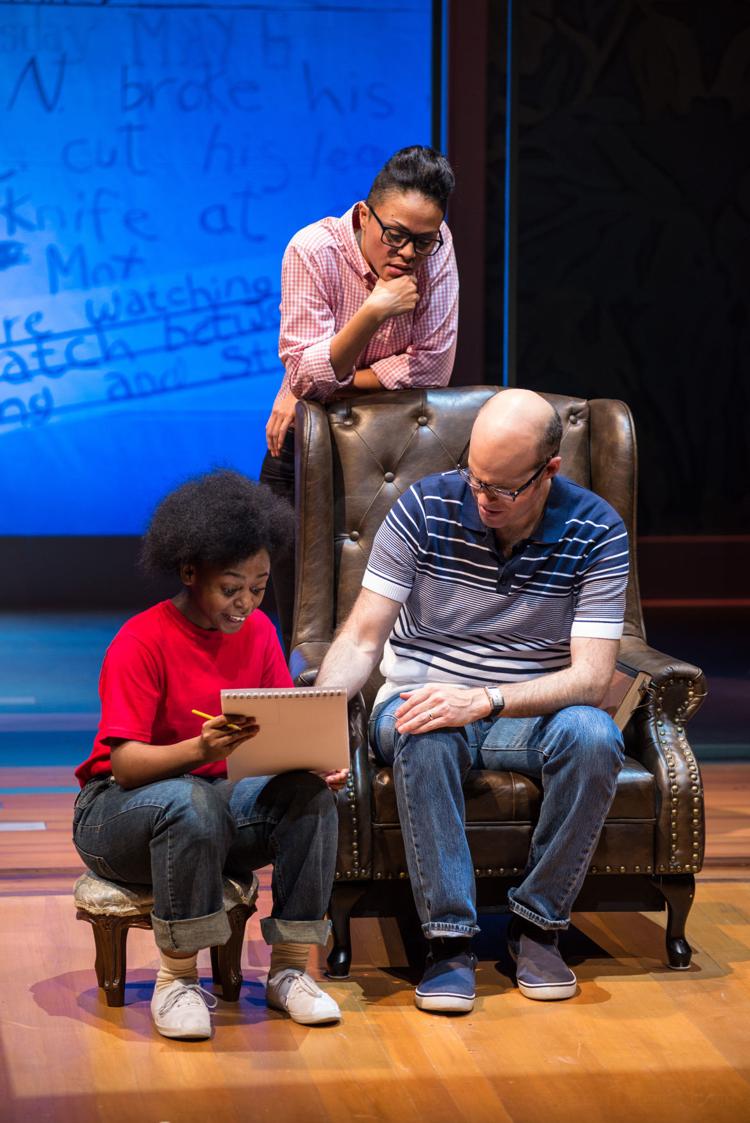 "Fun Home" opens with Bechdel, a lesbian cartoonist (and real-life creator of "Dykes to Watch Out For"), preparing to document what she remembers of her childhood and early adulthood with her father.
She grabs a box of his old treasures, explaining, "I need real things to draw from, I don't trust memory." Over the next 100 minutes, the musical frames the action with Alison's careful captions beneath her own memories, a control that slips as the play goes on.
Director Jennifer Uphoff Gray layers the episodic, frame-by-frame style of Bechdel's comics lightly into the design, with white boxes that appear on the stage and shrink and grow (Jason Fassl's lighting design is, as always, perfectly pitched).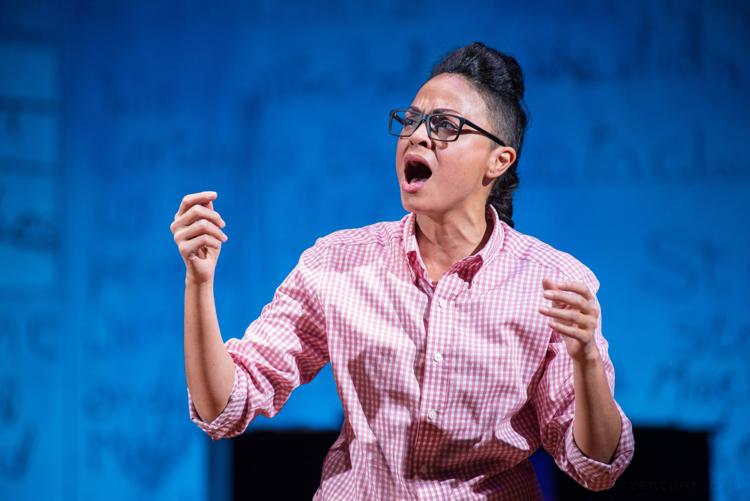 Karen Olivo, the Broadway and "Hamilton" star, steps into Alison's oxfords and skinny ankle-length slacks in her first local role since relocating to Madison five years ago.
Olivo is a generous performer, and on this small stage she radiates warmth and attention. Where Beth Malone, who created the role, felt constantly present, Olivo continually deflects focus to scenes from Alison's past.
There's also this — no one sings pain like Karen Olivo.
I have heard dying operatic heroines sound less wrecked with emotion than Olivo's Alison does on that last drive, her final chance to make it right with her dad. It's a master class on emotional power and how to trust the music, and it levels the theater.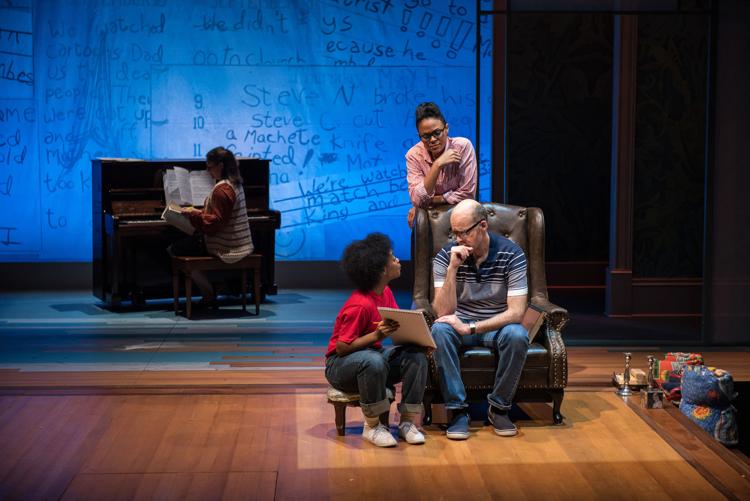 Forward Theater works with a truly fine cast here, anchored by both Olivo and Matt Daniels as Alison's mercurial father. Daniels shows us Bruce Bechdel's vanity and self-involvement without losing the man Alison clearly loved, the father who sang her a lullaby before going out to pick up a hustler. This, too, is masterful to watch.
"Fun Home" shows Alison at three ages. The three actors who play her share mannerisms, hands shoved in their pockets, shoulders hunched. Rachel Zientek is a particular standout as Alison at an awkward and impressionable 19.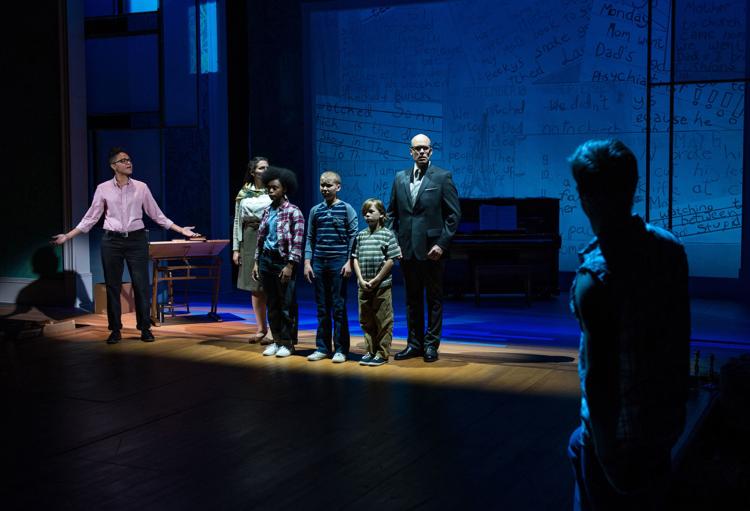 Zientek's Alison slouches and mumbles but she's a fighter. As she leaps into a new world of queer causes and a giddy new relationship (Solana Ramirez-Garcia), it's thrilling to watch the change. Zientek's sweet, confident rendition of "Changing My Major" is a joy.
In long-sleeved tees and cuffed jeans, Chantae Miller reads about 12 or 13, older than most small Alisons but young enough to desperately crave her dad's approval on a school project. Miller, last seen in Forward's "I and You" last season, has a lovely vocal tone on "Ring of Keys," young Alison's first encounter with an "old school butch" delivery woman — a poignant moment of recognition.
Filling out the cast, Clare Arena Haden gives a sensitive performance as Alison's mother, an intelligent woman who had creative dreams of her own. Haden gives everything to "Days and Days," a moment of explanation and mourning written so beautifully in Tesori's lyrical way.
Backstage, Mark Wurzelbacher leads a small ensemble of musicians through "Fun Home's" expressive, winning score. Tesori layers and circles back to themes, linking scenes with a repeated musical flourish.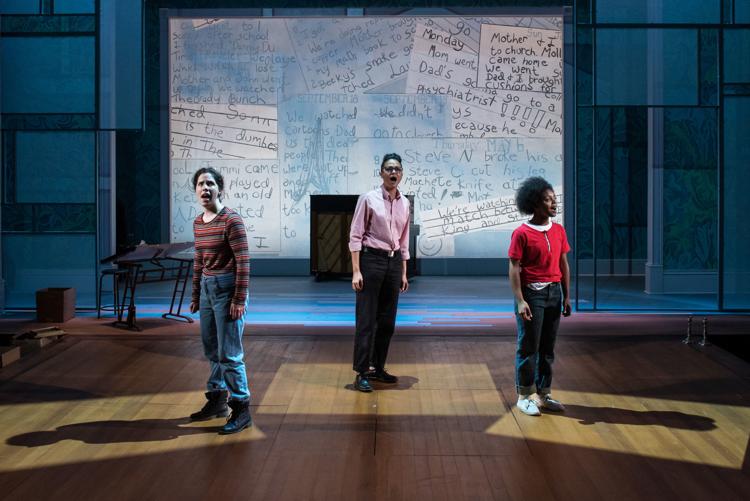 "Fun Home" grapples with Alison's grief and loss, her father's deep sense of shame and her mother's anger. For all that, it's shot through with a spark of creation as Alison rebuilds her memories frame by frame.
Some don't want to group the serious, smaller-scale "Fun Home" with other musicals, or say it's a musical for people who don't like musicals. That's not only condescending, it's like assuming a graphic novel is the same as a Garfield cartoon or a Superman serial.
As these artists show so beautifully, musical theater has the capacity to reflect the most complex and intimate human experiences. With this, its first musical, Forward Theater tells a story without easy answers and does justice to a personal, powerful work of art.