"Anastasia" opens its bejeweled music box in Madison this week, as the national tour of this romantic musical runs in Overture Hall through Sunday. The 2017 show is tailor made for dreamy kids, 20- and 30-somethings who loved the movie and adults looking to escape a sticky summer evening.
Inspired by the 1997 animated film with Meg Ryan and Angela Lansbury, "Anastasia" has a sparkling score by Lynn Ahrens and Stephen Flaherty ("Ragtime," "Once On This Island"). It ran for nearly two years on Broadway, closing in March of this year. The first national tour launched last fall.
Terrence McNally wrote this fairy tale about a girl who has forgotten she's a princess, two charming con men looking for a ticket out of Russia, an empress grandma waiting in Paris and a Bolshevik with Javert's sense of justice.
The musical opens with a glimpse of the grandeur of Tsar Nicholas II's court in 1906 and 1917, scenes that return several times in Anastasia/Anya's dreams. The windows of the palace melodramatically fill with red as we skip forward to 1927, when things are far less colorful in the streets of St. Petersburg/ Leningrad ("the skies are gray, the walls have ears/ and he who argues disappears").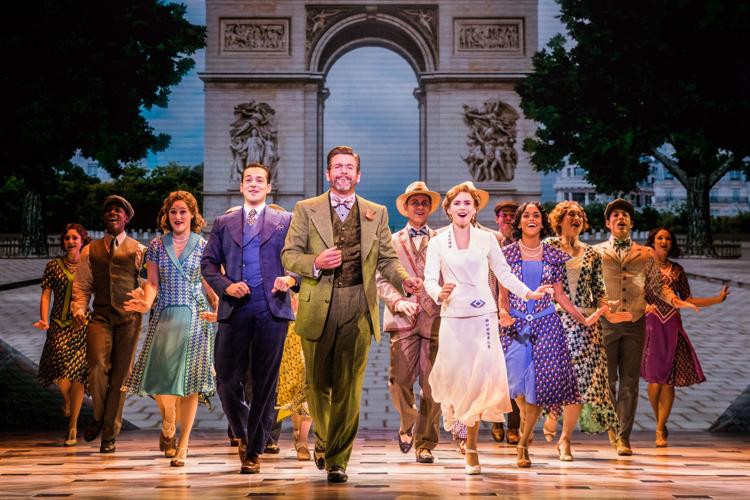 Having survived by chance, Anya (Lila Coogan) is a scrappy street sweet sweeper with amnesia when we meet her again. The Bolshevik, Gleb (Jason Michael Evans) spots her first and is instantly smitten, but Anya takes up instead with men who promise to smuggle her out of the country if she pretends to be the long lost grand duchess.  
As Anya, Lila Coogan has a big soprano belt and a spry energy and Stephen Brower is appealing as her love interest, Dmitry. In "My Petersburg," Brower sounds like he hopped over from the cast of "Newsies" to show the heroine around.
Playing Vlad, the court insider-turned-conman who coaches Anya on the Romanov family tree, Edward Staudenmayer is pure comic relief. In Act II, he romances a very willing countess Lily (Madison native Tari Kelly) in "The Countess and the Common Man."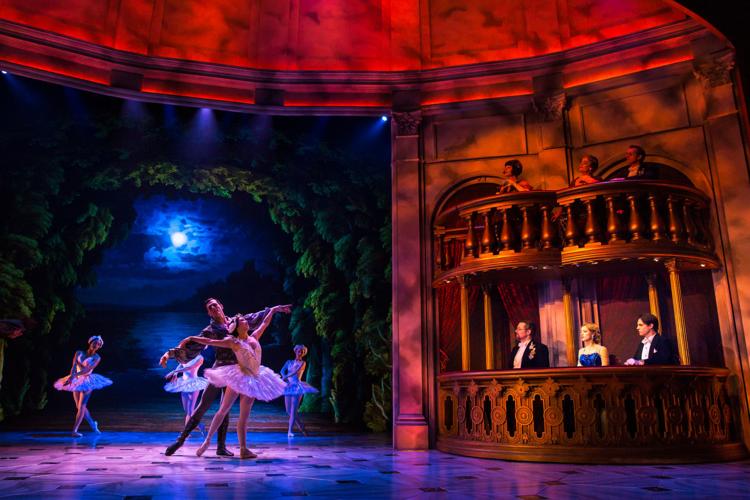 The physical comedy, as they spin madly and fumble with each other, boosts the show's energy just when it needs it. "Common Man" is a tonal counterpoint to a "Swan Lake" interlude, choreographed by Peggy Hickey earlier in the act. Both show off the depth of dance talent in the cast.
The film bubbles with fantasy (and a weird little bat voiced by Hank Azaria), but director Darko Tresnjak gives the musical a more serious tone. This can be lovely. "Stay, I Pray You," featuring gorgeous vocals from Brad Greer, has the poignancy and longing of "Edelweiss." "In a Crowd of Thousands," a beautiful duet shared by Anya and Dmitry about the first time they saw each other, could stand alone as a complete work unto itself.
Even Gleb, though a bit underwritten, wrestles with internal demons — there's no true villain in this show, which is interesting.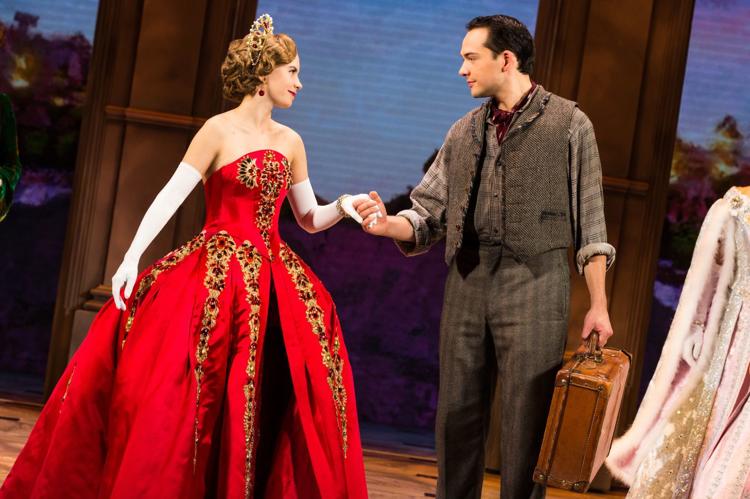 There are some throwaway numbers and filler, particularly in the second act, and choices with the original songs feel strange. Anya's big "I want" song, "Journey to the Past," ends Act I on a big dramatic moment, but it means that the rest of the act feels a little unfocused. Why does Vlad sing about the moment Dmitry and Anya fell for each other ("I never should have let them dance") when they're not dancing?
The world of "Anastasia," especially when it breaks out the big gowns, is quite lovely to look at. Designer Linda Cho drapes Anya in sapphire and ruby tones and washes the royal family in white and gold.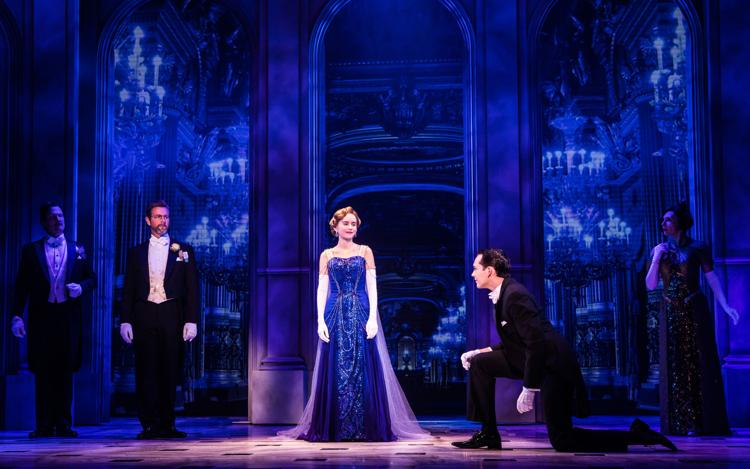 Projections by Aaron Rhyne can be ingenious, as the shell of a train car spins around onstage and the perspective shifts with it. Just a few seem over-the-top — Paris looks like "painter of light" Thomas Kincade took some psychedelics and made a backdrop.
"Anastasia" neither breaks new ground nor recreates the film too closely, but it's not without pleasure for those who were hoping for either one. Instead, with straightforward dialogue and a princess fantasy at its core, "Anastasia" is a sweet bit of escapism for a summer night.