One of the first things we see in the production of "Cabaret" playing Overture Hall through Sunday is a ghostly hand. It curls and beckons, edging the audience onward and inward.  
"Leave your troubles outside," the emcee coos. "Life is disappointing? Forget it!"
It's soon clear that the same hand that coaxes also grasps for money and attention like a climber hanging on the edge of a crumbling wall. It's nearly 1930, and Berlin is slipping toward something very sinister indeed.
A palpable desperation undergirds this Roundabout Theatre Company production, reflected in the dead eyes of the dancers at the Kit Kat Club. The critically acclaimed revival of John Kander and Fred Ebb's 1966 musical ran on Broadway from 1998 to 2004 and is now led by director BT McNicholl.  (In a local twist, Forward Theater artistic director Jennifer Uphoff Gray worked on the show on Broadway as an associate director.)
The denizens of "Cabaret" roll, thrust and slither in a nightclub where customers complain every time management mops the floors. It's no easy thing to translate that underground vibe to a 2,000-seat hall, but Robert Brill's set gives it a shot. Metal stairs coil at each side of the stage, and a glitzy frame is ringed with lights that begin to flicker and blow.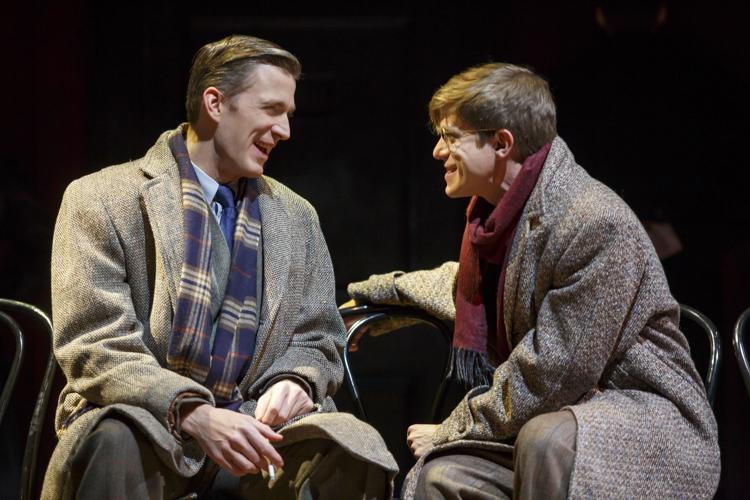 The story of "Cabaret," inspired by a Christopher Isherwood novel and a John Van Druten play, follows Cliff Bradshaw (Benjamin Eakeley), a white bread slice of a man who's been making vague attempts at writing a novel.
Cliff's work and cash flow have all but dried up when he lands in Berlin in 1929. There, via a table phone at the Kit Kat Club, he finds nightclub dancer Sally Bowles (Leigh Ann Larkin), an "exasperating and irresistible" British expat recently played by the likes of Emma Stone and Michelle Williams.
Larkin moves like her joints are loose, grinding and crouching in ensemble numbers like "Mein Herr." She looks like a Bratz doll on her first entrance in "Don't Tell Mama," with a pink nightie and a stiff blonde wig.
But in later scenes, Larkin proves to be a powerful, empathetic performer. Sally's sweetness flutters like a lacy robe over naked fear, panic that if she stops and thinks for a moment she'll crumble. Larkin's Act II performance of "Cabaret's" title song is as show-stopping an eleven o'clock number as "Rose's Turn" in "Gypsy." Something in Sally cracks open.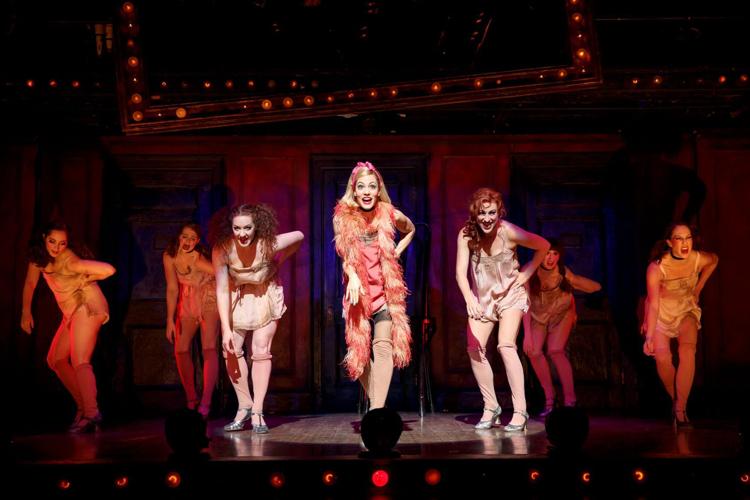 As the deliciously trashy emcee, Jon Peterson dances the Kit Kat crew on a merry road to hell, lurking in shadows and smiling a lascivious grin. Peterson sound gleeful as he taunts the audience (to the balcony: "Hello, poor people!") and shows off the club girls in their dirty underthings ("each and every one —  a virgin!").
The most resonant "Cabaret" storyline concerns rooming house owner Fraulein Schneider (the remarkable actress Mary Gordon Murray) and her Jewish boarder, a fruit seller named Herr Schultz (Scott Robertson, affable and understated).
Fraulein Schneider, smitten with her lodger's kindness, finds no place for a marriage like theirs in nearly Nazi Germany. Murray puts her pain and determination on clear display in the wrenching "What Would You Do?"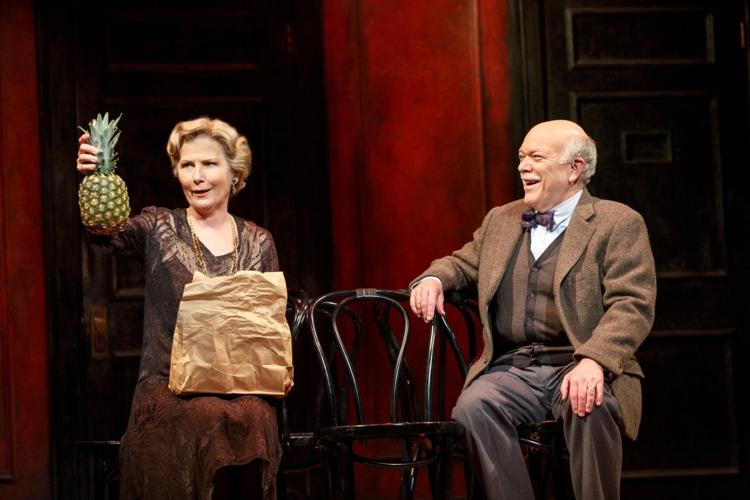 Opening night for "Cabaret" wrestled with a few technical difficulties. Performers occasionally stepped out of their light and a door on stage right didn't want to stay shut.
Yet the Roundabout's production feels spare but not cheap, dark but never airless. Sally's breakdown is moving; the conclusion chills. If the Kit Kat Club has been dancing at the end of the world, what follows its final curtain can only be the abyss.