Three sailors in search of a subway pin-up girl take 1940s New York by leaps and bounds in a joyful production of "On the Town," running this weekend in the Capitol Theater.
This musical feels very much of its time — big on dance, not much for story, with characters built for entertainment over depth. It's a classic in the style of "Kiss Me, Kate," "Brigadoon" and "An American in Paris," colorful and brimming with enthusiasm.
Capital City Theatre has wanted to produce this show since the company launched in 2014 with dreams of making professional musical theater in Overture Center. Artistic director Andrew Abrams worked up to this collaboration with Madison Ballet with last year's exceptional "Hunchback of Notre Dame," staged in concert by Brian Cowing, and 2016's "Gypsy," featuring a powerhouse cast and some fine dancing of its own.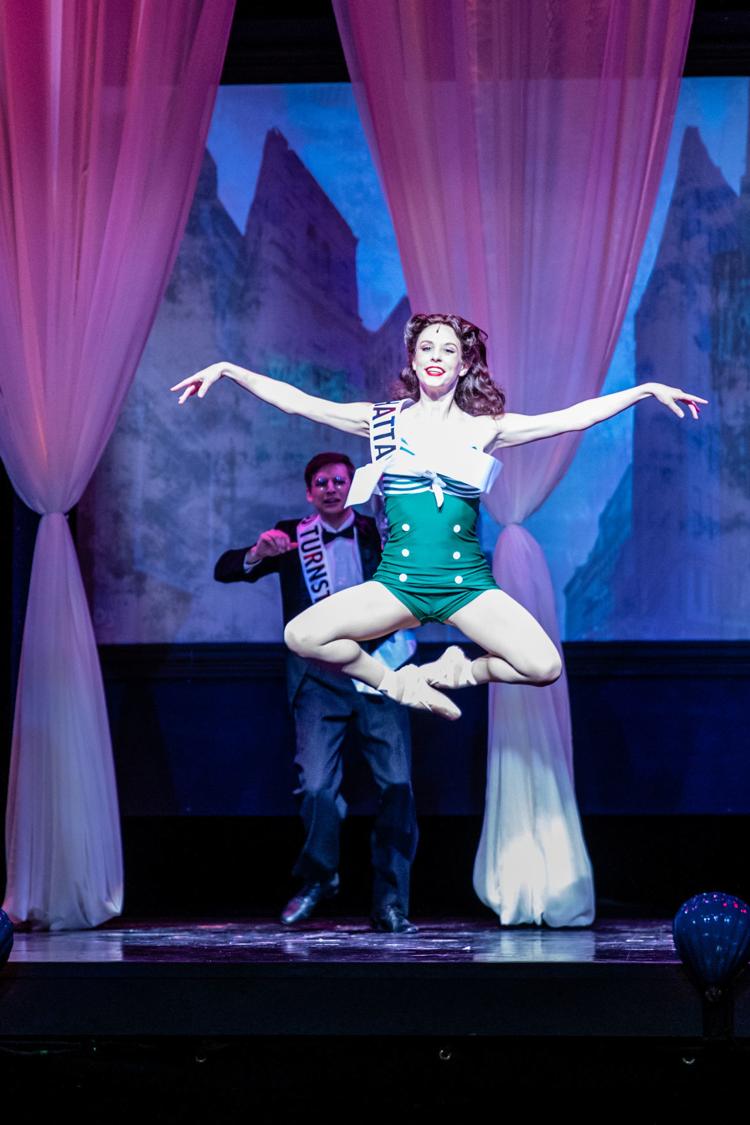 Leading "On the Town" as a trio of antsy sailors are three pros from out of town. Eddie Gutierrez, an elegant dancer who recently did "A Chorus Line" in New York, plays the thoughtful Gabey.
Gabey gets one look at a subway poster and makes finding the girl in it (Paige Sabo, a lovely dancer) into a daylong quest. Along for the ride are Joshua K. A. Johnson as Chip, naïve and adorably sweet, and Nicolas Dromard as Ozzie, the "primitive" sailor, athletic and self-assured.
Gutierrez struggles with some of Leonard Bernstein's trickier music, but he's a charismatic lead — in "Lonely Town," he makes Gabey's longing feel palpable, creating one of the show's most poignant moments. His fantasy pas de deux with Sabo, in Act II, is beautiful to watch, and reinforces that the central love story of "On the Town" takes place mostly in Gabey's mind.
The two actors who draw the spotlight the most are (or recently were) locals. Lizzie Cutrupi, a Monona Grove grad, plays a randy cab driver who picks up Chip and wears down his defenses with sheer persistence.
Cutrupi's got the comic chops of a character actress. She rolls her eyes, deadpans lines to her irritating roommate, and pulls stuffed food out of bags like a deranged Mary Poppins in "I Can Cook Too," a smorgasbord of sexual innuendo. She's a delight.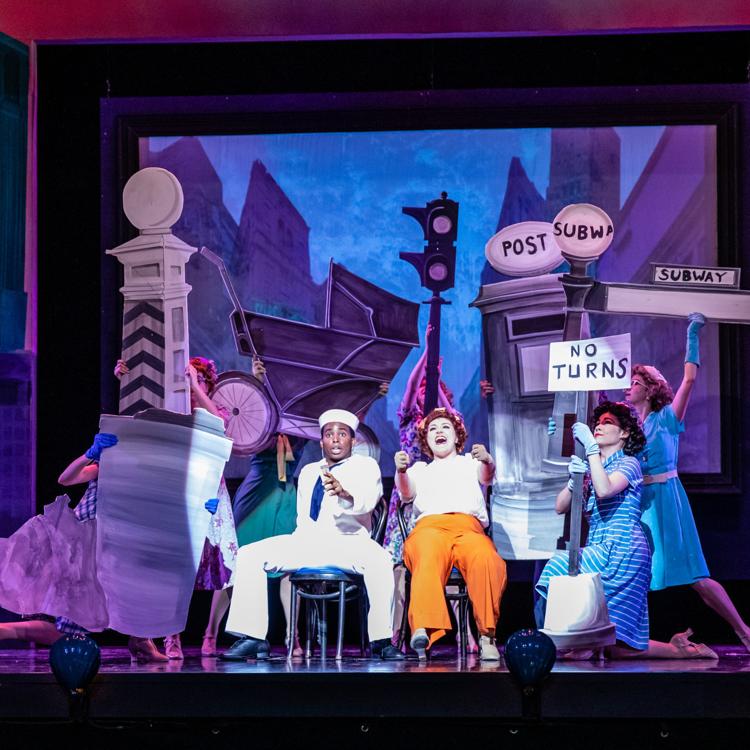 Another bright spot is Madison's own Abby Nichols, playing an anthropologist who attempts to subsume her animal desire in scholarship. Nichols and Dromard have a grand old time swooning around the stage in "Carried Away," but more striking is a quartet led by Nichols and Cutrupi in Act II, as the sailors prepare to leave.
Betty Comden and Adolph Green, who wrote the book and lyrics, departed from their deliberately frivolous show with "Some Other Time." The words take on deeper meaning in 1944, as the sailors return to their ship — and the war:
"Where has the time all gone to?/ Haven't done half the things I want to/ Oh, well, we'll catch up some other time."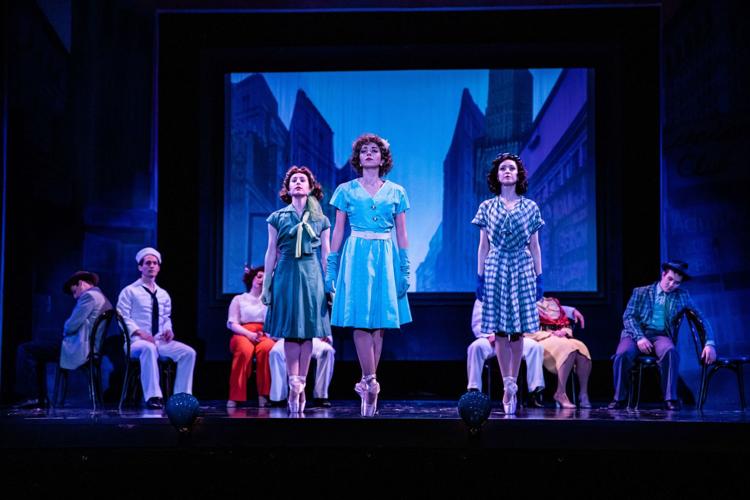 Josh Walden, director and choreographer, brings the bustle of the city to what's essentially a two and a half hour love song to New York. He honors Jerome Robbins' original ballet work, brought to life by Madison Ballet dancers (Kristen Hammer, Michaela King, Catherine Rogers and Jackson Warring).
Walden embraces the show's sensuality. Better, he does what he promises in his director's note and (mostly) skirts stereotypes. The women in the story are never an afterthought. 
On Thursday, the first show of five, some of the opening numbers looked loose, the movement not as crisp as it might be with a few more performances. There were some issues with sound that hopefully will clear up, and some weak harmonies in Act I.  
Many more things need no improvement. A full orchestra, led by Abrams, sounds straight out of musical theater's golden age, from the overture to the exit music. Full of drama and romance, Bernstein's music is a thrill.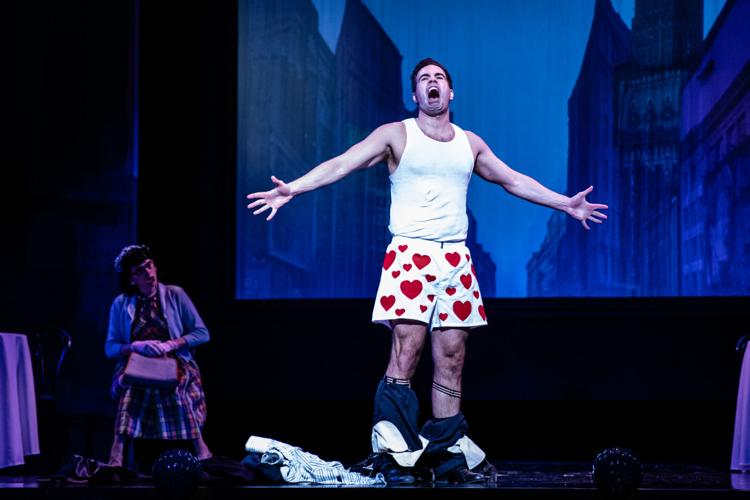 Comden and Green's comedy is broad and bawdy, but it's witty too. Even small characters buoy the show's playful sense of humor. Gail Becker hiccups her way through the show as a drunken voice teacher and sauced nightclub singer. Christopher deProphetis plays a rejected husband who has a very orderly breakdown onstage; Sabra Michelle gets giggles as both a chatty working girl and sniffling wallflower. DeProphetis' recurring line, "I understand," gets funnier every time.
The sailors land onshore giddy with freedom, shouting, "New York, New York, it's a helluva town!" I can echo that. Seeing this show look so fresh and lively in the Capitol Theater, 75 years after it opened on Broadway, is a helluva treat.