SPRING GREEN — Everybody loves Irina.
In the new production of Anton Chekhov's "Three Sisters" up the hill at American Players Theatre, it's easy to see why. The play opens on her name day (like a birthday) and Irina looks buoyant.
Through a break in the stage that feels like peering into a painting, we see Irina's sister and a maid gathering flowers. Irina herself is dressed in white; she alights near the old country doctor as he fusses over her, then stares dreamily up at the clouds.
"It's as if my sails are all spread," she says. "Above me is the wide blue heaven and large white birds are flying in it."
Sadly, naïve Irina has the misfortune to be a Chekhov heroine, which means her delighted mood has an expiration date.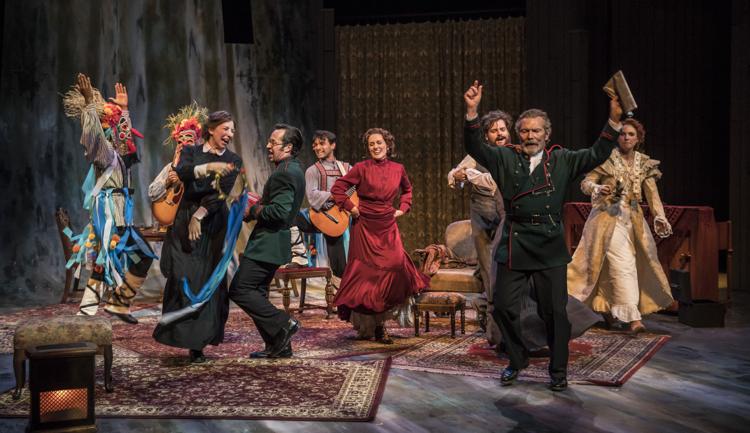 William Brown directs an emotionally dense, heart-wrenching production of Chekhov's domestic drama, moved forward in time to shortly before the Russian Revolution.
With characters paralyzed by inertia, the pacing can feel slow, the staging static. These idle philosophers talk endlessly of Moscow but, like Beckett's tramps, do not move. They marinate in boredom. They repeat themselves in self-defense ("I'm content, I'm content, I'm content").
Still, the emotional depth Brown draws from his actors elevates "Three Sisters" into something quite poignant.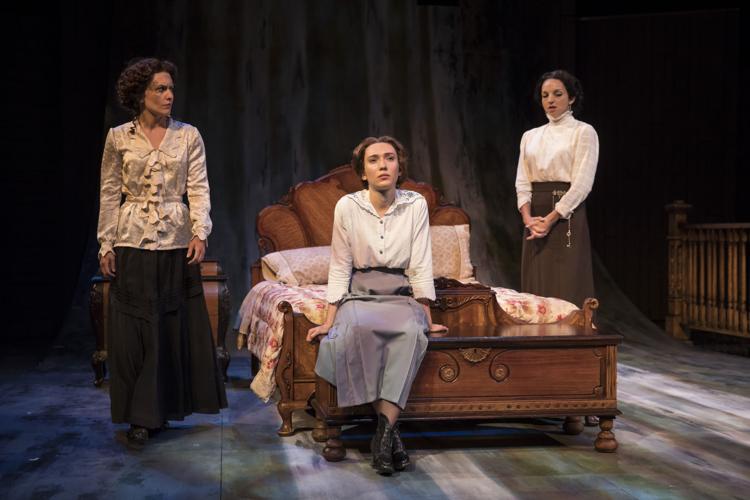 Twenty-year-old Irina lives with her wealthy, discontented sisters and apathetic brother Andrei in a provincial Russian town where a person can feel at once oppressed by nosy neighbors and totally alone.
Here, the city education of the Prozorov sisters — each knows at least four languages — seems like an absurd appendage, "a sixth finger." They gravitate toward worldly visiting soldiers who "philosophize," which dashing Vershinin (Chiké Johnson) uses to seduce the married middle sister, Masha (Kelsey Brennan).
With a perfectly timed exhale of smoke and a shot of vodka, Brennan's Masha has the careless sophistication of a Tennessee Williams Southern belle. Beneath a quick wit and questing mind, Masha alternates simmering fury with numbness, a glass dangling from her hand.
Brennan is so expressive — in the space of seconds, her face flickers with excitement at the sight of Vershinin, then darkens with irritation at her husband (John Taylor Phillips), a Latin-quoting, energetic bore.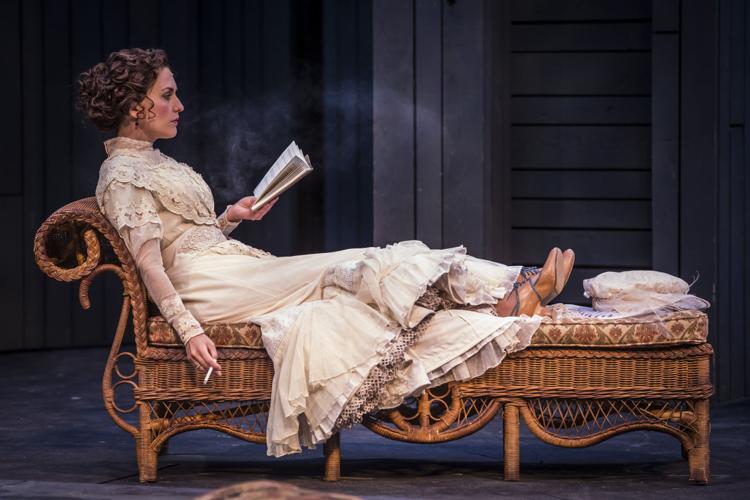 Eldest sister Olga, played with a long-suffering air by Laura Rook, buries her frustration even further down. As the years roll forward, Rook stiffens her posture and seems to wall up the woman who, in Act III, feels physically ill when she hears a rude remark.
Rebecca Hurd infuses Irina, the youngest, with the kind of idealism that endears her to most of the men in the play — a bespectacled baron with a sensitive face (Andrew Rathgeber), his brusque, cologne-saturated friend (Ty Fanning), a few eager young lieutenants.
Even the increasingly nihilistic doctor (an intense performance by Jonathan Smoots) can't help but favor Irina. Hurd reveals Irina's exhaustion as her face begins to pinch and draw inward. By Act IV, the sparkle in her eyes is gone.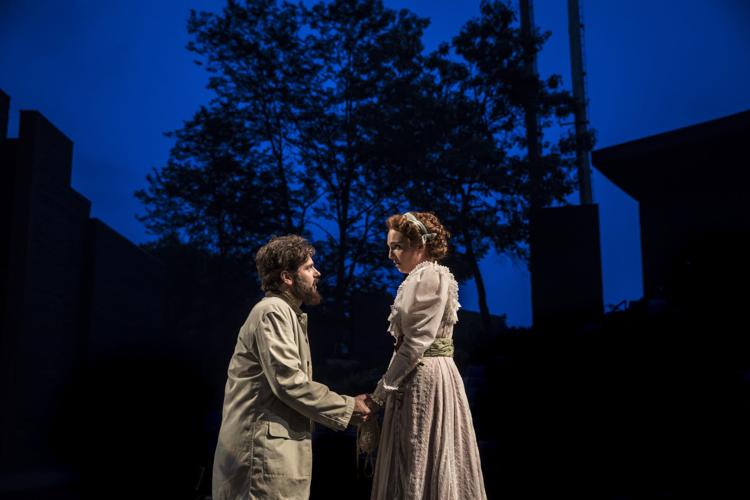 As the years grind forward, one star rises: Natasha, the "petty bourgeois bitch" who marries into the family and takes it over, room by room. Eliza Stoughton plays Natasha as a terror, a screaming narcissist whose mood can shift in seconds. She's a fantastic villain.
Despite an awkward fat suit in later scenes, Nate Burger is marvelous as Andrei, a failed scholar reduced to mumbling despair by his own lack of momentum.
From that first scene with the prairie in view behind the stage, Brown's production has a painterly look. Designer Kevin Depinet makes a sloping, impressionistic backdrop, accented by heavy rugs and rich wood cabinets. Andrew Hansen, composer and sound designer, adds life and color with a rousing Act II folk song and a bit of Beethoven's "Pathetique" sonata.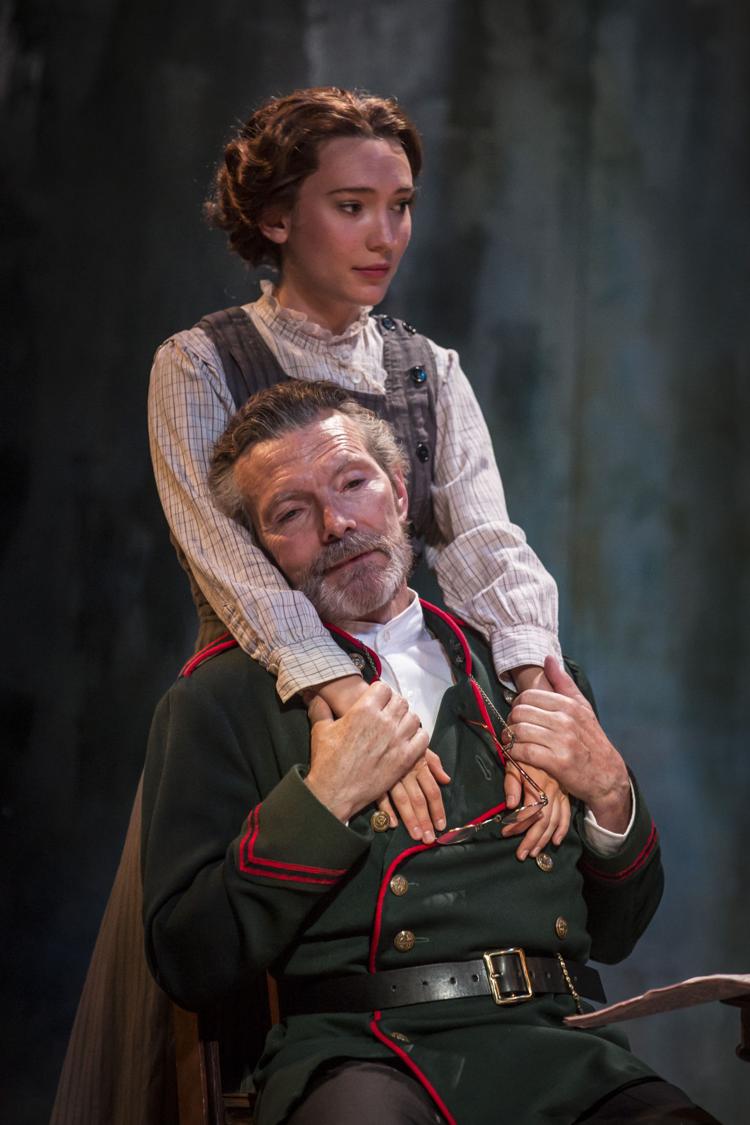 Costume designer Rachel Anne Healy dresses the sisters in clothes that offer subtle windows into their hearts — in Act II, Brennan wears a deep red gown as Masha flirts more boldly with Vershinin. Irina, exhausted by her job in the telegraph office, wears a blue-gray jumper reminiscent of workers' overalls.
Brown expresses concern in his director's notes that the audience will "judge the characters in this play," or rather, judge them unfairly for their privileged perspective. It's not an idle concern — when the rich girl who lies in bed for hours each morning "thinking about things" insists passionately that hard work will give her life meaning, we can't help but laugh.
But the performances here are so nuanced, so wrung through with real pain and loss, it's impossible not to feel a little pity for the baron as he tries to woo Irina, or for Irina herself when she realizes her great dreams for love and purpose may never come true. 
That's the kind of growing up everybody understands.