Part of the pleasure of escaping into Never-Neverland with Peter Pan is that we know right away who to root for and when to boo.
Hiss and laugh at Captain Hook! Clap if you believe in fairies! Think happy thoughts and you can fly.
"Finding Neverland," a 2015 musical fantasia about how Pan and his pirate nemesis came to inhabit J.M. Barrie's immortal play, stops in Madison's Overture Hall through Sunday.
The show takes the same earnest tone as the fantasy that inspired it, but the thing with melodrama is it only works on the surface. Go any deeper and nothing makes sense.  
Directed by Diane Paulus for Broadway, "Finding Neverland" is sweet, almost funny and cheesy, with an easy listening pop score and brisk choreography by "So You Think You Can Dance" alum Mia Michaels. There's a cute, well-behaved dog in several scenes. It's set in Mary Poppins' London, with less sparkle and fewer memorable songs.  
This non-Equity tour stars Jeff Sullivan as the dashing Barrie and Ruby Gibbs as a young widow who captures his heart. Both are appealing leads in an inconsistent show; Gibbs in particular deserves better than the tepid "All That Matters" in Act I.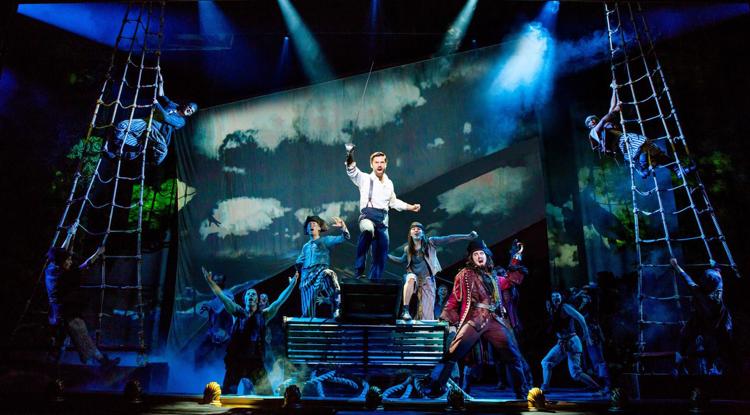 Barrie's in a creative rut when he runs into Sylvia Llewelyn Davies and her kids, who quickly inspire him to build Peter Pan's world of pirates, Indians, mermaids and lost boys. Allen Knee based his 1998 play, "The Man Who Was Peter Pan," on the real story of this relationship. In 2004, Kate Winslet and Johnny Depp starred in a film adaptation.
On the stage, the characters are now outsized, from Barrie's icy, upwardly mobile wife (Ashley Edler, blonde ambition ca. 1904) to his overwrought producer (Conor McGiffin, charming in a cravat).
The Barries' maids, leaning into backbends as they swan offstage, look straight out of Dr. Seuss. A suitor to Barrie's wife (Michael Luongo) prances like a Lipizzaner stallion. The performers charged with putting on Barrie's play within the play behave like a bunch of blustering, biscuit-grabbing cartoons. Charlie Brown's Christmas pageant was more organized.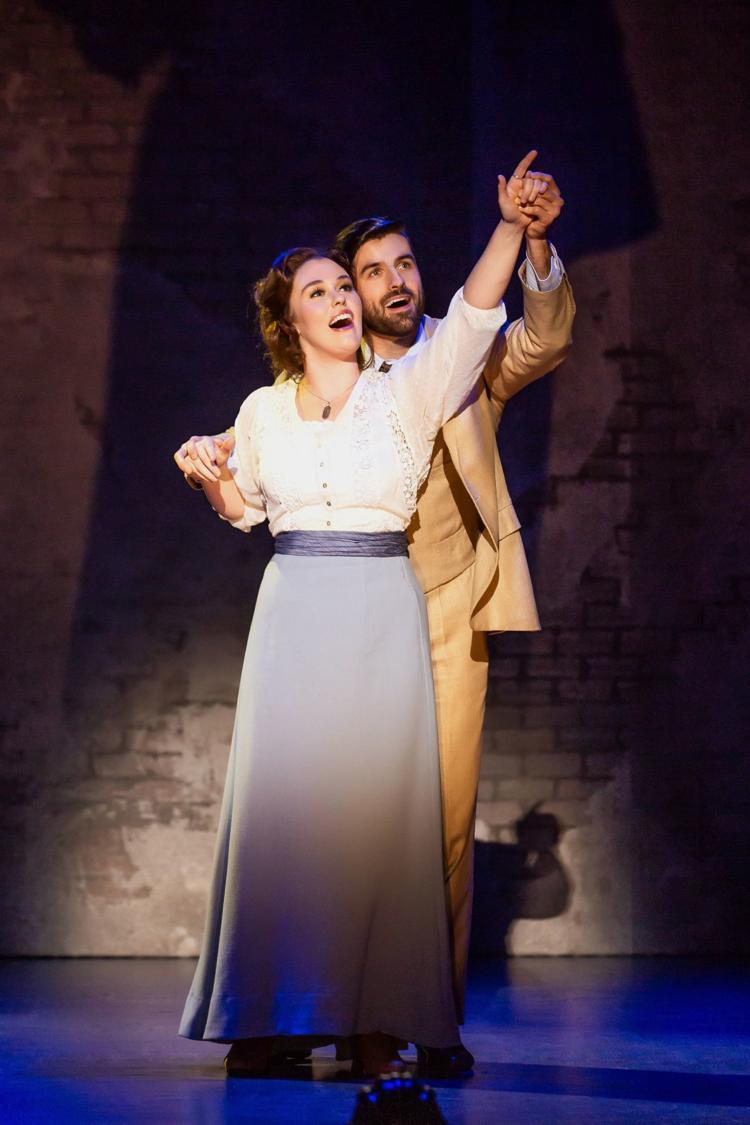 Early critics of James Graham's book and Gary Barlow and Eliot Kennedy's updated score found the "Neverland" project blatantly commercial, and in truth the musical wears thin in more than a few places.
There's heavy reliance on set "design" dropped in from the flies, and digital video effects looks awkwardly cheap. Changing keys on every verse is not the same as writing interesting music.
The ensemble numbers "We Own the Night," in which most of the guests at a dinner party crawl under the table, and "Play," an irritating repetition of nursery rhymes late in Act II, have the feel of breathless chaos. The cast is clearly working hard but it can look joyless, like they're thinking "Just keep going and get it over with."
Thankfully, Barrie's relationship with the boys is (incredibly) not creepy. But because the littles look and act like doppelgangers in suspenders, it's hard to care about any of them.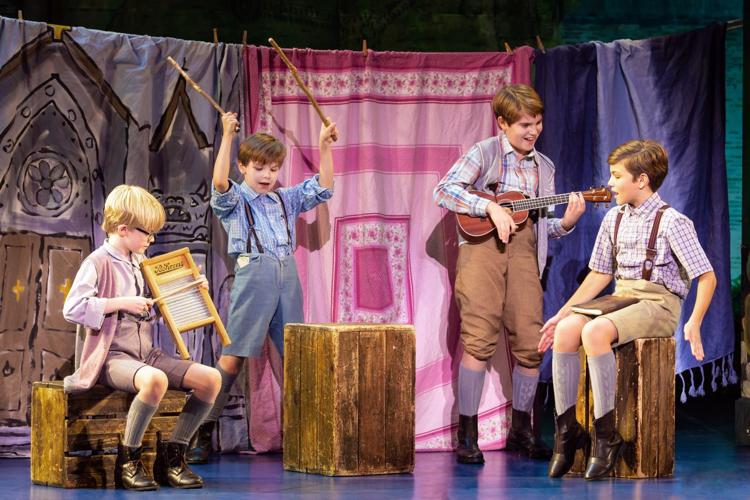 There are occasional lovely moments, like Sullivan and Gibbs' beautifully sung duet, "What You Mean To Me," in the shadows of the theater's ghost light. In "Stronger," McGiffin transforms into a salacious Captain Hook, giving Barrie his villain. The song is overblown but fun. Sullivan looks like he's about to fight somebody instead of sitting down to finish his play.   
"Finding Neverland" is ostensibly about the joys of creation. Barrie sees the Davies kids playing pirates in the park or a shadow on the wall of the theater and turns these moments into something magical and timeless.
Yet "Finding Neverland" lacks the magic of "Peter Pan" or even "Peter and the Starcatcher," another prequel that got a gorgeous production at the Milwaukee Repertory Theatre a few years ago. Inconsistent tone, flat characters and songs with empty emotional centers bind "Neverland" to earth.
"London expects certain things of you," Charles Frohman, Barrie's harried producer, tells the playwright near the start of the show. "Just don't surprise them, OK?"
Some folks at "Finding Neverland" took that too much to heart.