Orpheus is the guy we've heard about — a prince, the son of a muse and possibly a god, whose music overcame the Sirens and charmed the stones. Orpheus inspired operas. Orpheus walked into the underworld to bring Eurydice back.
"Eurydice," a surreal retelling of the myth written by Sarah Ruhl in 2003, pours light onto Orpheus' beloved, here a strong-willed, contemporary woman. With heavy black eyeliner and spiky hair that appears now red-orange, now magenta, now almost purple, Eurydice looks like a cyberpunk heroine, a manic pixie dream girl in combat boots.
The look is a little deceiving. As embodied by Kelsey Brennan and brought to life by director Tyne Rafaeli, Eurydice is nobody's pixie.
In Ruhl's telling, Eurydice pivots between the love of Orpheus, her husband of just a few hours, and her father, whom she joins in the underworld via an elevator full of rain.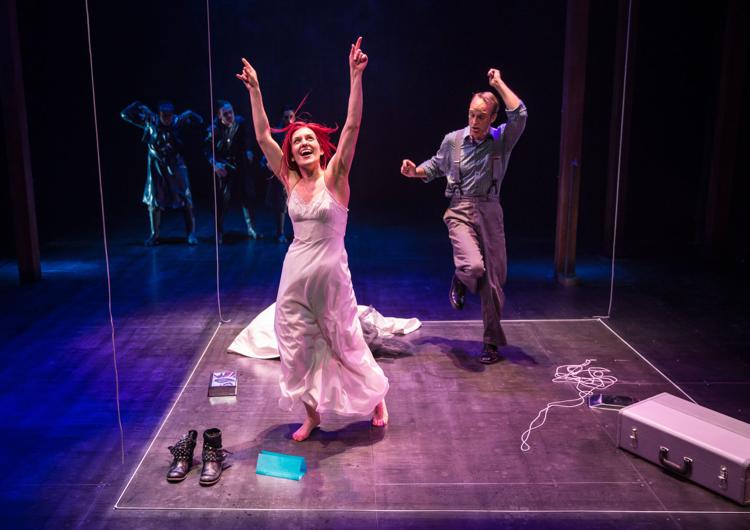 Rafaeli, who directed last season's dance-inflected "Pride and Prejudice," applies a similar modern dance quality to this extraordinary production in the indoor Touchstone Theatre at American Players Theatre in Spring Green.
It's a beautiful piece, with ethereal light, sound and set elements that wrap the theater in a kind of fog that can feel benevolent or menacing. Jason Fassl's lighting design, full of waves, harsh shadows and lines that hover on the floor of the theater, merges with Josh Schmidt's ambient score for an otherworldly effect. 
From the play's first scenes, Brennan and Nate Burger, as Orpheus, throw themselves into their roles. They squeal with delight and chase each other at the beach before starting to argue, their words growing quick, pointy barbs. Passionate love becomes passionate fighting.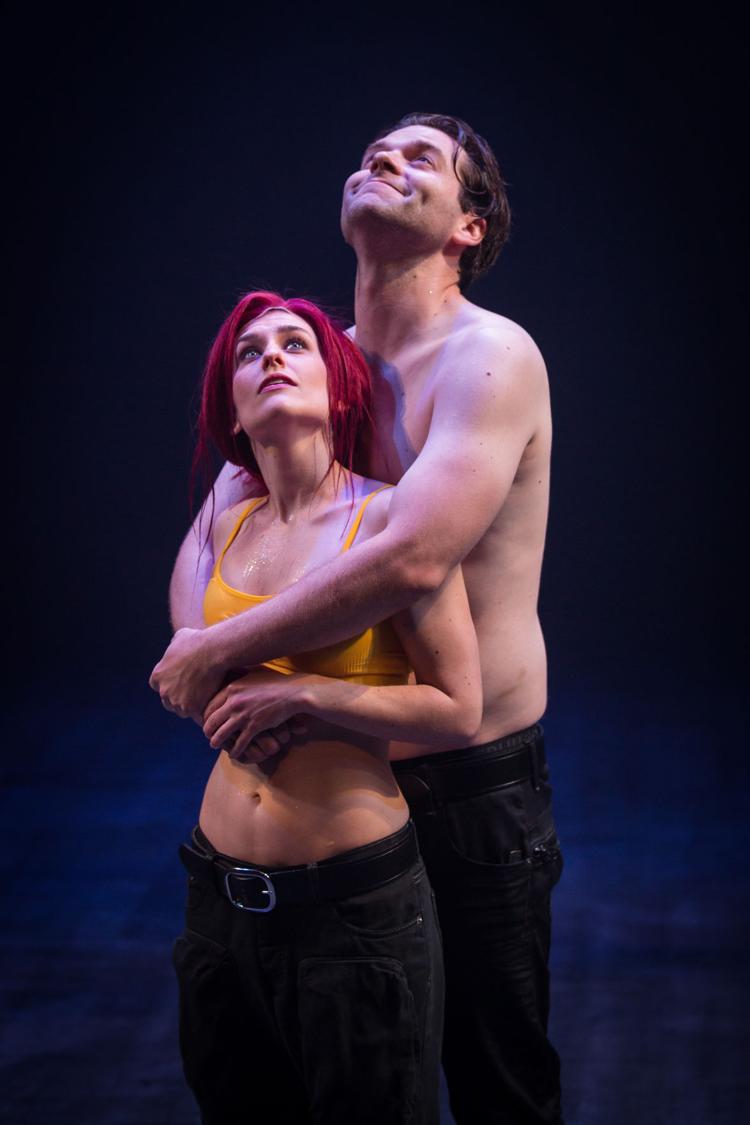 "Maybe you should make up your own thoughts," Orpheus says, "instead of reading them in a book."
Eurydice is a fantastic part for the playful, energetic Brennan. In her hands, Eurydice looks fearless, like a bright light in a dark place. Her choices may seem impulsive, but they are fully her own. 
Weddings, Eurydice says, are for daughters and fathers. Her own father, played by Jim Ridge, writes to her from the underworld, imagining he is walking her down the aisle. Such a range of emotions pass over Ridge's face in this moment: pain, joy, sadness, excitement. Bottomless love.
Orpheus doesn't want to let his bride out of his sight. But before the reception is over, Eurydice, anxious and thirsty, follows a seductive character (Cedric Mays, smoothly menacing) and falls to her death.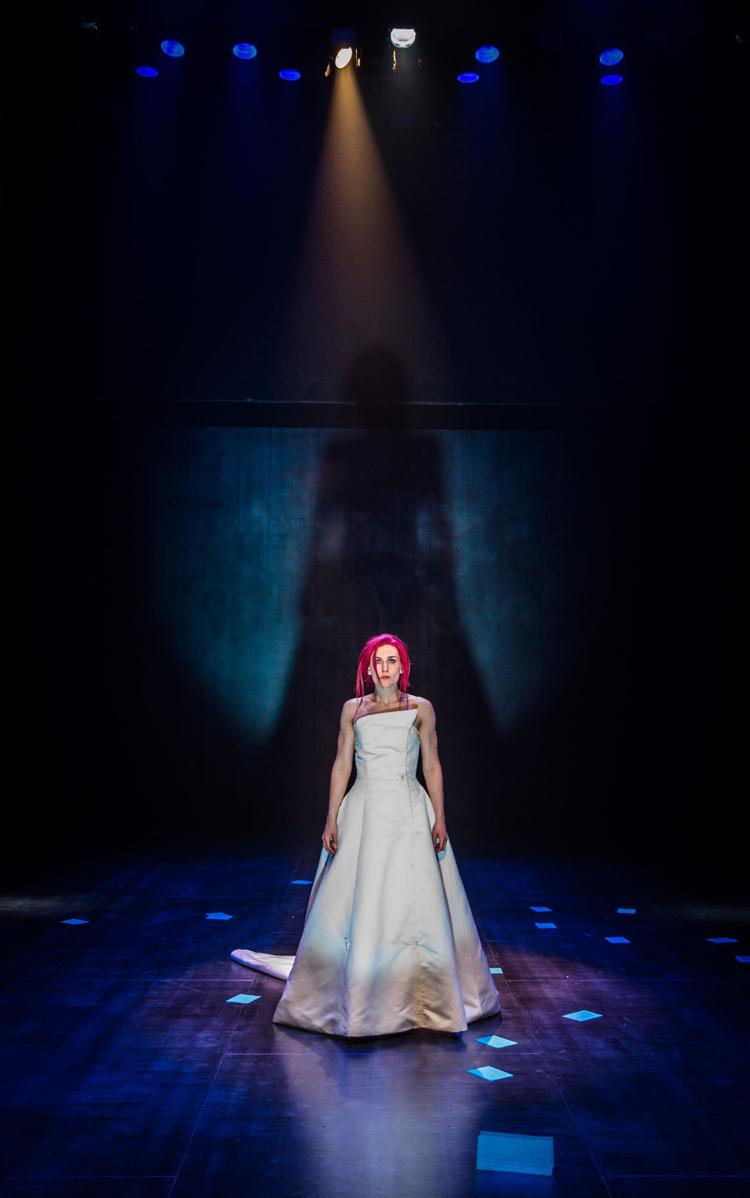 Eurydice's inability to remember who she is subdues what might have been a happy reunion. Her father's pain and affection shine through his face as he patiently indulges Eurydice's requests for things the underworld doesn't have — a room, a book, family memories.
Even in the underworld, there are moments of levity, as when Eurydice muses to her father about what it's like to love an artist like Orpheus, who is always thinking of music ("Show me your body, he said. It only means one thing.") Eurydice and her father dance in their room, frantic with energy.
In a nod to the world of myth, Ruhl casts a chorus of stones (Melisa Pereyra, Christopher Sheard and Cage Sebastian Pierre), dressed in oilskin coats and rain boots by designer Elizabeth Catilin Ward.
When Eurydice mourns, the stones protest ("We don't like to watch it! We don't like to see it! It makes us uncomfortable"). They sound like the neighbors and friends who press in on a grieving person; without a ritual of mourning, we're encourage to "get over it" quickly, come back to work, get back to life, move on.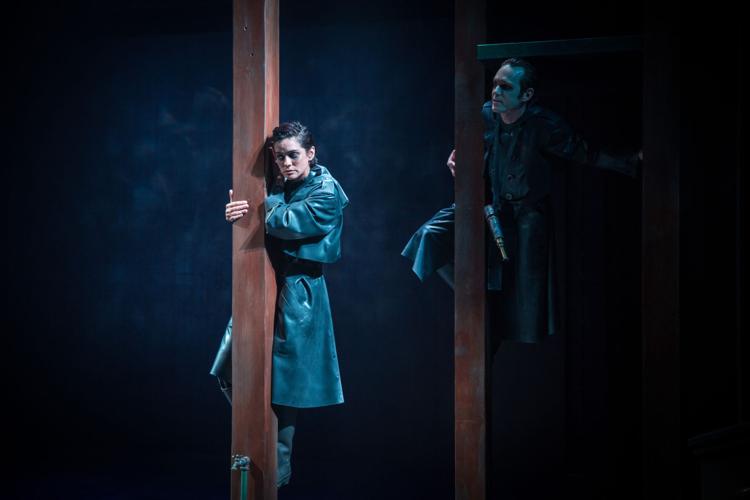 For heartbroken Orpheus, there is no moving on. He conducts silent symphonies. He writes a letter and gives it to a worm, hoping it will find her. Then he resolves to find her himself.
"Eurydice" is one of several plays at APT this season that explore memory. In "The Comedy of Errors," men's memories appear faulty; reality is suspect. In "Death of a Salesman," Willy's memories dominate his present, intruding, insisting, turning small moments into life-altering lapses.
In "Eurydice" memory is at once comforting and dangerous. There's a strong thread of the irrationality of loss, the desperation and agony of it as Orpheus and Eurydice's father reach and reach and reach.
APT's "Eurydice" looks and feels like theater magic at its best. It swoops and dives, blurring the lines between the living and the dead. It exposes the raw side of love, the painful side. And yet, in this stunning production, love is always worth it.