The question in "Engaging Shaw," the literary romantic comedy now running at American Players Theatre in Spring Green, is not "will they or won't they."
The match between George Bernard "Bernie" Shaw and the witty, independent heiress Charlotte Payne-Townshend is a foregone conclusion. From the first scene, these two are as destined for each other as Ross and Rachel or, in a more apt romantic parallel, Beatrice and Benedick.
"Engaging Shaw," directed by David Frank in the Touchstone Theatre and running there through Nov. 18, imagines the very literate courtship between Shaw, as he calls himself, and Charlotte over several years in the late 1890s. Written by John Morogiello in 2007, "Shaw" offers a droll bit of escapism in APT's 2018 shoulder season, staged in the suggestion of a rustic cottage designed by Yu Shibagaki with attractive period costumes by Daniel Tyler Mathews.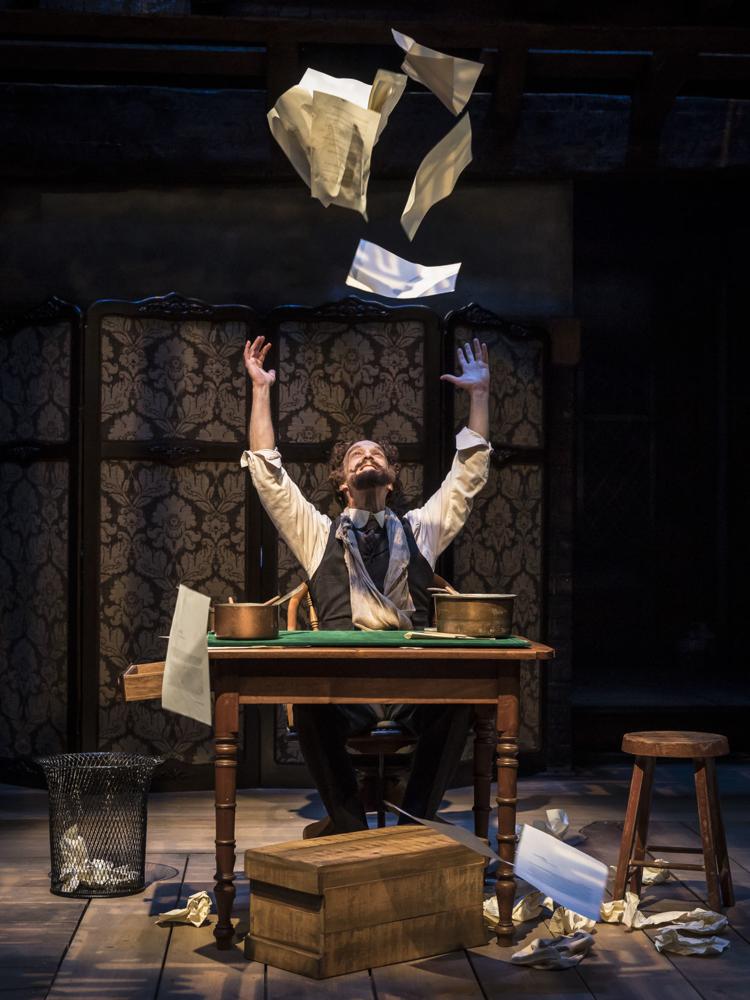 When Charlotte, played by Colleen Madden, collides with the aspiring playwright in a minor bicycle wreck, the two instantly take a shine to each other. Madden's eyes sparkle as she watches Shaw, a lively, puckish Jim Ridge, flirt shamelessly with her.
"Whenever I have been left alone in a room with a female, she has invariably thrown her arms around me and declared she adored me," he teases. "It is fate. ... You can't think what delightful agony it is to be in love with me."
Charlotte becomes Shaw's companion, then his "indispensable" secretary. He wants the benefits of marriage without the responsibilities. Charlotte wants Shaw.
Both hold to the idea that they are "unconventional," and each swears to be independent to the end of their days.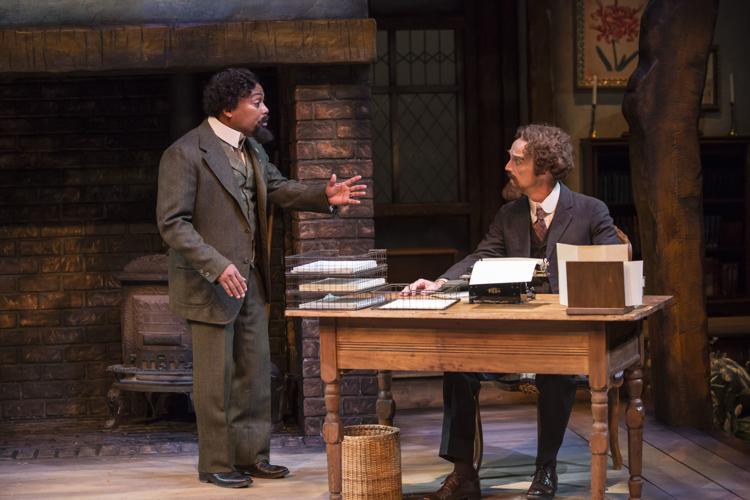 But even though they live in their heads more than their bodies, these two are romantics in spite of themselves. "Engaging Shaw's" two hours and 15 minutes are an awkward dance, as they wrestle their way through negotiations and rejections, flashing with jealousy and desire.
Hovering on the edges of this wordy romance are the Webbs, Shaw's real-life friends played by Gavin Lawrence — a new APT core company member as of 2019 — and Tracy Michelle Arnold.
Arnold, as Beatrice, meddles merrily in her friends' romantic lives, fancying herself a matchmaker. That she, too, may be swayed by Shaw's Don Juan routine ("a candle to the moths") comes as a bodily shock. 
Lawrence, as Sidney Webb, holds forth on socialist economic ideas, some of which come in handy in Charlotte's romantic pursuits. Lawrence's accent is hard to pin down, but his comic timing is perfect.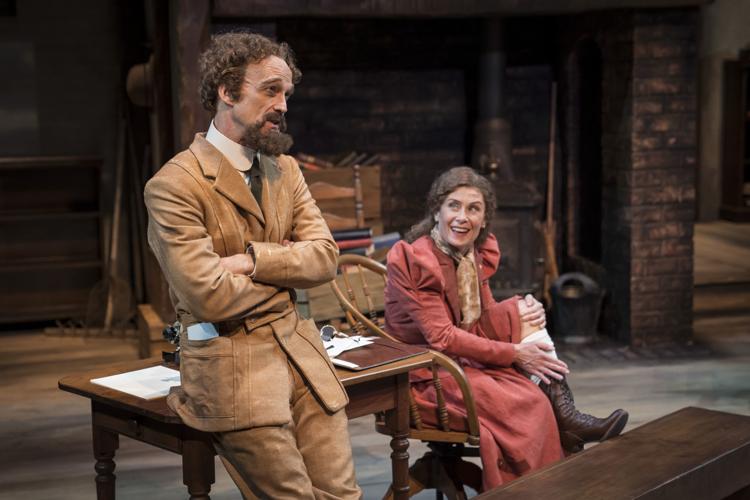 The Webbs present a sentimental version of marriage Shaw can't abide. With fidgets and outbursts, Ridge shows the writer's deep-seated fear of getting too emotionally attached. Madden, meanwhile, reveals Charlotte's soft spot for Shaw, while never compromising her character's intelligence and determination.
Perhaps it's unsurprising that "Engaging Shaw" slips into some of the same traps that Shaw's own plays do.
Shaw's characters can be so interested in Very Intelligent Theories, they lose their humanity and forget to be people. In the hands of earnest students, Morogiello's historically inspired comedy could sound like a series of speeches about how "every man considers himself a Superman," why "eternity is what makes marriage unbearable" and whether a wealthy partner would undermine Shaw's "authority as a socialist reformer."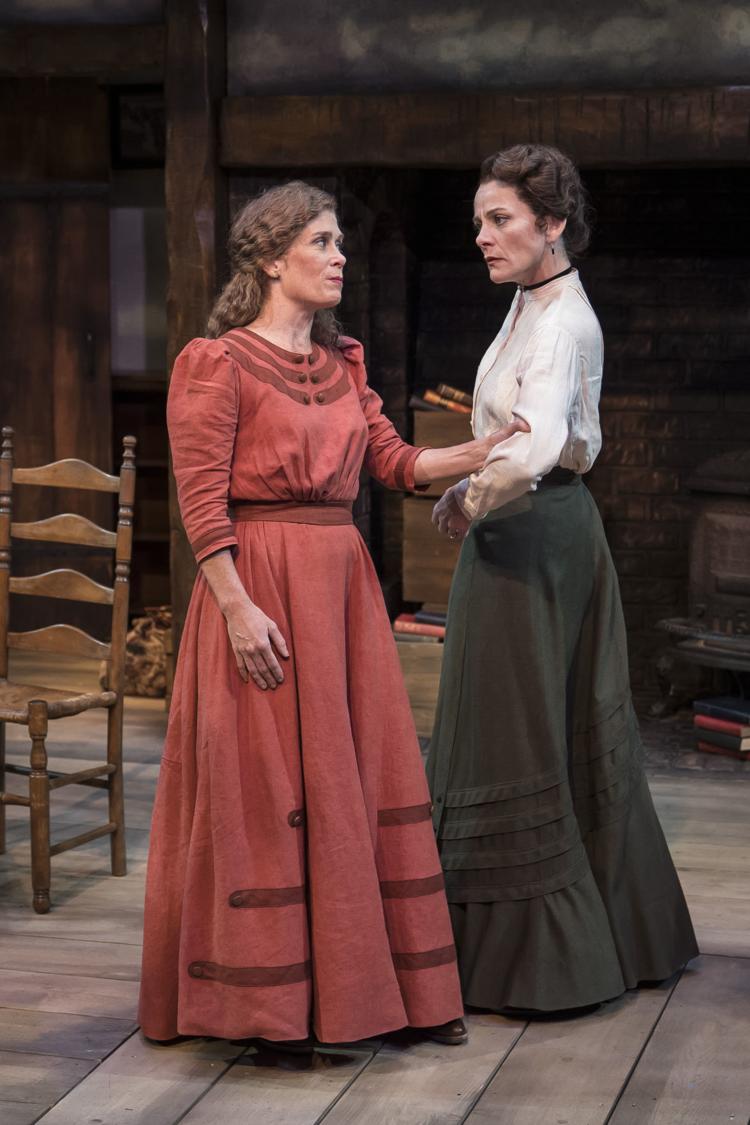 It's the players who (mostly) save it, as well as Frank's swiftly paced and imaginative direction. Madden and Ridge are marvelous at playing the undercurrents of a fight, infusing grand gestures with vulnerability.
The title character in "Engaging Shaw" would make an arrogant, emotionally immature match for any woman. Sometimes, one wants to shout to Charlotte to walk away, leave Shaw to his high-minded ideas. Let him type his own letters. 
But it's Charlotte who gets to decide. By the time she gets the partnership she wants, on her own terms, flaws and frustrations and all, it sounds like they've been married already.