Four years after they played overheated sisters at odds in "A Streetcar Named Desire," Cristina Panfilio and Tracy Michelle Arnold return to Tennessee Williams' saturated south in "A Lovely Sunday for Creve Coeur," running through Sept. 26 in American Players' Touchstone Theatre.
It's summer in St. Louis, in an "efficiency" apartment where attempts at cheer have gone "brilliantly and disastrously wrong," as Williams notes in his vivid stage directions. Here, the central trio is three women. Each one wants to make the best of how things have turned out. Each is hoping for a change.
Williams wrote the play in 1978 and set it in the late 1930s, when an unmarried woman a decade-plus past 30 might believably refer to herself as a "girl."
As the play begins, Bodey (Colleen Madden, aged up in mismatched patterns and gray curls) is frying chicken and cracking boiled eggs for a picnic while Dotty (Panfilio) does her daily calisthenics. Bodey's trying to set her twin brother up with Dotty, but her roommate is waiting for a call from her not-quite-boyfriend.
"My life must include romance," Dotty proclaims, sounding not a little like Blanche DuBois. "Without romance in my life, I could no more live than I could without breath."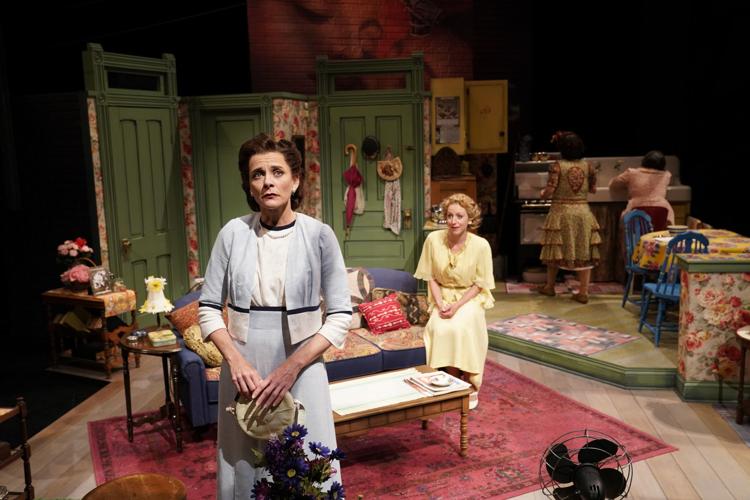 Arnold swans into the apartment a few scenes later, glancing down her nose at Bodey's stuffed canary and the "roses exploding like bombshells" on the walls. Helena, one of the other teachers at the high school where Dotty works, has come to collect Dotty's half of a deposit on a high-end apartment in a more fashionable part of town. She refers to Dotty as Dorothea. Bodey calls her "a well-dressed snake" and blocks the door.
At its best, "Creve Coeur" is a chance to watch three fine actors find points of connection with these characters. Madden, as Bodey, is cheerfully practical, prattling on about the butcher ("Mr. Butts always lets me feel his meat"). A maternal soul, she comforts a bereft upstairs neighbor (Carolyn Ann Hoerdemann, weeping in German) with coffee and crullers. Even when worry creases her forehead or her smiles don't reach her eyes, Bodey's a fighter, a survivor.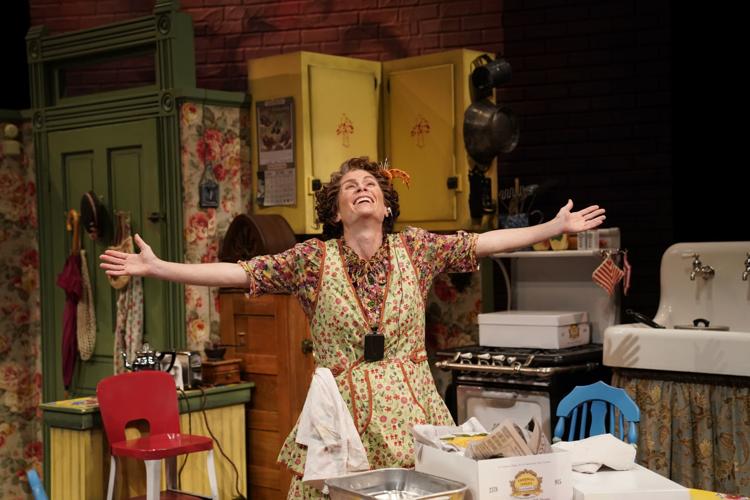 Panfilio's Dotty is dreamy, but her "Southern belle complex" (as Helena names it) feels rooted in something real. The life she imagined for herself seems almost within her grasp, and it sparks in her eyes as she does hip-swiveling exercises and arm twists.
Arnold's Helena has a bit of Blanche in her too, treating the apartment with open disdain. Arnold lets warmth and worry show in her face as she speaks with Dotty, and it humanizes Helena. She's imperious and awful, but she's lonely, not a monster.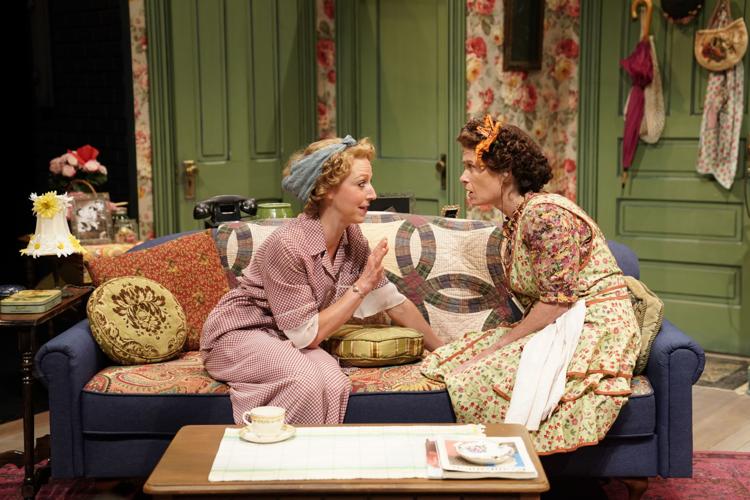 In her first season at APT, Oregon Shakespeare veteran Robynn Rodriguez directs with a sense of levity and theatricality the play needs. Each of the primary trio has a moment of private reflection, lit heaven-like from above (Jesse Klug's design is subtle and evocative).
Despite this, "Creve Coeur" feels longer than it is. The wisp of a story can't sustain a two hour-plus run time, and Williams' characters are written broadly enough to tempt caricature. The themes — loneliness, longing, disappointment — feel heavy handed enough to give to an eighth grade lit class.
Yet Williams has been a good fit for APT's literary aesthetic, and still is. Set designer Michael Ganio turns the apartment into a jangle of colors and patterns, yellow cupboards and fake flowers that assault the eye. Hoerdemann's robe looks like a pink bathmat next to Dotty's flowy, flattering yellow dress. These, like Bodey's riot of patterns, are all thoughtfully designed by Devon Painter.
"Creve Coeur" is a quiet domestic drama, a prelude to a picnic that goes on a bit too long. These actors, among APT's finest performers, are the primary draw.