The making of a friendship between Caroline and Anthony sounds like a proof from high school geometry.
If Caroline is a cactus, then Anthony is a puppy. If Caroline bristles, Anthony bounces back, undaunted.
The unlikely alliance of these two seemingly star-crossed teens forms the tender heart of "I and You," a buoyant and funny 2013 play by Lauren Gunderson. Forward Theater Company opens its season with the play, which runs through Sunday, Nov. 19 in Overture Center's Playhouse theater.
It's hard to blame Caroline for her knee-jerk reaction. Anthony bounds unbidden into her room carrying a volume of poetry, specifically Walt Whitman, whose "Leaves of Grass" they've been assigned to study for American lit class.
Caroline instantly dismisses both book and bearer, brandishing a hair pick in Anthony's direction like it's a switchblade.
"Look, pushy, I wasn't expecting you," she huffs. "So you're going to explain this to me before I pummel you."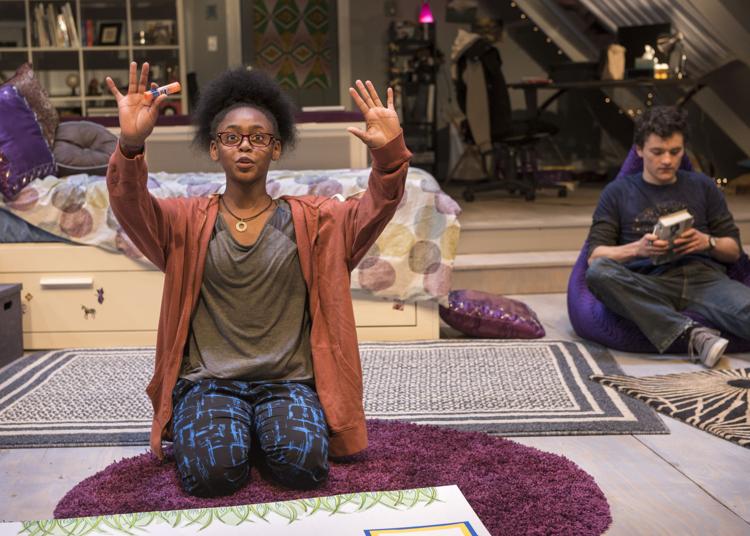 Like a John Green heroine, Caroline's been sick "pretty much ever since (she) was born." Anthony arrives with something like a lifeline — a tri-board poster, an unabashed love of jazz music and a window to a world she doesn't participate in anymore.
As Caroline, Chantae Miller, a high school junior from west of Milwaukee, has a slight build and perpetually nonplussed expression. Her surliness reminded me of Barbara Ehrenreich's book "Bright-Sided," which considers the falsely sunny cult of positive thinking a "noxious virus."
Alistair Sewell, as Anthony, lights up the stage. Last seen in Forward's "From Up Here" as a teen numbed to the point of catatonia, he's exuberant here, easygoing and affectionate as a golden retriever. He's impossible to resist.
"Why do you assume that you don't like me?" Anthony asks, all earnestness.
"Why do you assume you're so likable?" Caroline shoots back.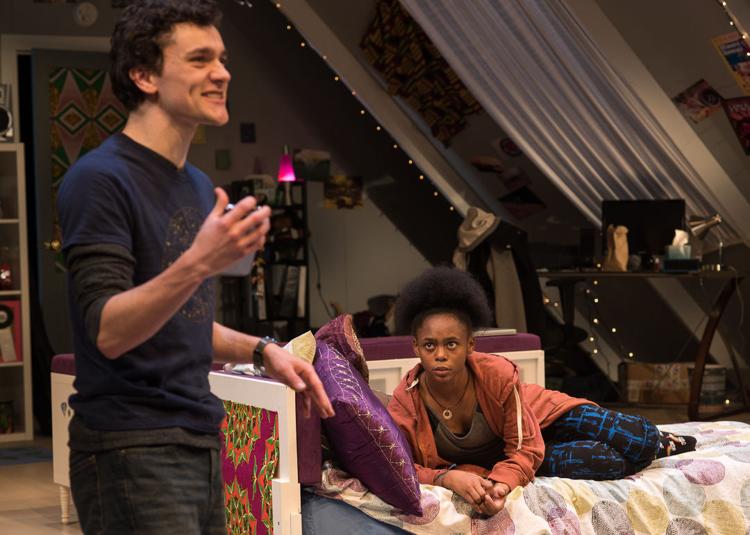 Miller has an impressive regional resume but she's still quite young, and it takes time for her to settle in as Caroline. At first, her posture doesn't match the aggression in her words.
When Caroline begins to open up, Miller's performance feels more honest as she alternates moments of vulnerability with curling up into a ball on her bed.
Director Jennifer Uphoff Gray works deftly inside the closed world of Caroline's attic bedroom, managing the space between the performers as they feel out their new relationship.
Set and lighting designer Noele Stollmack frames the peaked ceiling of the room with strings of lights, contrasting sharp lines with a softer glow. Costumes designed by Shannon Heibler look natural enough to not be costumes at all, though look closely at Anthony's shirt to find a coy reference to both Madison and Forward's 2015 production of "Silent Sky," another Gunderson play.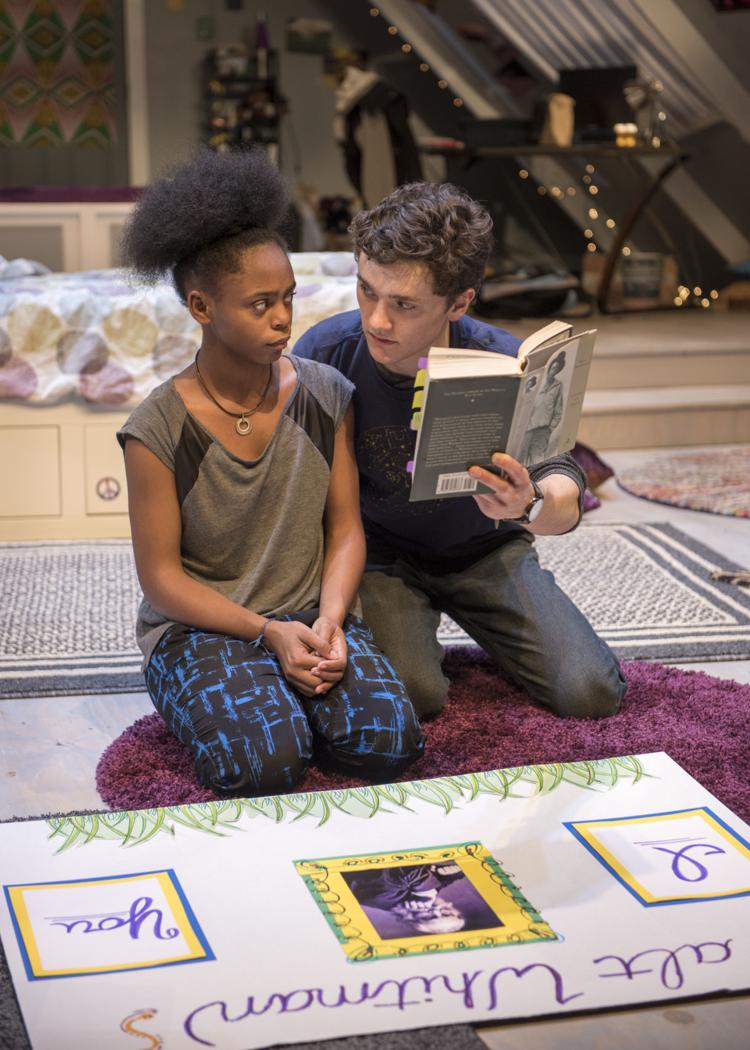 It's hard to look away from Pamela Miles' extraordinarily detailed prop design. Miles fills the stage with detail: stuffed penguins, black and white macro photos, clustered bottles of prescription medication, stickers and embellishments on everything.
Of course Caroline thinks "glitter is amazing." Look at her room.
The first time I read "I and You," it seemed the kind of maudlin dying-teens story I loved as a middle schooler hooked on Lurlene McDaniel novels. Thankfully, Gunderson's characters are funnier, and often wiser, than their literary predecessors, and Gray pushes the actors away from sappy.
"I and You" is, sometimes to its detriment, a play for adults. The social media references are already outdated by several years. Anthony's irritation at Caroline's phone obsession earns knowing chuckles from the boomers in the audience, while Caroline calls him "Grandpa" and mocks his "I'm already grown up" shtick.
Yet there's joy in watching Caroline and Anthony wander through Whitman's words on life and death, searching for common ground under their boot-soles. They are, like this impassioned, lively drama, more than the sum of their parts.