When the door opens at the start of American Players Theatre's production of "A Doll's House, part 2," it's been 140 years, 15 years or 17 days since Nora left, depending on how you measure.
When Norwegian realist playwright Henrik Ibsen debuted "A Doll's House" in 1879, the ending was explosive. A wealthy young woman, trapped by societal restrictions that didn't allow her to vote, hold credit or sign a contract without her husband's approval, leaves her family. Her youngest daughter is still in diapers, but Nora is a stranger in her own home. She cannot stay. 
More than a century later, another playwright, Lucas Hnath ("Hillary and Clinton," "The Christians"), wondered what happened to Nora after she went through that door. Hnath found an English translation of the play on a free website and tried writing it over in his own words.
Hnath told a newspaper in Aspen that he was "struck by the debate that begins at the end of the play and how that debate has just started. ... Torvald's response is a bit dumb. If he had more time to think it through and craft a finer argument, what would Nora say? And then what would happen? And that seemed to be a reason to write the play."
Hnath set "A Doll's House, part 2" 15 years after Nora left. It opens at APT in previews on Wednesday, Oct. 24, in the Touchstone Theatre.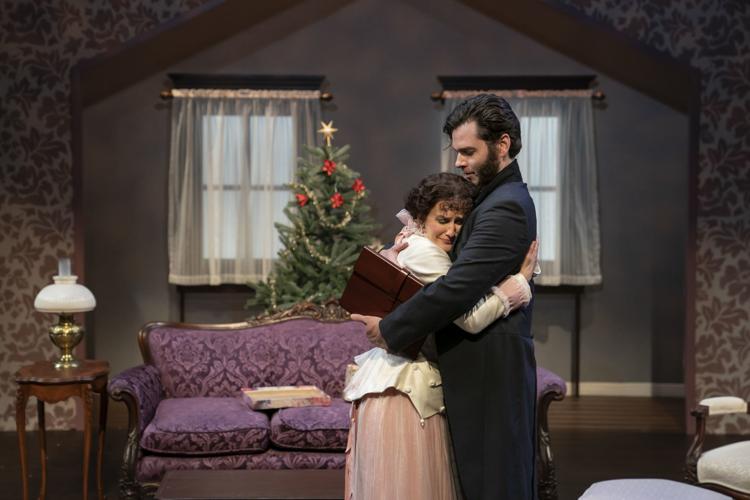 "We're using the same house. I used the same set designers," said Brenda DeVita, APT's artistic director, who also directs "part 2." Hnath uses poetic, contemporary language, and APT's design also aims to bring elements of past and present together.
"We're coming back to a place that's different but very much the same," DeVita said. Designer Raquel Adorno included "a contemporary moment in each of the costumes, so we can honor the fact that it is 1894, but the language of the play is very contemporary," DeVita said.
Nora has returned because she needs Torvald to give her a divorce. She can't get one on her own unless she proves he abused her, and she has no desire to lie. 
"A married woman couldn't get a job, couldn't sign a contract without the consent of her husband, and at the time that was normal," said Colleen Madden, the APT core acting company member who plays Nora. "That's what we forget today. We look at her radical acts and say that's too much, you've hurt too many people. But women didn't have rights we consider basic human rights."
Madden saw the previous production, but she's not mimicking Brennan's Nora in speech or gesture. She wants to look deeper.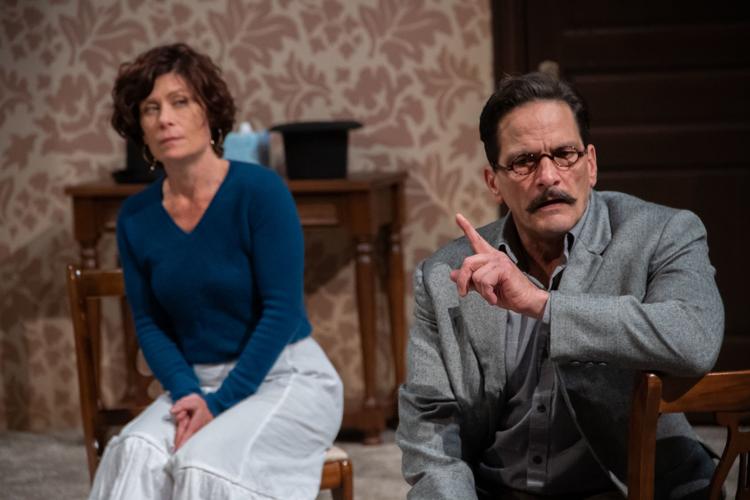 "Kelsey and I personally are quite alike in a lot of ways," Madden said. But she found a more compelling through-line in the struggle to reconcile female individuality and self-determination with a society that didn't allow any room for either. Both Noras deal with that. 
"This woman is living her life and she makes everybody really uncomfortable, even herself," Madden said. "She doesn't know how to control her own voice or fit into society. All of us, but especially women, have that experience of not knowing our own opinion, not hearing our own voice.
"I can understand why she would have to really wrench herself from society, to be quiet and try to feel her own voice in her bones."
DeVita sees different connections between Nora now and Nora then.
"The frenetic energy, that ability to stay positive and joyful, are two things I've seen in our Noras," DeVita said. "It's not surprising that that Nora would produce this Nora."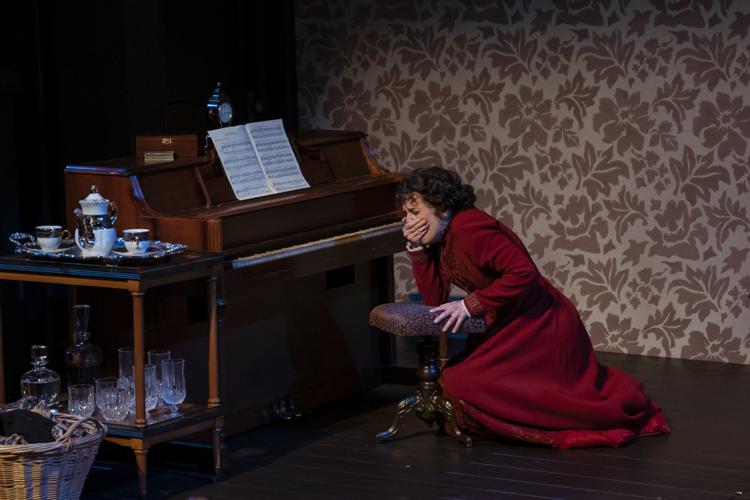 In "part 2," baby Emmy is now a young woman played by Melisa Pereyra. Of all the play's characters — Torvald, now played by Jim DeVita, and the nursemaid Anne Marie, played by Sarah Day — Emmy is the only character who feels new.
"They all have a real tangible back (story) to go to and Emmy doesn't really," Pereyra said. "The audience can be surprised by so much of her perspective.
"I think what Ibsen was talking about in his play too is it's not necessarily a feminist manifesto, but rather that everybody gets their point of view," Pereyra added. "In a world where we are not willing to listen to each other's point of view if they don't agree with us, this is a world in which everybody gets one, and I really love that."
At the end of "A Doll's House," Nora declares that she is not, as Torvald insists, "a wife and mother before anything else."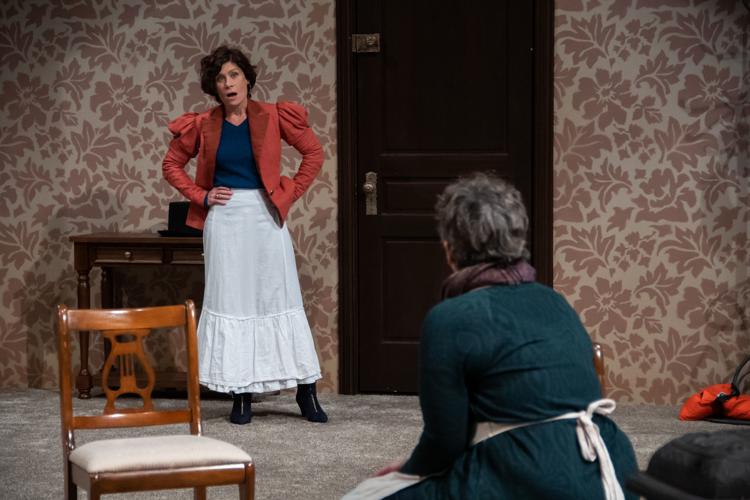 "I think I'm a human being before anything else," she says in a translation by Simon Stephens. "I don't care what other people say. I don't care what people write in books. I need to think for myself."
What DeVita discovered in directing this imagined sequel is that this feminist liberation for Nora cannot solve her problems.
"Self-determination is not a panacea," DeVita said. "All the stuff in her life will not be better and perfect because she's decided who she wants to be. She has to be OK with all the ugly bits of herself.
"The thing that Nora hasn't done is actually confront the people that she hurt," DeVita said. "She's protected them, but she has very much protected herself. This protection of ourselves, only being with people who agree with us, is costing a lot in the larger picture of things."
In Hnath's play, Nora has become a crusader, shifting her focus from saving herself to changing the world. She believes that in 20 or 30 years, the institution of marriage will be fundamentally different, more equal.
The actors see parallels to this in their real lives. Madden connected Nora's work around rights and justice to the work that Pereyra herself has done offstage, writing about trauma and being a woman of color in classical theater.
"These ideas make people uncomfortable," Madden said. "We're uncomfortable with, 'You're telling me I'm doing something badly and wrong.' But if you allow yourself to live in the uncomfortability for awhile, to really think about it and weigh it, it can start to feel like ... something that becomes a part of you."
Nora has had two lives — one as a wife and mother, and another as a single woman in the world. She has found, as Pereyra said, selflessness in radicalism through "the great privilege of having two different paths."
"A lot of women have only had the first experience," Pereyra said. "She gets to have the debate of these two perspectives within one body. The more we can do that, as human beings, the more we change the world."