While the rest of the world celebrates ski jumpers and speed skaters in PyeongChang, some serious athletics are heating up the Capitol Theater.
In this weekend's production of "The Abduction from the Seraglio," Konstanze's lights-out act ending aria translates roughly to "Sorrow overwhelms my spirit." Listening to Amanda Woodbury sing it is like watching a skater land a triple axel in slow motion. It seems astonishing that the human body can execute such a thing.  
Madison Opera's "Abduction" plays once more on Sunday afternoon. According to general director Kathryn Smith, it is one of only 23 productions in the world this season, the only one in the United States. (As a point of comparison, Mozart's "The Magic Flute" clocked 3,310 productions worldwide during a recent season.)
An early Viennese hit for the composer written in 1782, "Abduction from the Seraglio" cashed in on western fascination with Turkish culture and a collective thirst for adventure stories.
Before the opera begins, three Spaniards have been captured by pirates and sent to a harem. The ruler of the palace (Brian Belz, in a non-singing role) falls, nobly, for the leading soprano Konstanze.
He doesn't want to let her go, but the pasha is disinclined to use additional force with her affections. Konstanze resists out of loyalty to her fiancé, Belmonte, who in the opera's first scene has arrived at the harem to rescue her.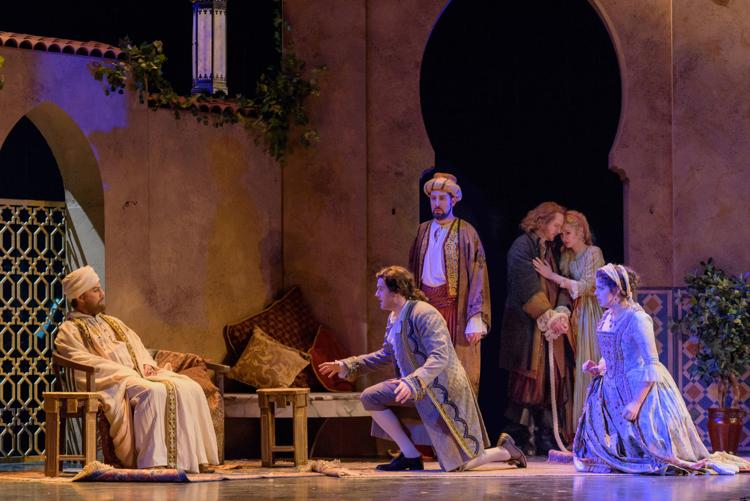 "Women can't be given away and ordered about," one character sings. "Everyone knows women give the orders."
In this harem women span all ages, dressed by Karen Brown-Larimore in belted harem pants, robes edged with silver and diaphanous veils. Brown-Larimore designed original costumes for Madison's new production and particularly for the women, they're quite lovely.
These updates, certainly necessary to avoid distracting from the score, can't solve the opera's larger weakness. Nothing really happens.
Yet because it's Mozart, nothing happens so beautifully.
David Walton plays opposite Amanda Woodbury, the lovesick Belmonte to her longsuffering Konstanze. For so many of us, this is what we think about when we think about opera: people with gorgeous, powerful voices singing about pain and fear and a willingness to die for love.
Belmonte has no discernible personality, but Walton's "(Love), I rely on your strength" late in the opera's second half is impossibly romantic. Woodbury opens up her dramatic coloratura soprano again and again, sparkling on Mozart's devilish, stunning arias. A lively ensemble number with the secondary couple bounces along merrily as everyone tries not to think about fidelity.
As foils for the leading pair, Ashly Neumann plays giggly, flirtatious Blonde with a sassy girlfriend attitude. Her character's a type but she's fun, and Neumann's silvery soprano packs some serious power underneath the glitter. Moritz stages her aria, "By tenderness and flattery," addressed in part to the other women in the compound instead of to the villain, who "owns" Blonde. This diffuses its creepiness by half.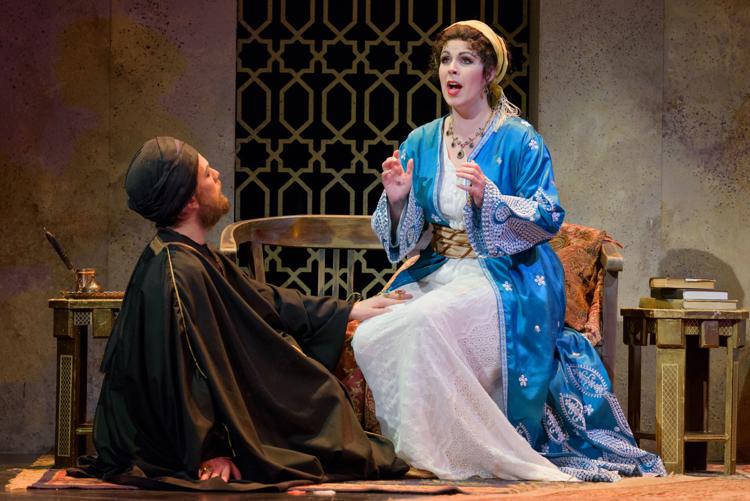 As Blonde's man Pedrillo, Eric Neuville is the operatic version of that guy your roommate dated in college who lived on Lit'l Smokies and played GoldenEye instead of going to class. He's a spaniel of a guy, enthusiastic in duets with Blonde and charming on a little ditty sung to cue the women that it's time to escape.
Pedrillo and Osmin, the palace overseer played by Matt Boehler as a cartoon villain, share the opera's most entertaining scene. Boehler is just the right amount of too much, with his reverberating lowest-of-the-low bass notes and self-consciously stiff carriage. When Osmin gets drunk and joins Pedrillo in a rousing ode to the Roman god of wine, it's at once a display of fantastic vocal technique and the most fun we have all night.  
Anshuman Bhatia's somewhat clunky set, cast in dark shadows and pink washes he also designed, has enough to doors to stage a farce. Behind its Taj Mahal-shaped door cut outs maestro John DeMain conducts Mozart's sweeping score, which an emperor once said contained "too many notes." DeMain strikes a careful balance, keeping the pacing of scenes and arias consistent while letting Woodbury lean in to that astonishing "Sorrow has become my lot" aria.
For all its challenges, Smith wanted to stage "Abduction from the Seraglio" for just this reason: Mozart's music and his humanity, his belief in the extraordinary things people are capable of. Just like with an exceptional athlete, the gift for the rest of us is the chance to watch.